The brilliant Braniff International (1928-1982) advertising campaign of the late 60s was a broad strategy employed to re-invent the airline and its struggling brand from inevitable obscurity. The marketing effort was managed by Mary Wells Lawrence

who was one of the highest paid advertising executives of her era, and she was considered to be one of the top executives of any industry throughout the 1960s and 1970s.
The overhaul of the Braniff International airline and brand, to this day, remains one of the most significant examples of an airline reinventing itself, and deliberately creating a new brand image and culture for both the customers and staff.
Mary Lawrence sanctioned a number of changes to the airline's image that included a complete overhaul of the airliner livery, flight attendant uniforms, and television/print advertising. She's now recognized for her outstanding efforts in playing her part in the branding exercise that likely saved the struggling carrier from a premature end.
New Mexico architect Alexander Girard

was called in to revamp the airline image. Girard designed over 17,000 individual items for Braniff - from the airframes to posters, pins, knobs, knockers, ash trays, luggage, carry bags and sugar packets. Girard quickly dropped the old red, white, and blue livery in favour of funky pastel type colours; beige, ochre, orange, turquoise, baby blue, medium blue, lemon yellow, and lavender - colours completely inconsistent with other airlines of the day, yet acutely in touch with the era.
The groovy Braniff fleet quickly became known as the "jelly beans" and formed part of the End of the Plain Plane campaign (that many referred to as "The End of the Plain Jane" campaign).
Aircraft interiors were fitted with over 57 different variations of Herman Miller

fabrics, and the airline's lounges and check-in areas were pimped up in a similar fashion.
Girard is quoted as saying, "Art is only art when it is synonymous with living", and it is evident that this is the philosophy he employed while working on Braniff's brand. The colours and designs he used were synonymous with life in the 60's.
Braniff claimed their aircraft were easier to steam clean with a painted fuselage. The majority of their competitors were highly critical and stuck with the (dirty?) polished metal look. Braniff claimed that the increase in speed from the polished surface negated the increase in weight... but that's really an unknown - even today. They were one of the first airlines to brand their aircraft in a way that illustrated their culture and experience visually. How many airlines do that today?
Italian designer, Emilio Pucci

, a pilot himself (he flew bomber missions in WWII... and interestingly, was also an Olympic skier), was enlisted to create the "air hostesses" layered uniforms that were progressively shed by crew on long sectors to reveal a new look that would reflect the mood of the flight - consider it the poor man's mood lighting. The strip became known as the 'Braniff Air Strip'. The interchangeable uniform accessories were mixed-and-matched to create a large number of looks to reflect a particular phase of flight.
Although the hostie makeover included bikinis, I'm yet to find any evidence that they wore that as part of their in-flight uniform - yet I've found plenty of interesting promotional pictures.
Braniff were among the first of any airline to avoid clothing that resembled the sterile nurse-type uniforms (rooted in early history) used by the majority of their competitors, and they branded their people in a way that hadn't been done before. Pucci also designed distinctive uniforms for ground handlers, flight crew, and airport staff.
Pucci used a series of nautical and space themes when designing crew uniforms. For the first month of their overhauled operation, "stewardesses" wore plastic space helmets - yes, you read correctly... space helmets! - to protect their hairdos while walking in open air, rain and other weather. This far-out accessory was later dropped since the majority of airports had aerobridges that preserved the girlies fancy hair.
Stewardesses at Braniff were called "hostesses" (I'm surprised they weren't called 'escorts') and often referred to as "the girls". The ladies were employed

almost on looks alone, and kankles were heavily frowned upon (okay, I made the kankle thing up, but I'm sure I'm not far off reality).
The airline introduced an advertising campaign orientated around the likeness of celebrities in 1968 and used the slogan, "If you've got it - flaunt it!" Although the campaign was considered to be a success, many of Braniff's core customers were put off by the extroverted attitude of the airline. Despite the fact the broader campaign was targeted at business travel and making business frequent flyers more comfortable, many higher profile corporate clients cancelled their accounts with Braniff and moved carriers over concerns they were flying in a mile-high whore house. "Does your wife know you're flying with us?" asked one of Braniff's pointed print ads. Again, I wonder how such a slogan would be digested today?
Suddenly, in the aftermath of Braniff's success, every other airline struggled to play catch up. Skirts went up - way up. Continental put its stewardesses in hot pants and platform shoes. Southwest resorted to hot pants and go-go boots. Airlines targeted young and gorgeous women and sex appeal became a huge marketing focus. Sex was everywhere. Perhaps it was Braniff that created the environment that paved the way for the Mile High Club? Flight attendants even started giving champagne to passengers they suspected of becoming official members.
Braniff took a bold step in a direction most airlines feared to go. They introduced a level of fun and flair into their flying that challenged the long held belief that air travel was purely a dignified and respectable suit-wearing experience. Many claim they're responsible for setting a new tone in airline travel and redefined airline branding forever. Their slogan, "The end of the plain plane. We don't get you there any faster. It just seems that way" campaign was the first advertising appeal that focused on the experience rather than just the destination. Braniff held the belief that the experience on board their airliner formed an intrinsic part of travel - something many airlines hold true today.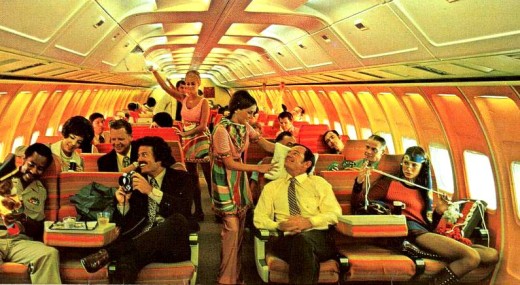 The Braniff girls - whether they knew it or not - were setting an early tone for modern day feminism that would emerge in the latter part of the decade. They bridged the gap between the 50's housewife and the 60's career woman. Despite the way in which the airline sexualised their role in early years, they liberated themselves of traditional expectations and became trailblazing, independent, and women of stature. They were so highly regarded that Barbie dolls were manufactured in their likeness.
Braniff inspired the musical, Plane Crazy

. The show's focus is on two contrasting themes from the decade it is set in: The glamour and fascination (and the "Jet Age"), and the more serious issues and compelling questions of the women's movement

. Braniff was intrinsically connected to both.
A Vanity Fair quote from the Plane crazy website reads as follows:
"...boarding a plane was such an event that stewardesses took souvenir Polaroids of passengers as if they were sailing on an ocean liner or catching a dinner show. Once, there were planes with piano lounges. Once, a first-class meal might have included turtle soup served from a tureen, Chateaubriand carved seatside, and cherries jubilee. Steaks would be cooked to order - eggs, too, on breakfast flights."

- Bruce Handy, Glamour with Altitude, Vanity Fair, October 2002
How times have changed.
In November of 1982, after the airline ceased operations. As a final farewell to their image as sex symbols a number of former Braniff employees posed nude for Playboy magazine - recreating the real 'Braniff Strip'.
There's no single airline I can think of that did more for aviation branding as part of a single campaign than Braniff. They modernised air travel and, in the process, changed the face of aviation forever.
A must-watch 1960's Braniff television commercial is the 'Braniff Air Strip'. Watch it here.