MAXIMUM RETURN. MINIMUM INVESTMENT. YOUR ROI IS THE ONLY METRIC THAT MATTERS.

■ ■ ■
Digital marketing is the most effective and efficient means of growing your business. BeliefMedia are the media masterminds that achieve results the so-called gurus only wish they could emulate. Simple put, we're the company you don't want working with your competition.
Video Introduction
The video below is a very brief introduction to just one marketing strategy. We believe growth is best derived from a structured program that encompasses digital media, advertising, social, and offline auditing.
We're a platform agnostic agency, meaning that we invest in those platforms that return the highest yields. More often than not these platforms are Facebook and Google (since that's where most people spend their time). Google is best for the "buy now" search traffic while Facebook (and most other platform) target those individuals that fit a specific criteria.
The success of your campaigns has everything to do with a highly effective lead magnet – a product or service you're giving away in exchange for a name and email. We help you build compelling lead magnets (we generally call them "relationship offers") to maximize the landing conversions.
We put highly effective landing pages in place to capture leads.
We optimize your website presence before any marketing efforts takes place. This includes. but isn't just limited to. social, SEO, and mailing integration.
The Marketing Funnel
The concept of incrementally introducing an individual to a marketing funnel is nothing new. The AIDA model on which it is based has been used for over 150 years, and the digital mechanisms we employ are simply a more effective and targeted solution.
What is the AIDA model?
AIDA is an acronym that stands for Attention, Interest, Desire and Action. The AIDA model is widely used in marketing and advertising to describe the steps or stages that occur from the time when a consumer first becomes aware of a product or brand through to when the consumer trials a product or makes a purchase decision. The model has generally been expanded to include 'Retention', and we have created our own highly effective version of the model.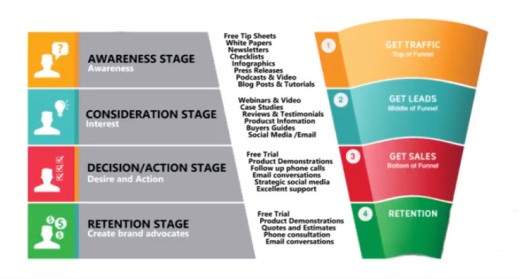 Advertising + Funnels + Email = Conversions
The funnel is tightly integrated with email and other campaigns so that the individual is introduced to your product or service in a strategic manner. Based on visiting (or not visiting) a particular page on your website we can follow the individual around the web and target them appropriately and with relevant advert delivery on Facebook, Google, and other networks.
The Buy Now Market
In any market it's deemed that around 3% of the population are in the market for what you're offering right now. An additional 7% are open to it. The manner in which your advertising is delivered is designed to capture and convert that buy now traffic while raising awareness to everybody else (no portion of potential traffic should ever be ignored).
While Facebook tends to get most advertising attention, Google AdWords cannot be ignored because of its effectiveness with the market that are specifically looking for you. This is why SEO optimised pages are vitally important, and why the Google AdWords platform is almost always worthy of your advertising spend.
The Marketing Funnel and Funnel Entry Point
The entry point to the funnel (indicating their point of interest) determines what "education program" (email campaign) is employed and what "relationship offers" (giveaways) are made. No inbound visitor is the same and cannot be treated as such.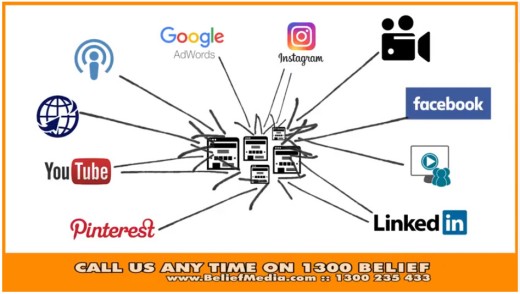 Pictured: Every inbound inquiry will come from a different source. It's important to serve that specific audience the most appropriate and targeted content. Image: Screenshot from our Mortgage Broker Mastermind Program video.
The important of your multiple funnels, their split-testing, and regularly modifications cannot be overstated. We consider our approach to funnels as industry leading. In fact, we've modeled ours on the natural form of a classical symphony with the first movement taking on the Sonata form: exposition, development, and recapitulation. Watch the last 15 seconds of the movie Frozen and pay attention to the soundtrack. What feeling are realized with that last trumpet bangs out 'Do you Want to build a snowman' just before the screen fades? What was the first thing you wanted to do after seeing the movie The Sixth Sense? After putting the pieces together you likely wanted to tell somebody. It's this psychology that plays in every funnel you create.
Social & SEO
No true campaign is complete without making a holistic effort. Organic search traffic is free and your website should always be optimised to ensure it is recognised with authority by search engines. Read more here.
Social media can also be a tremendous source of leads and traffic. Our systems for managing social media are unquestionably the most effective of their kind. Read more about our programs here.
Are you sick of excuses from your existing representation?
It's easy to become confused by the plethora of ads on social media from those claiming to be experts at what they do. The truth is that even ordinary marketing by these bad marketers tends to have a positive effect. What they can't do is match our massive return on your marketing investment. We're experts at squeezing every lead available from each dollar you invest into your campaigns.
We can often double your business without a marketing budget. SEO, organic optimization, and social may yield results simply by structuring your presence more efficiently. If ROI is important to you, that starts with a company that returns more for every dollar than any other. Dealing with anybody other than BeliefMedia is costing you leads.
While it's the big picture ROI that drives our marketing, we micro-manage analytics, heat-maps, screen-captures, and other data to determine how to maximize the interactions a user has on your website. We supplement all marketing with a social media management and marketing system that is the most advanced of its kind.
■ ■ ■
Subscribe to our mailing list for the most valuable marketing advice and tools you will receive anywhere.
■ ■ ■
Free, No Obligation Telephone Consulation
Get a free and no-obligation 30-minute consultation with Martin Khoury, our lead marketing strategist (valued at $700). Call on 1300 BELIEF (1300 235 433) to make your booking.