In a previous article we introduced the far-reaching compliance requirements around client communication, and the need for brokers to have access to a compliant email marketing system. In this article we seek to identify the necessary components for an effective email marketing system, and we demonstrate how we've built our own fully integrated email experience into Yabber

that satisfies compliant requirements and the most demanding business needs.
After long discussions with the regulators we determined that we could maintain a compliant cloud solution simply by utilising the suite of Microsoft APIs. Emails are sent through your own Microsoft account via their Graph API; email is always archived, they appear in your 'Sent Items' folder (although this feature may be disabled), and email carries your full branding in a way that makes marketing-based email indistinguishable from the email you normally send through Outlook. The tight integration has allowed us to build more efficient and extremely powerful link-tracking, open tracking, website integration, and other features that seamlessly integrate with your marketing funnel.
Note: We previously supplied Growth participants with a self-hosted, fully compliant, and Microsoft 365-driven email experience, but our newer Yabber Suite integrates email deeper into your Marketing Funnel experience in a way that wasn't previously possible. Yabber provides a far more effective tool. However, those clients that were supplied with their own email marketing software may continue using the licenced software for as long as their business requires it.
Email marketing is complex and remains one of the single most important means of driving business to your brokerage. Belief has reinvented email marketing via our own proprietary product that compares favourably against virtually any enterprise system made available to the finance industry. Our system supports all the features you would expect from an enterprise-level platform, and it is designed to be easy to use, return all applicable statistical data, and convert far more users into sales.
Note:
Note:
It should be noted that
Belief
's email marketing module is
very comprehensive
and
packed with features
, so only limited components are introduced here. The conditional aspects of the email marketing module that are made available by way of the highly integrated nature of our product are only touched on in brief.
Other articles

should be consulted to appreciate how each system seamlessly integrates user data with any action or transaction.
Basic Email Marketing Features include the following:
Standard Email Campaigns
Split Email Campaigns against any number of emails
Tracking of Open Emails
Tracking of Internal Link Clicks
Pausing Campaigns & Progress Logs
Compliant and completely rationalised email sending and archiving
Full branding through your own Office 365 email account (emails recorded in a dedicated 'Sent Items' folder.
Full logs and statistics on all sent emails, unsubscribes, interactions, and website funnel
Unlimited lists with unlimited subscribers
Unlimited autoresponder sequences
Select menu to attach documents uploaded via the integrated document manager
Attach any predefined email signature
Advanced Email Marketing Features include the following:
The term 'integrated' is often lost in translation. The following list of non-exhaustive advantages detail how the system integration improves upon your funnel experience.
Email is fully tracked within the Platform and measured against any active campaign you might be running.
Email download links are fully tracked by user (location, time etc.).
All links are fully tracked with reference to campaigns and on your website - linking behaviour back to an initial click.
Wistia video links are automatically converted to include necessary tracking information.
Triggers include standard email triggers but also integrate with website triggers (since the website is integrated into the email experience).
Email links include conditional 'interest' links to contribute towards conditional content scores on your website (a link click may potentially change what information, videos, and lead magnets the website serves).
Email links all carry default UTM tags if not specifically defined. This data is passed to your website and enhances your extremely comprehensive website statistics.
Custom website messages may be shown to those that arrived via specific email campaigns.
Your website inherits the identity of a user after a link is clicked in an email (so they may be tracked and understood - an essential funnel component).
Website Email Integration
Clicking on a link within an email indicates interest in a particular subject and, as such, neglecting to account for that strong signal of intent in a marketing funnel is crazy (and its conversion suicide as far as we're concerned). As such, we send that interest type to your website to either force or contribute towards conditional content shown on that page. It's not an simple task to create Conditional Information Panels but the effort is well and truly worth the time (and the only 'difficulty' comes from the time necessary for their creation) - they explode conversions.
If a user clicks on an email link and they land on your website, we'll record their first name, email, and phone number, and record those details in a cookie. This makes their details globally available in forms and other areas or features of you website, such as those occasions where you choose to show conditional content to visitors only if they can be identified.
All your email and autoresponder traffic is recorded in your website statistics panels to indicate the source of traffic (also available via Google Analytics if used). The same data is used to record video views, action triggers, and so on.
As described in an article titled "Show Campaign Messages on Your Website to Email Link Visitors", we demonstrate how the email-website integration enables you to show specific blocks of content to those email recipients that clicked on a link in an email and landed on your website.
Subscription forms are highly integrated with your website and the entire Yabber email experience; in fact, they're intrinsically connected. Subscription forms are more than just subscription forms. Discussed in an article titled "Creation Email Subscription Forms in the Yabber Marketing Platform" we describe how the form connects a subscriber to up to 35-points of automation, and how it provides business with automated lead and prospect management. An email suite is nothing if it doesn't provide seamless integration with other marketing assets, or isn't easy to include on your website (and we describe the 5-second process of adding a form to your website in an article titled "Using Conditional (and Escalating) Subscription Forms on Your Website" (the same article introduces how the forms escalate based on what lists the user has previously subscribed - yet another feature that is only available via an integrated system).
While a little off-topic, we discuss the importance necessity of including an integrated calendar in subscription forms, and we describe in an articled titled "Include Subscription Forms on Every Page of Your Website" where we detail how we provide a one-click option to include subscription forms and an offer on every page of your website (since every page on your website is a type of landing page). The feature explodes your website conversions.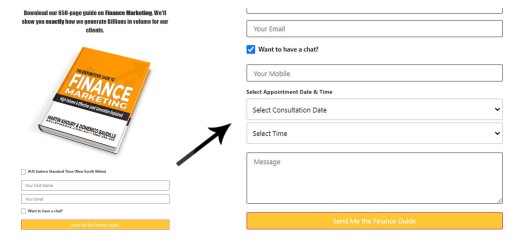 Pictured: A simple example of the integrated calendar option (we have a live example at the bottom of this page). Once a date is selected, the second field will populate those dates you have made available from within your Outlook calendar. This simple subscription form now provides more functionality than most landing pages... and you're showing it everywhere; if somebody has read your article we assume they're interested in what you're writing about - it's the perfect time to make an offer. A calendar option such as this provides the necessary functionality to show hundreds, or even thousands, of conversion opportunities all over your website - don't limit them to just one page! Every page on your website needs to provide a lead magnet with associated conversion opportunity. We cannot overstate the explosive effect this simple measure will have on your booking schedule. The calendar options are described in our article on website form creation (in this example we've selected 30-minute booking slots). Form creation makes numerous automation-based options available, including additional fields.
The level of integration is vital for massive website conversions (and it's a level of integration only Yabber

provides). The full suite of growing features are only introduced in brief, and the features aren't exhaustive. If you're interested in exploring how the Yabber platform features allow you to craft the most powerful digital presence in the industry you should review the Yabber

tag.
Sending Email Campaigns
Sending email from our marketing platform is simple, intuitive, and ensures compliant conduct. Emails are created first before they're assigned to and sent as part of a campaign.
The first action we'll take when sending an email is to give the campaign a name and select either a single email or a group of emails. A campaign name is assigned because it may contain more than one individual email (in fact, there's no limit to the number of emails that may be assigned to a split test although we normally recommend just two emails for simplicity). In the majority of cases you'll simply select a single email.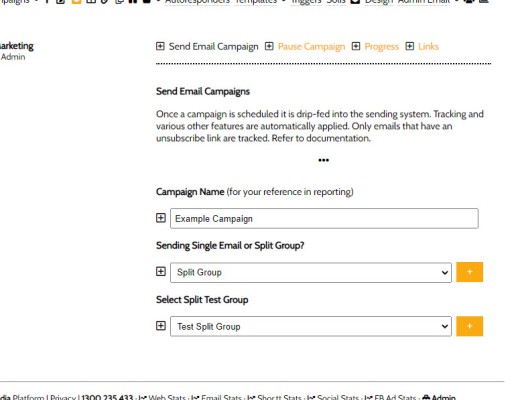 Pictured: The first steps in creating an email campaign. You simply provide a campaign name, select a split group (in which case you'll be presented with group options), or a single email (in which case you will simply select the applicable email).
Once you have defined what type of campaign you are sending (a single email or a split test group) you will be asked for scheduling details (immediately or at a specific time), specific sending gates (not before and not after times), and the minimum send time between each email (a spam mitigation tool and metering option). Each option is presented after the option before it is selected making it an entirely intuitive and easy-to-use process.
Note that an interval is automatically applied between each Gmail and Hotmail email address as a spam mitigation measure. In addition, we inject headers into your Microsoft Office 365 email for automatic one-click unsubscription (generally honoured by both email services).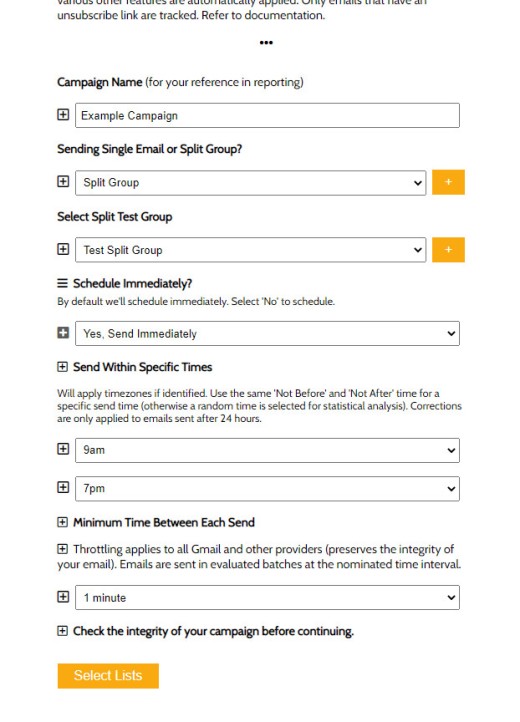 Pictured: Various email send options presented in a step-by-step manner. Once basic email options are selected you move to a screen which presents the recipient lists.
When selecting lists via our system, the following general sections apply:
Select primary distribution lists
Exclude those on specific lists
Exclude recipients of a previous campaign
Only send to recipients that opened a previous campaign
Only send to recipients that didn't open a previous campaign
Other sending options apply but they're rather advanced in nature.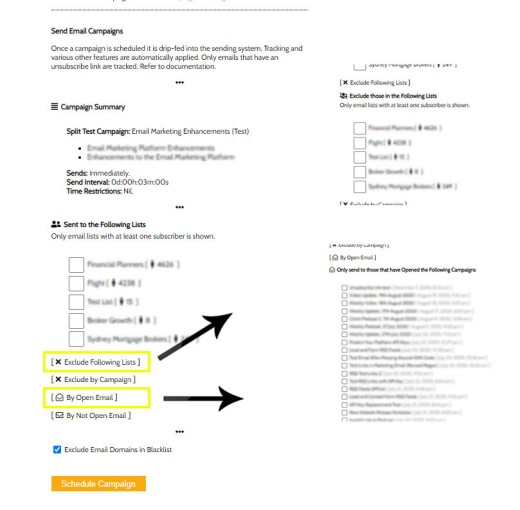 Pictured: The basic email send panel. The exploded areas include the list exclusions, and the open email exclusion. Scheduling the campaign will construct individual emails into a queue that'll send through your Microsoft 365 email account.
Statistics and Email Logs
An area that continually frustrates us it is the convoluted and cryptic nature of statistics returned to a user, so we've worked hard at creating easy-to-read tables and graphs that provide visual and visceral feedback on your data. If Yabber record any user data we return it to you in a measurable and easy-to-read format – this includes open rates, engagement rates, link click stats, video views, and numerous other conversion metrics. When a user becomes known to Yabber we reactively associate former records with that known user.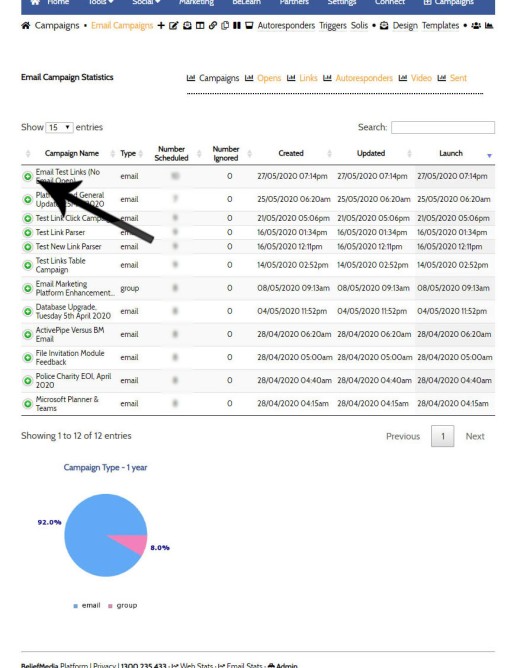 Pictured: While each email and autoresponder campaign you send has its own page of detailed stats, the summary of each campaign is sensibly included in a simple table making the basic statistics that relate to any campaign available with the click of a button. Note that the system fully supports Wistia by default with associated event triggers. Clicking the icon as shown by the arrow returns statistics as shown below.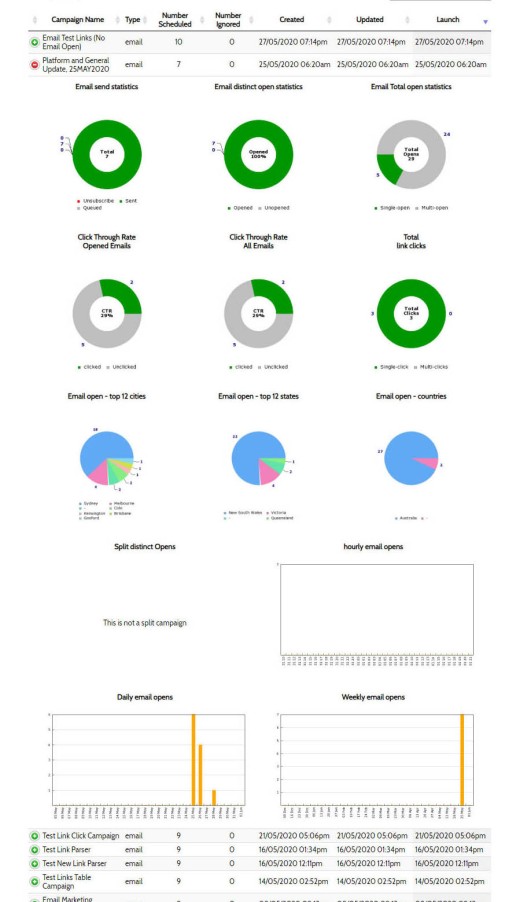 Pictured: Clicking on a campaign returns a more detailed statistics summary associated with a campaign. Selecting a campaign via the select menu returns comprehensive details for that campaign. Test campaigns are pictured... thus the lack of information.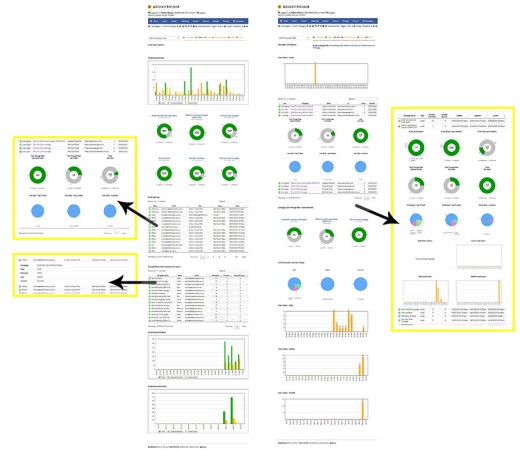 Pictured: Basic email stats returned via the composite (aggregate) menu. Individual and detailed campaign statistics are available via the dropdown menu. Test data shown.
Email & Audience Segmentation
Introduction
Since purchase decisions are rarely made on the spot, an email sequence is used to provide genuine and valuable follow-up in order to address the very specific needs of your customer. While the means upon which to have a visitor subscribe to your list are best left for another occasion, it's important to remember that the email sequence (not unlike re-targeted advertising and social) is intrinsically connected to your marketing funnel experience; it's an opportunity to establish you (or your brand) as the individual I should be doing business with. It's an opportunity to show your value, your product value, and earn my trust. Treat me with any kind of contempt or lie to me and you'll immediately alienate me. Sadly, it's the marketing arena where this kind of wayward conduct is most prevalent. Just one email that fails to deliver upon expectations is enough to have a subscriber vacate your email list and filter their way out of your primary marketing funnel.
Note: There isn't a single email program we'll see on Facebook, Google or elsewhere that we won't subscribe to. We use a dedicated email account to sign up to any advert that presents itself... and we'll often browse through the thousands of emails to evaluate how others are performing in the email space... and we're constantly disappointed in what others think is appropriate behaviour. First and foremost, if you contact me you should treat it as an absolute privilege. We don't want to see fake messages urging us to take action before an offer is rescinded (this includes assigning a "$450 Value" tagline to a service you provide for free), we don't want to see links to fake 'live' webinars (such as WebinarJam), we don't want click-bait headlines, we certainly don't want generic content, and we don't want you selling another junk product every other day. Above all else, email contact is an opportunity to (primarily) share and educate - not sell (the latter is inevitable if you do a good job with the former).
BeliefMedia has developed a proprietary framework for email campaigns we refer to as the Symphony Sequence. Based on the formulaic construction and development of a symphony, our email campaigns start with our Sonata sequence (over the first 6 to 10 days) before making its way through the other email 'movements'.
The most important takeaway from constructing email sequences is clear: your job is primarily as an educator serving only high quality content. Don't try and sell.
Segmented Audiences
Each audience you attract into a funnel should be appropriately segmented so that the information or follow-up they receive will be highly relevant and informative. Your audience is all looking for a specific type of service and your follow-up is often ignored if you don't provide your email recipients with immediate pain relief, or you don't provide the answers to the questions that drew them into your funnel in the first place. For example, one of your prospects might be looking for refinancing, their first home, investment loans, reverse mortgages, and so on. Each of the follow-up email sequences and re-targeted advertising should be tailored specifically for that audience. In the case of finance there's absolutely no such thing as a one-size-fits-all approach.
The process of segmentation is easy: either ask a question when a lead joins your mailing list, automatically filter a user based on the page of your website for which they subscribe, or include an option in an email for the most appropriate information (clicking a link will unsubscribe them from one list and add them to another). The only time we don't segment immediately is when a user subscribes via your landing pages (landing pages are usually a means of filtering into an appropriate interest group).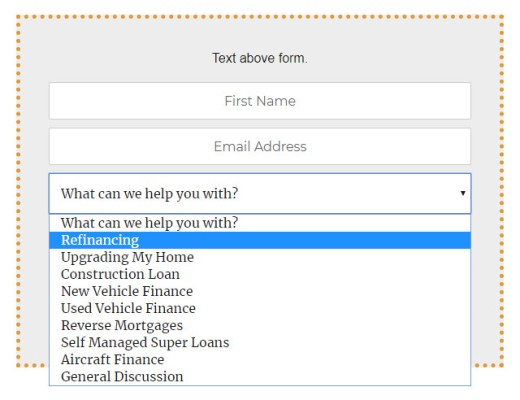 Pictured: Generic or forward-facing subscription forms not associated with a promotion or landing page should provide an option to select what they're interested in. Our initial Sonata email then takes care of their initial enquiry, the user will be subscribed to a relevant mailing list, and they'll enjoy relevance by way of associated follow-up.
Segmentation by country or state (when subscribing to an email) is created automatically based on resolving an IP address; this is a form feature we provide by default.
Yabber provides for easy segmentation at the general and form-creation level. If we provide a "Are you Interested in…" style of subscription option, we can filter subscribers into an appropriate list based on their preference.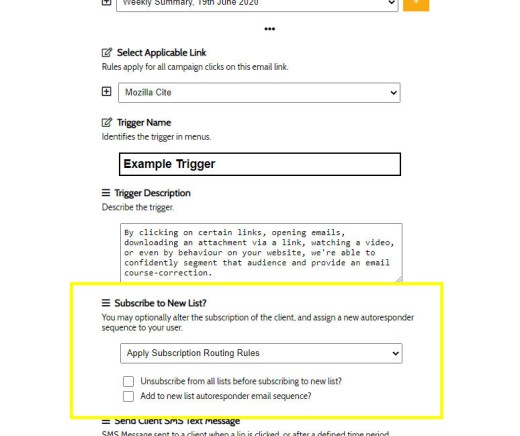 Pictured: The image shows how a user might be unsubscribed from one list and moved to another based on clicking a link or opening an email (email triggers are introduced in the next section). It's one example of many of how email is managed to deliver the most relevant content. The change of email subscription is available via all triggers.
Because we record all relevant user data in cookies and in an active page session (something you cannot do with third-party services) we can serve relevant data at any time, or deliver content that is most applicable by assessing past interactions – such as showing a subscription to an offer other than one they're already subscribed to.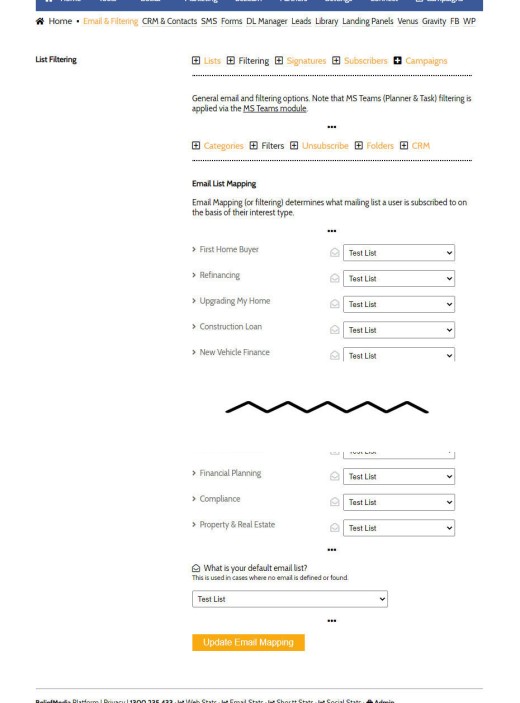 Pictured: Email list segmentation is made easy by way of a simple one-page option. Based on the type of interest we subscribe a user to the defined email list (at the time of initial subscription via your website).
We want to share higher-end information with those that are interested in our services; true funnel-based email segmentation is essential in ensuring we deliver the correct information to our various audiences.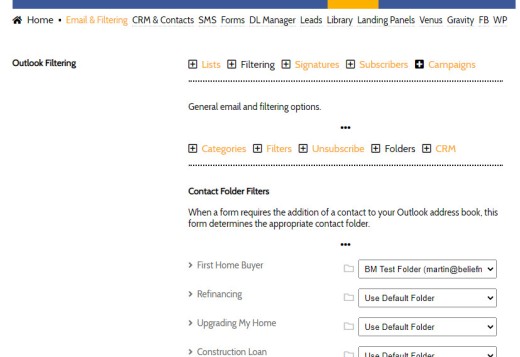 Pictured: Filtering and segmentation is also applied to Outlook contact folders (if the option is applied). Pictured below is the lead flow based on subscriber interest to various Outlook contact folders.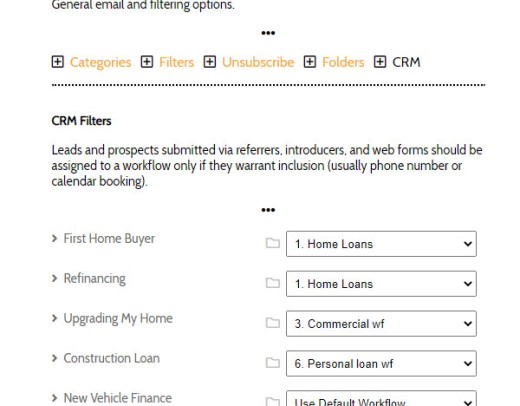 Pictured: Beyond the scope of this document, leads are also segmented and filtered into various CRM systems. For example, a lead into SalesTrekker will be defined by the workflow (stage is automatically determined). A broker may optionally define a single workflow for all leads.
Filtering to Outlook serves two primary purposes. First, if an individual calls you the caller ID will identity the caller as a specific type of lead. Outlook segmentation also serves as a means of segmenting audiences for SMS Text Messaging and other marketing-related Platform features.
Any question you might ask in a form at the time of subscription - such as state or country (and particularly attributes such as phone numbers) - further increases the 'barrier to entry', and decreases the subscription rate.
Not introduced in this article is our proprietary BeNet engine. BeNet is an Inference API (a kind of AI) that can identify interest types based on page views, email opens, downloads, and other actions. As such, you can charge BeNet with course-correcting users into the most appropriate list. The mortgage industry has never been introduced to the level of automation we've just described.
We advocate segmented communication and lists for existing clients, referrers, introducers, and so on, and Yabber provides no limits on the number of lists or subscribers you may create or maintain.
Email Autoresponders
What Are Email Autoresponders?
The ideal conversion off the tail end of any campaign is a phone conversion. The secondary conversion is by way of a nurturing email education campaign that escalates the commitment of a user through the marketing funnel.
The 'Email Autoresponder' sequence is designed to educate, inform, and establish you as the expert in your field. It is not designed to sell; if you provide sufficient education and treat the follow-up campaign with the respect that it deserves your expertise is used to qualify you as the business of choice.
Every email in the email follow-up sequence is designed around our Sonata email model with the first 'movement' of email being the most frequent.
Creating Autoresponders and Email Templates
We've made the creation of email marketing campaigns super-simple. Would you believe that in this day and age – and from people that claim to promote a marketing service – brokers are still provided with promotional material as a Word or PDF Document as source material? Brokers are then expected to copy and paste these emails into yet another third-party email platform loosely connected to a matrix of fragmented services. It's just absurd.
For all our email creation we use a feature rich editor that supports the super-quick creation of complex emails. Images and other media types are fully supported. Whenever an editor is used for the creation of emails a library of templated options is available from a toolbar button.
Clicking on the 'template' button returns default email templates created by BM, and it also includes any email template you may have created and saved yourself. You simply select an email from the library, click 'save', and the content of that email is immediately migrated into your editor. You may optionally add a small attachment to each email template.
Creation email autoresponder programs in full may take you as little as few minutes.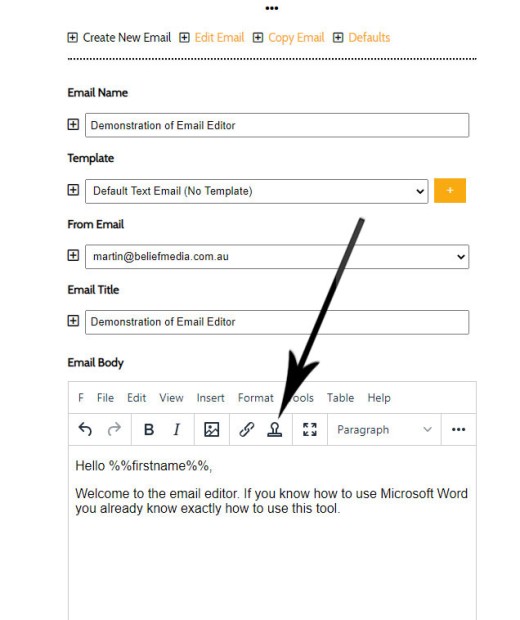 Pictured: Clicking the email template icon returns a library of templated emails. Any email you created and save yourself via the 'Email Marketing Templates' panel are also returned for inclusion. Note the option that reads as 'template' in the email selection panel: this is the email design – not the email content.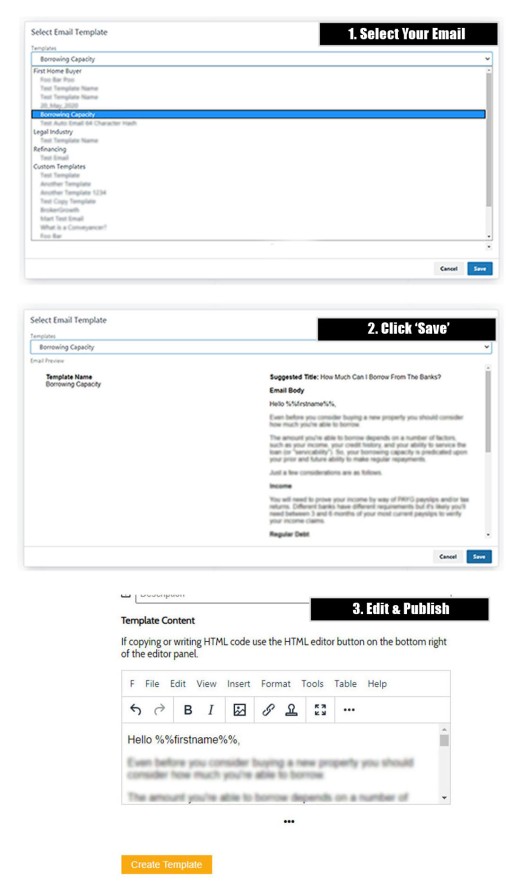 Pictured: Creating templated finance emails. Simply click the library icon, select the email you would like to copy, and click 'Save'. You may then edit the email to your liking or keep it as is. The creation of full custom campaigns takes no more than a few minutes.
Having just introduced our tool to return a library of generic content it's important to discuss our disdain for anything generic.
We provide generic content so they might be built upon by you. You should introduce your brand into the language, curate the content to better represent your services, and make the email your own. Generic content is just that: generic.
None of our templated emails are designed to provide a sell; we don't include those ridiculous challenge questions ("are you still interested in..." questions) and we don't provide emails that are designed exclusively to promote a call-to-action. If your email campaign serves the right volume of educational material, your tone is one that is becoming and expected of a financial practitioner, and your campaign is supported by professional media, you will qualify yourself in the mind of your potential client very quickly.
Email Triggers
What Are Email Triggers?
Email Triggers are actions performed on the basis of interacting with an email or – as discussed in the previous chapter – engaging with a link or download on your website. This might include opening an email, clicking on a certain link, or downloading a document via a link. Of the eight non-video triggers (video includes a number of triggers based on a large number of actions), four are directly related to email while downloads are shared between your email campaigns and website.
The actions performed when a trigger is activated includes the sending or scheduling of an email and/or SMS, altering the email subscription, or creating a task.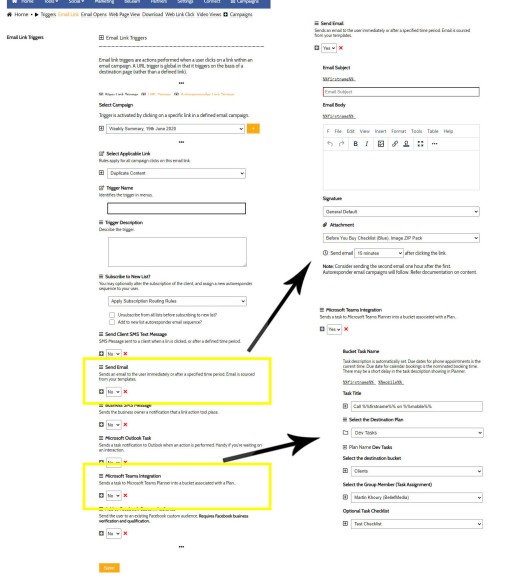 Pictured: The typical email trigger panel. Triggers (actions performed on our end on the basis of a defined interaction) includes list segregation, a client or business SMS, sending a specific email, creating a basic Outlook task, creating a task in Microsoft Planner, or adding the user to a Facebook custom audience. New triggers will be added in the future.
Email Link Triggers
Email link triggers are actioned on the basis of a user clicking a link within an email. This might be an email marketing campaign, autoresponder, or any other email the system may send on your behalf.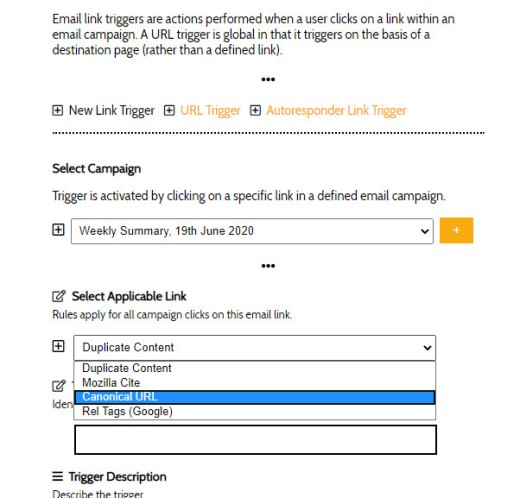 Pictured: Creating a link trigger of any kind is easy. Simply select the email campaign or autoresponder email and register the appropriate trigger actions.
We also provide a 'catch-all' URL trigger. A URL trigger isn't based on a specific link, but rather a defined online web page.
Email Opens
Email open triggers are actioned when an email is opened. The open feature is less reliable than most since many people don't include HTML images in their emails (our pixel is only rendered when HTML is allowed), and some systems will read all content before it's sent to a user. That said, it's still an extremely effective tool – the false positives are small in number.
All email opens are recorded in the system with a full graph-based statistical analysis returned in real time.
Email Downloads
The download trigger is actioned when a user downloads an object via a link in your email.
All downloads are recorded in real-time via the Download Manager, and detailed information is returned in graphical format (in addition to a table).
It's the SMS trigger where we've seen great results; if a user downloads a first home buyer guide you might send the user thanking them and advising that you'd like to make yourself available for a chat. There are times, however, when an investor might download the guide for other purposes… so the text should reflect this. Sometimes the creation of a task might be more appropriate since it can be followed up in a more personal way.
Advanced Triggers (Unrelated to Email)
Advanced triggers apply for website page views (a unique feature in the marketing field), internal website link clicks, downloads (when a user downloads an eBook or other product from your library), and for video views (depending on video watched, length watched etc.). We also include a range of triggers that utilise our integrated (and optional) Telco product. The trigger systems are discussed in more detail here.
The Unsubscribe Conversion
To redirect a user to a page after a subscription is a standard feature in most email marketing systems. Our unsubscription redirection is based on the list for which the user is subscribed, and our destination page serves three main purposes:
Thank them for their participation
Provide an opportunity to subscribe to another list, or provide another offer (lead magnet)
Garnish feedback on the reason for the unsubscription
It's the second point that tends to be ignored. It's not enough to gather data on why a user has unsubscribed; we should invite them back into a funnel that is most applicable to their needs. We measure a USR (or Unsubscription Subscription Ratio) to determine the effectiveness of this technique.
The unsubscription conversion is presented in more detail in an article titled "Converting an Unsubscriber Back into Your List With Unsubscribe Redirects".
Leads, Subscriber & Unsubscriber Statistics
Introduction
Detailed graphical and tabular statistics are provided for incoming leads, subscribers, and unsubscribers. This information is important graphically because it quickly indicates trends without detailed caveman-style analysis of a spreadsheet; we need to know what sources are delivering leads, what our leads' defined interest type is, and how many people unsubscribe to a particular campaign.
We return statistics based on the form used, the page the form is shown on, the interest type, and just about any other valuable attribute that contributes towards our knowledge of how a particular campaign is performing.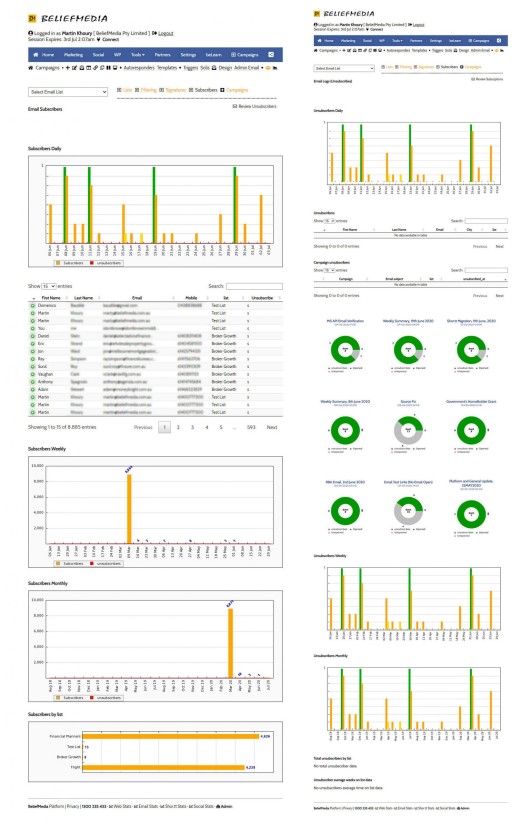 Pictured: Subscriber and unsubscription data (shown on the left and right). We return the data as it applies globally and for each campaign. Don't worry about those users that unsubscribe – it is nature's way of cleansing your lists. You only ever want to be sending email to those that choose to receive it. Dummy data is shown.
General Lead Graphs
All incoming business is defined by table and graphs in the 'Leads' menu. Leads are segregated by General Leads, SMS Subscribers, and Contact Form submissions.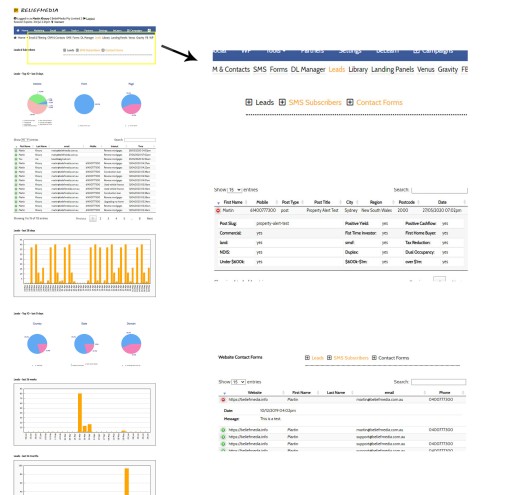 Pictured: General lead records. Via the 'Leads' menu we have a running commentary of form-based leads, SMS leads, and contact form leads that are consumed by the Platform. The SMS leads show all information relating to the subscription, and the contact form leads shows the full message submitted.

Pictured: The general user table shows an unsubscribe link. It launches a modal where a user can quickly and easily be removed from all lists.
Solis - One-Click Campaign Creation
Solis is introduced in more detail in another article. The article describes how our one-click system supports the quick creation of campaigns via the single click of a button. This automation includes the creation of fully branded lead magnets, subscription forms, a landing page on your website, and appropriate automation, such as email autoresponders. It will optionally (for some users) create advertising campaigns and send them to Facebook. As you can tell, it seriously simplifies the creation of your marketing needs, and provides an extremely agile method to respond to market demands.
This automation will progressively be introduced for every conceivable advertising campaign you will ever need. This one-click creation is only made available because of the significant integration Yabber provides. With an understanding that some 'marketers' will introduce DIY systems that may take you weeks to implement, you may start to recognise the power that Yabber provides. We've reduced their entire poor-performing program to a single click.
Once the Solis automation does its thing you will also have access to a subscription and landing panel block on your website should you choose to include the newly created subscription offer anywhere else.
It should be noted that Solis isn't intended to replace originality, positioning, creativity, or a custom program. Instead, we'd prefer that Solis was used a template you might use as a placeholder for your own creative and well-positioned content.
Conclusion
There's one key takeaway from what we've described: the system is entirely integrated, feature-rich, and compliant. You will only ever have one single source of email for everything; from the personal email you send every day as part of normal business, to full email campaign sends - it all sends through the same source and is archived in a single source. Reliability is excellent, performance is unrivaled, and features are extensive.
The email integration means that every marketing asset you own is intrinsically connected to every other. This enables our BeNet artificial intelligence API to create course corrections, learn more about your audiences, and provide real statistical insights. In fact, Yabber is the only system in the finance space that is able to return accurate data-driven insights because it doesn't consider each source in isolation; instead, it aggregates data in order to study and learn from the behaviour of all your funnel participants. If this sounds foreign to you it's because it's a system that didn't exist in the finance space until we created it... and it's changing the marketing world that brokers live in.
The Email Marketing module is just one part of the Yabber Suite

, but it's an extremely important one. Virtually all systems are connected to email in one respect or another.
From a user perspective, Yabber provides an extremely simple means to manage your email, and the email one-click templates and one-click campaign creation makes actually creating content an absolute breeze. The email system fully integrates with your website, and Yabber provides a raft of tools to manage how email is ingested into your funnel journey.
While we've introduced a large number of (non-exhaustive) features, it's unlikely you'll need them all, or use them all, in your early marketing efforts. However, as your marketing matures and your need for a more powerful funnel presents itself, the necessary tools are available to you.
You simply won't find a more suitable, compliant, feature-rich, data-driven, or more powerful email marketing suite than the module Yabber provides.