The email subscription and/or contact form is the heart and soul of your website funnel entry point... so you need to make it great. We see a lot of brokers flock to third-party email subscription (and calendar) tools when they objectively compromise upon your page experience, analytical insights, and conversions. The generic and low-performing mailing list subscription experience you might be familiar with, and that which is found virtually everywhere else, is completely unlike the solution Yabber provides. The importance and basic features of the subscription form are introduced in this article. Keep in mind that the solution we're describing on this page is the only integrated and full-stack solution made available to the industry.
First, and as further described in an article on the need to include a calendar form on most subscription forms - including a hidden calendar option on a landing page - because there will always be those that wish to talk to you now, and in the case of landing pages, there are those that are more interested in you than they are your lead magnet or offer. As detailed in our article on our integrated calendar, providing an optional calendar option hidden (until asked to be shown) does not impede upon the funnel flow. In fact, it has the entirely opposite effect; nearly 80% of all the calendar bookings we're seeing are coming from the first landing page (facilitating optional and high-converting conditional redirections). It's important to introduce the calendar aspect of our standard form because it's a feature many in the industry are drawn towards, and not unlike all features made available via Yabber

subscription forms, it provides fully integrated functionality that isn't reliant on unreliable pesky third-party plugins. In fact, as introduced on our 'Every Page is a Landing Page" article, we show how the integrated form under every single post on your website, or any other page, explodes your organic conversions (and Yabber

makes this a one-click operation).

Pictured: The form above has changed a little since the screenshot was taken - we now use a checkbox to open the calendar, which can be opened by default. The form shows the optional "What are you interested in" option, and includes a fields for a phone number (since the calendar is included). The calendar obviously links directly to Outlook and creates calendar bookings in real-time.
As detailed at the end of this article, we record detailed statistics on your leads and prospects, and return this data to you so you know exactly how your lead generation efforts are performing. Supplemented with extremely comprehensive website statistics, your Page Subscription Ratio (PSR), and other data
, you will be positioned to take full advantage of your digital marketing.
Video Demonstration
The following video shows the very basic actions taken to include a subscription form on your website. Note that most in-page subscription forms may optionally inherit an 'escalation cycle' that shows a sequence of 'escalating' subscription opportunities based on lead magnets or forms that they've already subscribed - an essential component of a real marketing funnel journey. The escalating methodology and ethos is described in an article titled "Using Conditional (and Escalating) Subscription Forms on Your Website". The same escalation cycle is also available to landing panels (basically a two-column side-by-side image and subscription form).
The forms themselves are created quickly and easily on Yabber

and then simply dragged-and-dropped using your website page builder (that we provide as part of the complimentary website we provide clients). It's extremely easy to use.
Other Subscription Forms
It's worth noting that Yabber also supports event subscription forms and 'Property SMS' subscriptions (for "Property Alerts"). While not entirely relevant, we have an old-school 'Contact Form' plugin available... but this is now retired, and we instead use the standard subscription form for general contact.
The Subscription Form
Our email subscription forms are feature rich, elegant, simple to use, and fully customisable.
There's nothing on the market available to mortgage brokers that compares with our email integration. We integrate all email segregation features, SMS notifications and initial reminders for calendar bookings, email software, and CRM software all into our Platform. You'll hear about automation all the time but very few know what it actually means.
If your email experience includes words like 'Lead Pages', 'Click Funnels', 'Kartra', 'Calendarly', 'Zapier', or 'Mail Chimp' – among many others – your experience is fundamentally flawed, is not future-proof, and it's objectively costing your conversions. If you have enlisted the services of a marketing agency that has recommended or provided these services to you it's probably time to have a serious sit down chat (and there really are agencies that will recklessly provide these solutions to their clients). They're tools that are designed for DIY businesses – not professionals.
Quick (and very basic) question: does your contact form attach itself to automation and an email follow-up? Are you wasting this transaction?
Integrating Your CRM
There are parts of our email subscription experience that are somewhat contrary to our ethos. One element of this contradiction is illustrated by way of adding a user to a CRM as an Opportunity. However, in the case of platforms such as SalesTrekker (a system we fully support in virtually every respect), we can add online leads to a non-deal workflow. While we'd never normally advocate sending a mailing list subscriber to SalesTrekker(ST) as an Opportunity (the action is premature and will normally simply fill up the ST dashboard with irrelevant "deals"), SalesTrekker's own workflow segregation and automation is designed for any transaction (not just deals), so it's a practice that is occasionally beneficial if the contact has provided necessary contact details or made a calendar appointment.
We see many clients sending a "lead" to a standard workflow when we could just as easily attach the lead to a workflow designed specifically for appointments or pre-sale interactions of any kind (something most traditional broker platforms ignore). In this way we could apply best practice via defined actions (or ST stages) in order to convert and move that lead into a deal workflow. Additionally, SalesTrekker's default automation might trigger its own introductory email separate from that of any associated email campaign (triggered via BM's automation). There's a clear advantage in adding the deal to a non-settling workflow because it creates a workflow-related mindmap of a client journey that isn't reliant on email or memory.
There is an expectation that we'll reintegrate other aggregator CRM systems over time.
Since most aggregator systems don't support a Kanban (stage/workflow) style of presentation we'll usually advocate for Microsoft Planner (part of Microsoft Teams) because it's an enterprise-level piece of software that you may already have access to as part of your Microsoft subscription.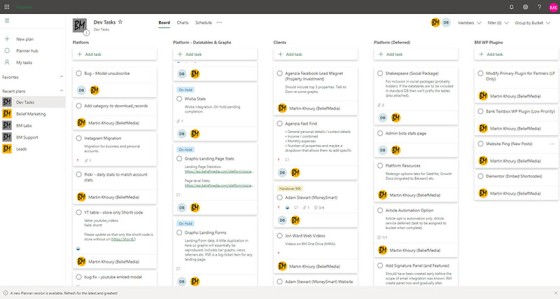 Pictured: Microsoft Planner. Planner is a Kanban-style board that segregates tasks by way of 'Plans' and 'Buckets' (similar to workflows and stages). It's not a CRM but does support very comprehensive lead management. BeliefMedia currently uses Planner for internal lead, task, and lead management.
Note:
Teams (and Microsoft Planner) is generally available only with
Business Standard

O365 subscriptions. It was previously included in the now-retired Business Essentials package so there's a chance you have access to it on earlier lower-priced plans. The easiest way to check if it's part of your subscription is to simply visit
tasks.office.com

.
We support automation to Planner as a default Yabber - this includes tasks, checklists, automation, triggers, and more. Our motivation for using Planner is introduced in an article titled "Microsoft Planner to Manage Business Tasks, Leads, and Prospects", and we introduce the (BETA, and limited release) trigger features in an article titled "Applying Marketing Triggers to Microsoft Planner" (it turns Planner into a poor-man's SalesTrekker).
Creating an Email Subscription Form
Introduction
Our form subscription options and the associated automation are quite comprehensive. Despite the large number of options, and despite the apparent complexity implied by way of the screenshots, it's extremely simple to use. The idea is that you'll use only those options that you want to use meaning that when creating each form there's only ever a few options that should be populated with data.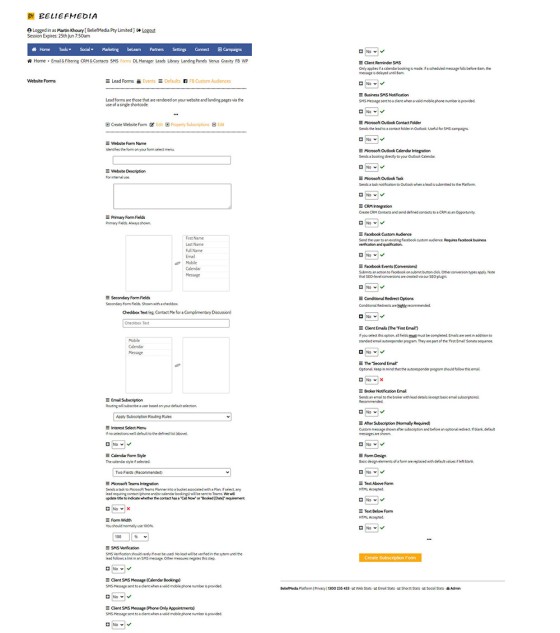 Pictured: For each subscription form created we present a number of options (pictured in two parts because of the length). Despite the apparent complexity the form is extremely easy to use – you will likely use only the automation that is required.
What follows is a brief introduction to form options and the associated automation.
Basic Form Fields
Basic form fields include the form name, description, and the primary form fields that are shown to a user. Since any keystroke reduces conversions we generally prefer the use of first name and email only. Any other options should be made available via the dropdown 'Please contact me' options (as shown on the 'Secondary Form Fields' panel).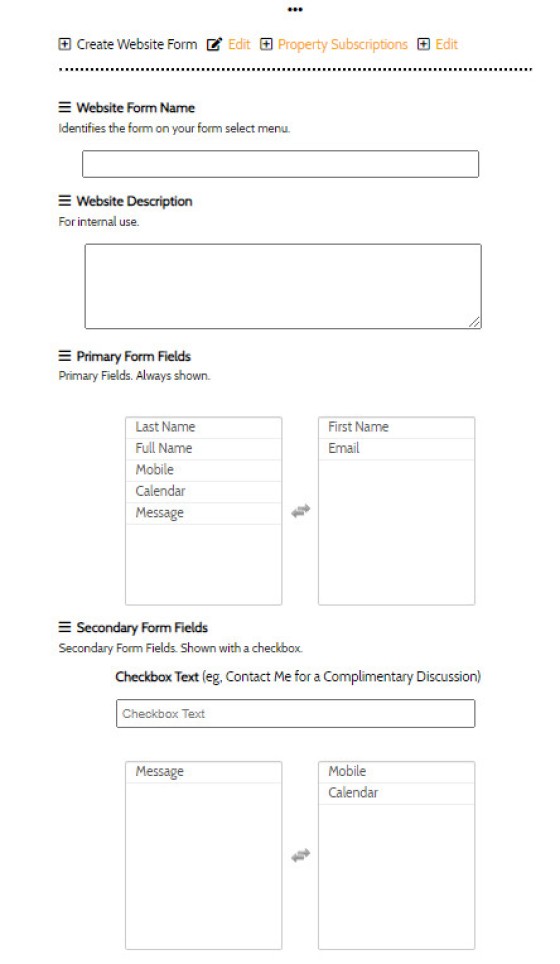 The 'checkbox text' is the text shown next to the checkbox that returns the secondary options panel. It's generally reserved for mobile and calendar options for those that are more interested in contacting you than they are in your lead magnet or other offer.
Interest Select Menu
In cases where the form location itself doesn't provide interest context we'll simply ask the question "What are you interested in?"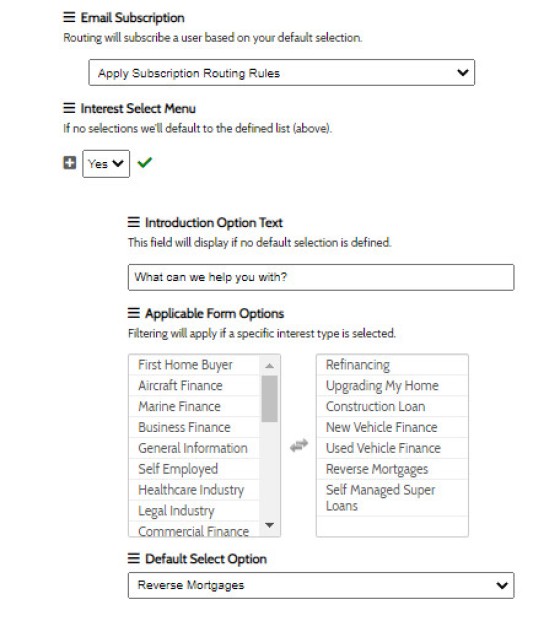 We can force the subscription to a particular list via the 'Email Subscription' menu or apply our 'routing rules'. Routing rules are discussed in the chapter on 'Email Marketing' - we simply map a type of subscription to a particular mailing list.
Calendar Style
The calendar style simply determines if we use two calendar fields (the first date field populates the second availability times), or if we use a single select menu. The full calendar option is in the process of being removed and is highly discouraged.

Microsoft Teams Integration
It's the Microsoft Teams integration that'll likely see more effort applied in development than any single CRM because the tool is so widely available. If you choose to use the feature you should open the panel, select the applicable plan and bucket, and assign an optional checklist.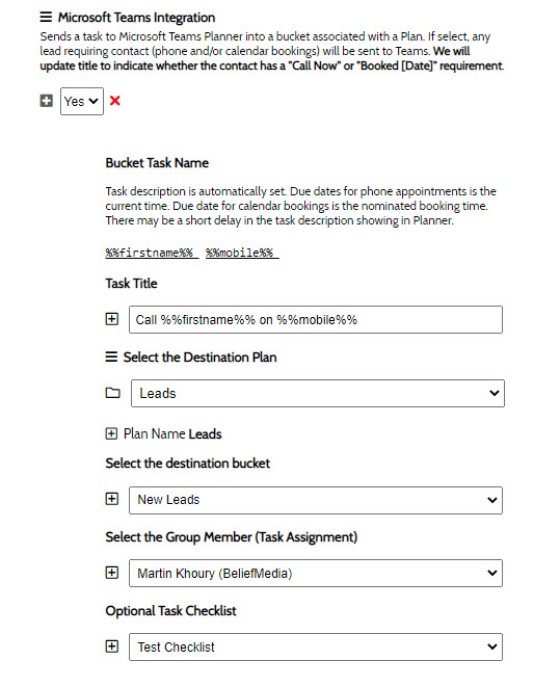 Checklists are created via the Platform 'MS Teams' menu. This makes them globally available to any application that requires them.
SMS Verification
The SMS verification option is one that we'll likely remove because it's completely contrary to our hassle and barrier-free ideology. Expect us to revise its use over time.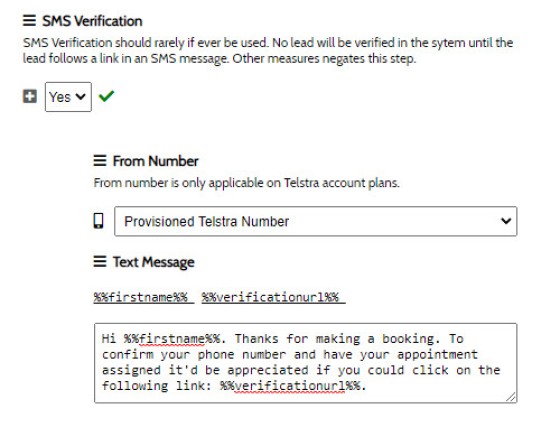 Verification will send the user to a page on your website which assigns a note to the calendar booking (it doesn't remove it).
SMS Notifications
When a booking of any type is made we'll optionally send the lead a text message. We send a personalised message based on the type of interaction they had on our website (calendar booking or phone number only).
The basic text message feature is encouraged.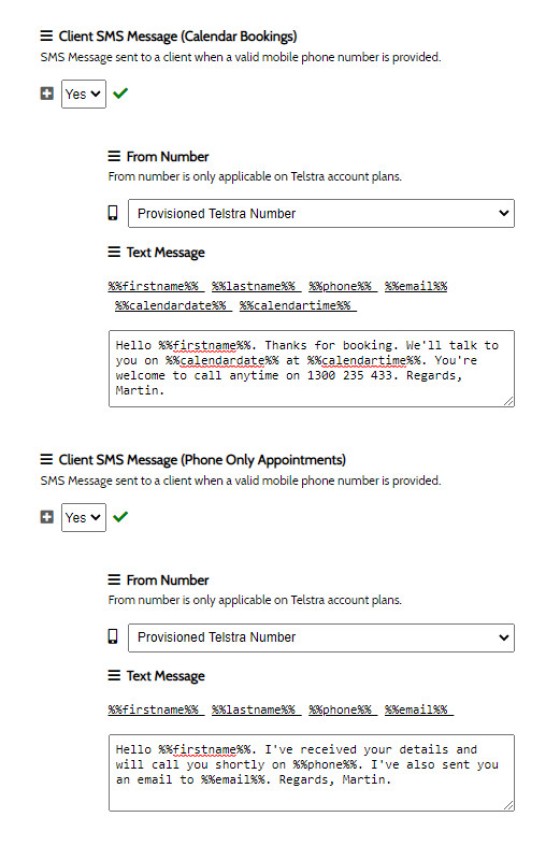 SMS Autoresponder programs are also available for any subscription where a phone number is provided although they are highly discouraged. Invading the sanctity of a mobile can quite quickly and easily be perceived as spammy... particularly when sending attached media such as voice-drop messages. The 'Send From' alphanumeric phone number is described in our article on text messaging; the standard provisioned number is assigned if excluded. SMS replies are sent back to you via email (as defined in 'Settings') as well as back to the 'from' number if you're not sending from an alphanumeric sender ID.
Client Reminder SMS
If a calendar booking is made we may optionally send a reminder text message before the scheduled appointment. If a meeting is scheduled before or at 8am the text message is always sent 15 minutes before the scheduled meeting time or, in cases where the appointment falls after 8am, it is send as per schedule but never earlier than 8am.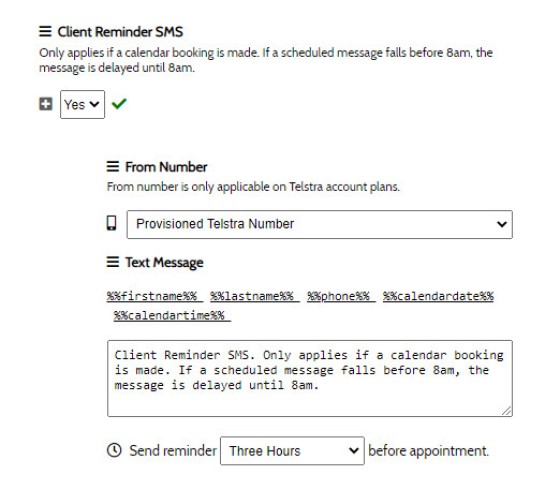 Business SMS Text Message
A business text message is highly encouraged – particularly in cases where the lead has asked for you to call at 'Earliest Convenience'. To quote Ricky Bobby, "if you're not first – you're last". It's important to call your client as early as possible.
Microsoft Outlook Calendar Integration
Calendar integration is important for all forms; subscription forms, event forms, and contact forms.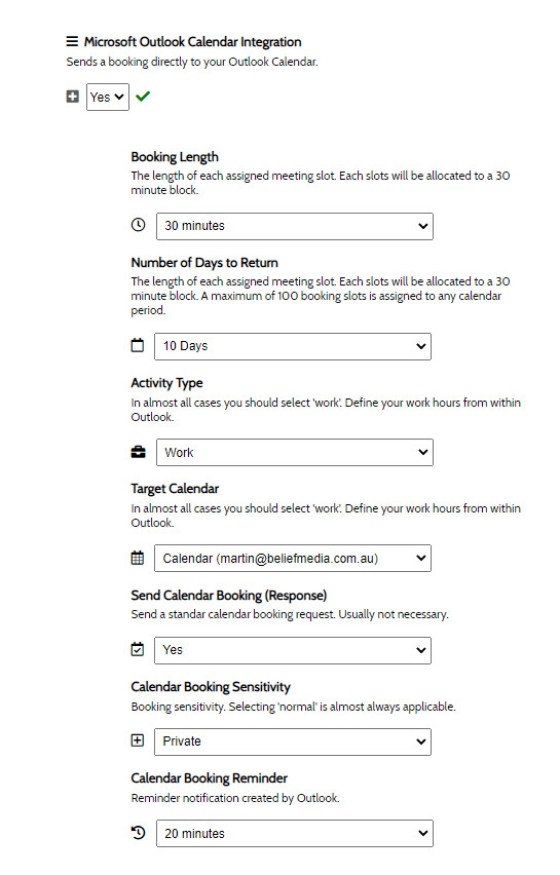 Each form can obviously have its own options applied. For example, First Home Buyers will likely need more time with you than those looking for a car loan.
Microsoft Outlook Task
Think of Outlook Task Creation as an email-based alarm clock.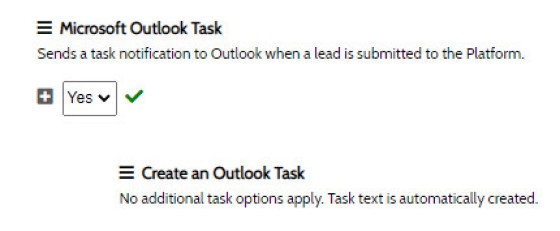 The task is automatically populated with data based on what the user has provided, and what we're able to resolve (location, etc.).
Outlook Contact Folders
You may optionally add a user to a specific folder in your Microsoft Address Book. This lends itself to other features, such as the SMS system that will optionally send to groups based on their parent folder.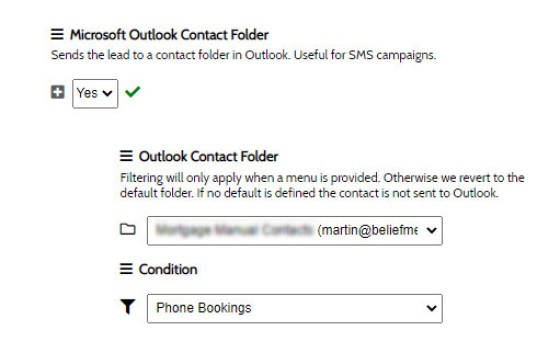 CRM Integration
The CRM integration is one that we'll be working on over time since there are just so many moving parts.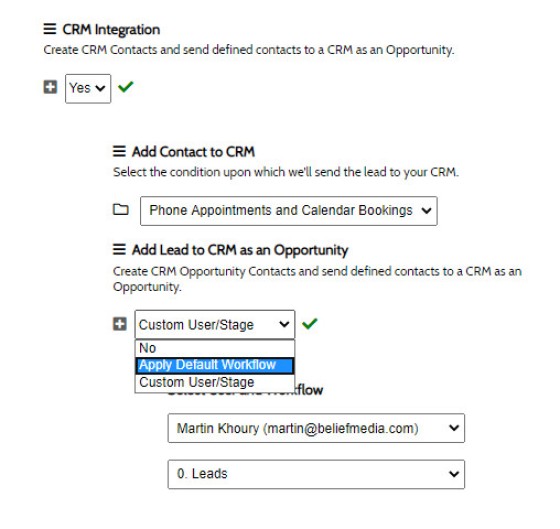 In the pictured SalesTrekker example we're sending to the 'Leads' workflow (we'll assign to the entry stage). You may optionally select the 'Default Workflow' – this enables you to set a single workflow for all incoming leads and globally alter that option.
Facebook Custom Audiences
Sending to a Facebook custom audiences makes the lead immediately available in a group that is used for targeted and retargeted advertising.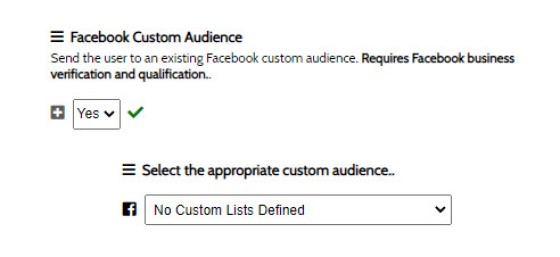 Facebook Events (Conversions)
An advanced feature integrated within the form itself is an action applied to the form submission. The conversion is sent to Facebook and recorded in their analytics.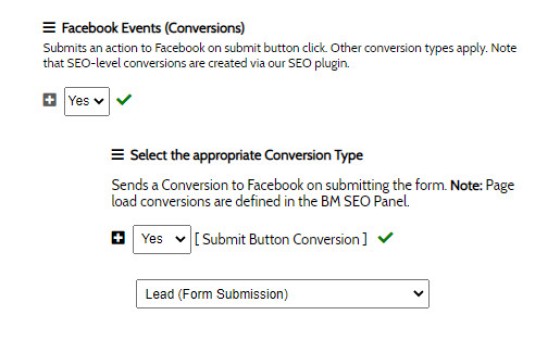 The feature supports all of the conversion features, such as the 'value' and 'currency' options applied to a 'Purchase' conversion (as defined by a "Thank You" page).
Conditional Redirect Options
The conditional redirect options are a uniquely proprietary approach taken by BeliefMedia on the back of over 20-years in the industry. Use of higher-end conditional redirects will objectively improve upon your conversions.
When a user subscribes to one of your lists or offers they'll fit into one of three general categories: an email subscriber, a phone lead, or a calendar lead. As discussed more in our section on the "Second Page" (a very high converting experience inside the marketing funnel), that second page should return relevance. Conditional redirects permit you to define what page a user is redirected to based on their first-page interaction.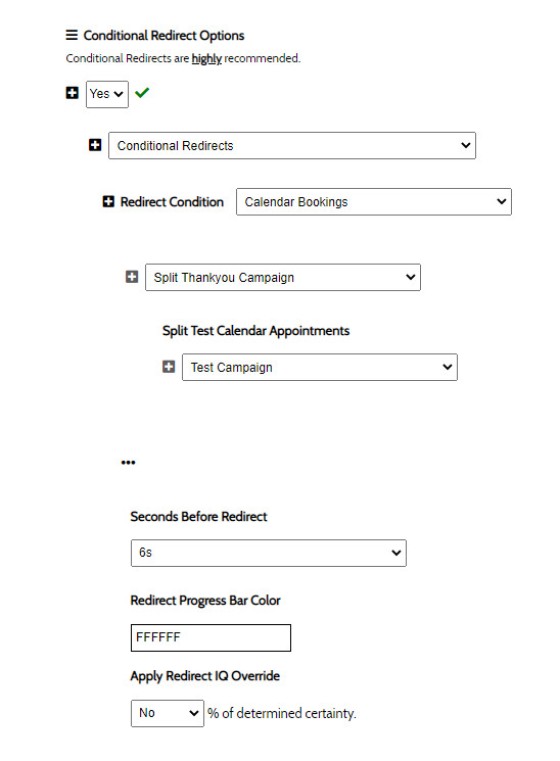 You may redirect to a single page or a group of split test pages.
Implementing conditional redirects takes more time than building your everyday and rather pedestrian single page… but this doesn't mean you can't send to a single page if required (it is far easier and takes no more than a few seconds).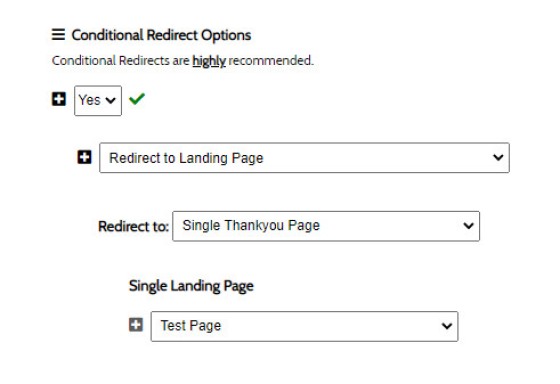 You may also send to a defined URL rather than a registered landing page.
The First Email
The typical funnel experience is flawed in that an autoresponder program starts sending the same email on all occasions from different forms. A specific form is designed to funnel a specific type of audience with a known intent… so a generic email doesn't cut it. We (optionally – it's not always required) use a defined first and second email based on the form (discussed shortly).
The applicable signature and optional attachment is a very simple process of selecting the appropriate field from the relevant select menu.
The first email applies for each of the interaction types: email subscribers, phone appointments, and calendar bookings.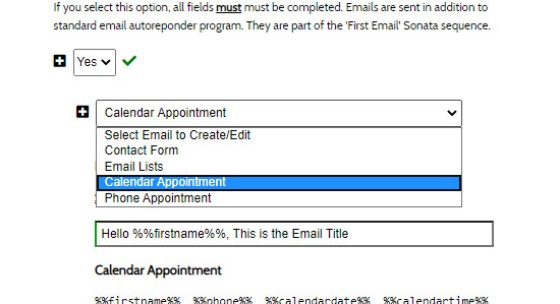 The Second Email
The second email is just as important as the first. While the first email satisfies the initial request for information (and usually nothing else), the second email will introduce you personally, your services, and creates a communication expectation.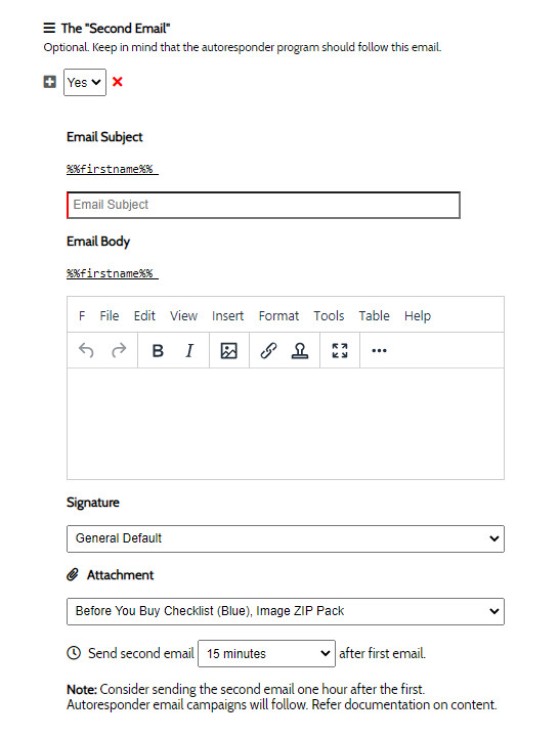 The second email is sent a short time after the first (anywhere from 15 minutes to one day) and is generally used to introduce your speciality, and introduce the nature of your autoresponder program. By assigning value to your program, and detailing in advance exactly what they will expect, you will significantly improve upon your follow-up conversions.
The second email enjoys an email open rate that isn't that dissimilar to the first (which is often close to 100%), and because the second email doesn't specifically address the nature of the lead magnet it's an extremely effective and persuasive tool that shouldn't be wasted.
Segregating your first and second email makes it easy to assign multiple forms to the same autoresponder program.
Broker Notification Email
A simple email is optionally sent to you for phone and calendar bookings.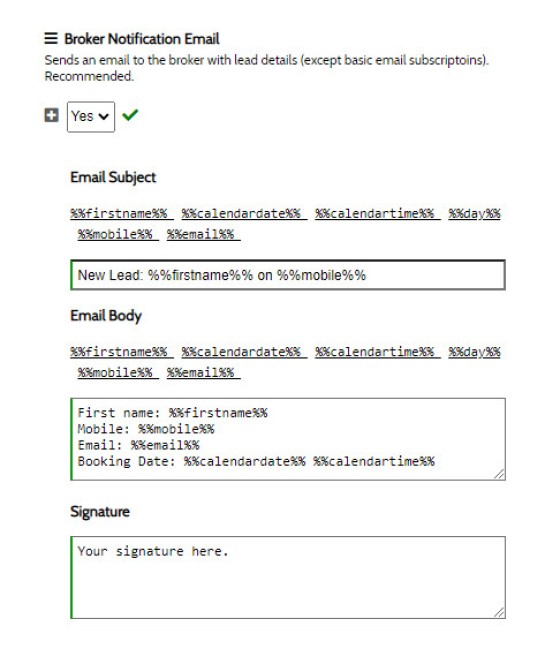 The form pictured above will be altered to include a select menu for the signature.
After Subscription Messages
It's normal and expected to send subscribers to another page after they submit your details… but it's not required (the redirect panel is simply not used if you choose to keep a subscriber on the same page). Either way, a success or fail message should be returned to the user, with the success message providing details of the redirection should it take place.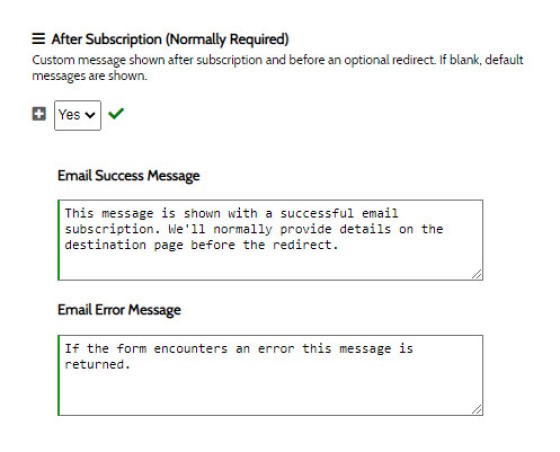 The Form Design
The form can take on any design that floats your boat. The subscription form border, button style, form background colour, and form text may all be defined at the form level.
The form width is normally set to 100%. The form itself is mobile-responsive and scales automatically to any parent container.
Text Above & Below Form
The text above and below forms is used to include text and images within the boundaries of a form.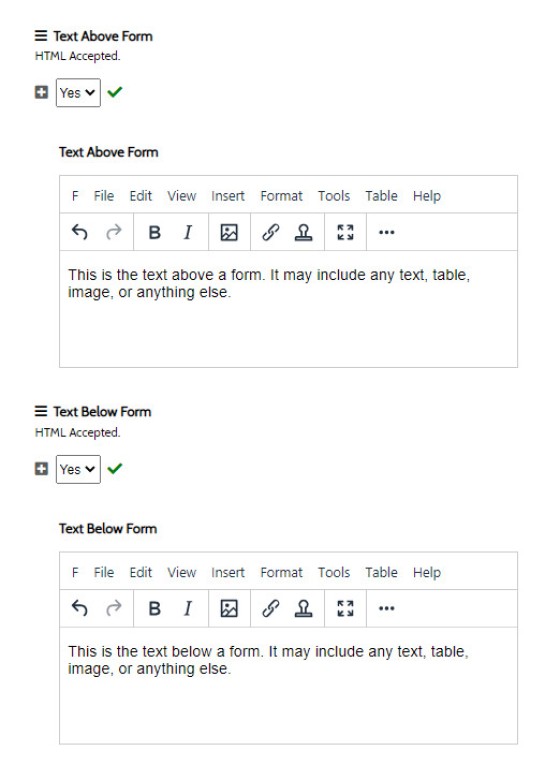 Default Form Values
The large numbers of fields available for simple form creation are often duplicated from one form to the next. It's for this reason we provide a 'Default' option that pre-populates data when each form is created. The default data can then be saved or modified in the new form.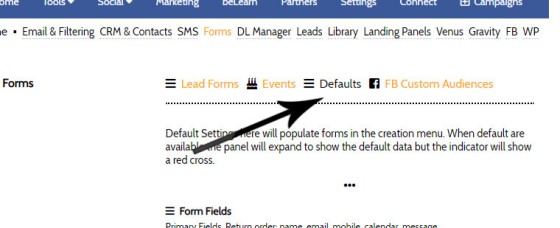 Email Subscription Automation
If you want to qualify your services in the mind of a client your high-level automation is the key to making an impression. Remember, some of your competition is asking a bunch of irrelevant and conversion-blocking questions at the time of making a third-page and off-site calendar booking. With other brokers performing so poorly in the marketing space there's an opportunity for you to stand out; consumers won't respond to just one broker advert – nor will they refrain from their appropriate diligence by way of talking to other financiers. So, your customer experience needs to set you apart.
Basic email automation is followed up by way of our optional fact-finding or 'Venus' compliance questionnaires (completing the questions might be considered another form of lead "qualification"… although the tool is used for a means for the client to qualifying you).
The user is, of course, subscribed to the highest value email autoresponder campaign in the finance space.
True automation cannot be achieved until double data-entry is eliminated; fact-finding forms, compliance questionnaires, and file upload features (the latter which is in active development) are all tightly sewn together and operate without unnecessary human interaction. We believe in automating everything that can be automated. While our competition leans towards the 'automation' sales pitch as a means to elevate the significance of their product, they're usually deceiving their audience by talking about the super-simple plug-and-play automation relating to simple tasks such as email. Automation means making your entire business a well-oiled machine that automates repetitious tasks that would otherwise be relegated to administration staff or a broker.
Marketing is more than just providing leads. It's about providing a truly automated experience for business and customer.
Incoming Lead Records
Platform Lead Tables
In addition to the lead notifications that takes place by way of automation, we'll return all the most recent leads on the Platform entry page. A graph with daily, weekly, monthly, and trending leads is also manufactured.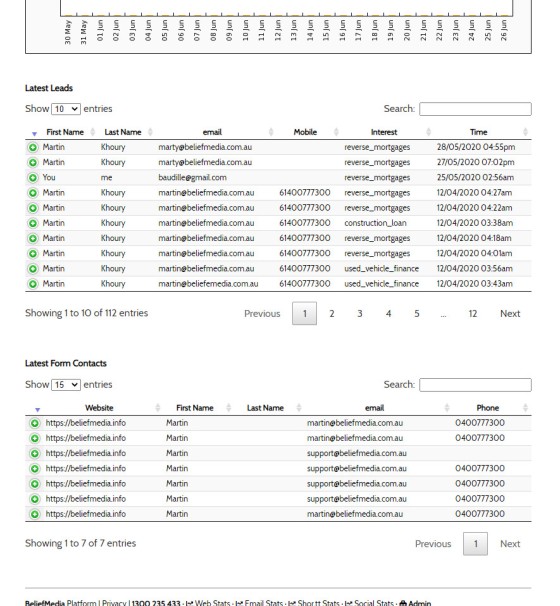 Pictured: Leads as shown on the Platform entry page. We show the latest incoming email subscription leads and contact form leads. Clicking the green icon expands the panel and returns more information relating to the lead; in the case of contact form it returns the full message submitted by the user. A basic graph shows daily leads. Test data shown.
Leads RSS Feed
Email is never an overly reliable or efficient lead notification delivery method to brokers. While we provide multiple means of delivering notifications to a broker, we've found that simple and segregated RSS feeds are more reliable than any other source. An RSS feed, or 'Really Simple Syndication', is a means of reliably delivering real time content to an RSS news reader. Outlook supports RSS feeds nicely, and using our lead feeds provides a dedicated and segregated means to aggregate that information.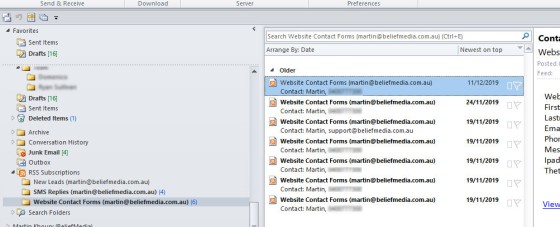 Pictured: RSS Feeds are a core component of Outlook. We recommend having leads sent to Microsoft Planner and to brokers directly via SMS, but we suggest the default Outlook notification take place via RSS rather than email. RSS is always 100% reliable and up-to-date. The RSS experience isn't impeded or compromised by deliverability issues or delays.
The primary leads RSS feed shows only leads where a phone number is provided and/or a calendar booking is made. A standalone and lesser-used feed exists for basic email subscribers. In fact, numerous RSS feeds exist for those that lean towards this in-Outlook experience.
Individual RSS feeds are created for standard leads, contact form leads, and SMS replies. We've found that having a rationalised experience from within Outlook is far more reliable than relying on external system support.
Yabber Leads
In addition to the lead records on the front page all leads are recorded on a dedicated leads page under the 'Leads' tab in our Marketing menu. The three pages render Leads (as submitted via your website, Facebook, or other external sources), SMS subscribers, and Contact Forms. All relevant data is available for each submitted lead. A graphical representation is made showing leads by volume, page, form, interest type, location, and source.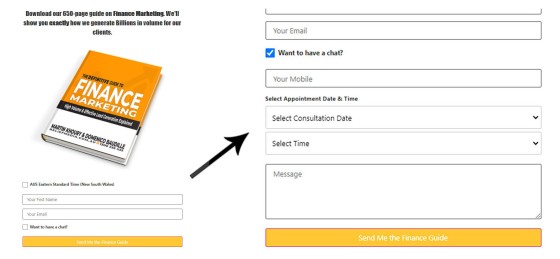 Pictured: A subscription form under each post on our website at the time of writing. Note the calendar integration. If each page on our website is a type of landing page that mandates the includes of a conversion, we have thousands of pages on our website that are a 'type' of landing page. The integrated calendar and 'every page' subscription is a genuine secret to massive conversions. Don't hide your conversion opportunities in landing pages alone, and don't force them into popups. If a user is genuinely interested in your post content they have an immediately and simple means of making on-page contact - no new pages, questions, or anything else is required.
Conclusion
Hopefully we've illustrated how and why our 'basic' subscription forms are more than just basic subscription forms. The form represents the most powerful conduit between your digital asset and the world of your customers; and Yabber provides a fully integrated and agile solution that permits you to respond to your marketing needs in seconds. What you're probably familiar with is a subscription experience that adopts a "tail wagging the dog" approach; that is, using something because it provides basic features rather than using a tool that satisfies your business needs. A form is the digital handshake that welcomes a visitor into your funnel; consider it the metaphorical equivalent of a blind date - that first interaction matters.
The form triggers multiple points of automation necessary for quick follow-up but it is also intrinsically connected to your internal lead-flow management. What we've introduced represents the only integrated experience in the finance industry. Form automation continues to grow as brokers request the need for additional features.
It's worth reading why we advocate for a subscription and offer on every page of your website (in short, it's because every page on your website is a type of landing page), and how our fully integrated calendar experience explodes organic inquires (Yabber's integrated SEO features ensure that you website can be found, our complimentary broker website provides a compelling platform, and the subscription gets visitors into your pipeline). The subscription plays a small but vital part of your broader digital strategy.
It shouldn't need to be said, but the primary purpose of any website is to get a visitor onto the phone; a subscription or offer of any kind is a secondary conversion. Obviously, email subscriptions are followed up with a real funnel journey, and this includes a follow-up email education campaign (Belief are the only company in the finance space that provides an actual marketing funnel).