Australia's Prime Minister, Kevin Rudd, was dumped on Wednesday night for his deputy, Julia Gillard. Gillard is Australia's first female and first unmarried Prime Minister.
For Kev, "Kevin 07" was once his election slogan, now it's his approval rating. Despite his pathetic poor performance, he was still performing satisfactorily in the election polls and was left with a good chance to carry the Labor Government into victory at the next election. It's unlikey Gillard will have the same success.
One can't help but feel a little sorry for KRudd (as he genuinely likes to be called). He's a family man, a fairly genuine guy, and it isn't his fault in isolation that his Government is performing poorly. It's unlikely a change in leadership will have a significant effect on party politics; this is something that can probably only be achieved by way of a change in Government. The poor guy was lied to in a deceitful and cowardly way in front of the entire nation by the people he considered to be closet to him.
Anyway, far be it from me to talk politics.
Advertisers made the most of Kev's downfall, and it was Jetstar Airways

that was the first to publish a print and online advertisement that took advantage of the virally motivated marketing opportunity. The advert stated that "sometimes things just get you down", and they go on to offer inexpensive airfares for those that are "Taking a break".

■ ■ ■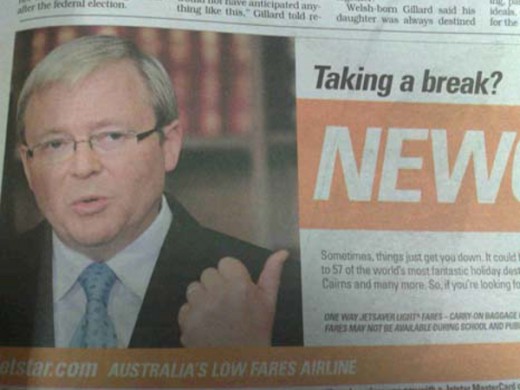 ■ ■ ■

Many are arguing that the advertisements are tasteless. However, it's politics and advertising... when has either been tasteful?
It's interesting to note the impact of Twitter

on the rapid dissemination of information via the hahstag of #spill

which was used to isolate relevant tweets (proving, in part, that the platform is starting to see mainstream relevance).
Countless other advertisers and marketers followed with their own variation on Jetstar's theme.