Regular and relevant contact with your mailing list subscribers by way of a newsletter is essential; the email is entirely expected, non-intrusive, and further connects your audience to your expertise. For most brokers, however, a newsletter is somewhat of a roadblock. The technical skills necessary to manufacture a magazine-style newsletter takes time and creating the content presents its own set of challenges. This article introduces our solution to a problem that we've seen cost brokers thousands a year... and it's all part of the core Yabber

functionality.
Despite writing what must be hundreds of newsletters via our standalone Prometheus program for over 20 years, we've merged this essential functionality directly into Yabber

making the entire Newsletter process an absolute pleasure.
Is Newsletter Marketing Dead?
If all you're doing is newsletter marketing, then yes, your marketing is outdated. You need a broad omnipresence driven by an unbridled and passionate enthusiasm for original content and relationship building – we hope that our blog and video content makes this point clear. However, despite the word "newsletter" evolving into an unattractive work devoid of any inbox-joy, the newsletter still works. We still see high levels of engagement, and we still see results that support the plethora or studies the assertion that every dollar you spend on email marketing - and by association, Newsletter marketing – returns around $50 in return (far higher in the finance business).
In a sense our Newsletter program is dead... because our newsletter is more of a publication. Our product is manufactured as a short magazine-style booklet designed to educate, inform, and entertain, with a focus on the entertainment. Movie reviews, recipes, DIY guidance, and stories are the cornerstone of our newsletter (and article submission) service.
Our position on newsletter is clear: we wholeheartedly support them as an essential ingredient into your relationship and email marketing. We've created a simple to use system to support the manual creation of campaigns, or if you prefer, a fully-automated option that'll send to your selected lists on schedule.
Newsletter Frequency
We'll often say that the frequency of any email campaign should be often enough that your contact isn't an intrusion, yet frequent enough that you're top of mind. To this end, we've long adopted the schedule of sending newsletter campaigns on the third Tuesday of every 2nd month. This enables a newsletter prior to the end of the financial year, and another recipe-rich and holiday-based newsletter prior to Christmas (usually sent on a slightly earlier schedule). We send on the third Tuesday to provide a minimum two-week gap between the inevitable RBA email sent on the first Tuesday. If you have neglected your email list the gap in the schedule tends to drip feed you back into the consciousness of your client.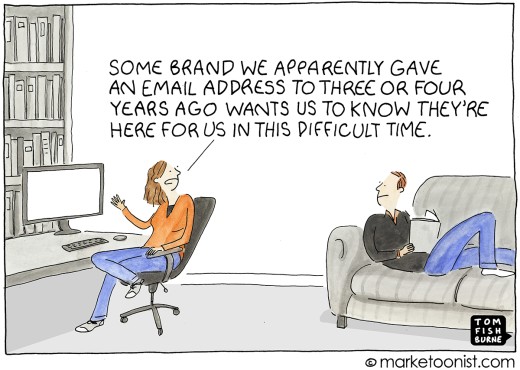 Snail-Mail Newsletters
If you have the resources to invest your newsletter program we highly advocate sending a printed snail-mail version. In fact, we recommend traditional mail over email for most important communications (birthdays, Christmas, etc.). The open rate of a hand-written envelope is far more personal than a mass-email, and the practice provides for a small hand-written and personal note.
Digital marketing is designed to supplement traditional relationship marketing; digital marketing should never be used in isolation.
Sending Newsletters from Yabber
We've designed our newsletter system to be super-simple to use. We create the newsletter on schedule and it appears in your Newsletter panel. If automation was selected the newsletter will be sent on schedule. The newsletter is branded with all your company details and logos, and if necessary, and if approved, links in the attached PDF document will link directly to your website (this is something we may revise because not all automated articles are sent to all websites).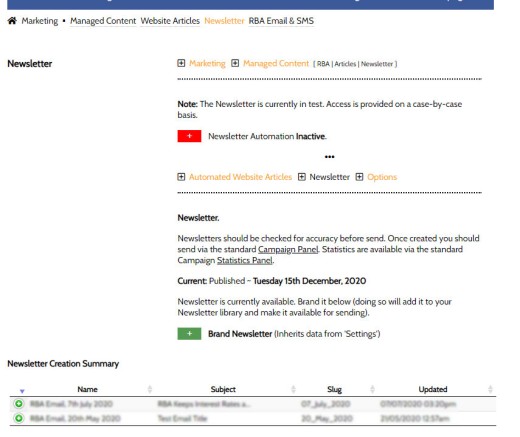 Pictured: Basic newsletter panel. As each newsletter is made available the branding options present themselves. If not available a message will be shown indicating as such. Branding the document applies your logo and other details as per those provided in your settings, and the document is made available in the summary panel. It may then be sent if it meets your satisfaction.
Conclusion
We've seen newsletter programs that exceed the cost of our entire 120+ module Yabber subscription

... and they're usually of a lesser quality. Yet this program, like all Yabber functionality, is included by default to ensure you have the most powerful digital marketing presence in the industry.
A newsletter has minimal effect in isolation, but when it's shrouded by an array of manual and automated programs its effect is multiplied. If you've tried a newsletter program in the past and didn't see results, it's likely it's because your programs on the periphery didn't provide the necessary funnel support.