On 20 July 2017, Scott Morrison MP commissioned the Open Banking Review

which was tasked to assess and recommend the most appropriate model for Open Banking in Australia. That report was delivered to the Government on the 26th November 2017, and a Treasury response

in May 2018 agreed to the recommendations of the Review and the overarching Consumer Data Right

framework

. The Government had initially decided to phase in Open Banking with all major banks making data available on credit and debit card, deposit and transaction accounts by the 1st July 2019, and mortgages by 1st February 2020. However, on the last Friday before Christmas last year Treasurer Josh Frydenberg released a statement

detailing a phased implementation that adjusted the timeline and effectively pushed a more comprehensive roll-out to February 1st 2020.
Open Banking is predicated on the notion that consumers own their banking data - not the banks - and this data should be freely available to be shared to trusted third parties for purposes that the consumer explicitly authorise in order to determine if more suitable and competitive consumer banking products are available.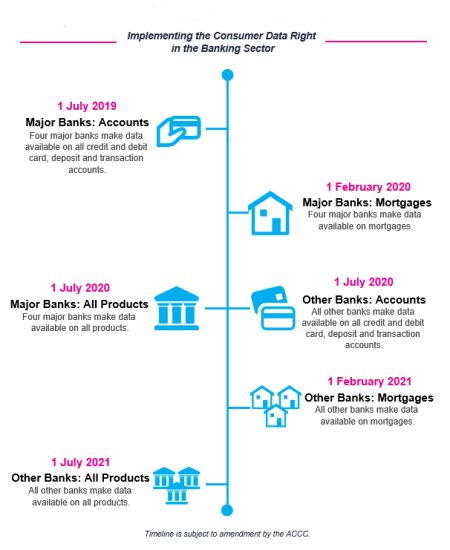 Image: Open Banking Timeline. Open Banking will be introduced in phases, with basic product information to be available from 1 July 2019. Consumer data for mortgage accounts, credit and debit cards, and deposit and transaction accounts are to be made available by 1 February 2020. The 'pilot program' would be conducted by the Big Four banks in partnership with the ACCC and Data61 to "test the performance, reliability and security of the open banking system". Source: ACCC

.
Rarely talked about in the mortgage and consumer-facing finance sector, the Consumer Data Right

policy

and pilot Open Banking program is set to fundamentally change the fintech landscape.
The Impact on Mortgage Broking
For a long time many brokers have heavily relied upon commercial services for Bank Statements and other third party providers in order to compile a loan application... and we've long dealt with fragmented data in order to provide truly objective product comparisons. Open Banking potentially provides the platform for any financial practitioner to obtain access to third-party banking data - effectively negating the need for our reliance on costly third-party tools. Coupled with a true online application portal every mortgage broker will soon have the capacity to improve upon their workflow by providing a true cost-effective top-to-bottom online experience.
If we were to follow in the footsteps of the established UK model we may also see potential to escape the costly imperialistic necessities imposed via systems such as Nextgen's ApplyOnline in favour of self-hosted or aggregator-managed products.
Comparison Websites
One of the early recommendations made by the the Productivity Commission as part of the Royal Commission

was the timely development of a consumer-focused comparison 'calculator' (Productivity Commission's Inquiry Report, p.358). Of course, the Open Banking initiative had commenced a few months before this comment was made, and the Open Data legislation would mandate that banks ultimately return information necessary to build comparative services more comprehensive than any 'Green Slip' style of tool the Productivity Commission had recommended.
The Open Banking initiative will intimately return more than just mortgage data; information on credit cards and savings accounts will also be returned in a predictable format so they might easily be compared against other competing products. For brokers, the data provides a mechanism to assess savings, spending, recurring payments, and other financial obligations not disclosed as part of an application (see a full list of API endpoints

to garnish an appreciation of available data).
Until now, entering the comparison space was one that was cost prohibitive for most small to medium sized brokerages. Open Banking not only makes the comparison features available, but makes it available without any kind of serious investment (basic product data will be made available via a public endpoint

not requiring registration). In fact, our own clients will all receive a complimentary comparison site to rival the industry top-dogs - something we've struggled to provide until now because of costly data access. Adding further value to comparison websites is the ability for a consumer to share their banking data which will make assessing suitable options far easier via algorithms that takes easy-to-obtain demonstrated savings, spending, and so on into account.
What Next?
The Consumer Data Right and Open Banking will enable consumers to find better deals on their credit cards, mortgages and other banking products. Comparison services will be better able to assess the value and suitability of all available products, taking into account the individual circumstances and needs of the customer. The technology to enable these comparisons and workflow-related features will be both commercially viable and necessary in order to set yourself apart. The question is this: what are you doing about it?
In a banking world where nearly 80% of broker websites don't even have a SSL security certificate installed on their website, and one where typical tech and marketing representation is characterised by fraud, we don't expect to see significant early broker adoption in the Open Banking space. However, those brokers, accountants, and advisers that make the necessary investment now will open themselves up to a wealth of opportunity (this obviously includes all our clients).
Energy suppliers and telcos will be next to comply with the Consumer Data Right legislation. Brokers will invariably benefit from the data derived from information sourced from both camps.