We've talked about the importance of your website numerous times, and why it's necessary to ignore what the marketing charlatans like to call time-wasting exercises - such as content creation, social, and website maintenance (they're usually doing this to shift focus onto the only service they provide, and one they know little about - "Facebook Advertising"). If these "marketers" don't have their own website content strategy - and they usually don't... their websites are usually nothing more than a leadpages landing page and hyped sales pitch - how are they able to comment on the effectiveness of content marketing? Some marketing advice is simply damaging: simply put, you must have your own website content strategy in place.
In this article we'll introduce what we call the PSR Ratio, or Page to Subscription Ratio - essentially representing the number of people that visit a non-landing page on your website and convert in some meaningful way. If you're a regular of own own website content you'll appreciate that we'll constantly espouse the notion that every single page on your website is a potential entry point, and therefore a potential landing page. While not a typical landing page experience by any means, this shouldn't be any reason why we don't include some sort of conversation opportunity on each page in order to optimise lead-generating potential.
The PSR ratio - while intrinsically connected to the traffic generating SEO models we put in place - doesn't necessarily rely on large amounts of traffic. Instead, it focuses its attention on the percentage of conversions that apply to your page. While there's any number of interactions that might take place once a user lands on a page (a few of which are social shares, bookmarks, Facebook Page like, or email subscriptions), it's the latter that we're most interested in - email subscriptions. It's the email experience that then translates to a cleverly crafted campaign designed to qualify you as the business of choice.
The PSR is a Conversion Rate Optimisation metric that isn't necessarily related to Facebook or any other advertising endeavours; instead, it's a longer-term strategy designed to turn your website into a resource that actually delivers the business it was designed to do.
Why is the PSR Ratio Important?
As a business we know that every new article we write on this website converts at at least 6% - or it's this percentage of all website visitors that will subscribe to one of our email lists. We'll convert more if we're giving something away, and more again if we use a popup or splash page (both of which we support in out client plugin but generally don't use ourselves). Given that each post on our website receives at least a few hundred thousand views in the first month, this generally translates to around 4-5 thousand email subscribers from each new article (and the articles continue to deliver long after they're written). Our finance articles

get far lesser coverage, our WordPress shortcode

posts get far more. Some others - such as our articles on our FAA and NTSB API - have millions of views between them. The point is that if you create something people want to read they'll be drawn to it. Given them a reason to subscribe or learn more about you, and they will.
With each business we start dealing with in the finance space the PSR ratio is usually well and truly less than 1% (usually much closer to zero). If there's no subscription experience of any kind on any page you simply won't convert that traffic. So, the business that complains that their website doesn't deliver actual business is like the guy that sits at home each night watching Netflix wondering why he doesn't have a girlfriend.
It bothers me (just a little) when brokers dismiss the content creation strategy we build for them and instead focus entirely on paid lead generation. Fair enough, it's introduced as a lead generation option, but our ethos of "no source of lead generation should be ignored" is one we've adopted because - despite supporting the highest-performing and lowest customer-cost online lead generation in the country - it's offline where you'll develop the most significant returns. Unlike advertising, online content continues to convert long after you've paused your Facebook campaigns. Additionally, your own content will continue to serve you once the Facebook market becomes more costly and competitive.
There's a general notion that 'long form' lead generation (particularly in advertising copy) works more effectively than the short-form alternative. This isn't necessarily a true statement at all (if long-form means asking 'qualifying questions' as part of the landing flow it's a patently flawed understanding). That said, each "long-form" article you write on your website isn't overly different from Louis H. Engel's "About This Stock And Bond Business" advert from 1948. While a little old-school, the premise holds true today that if you tell a story you'll often capture the attention of your audience. The longer the content the more neurological sticking points... and the more likely it'll be that your visitor will retain your information. So, isn't a blog post (or our "content marketing") part of an organic funnel entry point into our business? The answer, of course, is yes. Can a website article article be more effective than paid promotion? If managed correctly - absolutely.
Not unlike a landing page, as you're creating your content ask yourself what type of call-to-action might be appropriate. While many mortgage brokers (in particular) have excellent articles on their website, they're missing that one component that might actually provide a conversion - the email subscription form (and including the calendar booking form in a hidden blind is entirely acceptable). Remember, your organic traffic has made their way onto your website because they're looking for you, and they're looking for answers that you know how to provide. What are you doing to make their fact-finding journey an easier one?
How The PSR Relates to SEO
We give our mortgage broker clients a Bronze SEO package at no cost now provide a raft of SEO features

in the Yabber

digital marketing and social media platform. This is usually because they're generally a group that is particularly cost averse, and one that is somewhat reluctant to invest into online programs as a result of a broad distrust derived from the work of the industry's snake-oil salesmen. Since we felt it was absolutely necessary, and since we encourage a content-generation strategy as part of the industry's highest performing lead generation program, it was the only ethical course of action. It also adds significant value to a program which is still priced lower than our peers.
Our finance clients are introduced to our booklet called "Your Money or Your Life" on day 9 of our program. It discusses the early strategies that are absolutely necessary for any financial business to rank organically with authority in search engines (supported by ongoing discussions with an assigned Relationship Manager). The good news is that so few brokers employ any serious SEO strategy it's easier for your efforts to have a larger impact.
The nature of SEO is such that any old-school manipulation (which we have never engaged with) is almost impossible to get away with these days. Google's clever enough now to recognise authority by way of EAT - Expertise, Authoritativeness, and Trust - three areas that underpin your page ranking signals (incidentally, the three primary attributes of our Magic Lantern methods). The easiest method upon which to create an EAT impression on Google is to share content that other people want to share. Simple.
The Solution
While far from the only solution, we've made a super-simple feature available via our client plugin that includes the option to render a mailing list subscription form above or below your post content. The option obviously exists for "No Subscription Form".
This may be an obvious statement: the cut-and-paste HTML email form options should be avoided. Always use a shortcode. This way you're able to universally alter all occurrences of a particular form simply by updating a single source.
Note: If you're currently using mailing list embed code we have an article scheduled here that will show you how to include any content above or below your website articles.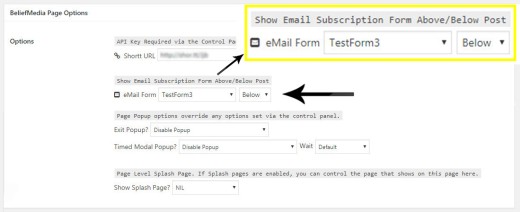 If you're wondering what the form might look like simply scroll down to the bottom of this page. Our forms are customisable in terms of both style and automation in every respect in order to provide a truly branded experience for your clients and one that is workflow-optimised for brokers.
Additional features in the next major release of our plugin will add a global override, expiry features, and conditional forms based on post tags or category. Another feature we're building into our website tools package takes advantage of our 'IQ Redirect' system as an option to override the subscription form with one that is more likely (according to our system guesstimate) to convert.
There's no easier way in which to add a relevant form to your posts... although it will get even easier. In a scheduled post on landing pages we introduce a default feature of our plugin that segregates audience by page actions or geography that further enhances the ability to serve relevant content.
Analytics
We heavily integrate Facebook's tracking pixel and Google Analytics into every campaign upon which we embark (support by screen recording and heatmaps). However, it's our own tracking pixel that has proven most effective, and the most valuable source of PSR data.
Conclusion
Your website is a lead generation machine waiting to happen. Despite our advocacy for our industry-leading paid lead generation programs we don't ignore any source of lead generation... and ignoring a company website when your business relies upon bigger-ticket leads is a foolish endeavour. This absolute operational necessity is why various SEO and web-based conversion methods are included into our standard program for business growth.