If you're familiar with our rather strict definitions of 'mailing list subscribers', 'leads', 'prospects' and 'opportunities', you'll appreciate why we'd never normally advocate sending a mailing list subscriber to SalesTrekker as an Opportunity (the action is premature and will normally simply fill up the ST dashboard with irrelevant "deals"). However, after one broker asked for the feature last year we built it in... and given SalesTrekker's own workflow segregation and automation is designed for any transaction (not just deals) it is a practice that is occasionally beneficial if the contact has provided necessary contact details or made a calendar appointment.
While the specific client that made the feature request is sending the "deal" to a standard workflow, we could just as easily attach the "deal" to a workflow designed specifically for appointments or pre-sale interactions of any kind (something most traditional broker platforms ignore). In this way we could apply best practice via defined actions (or ST stages) in order to convert and move that lead into a deal workflow. Additionally, SalesTrekker's default automation might trigger its own introductory email separate from that of any associated email campaign (triggered via BM's automation). There's a clear advantage in adding the deal to a non-settling workflow because it creates a workflow-related mindmap of a client journey that isn't reliant on email or memory.
Note: We almost always advocate sending high-level subscribers (calendar or phone bookings) to SalesTrekker as contacts. We expect, however, that they'll also be sent to Microsoft Outlook in an appropriate contact folder. The aggregator features are one small part of our form creation process.
Creating a SalesTrekker Opportunity
Once SalesTrekker is registered on your website via a valid API Key we'll add two primary "Forms & Integration" tabs and a few fields to the area returned via the form creation tab. The first 'SalesTrekker' tab from the 'Forms & Integration' menu presents basic and global ST options and it is here where we'll add the default Workflow and Stage for new contacts that we wish to add as an opportunity (while we present an option for the Stage it's expected that you'll add the contact at the pipeline entry point). The default contact workflow is created for cases when the workflow you've defined doesn't exist or cannot be resolved.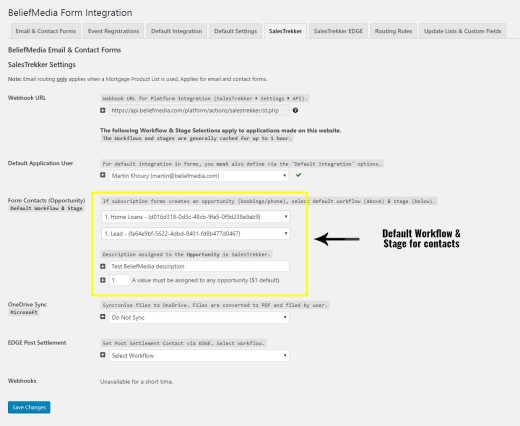 When creating subscription forms there's an option to integrate with your aggregator CRM of choice (it's included as an option when a calendar booking is made or the user has supplied a phone number). In the case of SalesTrekker you may add the contact from a specific form to a specific Workflow, to a default Workflow (as shown in the first image), or apply filtering (discussed below).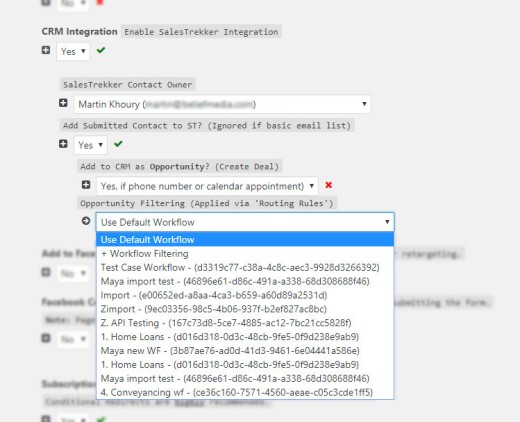 Note that we provide the Workflow only - not the stage. It's expected that we'll add any new "Opportunity/Deal" as a tile at the pipeline entry point (or the first stage).
Opportunity Filtering
Routing options are presented via their own tab. The purpose of routing opportunities is to create a deal in a workflow based on page interactions.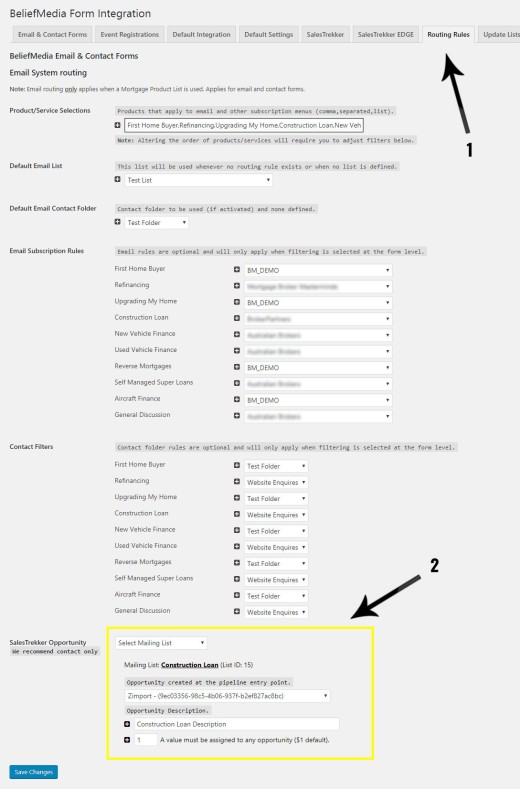 If the option to select "Product Type" (First Home Buyer, Investment Loans etc.) is presented as a form option we'll use their selection to filter that user into a relevant SalesTrekker Workflow.
Note: A small but significant point worth noting is that we'll be building in the filtering option to alter the Owner for each "deal". The purpose of this becomes more relevant if we're offering financial advice and other wealth creation options that aren't entirely relevant to a broker. This way, the"deal" is sent to the individual responsible for handling that specific Workflow.
Note: The pictured Workflows are associated with a Developer Sandpit so they're inappropriately named and don't reflect best-practice.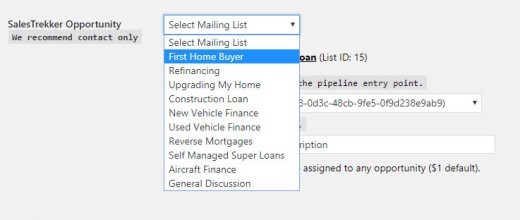 Pictured: Assigning opportunities to workflows based on an email subscription. These options apply when 'filtering' is selected at the form creation level.
For each filter type you're required to enter a description and a loan value. It's here where the validity of the contact as an Opportunity becomes suspect; we cannot associate a real value to a deal because there is no deal... so we simply assign $1 by default. However, we're building in a feature (available very soon) to update the deal on the basis of having a client complete a compliance (extended fact-find) questionnaire.

Conclusion
In the real world we don't necessary advocate filtering deals through to deal-orientated workflows... but the action is advantageous for lead-related workflows if brokers lack a formal means of nurturing offline leads. For our entry-level brokers looking at the most appropriate automation strategy we'd tend to suggest filtering each online contact (excluding basic mailing list subscribers) into a lead development workflow and then moving them when they escalate to the level of Opportunity. Based on the outcome of early discussions with a lead the "deal" can then be sent to another workflow (triggering necessary automation), or the lead might be progressed along the pre-sales workflow into a more appropriate stage.
We're sharing details of our automation tools because we want brokers to understand what automation actually means. The fragmented and antiquated solutions provided by the army of marketing pretenders is polluting the high-level finance necessities with advice that is at best worst practice. As a company that returns more than any other, and one that is surprisingly priced lower than our competitors, you should contact us if you're interested in the highest yield lead generation available in the market.
Find other SalesTrekker related articles by way of our SalesTrekker tag

, or read all our finance posts here

.