OUR SOCIAL MEDIA MARKETING MANAGEMENT SYSTEM IS THE MOST ADVANCED OF ITS KIND. WE EMPOWER YOUR SOCIAL PRESENCE TO MAXIMIZE YOUR ONLINE BRAND PRESENCE.
■ ■ ■
Social Strategy
If you ask the curators of most Facebook pages what their social strategy included, it's unlikely they'd be able to articulate in any detail how their presence was managed. Some businesses relegate the social duties to a junior staff member or, even worse, the business owner often takes control. A clearly defined social strategy will invariably improve upon your SEO and add multiple leads over time into relevant marketing funnels… so it's vital that a structured program supports its use.
Social Funnels
People rarely follow brands unless there is a good reason to do so. For this reason, we encourage 'feeder' accounts – essentially generic social accounts that feed your primary business profiles; think of them as social funnels. We've seen these types of accounts quickly reach over 10'000 followers and, over time, reach into the millions. The generic accounts are often attached in some way to your business activities but are occasionally completely independent accounts that reflect the interests of you or your staff. We feed the accounts with compelling information via our proprietary social system with supplemented content delivered via our Instagram application. The results are proven. As an example, while BeliefMedia only has a limited Facebook following, our aggregated social following is in excess of 15 million. We place no limit on the number of accounts a user may manage via our system.
A social following can potentially deliver leads on tap. Once popular, sharing and liking will give your organic content additional reach. Remember, no free source of traffic and leads should ever be ignored. A clear social strategy should always support any SEO and/or marketing campaign.
Facebook groups are another area that potentially drive massive results. If your business requires a group we'll structure a social campaign around positive engagement.
Targeted Content
We encourage our clients to examine the geographic origin and demographic of all their existing social followers. Knowing who your presence appeals to means you may tailor the content to their liking. There is content that everybody likes – such as 'then and now' (history) photography. Our social platform makes identifying these users and generating the necessary content a breeze.
Managed Social
Many of our packages includes partially managed social. Over what might be a three-month growth program or short SEO contract, we'll generate a package of media for social dissemination. We have longer-term packages available by request. Keep in mind that even when we completely manage social media there's an expectation that a company will contribute to current events… easily managed by way of our integrated Instagram application (video below).
The Platform
Our social media and marketing system supplements our social strategies by facilitating all that we've described above.
Most digital marketing agencies use tools that others have made. The problem with this, of course, is that the features made available to their clients are limited to the features of the service they choose to use. This tail-wagging-the-dog approach is somewhat reckless because they're only able to provide social features that are integrated with a third-party system, rather than features that the business needs. Our social media system is designed around the needs of our clients.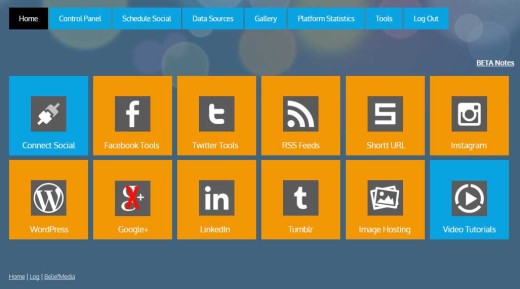 Pictured: The front page of our social media and marketing system. Includes access to all major social networks (Twitter, Facebook, LinkedIn, Tumblr, Pinterest, Imgur, Flickr, Instagram, WordPress (self-hosted), and others.
Our system is infinitely more powerful than generic online offerings, and the numerous features ensures that your business will thrive in the social media space. You may add unlimited social accounts that are owned by any number of users. The system contains unlimited 'lists' of social accounts (ideal for franchises or if you have a collection of Facebook and Twitter accounts), social profiles (negates the need to select individual accounts), access to over 12 billion images via image APIs (including Imgur and Flickr), short URL integration, RSS feeds, image creation, quote creation, animated GIF creation, etc. It's supplemented by our own database of data that you may convert into an image type of your choosing for sharing on social.
There are a number of components to the system and we add to it on a very regular basis.
Until we have a video in place demonstrating our Instagram application, the following video was provided to Instagram as an overview of functionality when submitted for approval review.
■ ■ ■
Licencing
As with our premium client-only WordPress plugins, we licence our marketing system (on a dedicated server) to high-quality qualifying marketing agencies. Make contact with us for a quote.
Free, No Obligation Telephone Consulation
Get a free and no-obligation 30-minute consultation with Martin Khoury, our lead marketing strategist (valued at $700). Call on 1300 BELIEF (1300 235 433) to make your booking.