On the 9th April, 2017, a man was forcibly removed from United Airlines Flight 3411 in Chicago, set for Louisville, after it became necessary for the airline to accommodate four crew deadheading to operate another service. Most of the planet is now familiar with the shocking footage of a bloodied man dragged down the aisle of the airliner.
The incident was a good example of misinformation propagating around most media outlets with relation to the incident before any of them had appropriate information to comment. At the forefront of the communication failure was the so-called professionals managing United's front-line social media.
Anybody in social media circles has time to gather the required facts before tactfully penning a diplomatic and empathetic response. This apparent off-the-cuff reply from 'MD' established a narrative that quite possibly - as the first real response to the incident - sent the United share price in decline, and fueled virtually all erroneous reports in the media.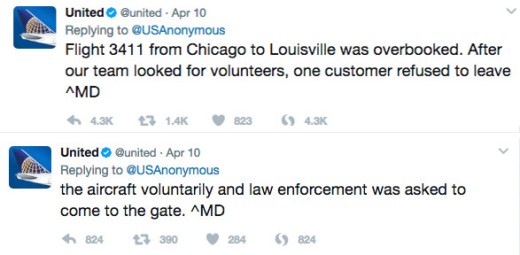 Of course, "MD" was wrong.. the flight wasn't overbooked. Adding insult to the response - especially given the disturbing nature of the video footage - was the sterile nature of the reply.
The story didn't quite sit well with us, and our reluctance to accept United's position after they offered their emotionally-deprived response is evidenced by our first post on Facebook.
To demonstrate how easy it was to obtain the information necessary to make an informed remark, look no further than us. Within a few hours of the incident, and after a few phone calls, we made contact with a United gate agent that managed to explain the situation as it actually occurred - something even the airline itself didn't manage to do for another 48 hours. We were reluctant to accept the facts as United appeared to describe them because the event simply didn't appear consistent with airline practice. The call for passengers to volunteer their seats is normally required only after seats are allocated, and normally before boarding. Having four additional crew presenting themselves after boarding supported (or hinted) an alternative narrative that no media outlet picked up on: the crew weren't originally manifested on the service.
We might have to post our thoughts on the "leggings incident" - something we intentionally avoided. With the latest United incident a clear pattern of corporate communication and media failures has emerged that warrants further comment.
The edit made to our original Facebook post was made nearly two full days before even United had disclosed what we had already reported.
It's normal for carriers to make last minute scheduling changes to ensure the integrity of their network, and the crew normally take on a "must-travel" priority. In many cases, particularly if the service is full, one will simply occupy the cockpit jump-seat. This last point highlights an area that the airline is yet to comment on, and one - according to our information - that requires an answer. That is, was the jump-seat available? Our information suggests that it was, meaning that the whole incident might have been avoided if crew simply relegated themselves to the slab-seat in the pointy end. On longer flights, it's my experience that crews will press upon their union contracts that requires that they be allocated a cabin seat with meal service - set up to sensibly mitigate fatigue. However, the flight from Chicago to Louisville is only 297 miles (or 478 kilometers) - a ridiculously short sector.
United's Response
The first piece of formal communication from CEO Oscar Munoz was criticized in the same way as the actual incident for it's lack of sympathy, and use of the word "re-accommodate" to describe the nature in which Dr. David Dao was removed.
Munoz sent an internal memo to staff explaining what transpired "based on preliminary reports filed by employees". He suggests that Dr. David Dao's behaviour left officers with no choice but to forcibly remove him. The accusation of a "raised voice" and Dao's escalating belligerence are - given video footage of the event - greatly exaggerated. however, his refusal to comply with the requests of cabin crew and security officers was evident - itself an offence.
In the second communication from Munoz, he referenced an "oversold" situation. This is, of course, not what happened. This single failure in the chain of communication (form the first flawed Tweet) was a focal point of unjustified media attention.
You can't polish a turd, but you can mold it into something else. While the spotlight is on United they have the opportunity to self-correct and make things right better. The changes they've made thus far are correcting issues associated with what created the problem... not the problem itself. They can do better. Sadly, until now, the airline continues to demonstrate how to turn a PR failure into a total disaster.
Social Media Failure
The inappropriate response from "MD" is clear. Whenever there's an emerging PR nightmare, airline operations will normally conduct a 'crisis meeting' to establish what has happened, and to formulate an appropriate response. Corporate communications (including social media) are normally on-hand to ensure that the initial message is factually correct, appropriate, and consistent. The only source of information that can be seen as factually correct is that from ground-zero. Even Munoz continued to rely on second-hand information - including the biased reports from crew (usually downplaying the situation for the sake of self-preservation).
As a company that provides an array of services to the aviation industry, we're a little baffled how the media and corporate communications management could fail in the way that it did. A crisis of any kind in aviation (significant delays, incidents, accidents, and other disruptions) should almost always be managed in the same way. At the center of this damage control is effective corporate communications.
Unlike a more serious accident or incident - often the result of pilot error or preventative maintenance - the United incident was very personal (it's easier to disconnect emotionally from an airliner crashing). We don't hear the scream of passengers in a serious incident, but it's hard to wipe the visuals of a "seemingly" innocent man stained in blood being dragged down an aisle. Of course, David Dao was well and truly in violation of the law when failing to follow the instructions of crew... but nobody cares about this.
If an airline can recover from a very public accident, then it's more than likely United will recover from this as well... but not before it encounters serious backlash and boycotts.
Traditional Media
The problem with journalists - even those with a perceived knowledge of aviation, or those that are assigned the airline industry portfolio - is that they are, in a word, clueless. They know as much about aviation as most pilots will forget in their sleep. Journalists normally work on reporting the news (citing tweets and other social-hearsay) rather than actually investigating it. This lack of due diligence and fact checking is what prompted the (almost irrelevant) threaded discussion on overbooking to dominate the news cycle.
The importance of a single tweet can't be overemphasized; this will be the primary source of information for media until something better comes along. Don't assume they'll look for the truth themselves... because they won't.
We contacted a few news agencies in the hours after the incident, and they were the first to report on the actual timeline of events.
Overbooking
While overbooking isn't associated with the events as described, it's worth detailing the practice simply to mitigate the further spread of misguided media damage. New Jersey Gov. Chris Christie is just one of a few politicians that has stepped in for a little airtime by calling for a suspension to the widespread and 80-year-old practice of overbooking.
Airlines require two things above all else to be profitable and viable: frequency and yield. Their profits are often dictated by just a few seats on board the aircraft, with higher yield business seats often providing the only margin above what it costs to operate a flight. To ensure commercial viability, they're forced to (occasionally) oversell seats to ensure profitability. The algorithms used to determine if overbooking is required are complex, and they're determined over decades of cross-airline experience. When airlines do screw up, they can reply upon their frequency to simply reschedule a passenger, of they'll upgrade them to a higher-price fare. The system works well and rarely causes inconvenience.
Bumping a passenger after boarding is rarely a consideration with computerized systems. Once a user is checked in, their seat is excluded from future allocation. That's not to say the overbooking situation doesn't present itself, but when it does, those that get bumped are entitled to compensation.
In the case of carriage in the U.S., overbooking is clearly documented by the US Department of Transportation

, and the terms are included in the conditions accepted when booking a ticket.
Dr. David Dao's Dodgy Past
According to AOL (via TMZ, where much of the following text was sourced), Dr. David Dao was allegedly charged with 98 felony drug counts

in 2003 for illegally prescribing and trafficking painkillers such as Hydrocodone, OxyContin and Percocet. According to a criminal complaint filed against him, Dao also allegedly solicited sex from a male patient in exchange for drug prescriptions.
Dao, who attended medical school in Vietnam in the 1970s, was eventually convicted on six felony counts of obtaining drugs by fraud and deceit. Dao was placed on five years of supervised probation in January 2005, although he surrendered his medical license one month later, according to the Courier-Journal. The Kentucky Board of Medical Licensure allowed Dao to resume his practice in 2015, but only under certain conditions.
According to TMZ, "Dao joined the poker circuit in July 2006 - one year after his medical license was suspended due to multiple convictions for illegally prescribing painkillers. In 2009, he came in 2nd in a tournament and walked away with more than $117k. His player profile shows total earnings of $234,664 in the WSOP."
Whatever Dao's alleged background, dragging a passenger off an aircraft in the manner we've all seen can't be justified. The new information does, however, give us a little insight into the man.
We were criticized for sharing this information on social with many citing the need for "insight" or relevance as we described. However, anybody with a history in investigation will generally source as much information as possible - however relevant - in order to determine how or why events transpired. Any airline is wise to conduct their own internal investigations relating to public relations matters of this magnitude in the same way they would conduct a safety investigation. These investigations include a full information audit to proactively understand the underlying issues behind an event.
Security Response
In CEO Oscar Munoz's communication to crew he stated that "our agents were left with no choice but to call Chicago Aviation Security Officers to assist in removing the customer from the flight. He repeatedly declined to leave... [they] were unable to gain his cooperation and physically removed him from the flight as he continued to resist - running back onto the aircraft in defiance of both our crew and security officials".
Make no mistake: failing to comply with the instructions of a cabin crew member of security agent is an offence. While Dao is well and truly within his rights to sue the airline for compensation, he is himself liable for criminal prosecution for his failure to comply with the denial of carriage - however unreasonable the request.
In almost all cases, "appropriate force" is expected from police officers. The response by police escalates based on the threat level; starting at verbal communication and generally terminating in lethal force. The one response often ignored by police is the "tactile retreat". The latter option is used when further engagement will result in more damage than good. Dragging a bloodied Dao (with a broken nose and two missing teeth) down the aisle and parading him in front of numerous cameras was never a good idea... and it was objectively an inappropriate response.
While Munoz stated in two press released that United would "... examination of how we partner with airport authorities and local law enforcement", citing "safety and security" as reasons that authorities might be called, the single most concerning issue for the airline is that once police officers are called, they relinquish control of the situation yet continue to inherit the public relations fallout when things go bad.
At least one security officer has been placed on leave pending an investigation.
It seems a little inappropriate to call security to escort a passenger when United might have simply offered more compensation to a voluntary passenger. Everybody has a price. Offering just a few extra hundred dollars compensation might have saved a few hundred million dollars on the United share price, and untold brand damage.