What does any airline marketing department do that's just created a bunch of insulting and confrontational advertisements for a range of their destinations? The option Air New Zealand

chose was to share a range of ideas

with their Twitter following

via Twitpic.com

and ask for feedback. What followed were an avalanche of insults with the occasional constructive criticism from some of the 8000 people that follow them. The ads poke fun at six Air New Zealand destinations: Auckland, Wellington, Nelson, Westport, Christchurch and Dunedin.
The advertisements are attached to the Grab-a-seat campaign which is a website that offers discounted airfares for those quick enough to book them after they appear online - making it the perfect companion website for Twitter which thrives on the immediacy of information.
Air New Zealand is actually one of the more active airlines on Twitter

and they regularly engage their following audience directly in a conversational tone. The strategy of giving certain Internet savvy and online customers a sneak peak of a marketing strategy in exchange for some immediate and candid feedback is actually quite clever - something more businesses should consider.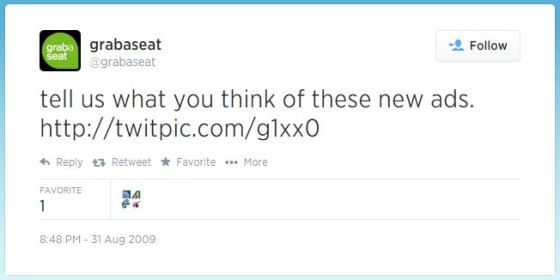 The most noteworthy aspect of this tweet

isn't the poor images it linked to, but why Air NZ linked there in the first place. Why wait until the ads are deployed into the live environment before you realise they don't work?
In a technical sense, given the vast information the Twitter API

provides, it's easy for marketers to categorise responses and determine what campaigns might work in certain regions or with certain demographics. While a standard consumer survey takes time, effort and considerable finances, it's possible that comparable results might be achieved quickly and easily via an online marketing survey. Even if the technique isn't used for direct marketing purposes, previewing non-critical information may be a good way of broadening a brain-storming strategy and involving (and engaging) customers in marketing process.