Yabber's proprietary conditional and escalation features, user-based form interactions, in-depth page-to-page tracking, and integrated systems are unique and powerful in many different ways, meaning that that there aren't any 'off-the-shelf' products that record website analytics in a manner necessary to feed Yabber with the required and contextual understanding of our audience. As such, a number of years ago we built our own mechanism to record comprehensive analytics and page interactions. Fast forward to present day and the statistical data returned via Yabber

is now comparable to the highest-performing systems of their type available anywhere.
This article describes how our analytics technology provides you with the data necessary to fully understand how your online campaigns are performing, how website interactions assists in rendering conditional content, and how returned data helps feed the escalated browsing and funnel experience. It's worth noting that website traffic is just one source of data used to assess your marketing performance - data comes from everywhere.
Note:
It's not a single source of information that indicates the performance of our efforts, but a large matrix built on the basis of multiple systems. It's this very tactile feedback that gives us (and Yabber) the markers we need to improve upon our broader
marketing strategy
.
If you've read anything we've ever written before (or listened to any of our podcasts

) you'll appreciate our disdain for the typical low-performing services used to host promoted landing pages (such as Lead Pages, Click Funnels, Kartra, and others). The notion that paid representation would diminish the value of your marketing assets by sending paid traffic to another website is utterly absurd; we consider it is professionally negligent in virtually every respect. The fractionalised services add cost, complexity, a fractionalised online presence, and it diminishes your SEO value. Furthermore, lower-performing third-party landing services completely negates your capacity to build a real and fully-integrating funnel experience - it's a business-debilitating 'solution' that essentially defines 'technical debt'.
It should be noted that if you don't have a website (or even if you need a new website), we provide one to you as part of our Yabber subscription

- it's that important! The brilliant website we provide you doesn't have to be used, but it is set up to take full advantage of the easy-to-use escalating and conditional features. Simply using our complimentary website is a virtual guarantee of attracting and converting more business (and more than covers the cost of our low fee).
Note:
We'll be introducing a number of businesses via our podcast over coming months that came to us for our industry-leading
Facebook advertising
but are yet to place a single advert (or at least they don't
have to
advertise) because of the stream of organic traffic we've introduced to them via other methods.
In order to take full advantage of a website presence and seamlessly connect it with all of your marketing efforts, we require a conduit between your site and Yabber, and it's the BM Pixel that provides this connectivity (we say 'all' your marketing efforts because our highly integrated solution is holistic in nature; for example, Yabber is clever enough to change something such as a Facebook banner or YouTube playlist on the basis of nothing other than website traffic trends).
Our system knows who is visiting a page, what their email address might be (assuming they've interacted in the past), whether they've used multiple email addresses to subscribe to your lists, and we're able to apply server-side conditional logic to trigger actions that'll drive continued interactions. A moderately high-end trigger technique that might be used is as follows: imagine a cold user visiting your site for the first time in several months (so, renewed interest) only to receive another two emails or perhaps a phone call or SMS in the days following. If we're able to identify that a previous user has expressed renewed interest in our service we're able to capitalise on that by way of communication designed to further escalate their commitment and drive them deeper into our sales process. What we've described is just one example of the kind of digital persuasion that defines a marketing funnel experience, and it is only made possible by way of our highly integrated and full-stack platform.
Note:
We're able to identify a user if they have converted off a
form
, or if they land onto our website via an
email campaign
.
The website pixel enables our system to return exceptional and easy-to-read website statistics in real-time. We'll return every page view, each page session for a user, each referring page, top referring pages, each link that is clicked, popular posts, trending pages, where each post is coming from (geography), highest-converting pages, global and page-level conversion data, full UTM Data (automatically created in most cases), and we'll identify - in addition to the actions associated with any one specific user - trending herd (or 'group' behaviour). It's this trove of information that allows our BeNet engine to course-correct your users' website experiences based on known and highly probable consumer trends
Needless to say, the level of statistical data you have access to is more significant and accurate than anything you've seen in the past.
Basic Website Statistics
We've manufactured basic website statistics to be easy to read and return data in a visual manner that provides immediate feedback on site performance.

Pictured: Aggregated website statistics. You may select specific websites, pages or dill down into data based on virtually any variable. The graphs provide Page Subscription Ration (PSR) data for page level views, landing views, and global views. One of the easiest trends to identify is the monthly page views; you're looking for consistent growth by way of a pattern of increase page views. Your conversions should be consistent with this growth. The 'Top 10 viewed posts - Last 28 days' graph provides a clear picture of reading trends which may dictate your ongoing content strategy (this is supplemented by real-time 'trending posts').
Each viewing record (noted as 'Site Actions') reveal details about that specific view. Details include all the data associated with a particular user (such as name, email, and phone number), geography, referrer data, and other information. Clicking on 'User Details' returns all the browsing actions for that specific user.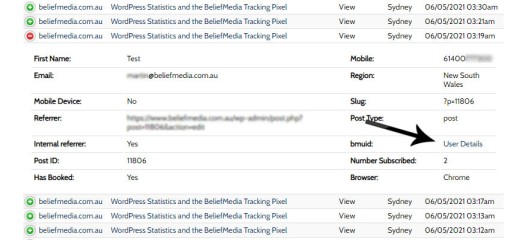 Pictured: Individual user statistics. This data represents that which is ingested by Yabber to craft a conditional journey. Based on all user-specific interactions we're able to identify a visitor's intent or interest type and build a funnel experience specifically for that user.
Clicking on any page link returns statistical data for that specific page.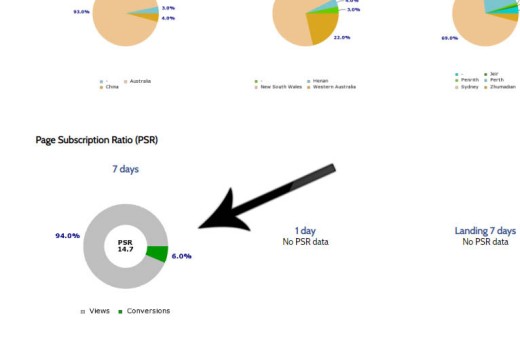 Pictured: The Page Subscription Ratio (PSR) shows exactly how each page is converting. A comparison of PSR data will start to expose that information that converts better than any other. PSR Data is returned globally, on a post-level, and for landing pages.
Website Link Statistics

Pictured: Website link stats. Discussed in more detail here. The nature of website statistics is very extensive. Multiple pages are returned so you may dive deep into the performance of all sites, any one site, any page or post (of any type), and links. The data is necessary so you're able to apply marketing resources into those assets that are performing better than others. The PSR is a term coined by BeliefMedia to accurately represent conversions (something other systems cannot do).
Landing Page Statistics
Landing page statistics are measured independently of standard pages (but in a similar format). It's vital to understand landing conversion rates, and Yabber provides this data. Split data is also provided so we're able to assess what pages are performing better than any other as part of a single campaign.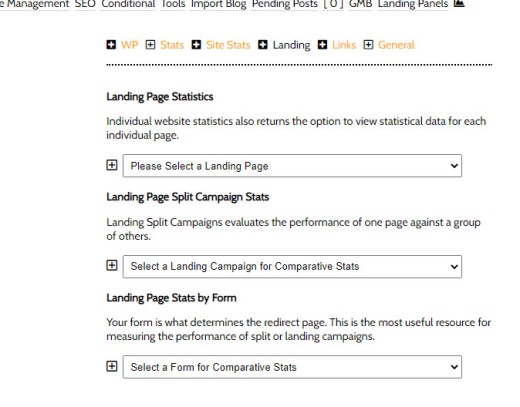 Pictured: Landing page statistics are obviously extensive because they're at the heart of your paid promotion. You may select from page-specific statistics, split campaign statistics, and statistics by form (at the landing page or global site-level).
The pixel tracks all conversions (that is, form submissions of any kind). Remembering that each page on your website represents an 'object' in your marketing experience, this enables us to accurately determine the PSR, or Page Subscription Ratio. We wrote about the PSR about 18-months ago but you might find more relevant articles by way of the psr

search tag.
When a user provides details via a landing page our system records their information and starts to craft a conditional journey for them site-wide (we now know who they are, where they are, and what they're interested in - a good starting point). If we know a user has expressed interest in 'declared' subject matter we can start to shape our funnel and email follow-up experience to be consistent with their known interest type. An email follow-up experience is ridiculously ineffective without this single feature to enhance the user experience.
Partner Landing Page Statistics
One of teh limited-release programs made available to brokers (expected to be made available to all brokers by August 2021) is the partner landing page module. This feature is designed to support real bilateral (and close) relationships with partners. It enables you to publish landing pages to a partner website, with performance measured by your partner at PartnerDashboard.com.au (a white-label tool your partners will believe belongs to you).
The results we've seen from this program are outstanding, and the digital overlap in businesses has further cemented the professional relationship.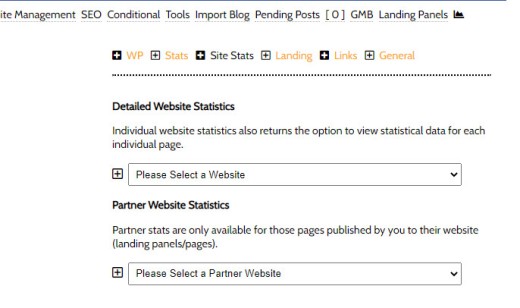 Full statistics for partner landing pages (only) are also available from within Yabber. This isn't a feature that will interest all brokers but it's available by default to all brokers (or will be drip-fed into your system when the feature reaches maturity).
Google and Facebook Analytics
You may want to supplement Belief's analytics with that of Google and Facebook. The Facebook analytics are integrated by default when you populate Facebook SEO fields, and integrating Google's analytics simply requires you copy the website code into Yabber (it'll then be applied to every page on your website).
Conclusion
A website is not the static resource you're led to believe it is. Supplemented by way of internal link tracking, highly integrated landing pages, and conditional content, your website becomes an organic entity that shapes your marketing experience for any one individual user based on their known interests or interactions. Our claims of providing 'Next Generation' marketing is not just a gimmick or sales tagline - it's an applied marketing methodology that is designed to attract more business, and one that is guaranteed to convert more clients. Our proprietary methods are based on technology we built ourselves to be consistent with a marketing ideology we've developed with over 25-years in the industry; businesses will set themselves apart from their competition by creating a truly dynamic and game-changing online experience.
Your website is a lead generation machine waiting to happen. Despite our advocacy for our industry-leading paid lead generation programs (the highest performing in the industry for obvious reasons) we don't ignore any source of lead generation... and ignoring a company website when it has the capacity to deliver consistent high-quality leads is a foolish endeavour.