We've introduced numerous live and always up-to-date bank rate features on numerous occasions in the past. We take the approach that bank rate data and product information is vital for a persuasive and powerful website and funnel experience, so we plaster the information wherever we can squeeze it, and whenever it's contextually relevant. This article introduces the new 'Rate Ribbon' which simply returns a number of products of a particular product type in a long string. The feature is similar to the drag-and-drop and feature-rich Bank Widget without the fancy-pants formatting.
The Rate Ribbon is one of about a dozen ways we render bank product data.
The Result
The result of the new widget or shortcode is as follows (a full page is shown for context).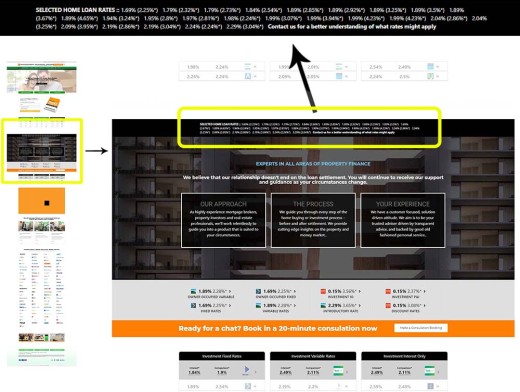 Pictured: The bank ribbon. Pictured is the entire page, a more focused portion of the screenshot, and the ribbon. The ribbon can be customised to your liking, and it may be used anywhere on your page.
All attributes of the ribbon may be altered, such as colour, background color, padding, font size, and so on. The panel returns rates associated with a particular type of product, such as owner occupied or investment rates, and then further (optionally) filtered by way of principal and interest, fixed, or variable rate. Other options apply.
Examples of the ribbon in the wild are shown below.

Pictured: The bank ribbons as used by a couple of clients. The assigned colour is normally a primary colour with a white background, but the ribbon may be rendered to your liking, with as many rates listed as you define.
While not an ideal example, the result of the rate data as included in a post without formatting is as follows (we're showing owner occupied fixed rates):
The presentation isn't ideal but it does illustrate the point (normally you'll limit the ribbon to the first eight results, meaning that all results will be on a single lins). The number of results returned, the style, and the types of rates returned, are all customisable. The above result was returned via shortcode but the attributes make it a complicated process for most DIY business owners; the drag-and-drop Elementor block should be used in almost all cases. If interested, the shortcode used was as follows: [bm_rates_ribbon purpose="OWNER_OCCUPIED" rate="FIXED" text="Text Before Rates" number="25" after="This is text after rate" color="000000" background="ffffff"].
Bank Data Should be Everywhere
Bank data should be everywhere on your website. While your 'general' website content is extremely important, it's the bank rate data that assigns expertise and a measure of trust to your experience. All website data is linked into a pathway; that is, every rate is linked to another page that provides more information and allows a user to further navigate your website funnel. The ribbon simply provides 'another' stylistic manner in which to render information to a page.

Pictured: If interested, you should read about Bank Widgets. The Widgets are our primary means of rendering styled bank data into a page.
Note: We'll shortly be pushing a website-based comparison search engine to all our default broker websites.
Conclusion
The Bank Ribbon is one of numerous ways in which we present live and up-to-date bank data to your website; other articles should be referenced for a full understanding of product integration into your website experience.
Your website is intrinsically connected to your organic and paid marketing efforts, so we work hard to ensure it provides the experience that'll attract, engage, and convert into your pipeline. The bank data is just one part of a big-picture conversion objective.
Featured Image:
ANZ predecessor ES&A (ESANDA) introduced Australia's first ever drive through bank in Camberwell, Melbourne in 1954. [
View Image
]