Yabber

is an extremely comprehensive system that is designed to manage your entire digital footprint, and it includes a large number of modules that perform multiple functions. Since Yabber provides such a large suite of powerful systems there's a clear need to provide learning pathways and structured lessons that'll guide you through each of the available systems, and Belief's BeLearn module is Yabber's integrated eLearning module that details exactly how each of the Platform's marketing and social modules will guide your general marketing and lead generation efforts.
While the system is super-simple to use it's also unlikely you'll want to, or need to, immediately include all the functionality it provides. Rather, we recommend you drip-feed features into your business only when your marketing program requires its inclusion. When features do become necessary, or you're looking at investigating the advantages that comes from engaging a particular feature or program, our BeLearn module is designed to provide you with the necessary guidance and education required to implement the program in an agile manner.
The purpose of our education program is clear – we want you to own a best-practice digital mechanism that has the capacity to support unlimited digital growth, and we want you to enjoy a level of expertise that exceeds that of those that actually claim to provide a digital service.
In reality you're interested in getting actionable systems live as quickly as possible and our learning module provides the necessary guidance to make this happen. Yabber's one-click campaign creation, one-click landing pages, and one-click scheduling of social media - just to name a few modules - are all designed to have you see results very quickly; the system supports the rapid deployment of campaigns out of the box making your entry into the space a very simple process. However, if you're interested in higher-level information, and building very personalised funnel experiences, we also provide the necessary education and support to make this happen. Each BeLearn module includes a video as a general introduction to a concept, but each section also includes a 'how to get results' webinar and other tutorials on how to use a specific features and deploy that advantage quickly into your marketing plan.
The BeLearn module is supplemented by ongoing webinars and other scheduled education.
Like all BeliefMedia technology, the BeLearn system is backed by over 20-years as specialists in the LMS field (we've developed and managed dozens of learning management systems, including those for Virgin Australia and a number of other F100 companies). The BeLearn module was designed internally specifically for compliant education in the mortgage industry, and each module is presented directly by the leading financial digital strategists in the country (we've worked in the finance marketing since 1997, and we also founded our own award-winning brokerages, so we're uniquely positioned to support your business).
BeLearn Lesson Format
Each BeLearn module is made up of lessons, and each lesson provides the necessary information for fast and clear learning and tactical outcomes. Each lesson generally includes the following:
Lesson Name and Title
Lesson Description
Lesson Aim
Learning Outcomes (Objectives)
Lesson Duration (rough estimate, is often higher when all videos are integrated)
Primary introduction video.
Webinars and 'how-to' videos
Overview text
Related Reading Material & Downloads
Task requirements
Conclusion
Primary videos are occasionally accompanied by replays of some of our live webinars to further reinforce a concept.
Lesson Formats
The system provides a number of modules, with each module containing a number of lessons. The types of modules and/or lessons assigned to each user will depend on your access type. For example, if part of a supported aggregation group that utilises our systems the scope and number of lessons will increase.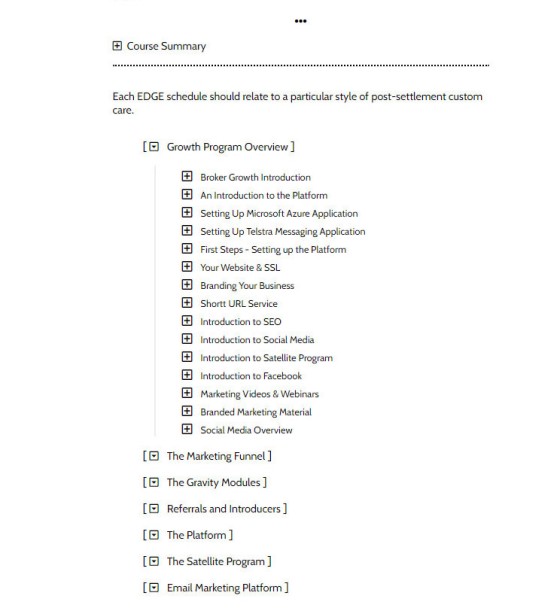 Pictured: Example BeLearn menu. Modules are made up of a number of lessons. Each lesson returns a page with various lesson object elements.

Pictured: Example BeLearn page (example data only). The system is designed to showcase our material and that supplies by partners, banks, aggregators, and others. The left-hand menu shows other lessons associated with the module. The lesson task system is fully integrated enables your tasks to be sent to Planner (or, possibly, other CRM systems). Any number of videos may be shown in any one lesson but it is reasonably expected that no single page will show more than a few tutorial videos.
Education Compliance
The BeLearn module was created to be compliant with the issuance of industry CPD points and learning mandated by legislation or industry bodies (one of our previous applications to the MFAA was rejected on the basis we requested around 50 points; we asked for segregated points for all our modules, including those that are entirely optional, thus confusing the MFAA analysts).
For the purpose of compliance each video interaction is fully tracked, page views and page-interactions are recorded, and all information is available in our system.
Aggregation and Propel Access
Yabber makes lesson creation a breeze. Because the system is fully integrated, an LMS administrator simply selects existing objects (such as video, documents etc.) from select menus, and other areas are populated via a simple editor. The compliant system is discussed in slightly more details in our article on the 'Aggregator Advantage' service.
Those digital agencies that use Propel may choose to include their own suite of tutorials, and they have the option of disabling or enabling each of our own modules as required.
Other Course Options
The BeLearn module is obviously designed to support brokers with finance related material. However, we've found over the years that brokers are looking for information on various topics that are connected to finance but their relevance sits outside the periphery of mainstream educational material. For this reason we've built (or we're currently building) courses on subjects such as the following (all are scheduled in the second half of 2021). Initial modules include the following:
Introduction to WordPress (replacing our previous module)
Introduction to Finance Programming with PHP
Introduction to Building Finance Plugins for WordPress
Instruction to Databases, SQL, and Finance Queries
We expect the list of 'interest' courses to grow in a significant way over time. Learning should be fun... and we've found that brokers that have a relevant digital understanding generally see greater opportunities for digital growth.
We expect third-party suppliers to provide us with course material (each with their own CPD assignment) that makes their education material available to our users.
Conclusion
As stated earlier, we want our brokers to have a high level understanding of the digital methods and madness required for real online success. It's one thing to use our one-click options and simply have the lead generation or Facebook systems in place, but it's another to develop a real understanding of your clients and build a compelling funnel experience based on a heightened understanding of your customer behaviours. We arm you with the tool to create the latter, and the knowledge to understand why it's required.