Some time back we introduced the value of having your own truncation service. The Short URL service takes a long URL and truncates it to a shorter URL for easier passage in social messages, text messages, and in email. Since the service provides a middle-man redirection we have the capacity to resolve detailed statistics on how the URL performed on various carriage platforms.
Yabber

supports its own default URL services, but has the capacity to support your own service - something we recommend if you're a regular user of such services. Having your own domain gives you a branded presence and ensures you're not hosting your own links with the same cave-dwelling actors that use the tool for nefarious purposes.
Creating a Short URL on Yabber
Shor.tt URLs are created on Yabber whenever the need presents itself, such as messages that are sent to social media (in fact, when using Instagratify we'll automatically truncate any long URL to a Short URL using your default service).
In some cases you'll simply want to create a single URL for your own purposes, and this may be accomplished via the Yabber 'Tools' menu.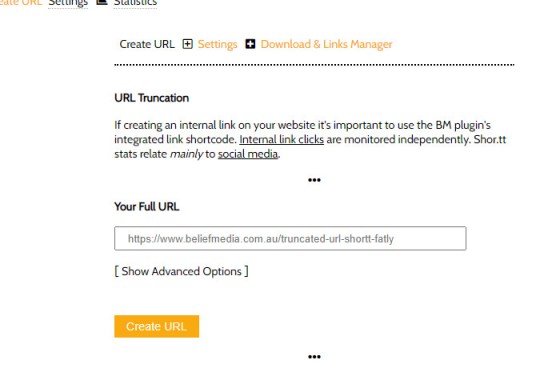 Pictured: Creating a Short URL. Simply enter the URL and click 'Create URL'.
You'll note the option for advanced options. Clicking it returns optional data that is appended to your link.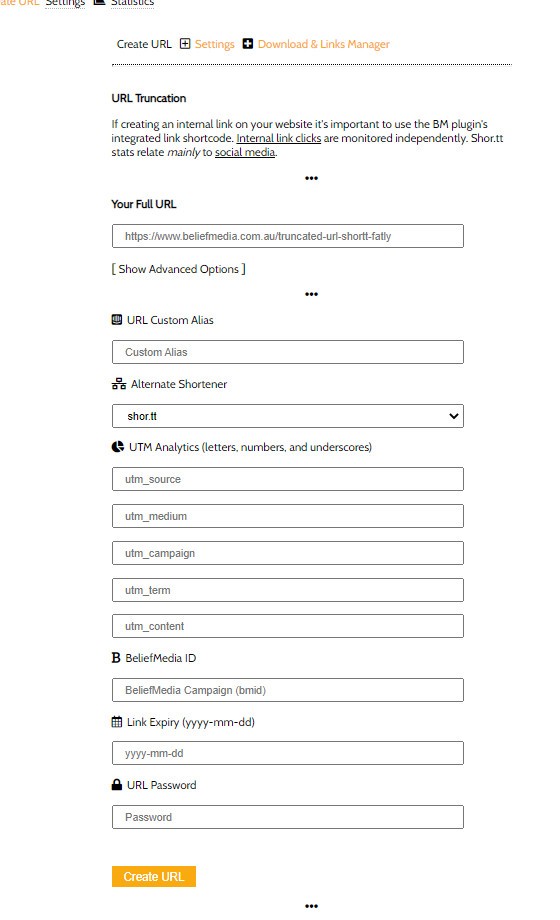 Pictured: Advanced Short URL options include a custom alias (your own URL slug used rather than the automatically generated string), UTM data, link expiry date, and password.
If UTM data is attached to the Short URL (for whatever reason) then that data is applied to the redirection URL. Clicking on the green icon associated with any record returns all the applicable data associated with the URL.
Your Own Short URL Service
Adding your own Short URL service to Yabber is easy. You simply add your domain name and the API Key assigned to you when your account was created. You will normally set your own service as the default service (so it's applied everywhere without any prompting) and this may be accomplished via the 'Settings' panel.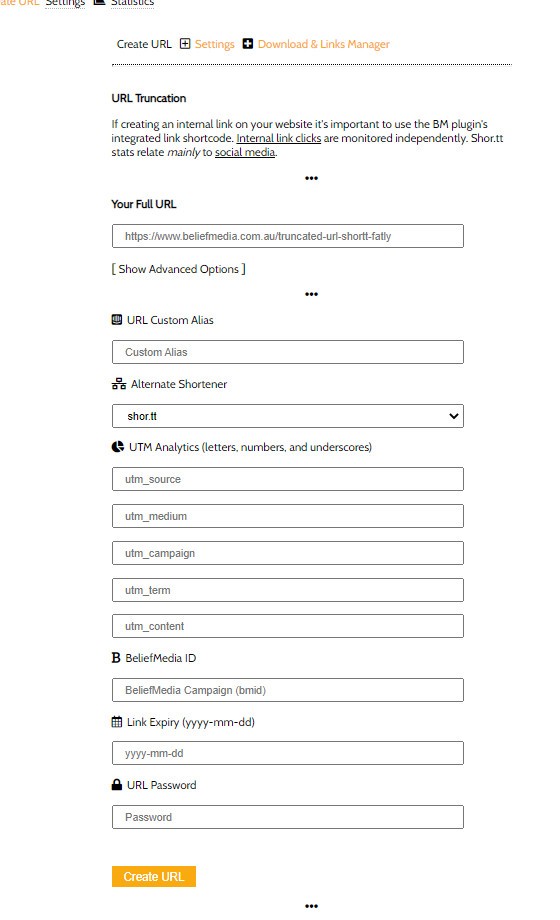 There's a catch in setting up your own Short URL service: we have to set it up for you and it incurs a small fee. You'll have to have a spare domain name and have that point to one of our servers.
Short URL Statistics
Short URL Statistics are returned globally and for each individual Short URL you've created (you retrieve these statistics by clicking on a specific link).
Website Integration
When your post is evaluated for automated SEO tags we also create a Shortt URL (as per your default option). This URL is made available in the floating sharebar, the social share buttons under each post, and an optional Short URL link is made available under each post to copy.
Conclusion
We use Short URLs everywhere. It's for this reason that you might consider your own service - it's an essential consideration for any brand serious about the manner in which they're represented online.
A quick search of our database returns definitive data suggested that the click-through-rate from a branded URL from Facebook is almost 3% higher than those of services such as bit.ly (every incremental conversion optimisation technique helps).
We provide an API to the Shor.tt module so you're able to access your Short URL data from any application - not just within Yabber.
The Shor.tt stats are closely connected to your website statistics, and your web stats will always reflect the referring URL and UTM data.