We provide a large number of forms via Yabber integration, meaning that lead forms, event forms, referral forms, fact find reports, property forms, and others, may all be quickly created and then included on your website in a number of ways (our mortgage broker website supports shortcodes, Elementor drag-and-drop forms, significant automation, form escalation, interest-based rendering, and so on - all designed to support a real marketing funnel). We've recently updated Yabber to support the default Elementor form-building block, so any custom form created in Elementor is now submitted to Yabber, and automation will take effect as if the form were one of our own.
This article introduces now the Yabber component of the submissions will improve your workflows.
Launch: We're introducing the feature now, but we've hidden certain tables and features until 25th September, at which time the functionality will be available to all users. At this stage, the system is subject to some ongoing testing after significant modifications were made late last week.
The Elementor Form
The native Elementor form is quite good, and it has improved enormously since the rather boring early versions. The form supports multiple field types, stepped forms, and post-form actions. Creation of any form of any type takes no more than a few seconds.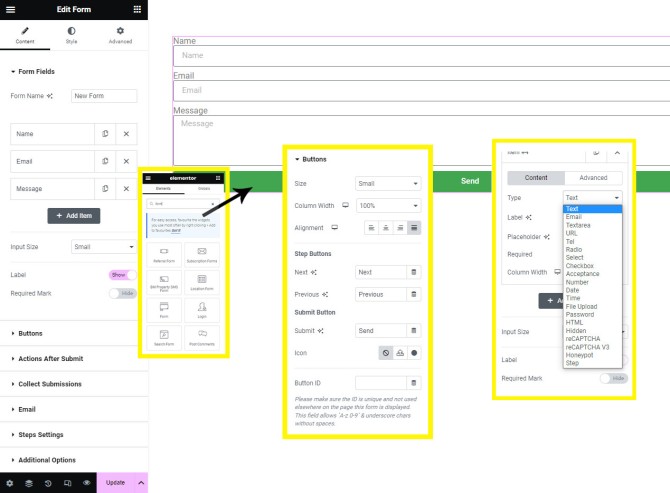 Pictured: The Elementor form is available from within the standard (Pro) Elementor block menu. Drag and drop onto your page, add the necessary fields, style to your liking, and save. The form may be styled in any manner of your choosing.
The standalone Elementor form block has some optional webhooks built in by default, so it can send to select platforms, and the default feature will POST submissions anywhere. By default, and without any modification, any Elementor form you create yourself will now send to Yabber.
The most important feature within the form (as far as our Yabber system is concerned) is the unique form name assigned when created. It is this unique form name that will identify the form from others in Yabber... so make it descriptive.
Yabber Automation
To find the Elementor options within Yabber, you should navigate your way to the Elementor Forms panel by way of the single icon within the 'Forms' menu.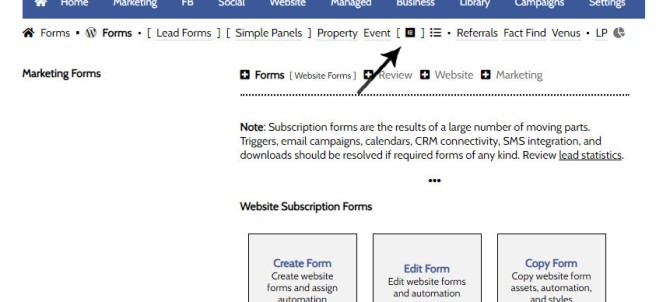 Pictured: Locate the Elementor options

by navigating your way via the single icon within the 'Forms' menu. This single icon is the primary entry point to the Yabber Elementor panels.
This is where it might get a little confusing.
First, it should be understood that we won't know a form exists on your website until it is submitted for the first time. Once done, the form and associated form fields are registered in Yabber.
The first action we should take is the association of a form, website, and standard Yabber form (with the latter used to assign mirrored automation).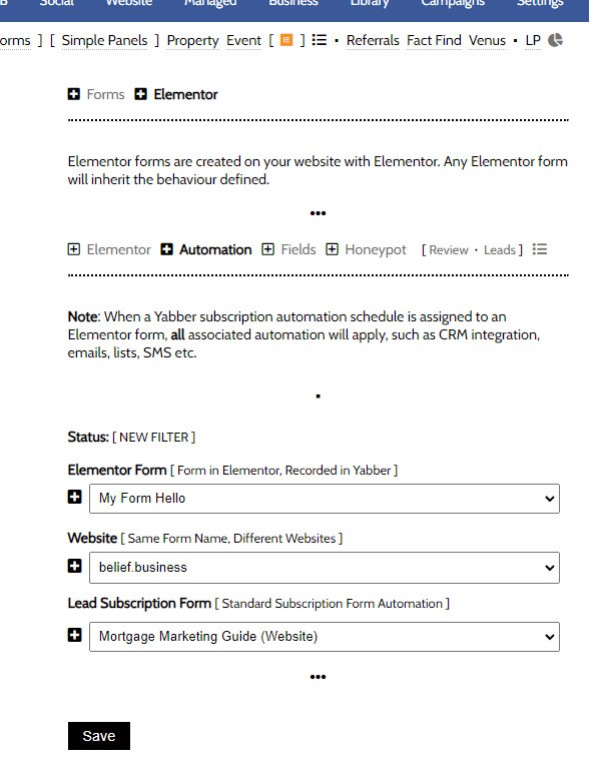 Pictured: In the pictured example, we are connecting the 'My Form Hello' to the same automation schedule that applies to the 'Mortgage Marketing Guide (Website) form, when submitted from the defined website.
When an Elementor form is submitted to Yabber, you will be using field names that don't necessarily match up against our own, and we need to essentially 'match' the Elementor form field names against a standard fields in order to assign necessary automation.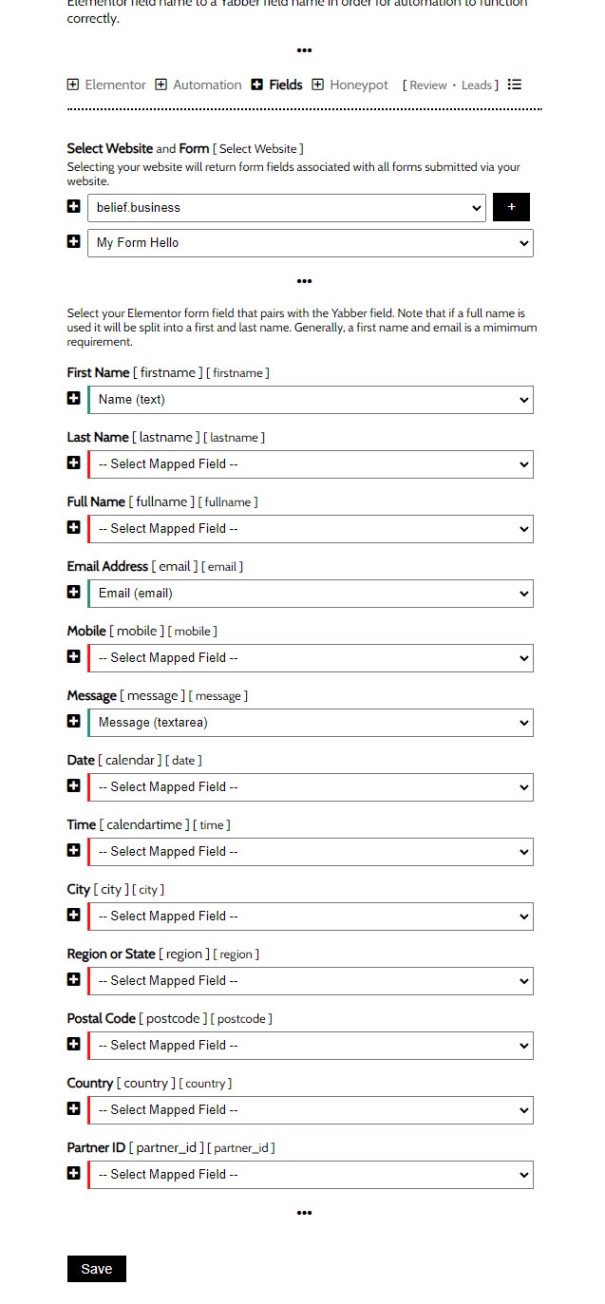 Pictured: We are required to map the form name created in Elementor with the field name in Yabber. Without making this association, automation cannot be applied. If the field name doesn't exist in your Elementor form, the association may simply be ignored.
It is expected that most fields will include name and email for the purpose of basic automation (with the two mentioned fields the minimum requirement before we can even subscribe the user to an email list and assign an autoresponder program). Other fields are optional.
Calendar: All Yabber forms include a Microsoft-connected feature that populates available booking slots from your calendar. Once submitted, any booking is assigned into your Outlook calendar. This feature is not yet enabled on Elementor forms.
Once these steps are completed, the automation that takes place will be identical to the form that it is mirroring.
Spam Protection
Elementor forms are notoriously bad at preventing spam. However, they do include a basic honeypot feature that prevents form submission if a form field exists and is not empty... so they're essentially dummy hidden fields used to prevent bot submissions. We include honeypot fields

on our end as well, although each submission will be passed through Yabber's highly effective spam classifier

which has a near perfect rate of preventing automated bots and manual submissions.
Submitted Lead Records
All Elementor forms will be logged in the standard Leads table, and they'll contribute towards our attraction and conversion statistics in the same way as standard Yabber forms. However, a standalone archive is maintained of all Elementor forms for reference.
Elementor leads will be evaluated for webhooks, triggers, and other automation, as if they were submitted via the form to which they were assigned. Again, your primary method of reviewing Elementor leads will be the standard leads table (with your defined automation).
Surveys: We expect to build a feature that permits the creation of surveys via Elementor forms. We will build graphs and charts based on responses. Stay tuned.
Related Articles
Yabber's form integration, functionality, and automation is unmatched in terms of its power, features, and flexibility. The following related articles provide a brief overview of some other form features.
The form system is designed to support a truly agile workflow.
Conclusion
The integration of the Elementor form into Yabber essentially enables support for any form of any type. Yabber forms will always be the primary lead forms used, but it's nice to know that if you need a more comprehensive form with an array of fields, or a stepped form of any type, the feature is supported by automation that is equal to any native Yabber form.
With the inclusion of Elementor forms into Yabber, there's no type of form that you cannot create, and you can rely on Yabber's automation to provide a leading follow-up experience.
Featured Image:
The Commercial Bank, Bourke, NSW, c1885. Bourke is a town in the north-west of New South Wales, Australia. Bourke is approximately 800 kilometres (500 mi) north-west of the state capital, Sydney, on the south bank of the Darling River. The Commercial Bank of Australia Limited (ironically abbreviated CBA) was an Australian and New Zealand retail bank which operated from 1866 until being amalgamated with the Bank of New South Wales (established in 1817). The Bank of NSW was merged with CBA in 1982 to form the Westpac Banking Corporation (under the Bank of New South Wales (Change of Name) Act). [
View Image
]