If there's any one secret to business success, hundreds of millions in turnover derived from our online and offline campaigns tells us that it's those businesses that cleverly craft compelling online marketing campaigns, and build immersive organic marketing funnels, that predictably prevail over all overs. The one common denominator that the successful businesses have is that they all have a strategic social, content, and advertising programs in place to supplement their extremely powerful and persuasive offline relationship and referral programs.
WIP: I apologise in advance for repetition and grammatical errors in this article. Created as a draft in a single sitting, I'll have to come back to this article over time to introduce a better understanding. We expect to break up each topic and introduce the very specific techniques our clients use to generate more business than any competing program in the country.
There's little doubt that you've been exposed to various marketing or lead generation programs in the past, and we can categorically state that most of them are junk, and none of those aimed at the mortgage industry provide an integrated and holistic experience. If you have ever paid for leads (the bottom-of-the-barrel digital experience), or you have engaged with a third-party platform that claims to manufacture a funnel, then our experience well and truly offers over 90% more value compared against virtually all competing products, and our superior technology will service your business in way that no other platform can.
If you want to easily add another 5-10 million in organic unpaid monthly volume, or you wish to generate virtually unlimited inquires via paid promotion, then our systems are a fit for your business. If you add our various partner, referral, and other relationship programs to your schedule then your business will easily measure up against the highest performing brokerages in this country. We live in a world where technology plays an extremely important part of any online transaction, and if the technology is implemented poorly, isn't optimised, or isn't integrated with your core assets - such as your website - then your returns are seriously compromised. Digital Marketing done right just works.
In this article we're going to introduce you to the Facebook component of Yabber

- the only turnkey and purpose-built, integrated, and full-stack marketing digital marketing and social media system ever manufactured for finance professionals. For those that are looking to attract a stream of high-quality 'leads' via Facebook we'll provide you with the basic guidance necessary to understand the technical nature of advert creation.
We want you to keep in mind that our most successful clients reach a point of inflection where organic growth will be very predictable and follow a very clear and KPI-defined growth trajectory. The biggest problem we tend to encounter with our close clients is that of growth management: how is staffing managed once you're on the greasy end of the growth-curve? There will come a time where Facebook, Google, YouTube, and other paid promotion will be used to simply regulate lead generation in order to ensure a measured and manageable consistency of business. So, the purpose of paid promotion is to build your brand to a point where you don't need paid promotion.
Many have tried online advertising programs in the past without success. Others have enlisted the services of a 'marketing agency' - usually nothing other than weekend-educated individuals with a Facebook account – and these charlatans will have also failed to deliver upon best practice, or perhaps they've even introduced non-compliance into your operation (a certainty if you're engaging in pay-per-lead programs). Don't let these adverse experiences dissuade you from the powerful realities of modern marketing.
Related Articles:
We encounter brokers that come to us every single week that have had their Facebook account banned as a result of platform non-compliance (some brokers were even told to set up 'Community' pages on Facebook to mitigate the damage when the ban was inevitably imposed). We deal with brokers every single day that have advertisements published that are in clear breach of legislated requirements. It may be worth reading an article titled, "
Mortgage Broker Advertising Compliance
", and another earlier article titled "
Ethical and Legal Financial Advertising
". In our entire history not a single broker of ours has had their Facebook account banned in any way. Why? Because we publish compliant adverts that follow Facebook's clear guidelines.
The simple truth is this: online advertising works. It doesn't matter what market you're in or what product you have to sell, a highly fashioned campaign and immersive marketing funnel will continue to provide you with the base of clientele you need to succeed and grow.
Facebook Advertising is Easy
The first thing I need to state is that Facebook (and other types of digital) advertising is simple to implement. I'd say I could probably teach a monkey how build a powerful Facebook campaign, but instead I'll state categorically that my 7-year-old daughter can manufacture a more powerful campaign in 15-minutes than most of the charlatans could build with their existing 'systems'. In fact, we've challenged our 'competition' to a live-stream challenge that none of them will accept because they know they're peddling an inferior product (we've had this program running for over a year).
Note:
Of those marketing groups that are attracted to our
Propel Program
(a program to deliver finance marketing agencies with the tools their clients
need
to grow), all thus far have been brilliant agencies that didn't
need
our software or support, necessarily, but instead recognise that they didn't want their finance clients to 'miss out'. Most of the lower-tier guys are afraid they'll forego their bloated subscription model to the third-party and highly inappropriate
HighLevel
product, and they're far less interested in delivering their brokers a sound product or experience.
While the process of Facebook advertising is easy (creative and copy aside), it's the compliant aspects that tend to get most businesses in trouble. You're bound by standard finance advertising standards and compliance requirements, but you're also advertising in Facebook's special ad category

that limits the scope of features connected to your ad. We'll introduce why adherence to Facebook's advertising policies is essential in order to preserve the integrity of your account.
The Rescue Package:
There's a couple of products that made their way into the market that thankfully no longer exist, notably
Backpack
and
Mastery
. The number of brokers we've inherited from these older programs after having their Facebook Ad Account banned is staggering. We've introduced a reduced-cost program that seeks to course correct the damage introduced by these and other
damaging programs
by way of lower entry costs and additional support.
Belief's Yabber

system support the creation of fully campaigns in mere minutes.
Your Website is
Essential
We guarantee that our systems are more powerful than any competing product in the market, and we 100% guarantee our Facebook systems are more efficient (and will deliver more high-quality leads for less). Yabber

is purpose-built software designed to provide the only fully integrated and turnkey experience in the industry, and it is the only full-stack compliant turnkey solution that works on a one-click basis. As we'll come to explain, our one-click campaigns (via the "Solis" module) can have your campaigns up and running on your own website - supporting the only real course-correcting and AI-driven marketing funnel in the market - all with the click of a button.
Note:
As we've mentioned a hundred times already, anybody that has ever introduced you to
High Level
,
Lead Pages
,
Click Funnels
,
Kartra
, or any other off-site landing page service is objectively wasting your marketing budget, they have
not
provided you with a real marketing experience, and certainly haven't provided you with a marketing funnel. The proliferation of illegal
pay-per-lead
services is also somewhat disturbing; never engage in a service that provides leads for cost. In most cases these services are operating in a completely non-compliant manner.
As we make clear in about every article on our blog, your website is absolutely essential, and we implore you to simply ignore the competing messages in the marketplace indicating otherwise. A highly fashioned and well-crafted website experience will support organic traffic, strengthen referral business, convert cold and undecided shoppers, and literally explode the effect of your Facebook and other paid campaigns. It's this necessity that led us into creating a 'generic' but highly-customisable mortgage broker website that provides a 6-figure experience for less than what you'll pay for a simple 10-page website.
There are 'professionals' that will have you set up landing pages on third-party services for the purpose of building landing pages - an utterly absurd, clueless, and professionally negligent business-destroying recommendation. A landing page is just a webpage, and sending paid traffic to somebody else's website negates your ability to integrate your website - your most powerful digital market asset - into your marketing funnel journey. Third party services negate your ability to apply escalation, collect detailed user statistics, or even simply measure the effectiveness of any campaign you put in place outside of a single page.
As described in another article introducing our landing page creation, Yabber supports one-click landing page creation, and your website itself will support drag-and-drop landing page (or inline landing panel) creation. If you're after something more specific (such as an event, or when you're promoting a 'scaled' product) even a total newbie can build a complete custom landing page in a few minutes. Of course, all the automated landing page assets on the 'periphery' are immediately connected to Yabber supporting email campaigns, SMS messages, autoresponders, and calendar bookings.
The Facebook Experience
Science, psychology, and technology are all intrinsically connected with your modern sales experience. What follows in this article are a number of basic Facebook advertising considerations that will guide you in your online endeavours. Through Facebook's retargeting, lookalike audiences, and other tools, it's never been easier to capture the attention of your target market.
Capitalising on the idea that 3% of any market is ready to "buy now" (this small 3% is often – but certainly not always – also suited for use with Google AdWords), and knowing that an additional 7% of any group (on average) are open to a purchase, and given that Facebook has roughly 2.2 billion active monthly users (15 million in Australia), it makes it the ideal advertising and marketing platform. As we discuss elsewhere in this document, if you know what your ideal customer looks like, and you put appropriate targeting strategies in place, you can ruthlessly target specific segments of the platform that are considering the product and/or service you provide to ensure profitable returns.
Audience Advantage:
The advantage that brokers have over many other industries is that their potential customer is
always
looking for a better deal. The 'typical' audience is one that doesn't necessarily apply;
your audience is everybody
.
It's the predictability of Facebook and consistent returns that has made it the platform of choice for most marketing agencies.
Through the business tools the Facebook platform makes available, it's easy to monitor, split-test, evaluate, and alter your campaigns. Because the costs of using Facebook are quite low when compared against other platforms, it allows you to ease your way into a campaign and increase your marketing spend only if your efforts see some success.
Keep in mind that Facebook represents a small part of our services. We employ our proprietary "Matrix Method" that integrates a number of components to ensure maximised conversions. An advertising experience, and a broader marketing funnel experience, requires a number of digital assets on the 'periphery' to be fully optimised.
A maximum Return on Investment should be at the heart of every campaign you embark on. While every advertising platform potentially returns excellent results it's generally Facebook that has the best response and ROI from what might be considered a cold market.
Note:
In the last few years alone
Belief
has inherited over one-hundred brokers that have had their advertising accounts disabled as a result of promotion that is contrary to their 'Special Ad Category' rules, so if you're going it alone we'd encourage you to ready that section to properly understand the consequences of running ads that don't comply with Facebook's
strict guidelines

.
Once again, it's worth reinforcing that entire campaigns may be created on your website with a single click. It's also worth repeating that you should never ever host your marketing assets on third-party resources, and understand that any marketing agency that might suggest this method has about the same understanding of marketing as you do.
It's Not Just About Facebook
Our systems process a Facebook lead that makes its way directly to a broker, on average, every 4 minutes. Our clients see the highest Facebook returns in the industry, but despite this, it's actually not our highest-performing program. Our referral, relationship, partner and other modules all routinely return far more business. Our Saturn program is the highest-performing in the industry returning an estimated 400-million per months to our clients, and our EDGE post-settlement software facilitates billions every year.
One must explore all available advertising options. At the time of publishing this article on of our brokers inherited some TV airtime from another of our clients he and returned 52-million in volume over 10 days with an ROI more effective than YouTube, and certainly more effective than Facebook.
In an article titled "One Billion Dollars of Medico Home Loans Every Year", we talk about how our brokers have successfully positioned them as medical finance professionals based almost exclusively on advertising in a particular manner... and it's not on Facebook (at least not initially - they're targeted later based on landing on a specific landing page).
We have brokers that pick up discounted billboard exposure, bus advertising, and numerous other means all the time. Sometimes Facebook isn't the answer. Interruption marketing is slowly losing its effectiveness over some other types of promotion based on the blindness we're developing to certain kinds of messaging... and more 'traditional' means of advertising are becoming more affordable and effective since the platforms are abandoned in favour of digital. While we almost always suggest Facebook initially, as your marketing matures you'll certainly want to explore options that will grow your business.
Your brand, positioning, clientele, and audience attributes all determine how your business should be promoted... it's just that Facebook is an effective catch-all approach, and one we'd argue is necessary simply for the purpose of maintaining brand exposure.
Entry into the Facebook advertising market is very quick and easy. This same barrier to entry isn't necessarily shared by traditional platforms.
Yabber's Facebook Marketing Features
Introduction
First and foremost we should state that Belief's Yabber platform is not a replacement for the Facebook Ad/Business Platforms. Instead, we provide a conduit to make campaign adjustments, retrieve leads and provide associated automation, and we provide highly detailed statistics that provide an immediate visual, visceral, and tactical appreciation of your efforts.
Facebook's ad platform may seem a little daunting at first but it is surprisingly easy to use (you'll want to watch a video of my 7-year-old daughter creating a $2 lead refinance campaign by clicking a bunch of buttons). Not unlike any piece of software it might take a few days to wrap your head around the moving parts and concepts, but once you have a basic understanding it becomes extremely intuitive.
Yabber does support the majority of functions necessary to manage highly efficient advertising campaigns, and the Platform supports virtually all the features necessary to manufacture, support, and create highly targeted and effective campaigns. We do not require copy and pasting in our system. The crazy cut-and-paste methodology – if employed in your current setup – is an antiquated and seriously flawed mechanism upon which to conduct business.
Because our system is fully integrated we manufacture campaigns that are infinitely more powerful than those you might be familiar with. Our website and platform targeting options are created automatically and guarantee better results.
Facebook Statistics
We'll introduce Facebook statistics before anything else because they're vital to your Facebook success (the entire Yabber system provides integrated statistics and is supported by the industry's only AI engine). Facebook's generic system is generally inadequate to make informed decisions so we mash up advertising data to provide a very clear indication of how your campaigns are performing.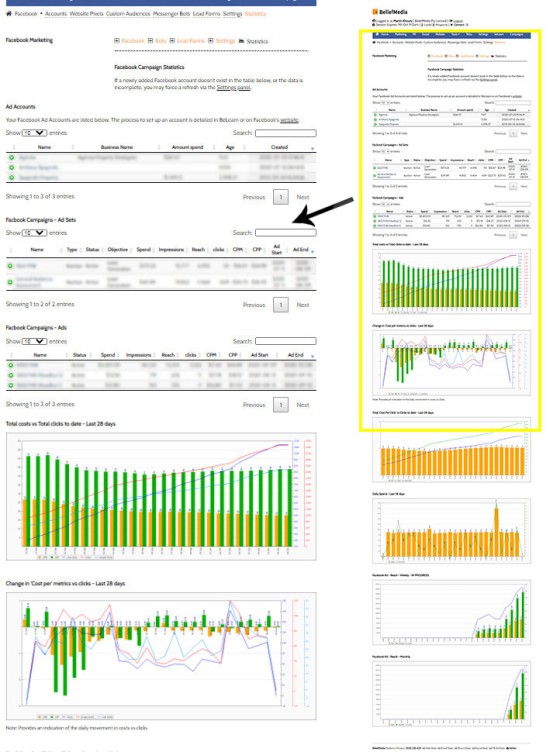 Pictured: Basic Facebook statistics. A sensible campaign cannot be conducted without the appropriate data to support your decisions. We provide in-depth statistics to ensure your campaigns are analysed correctly and with appropriate insight.
While it is true you have to test your campaigns over and over, and relentlessly split test and modify all your advertisements to optimise upon their conversions, doing so without data and detailed insights is a foolish endeavour.
Can you believe that there are 'marketers' that sell businesses a on a generic program without providing the necessary insight to make educated and informed decisions? The plethora of 'Facebook Marketers' has created an environment where it makes it so easy for our clients to outperform their competition.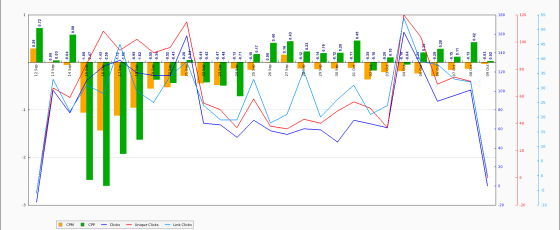 Pictured: A simple aggregate campaign graph. While it appears complicated at first glance it's actually very easy to read. With a single glance you'll have an appreciation of exactly how your Facebook marketing is performing.
We provide detailed Facebook statistics for geographical traffic, age and gender, and other data – both for individual ad stats and split against competing ads – to provide a very clear indication of your marketing success.
Facebook Pixels (and Targeting Options)
Pixel Introduction
Whether or not you're actively advertising on Facebook you should be using the Facebook Pixel now. The pixel is part of a snippet of code that is copied into your website and allows Facebook to collect data necessary to track conversions from Facebook ads, optimise your ads, and build targeted audiences for later 'retargeting'. Even when you're not advertising Facebook still collects information on your users so they're able to build an audience profile.
The pixel is absolutely necessary in order to improve upon the effectiveness of your advertising budget. So, even if you're not using Facebook advertising right now you should still set up the pixel on your website and start collecting data so you have a head start when you do start a paid program.
Pay Per Lead Trap: Pay Per Lead charlatans will use the same pixel across all broker landing pages, even if promoting your presence via a branded page (the exception rather than the rule). This means you don't capitalise on the audience interactions, and your audience is shared with your competitors. A seriously dodgy approach.
Belief's Facebook pixel integration is highly sophisticated yet exceedingly simple to use. In fact, since the system is fully automated you're just required to sit back and enjoy the results. We incorporate data into the pixel that wouldn't normally be possible – such as basic web traffic (even if the user is driven to your site via a means other than a Facebook ad). Additionally, if the user is identified by way of any interaction – such as a form submission, Venus report, or inbound via an email campaign, we record each user into the Facebook ad code by default. We also include the BMID (or BeliefMedia ID) into the code so we're able to match the behaviour of a user against any previous actions, such as viewing a Wistia video or downloading an e-book. What we've just described may not sound like a big deal... but it is game changer for those that use it. It's also a little complicated... but it does start to become clear when you're exposed to the advertising environment.
The Facebook help documentation has a long-winded section on how to install the Facebook pixel – suggesting a flawed approach of copying directly into websites (making updates difficult) and, on the other end of the scale, suggesting you enlist a developer. Because our system is fully integrated the process of creating a pixel can be performed on our Platform, and the sending of that pixel to your website is done so with the click of a button.
The Belief Pixel:
The Facebook pixel shouldn't be confused with the BM
Website Pixel
used to gather website statistical data. The BM Pixel also feeds our AI engine with user interactions to develop a broader understanding of their behaviour.
There are some actions that must be taken from within Facebook's ad platform, such as setting up advanced matching, and verifying your account. Our BeLearn module shows you how to complete these steps which take no more than a couple of minutes.
Conversion Tracking
The Facebook pixel enables conversion tracking on pages where the pixel is installed. In most cases you'll read that Facebook can track the behaviour of a user after they land on your page after reading an advert. However, because we use an integrated and fully automated system we feed Facebook with encrypted user data as long as a user is identified by past behaviour on your website. This greatly improves upon targeting, retargeting, and audience curation.
Conversion tracking is the tracking of a user's behaviour on a website when they perform some sort of action, such as subscribing to a list, or using your contact form. While Belief provides this functionality by default as part of our own tracking pixel features, Facebook's data is used primarily to improve upon advert delivery and ad campaign optimisation.
Facebook provides 17 standard pixel events by default (we generally only