The frustration we experience at Belief by way of inheriting bad digital marketing programs is comparable to the same joy you don't experience with a high-value clawback. We know digital marketing has become a dirty word, we know the industry is full of carbon-copy worst practice solutions, and we recognise that most of the marketers representing the industry have a rubbish understanding of the industry. We also fully understand the frustrations brokers feel with having unlicensed marketers that run deceptive 'pay-per-lead' lead generation services in competition to your own regulated and compliant marketing. The unregulated nature of the marketing industry has allowed this behaviour to go unchecked, and those that provide a service will continue to deliver marketing mediocrity as long as you keep feeding the sharks.
As we've always said, all marketing works - even bad marketing - so even bad marketing returns results... and it's this truth that many 'lead generation experts' rely. The pay-per-lead services, in particular, have bothered us lately because brokers are unwittingly inviting non-compliance into their business since leads are almost always attracted into their pipeline via ethical or illegal means.
We want to prove a point. We invite anybody in the industry that provides a service to mortgage brokers to engage in a live-stream challenge. The details are clear: we'll take two new brokers, build them campaigns, and we'll both run our default program for a period of just four weeks. If we don't at least triple your conversions we'll provide $10k in your name to a charity of your choice. If you lose, you do the same for us.
To make it easy for you, you'll be competing against my 7-year-old daughter (for the funnel-creation component). Additionally, my daughter Alana will have 15 minutes to complete the exercise while you will have 2-hours to complete the same task. We expect a full and compliant experience before walking away and letting the Facebook and general marketing programs run its course (so, no modifications or improvements). The follow-up that takes place will be as your program currently requires it, and the same will apply on our end.
Note:
I'll only assist Alana in navigating
Yabber

and guiding her through some basic selections. I will personally run those parts of our programs that are offline but 7-year-old Alana's campaign will be the only Facebook campaign that will run.
Other conditions obviously apply, such as a fresh Facebook pixel. We'll let the Facebook program run for just 7-days (which days are up to you) and we'll measure the results after one month. All actions and guidance you provide your assigned broker must be consistent with your current service (we've measured Yabber's

superiority based on what we know you currently serve brokers). It should be noted that those standard marketing assets you put in place as part of your existing program may continue to return business after the Facebook component terminates (this is the standard automation you establish as part of your program's commencement to organically attract clients).
An additional condition is that the marketing system a broker pays for will continue to operate in some capacity without an ongoing subscription. That is, all the landing pages, forms, and at the very least, basic automation, will continue to work once their financial obligations terminate.
If you're listed in our Rescue Package (a list of the more generic and lower-performing solutions in the industry) we won't use Yabber; instead, we'll use our free 1800 Funnels system to build the program.
I did something a couple of days ago that I thought I'd never do (and later wished I hadn't): I commented on a competitor's Facebook ad. It was one of those rare occasions where frustration with the lies and incompetence was more overwhelming than my everyday restraint.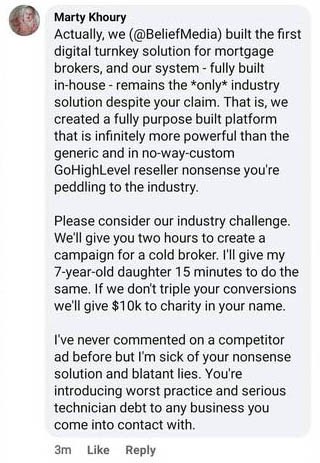 The comment was made in response to an ad for a very lower-performing product by the name of
Mortgage Magnet
. I object to lies, deception, hype, and flawed messaging in marketing communication, so I made the challenge to this charlatan rather publicly and in a manner that doesn't bring me any joy (he's reselling the generic
HighLevel
'sales funnel' system - not at all appropriate for mortgage brokers, and absolutely
not
a 'marketing funnel')... and his messaging indicating a
powerful website
is no longer necessary is professional negligence (and it's why broker we've inherited generally multiple their results by about 500% very quickly).
To be clear: Belief is the only company in the industry that has purpose built a digital marketing and software system for the finance industry. Built by former high-yield brokers for brokers, it is built back on experience gained from working with brokers since 1997. There are a number of software systems designed for the industry and many of them are excellent. So too, there are many brilliant marketing agencies (although none of them represent the finance space exclusively as we do). Only yesterday I was talking to a marketing and web design expert in Perth that is essentially in competition to us, but as a partner, Peter recognised that he'd be silly not to provide his brokers with some of our tools. We've set up a white-label plugin management facility to deliver his own clients our tools as if they were his own (our philosophy here is that we'd prefer brokers had the right advice, and the right tools, regardless of who represented them).
Note: We've found quite a few low-level marketing groups reselling HighLevel since a single and low monthly subscription is paid by the agency, and then the service is sold at a massive and unreasonable markup to brokers or businesses. The platform - designed initially to sell ladies' apparel - is particularly poor in the finance industry because it encourages what is often non-compliant practice, and it in no way provides a marketing funnel journey. You will find them giving away 'Trial' subscriptions quite regularly since it doesn't cost them anything. The ethical marketers using this platform will not apply a fee for its use.
Our goal is simple - and it's the same reason it might discourage you from participating, since we wouldn't challenge you unless we were absolutely certain of winning (and we are, we've inherited brokers from every program in the country) - we want to demonstrate how a few clicks in Yabber is more effective than most of the high-priced tools that deliver a generic, often non-compliant, and low-performing off-site experience. We want business to understand that what they've come to understand as a marketing funnel is nothing of the sort; the difference between a linear sales funnel and a holistic and immersive marketing funnel are diametrically opposed.
We want to illustrate to brokers how an integrated, full-stack, and compliant solution will simply return more business, and we want to show those marketing agencies that provide a service to the finance industry that their clients will be better served if you engaged with our Propel program. We don't want to embarrass you... we want to show you what you're doing wrong.
If you're concerned about the business-destroying consequences on your end by losing to a seven-year-old, I'll happily take her place, but the resulting program will be of the same quality.
Featured Image:
Commonwealth Bank at Maryborough, Queensland, c1920. The branch is now located at 204 Adelaide St. [
View Image
]