In this article we're going to talk about the very first email sent as part of our high-performing Symphony email campaign as it relates to subscriptions from a landing page, or anywhere else on your website.
The Typical Experience
The typical and rather pedestrian approach to email marketing usually results in each email subscription immediately making its way to your email marketing software before triggering a standard program of responses. This approach is flawed in one respect above all others: the same email list is used for different products and in different locations, and it doesn't take user interaction into consideration... so that first email is always the same. The subscription might take place on a landing page, a 'normal' page, or it might be one you initiate over a phone call. Whatever the source, the first email is important because it addresses both the nature of the inquiry and returns information regarding your optional offer (and, as such, enjoys a high open rate). Knowing that the source and intent of each subscription is vastly different, the first email sent should also reflect those differences by way of an entirely relevant message.
In most cases, regardless of what page the user subscribes or what product or campaign they're responding to, the first email will be the same (this is the technique applied by every competitor in our space... and most other "marketers" flogging their flawed "Facebook Advertising" programs). Now, the way most will mitigate this 'limitation' is to either replicate the same email campaign and autoresponder sequence over and over for each new lead magnet (highly inefficient) or they'll simply make the first email generic boring enough that it takes on the one-size-fits-all approach. Neither of these techniques account for the fact that our first contact might be a basic email subscriber, phone inquiry, calendar booking, or even a contact message, and the journey certainly doesn't apply relevance by introducing a specific relationship over another.
Relevance and authority will always convert better than generic.
The Optimal Experience
It's likely you have a multitude of lead magnets associated with various split campaigns and landing pages. For each of these lead magnets we'll create their own subscription form (obviously) with their own graphics and relevant form call-to-action.
Our first landing page experience might have one of three primary outcomes (excluding the small bounce rate): calendar bookings, phone provided, or email subscribers. It's only appropriate that we contact each group in an appropriate and relevant manner via our first funnel email. As part of Magic Lantern approach we assign great care with each touch point to ensure high-value relevance, and this first email can only be effective if we know what type of interaction we're replying to. This approach isn't entirely dissimilar to the methods we apply to our landing page conditional redirects which are also used to significantly improve upon initial conversions.

Pictured: The conditional experience enjoyed via email is replicated in virtually every interaction in your sales funnel. Shown above is the conditional redirection that applies when interacting on the first page of a landing flow.
It's the first email you send that usually has the highest (initial) open rate. To ensure relevance we'll create an initial email for each type of interaction based on the type of email subscription form we manufacture.
As part of our form creation process within our section on 'Integration' there's an option for 'Client Emails' (pictured below is the collapsed email options). As with all Integration options the tailored first email creation isn't mandatory... but it is highly recommended (after the first email is sent our email marketing program takes over).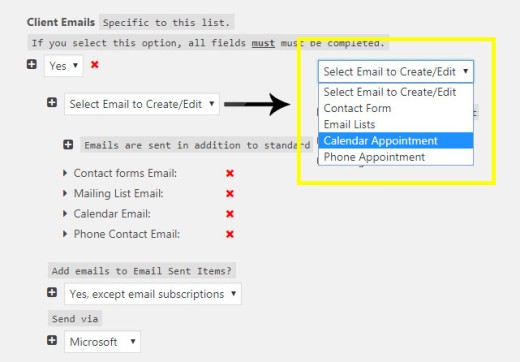 Pictured: Creating the first email for different contact types as part of our integrated form creation experience (one of numerous options). It's likely we'll introduce the second and third email as an additional option to ensure continued lead-funnel-flow relevance.
You'll note that we prefer to send the first email (and subsequent emails) through an Office365/Exchange email account. This ensures a personalised experience with high delivery rates (our high-functioning email integration is beyond the scope of this introductory article).
An individual 'First Email' should be created for the primary contact types. Shown below is the email that would be sent in cases where a calendar booking is made. Of course, as part of this process our conditional redirects would also serve the most relevant second landing page.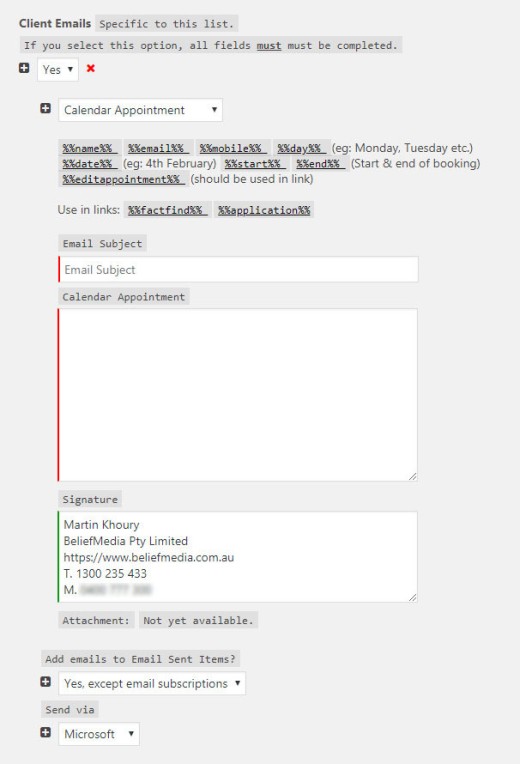 Pictured below is a simplified illustration showing how numerous lead magnets associated with the same campaign maintain relevance via the First Email (segregated by contact type - phone, email, or calendar bookings). Our Symphony email marketing program ensues.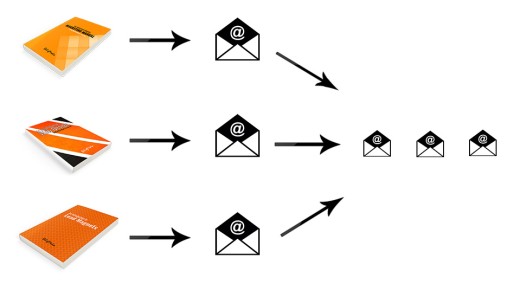 Pictured: The conditional first email (soon to be applied to other emails before our marketing software inherits the program. It should be noted that lead magnets must be split-tested the same way we split landing pages.
A future version of our plugin may provide the option of up to three initial emails so relevance isn't 'lost' after the first email (we're currently trialing the process to determine if the additional broker effort is justified).
Note that the first email doesn't preclude audience segregation or communication course-corrections based on interactions during email campaigns. We should strive to always provide relevance.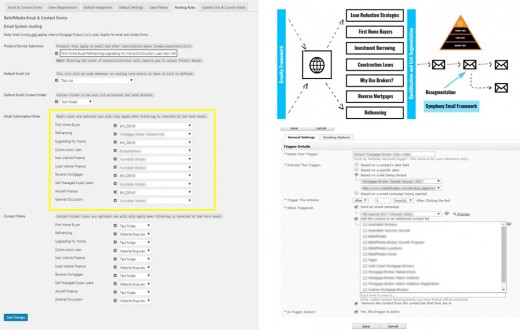 Pictured: Email segmentation at the website form level, and again in the marketing software. An email campaigns should be built based on a cascading mind-map of conditional campaign interactions.
Numerous automated options exist to segregate and appropriate fine-tune funnel audiences into relevant and highly segmented email programs. More information can be found by following our email tag

.
The Calendar Booking
The high-converting conditional first email is made available via our proprietary self-hosted system that permits (optional) early and fully-integrated calendar interactions.
When a user subscribes to a list they'll often make a booking to talk with you if the opportunity to do so presents itself. Now, showing an email booking form on a standard email subscription form was and still is something we're opposed to... unless it's presented in an unobtrusive and subtle manner. So, on standard email subscription forms and those on the first page of a funnel experience, we'll show an optional link that expands a blind to show the available booking options (making it a clear that it's an unnecessary action unless they choose to do so. We'll escalate the advantages assigned to a consultation on page two for those that interact as a basic subscriber).

However, having the calendar option on the first page - despite being a hidden option - has resulted in a staggeringly high number of subscriptions (usually around 75-80% of all bookings that are made). This high number of people that either booked in a discussion or provided their phone number makes our 'Conditional Redirects' extremely effective at helping qualify us as the broker of choice early in the funnel journey. We serve an entirely relevant second page where we're able to talk to the lead directly and improve upon our funnel relevancy score based on their escalation of commitment. For example, for First Home Buyers that have booked in a session we might introduce the nature of the discussion, and the advantage that might be obtained from completing our Compliance Fact-Find before the meeting (this will send the client a PDF report based on their responses to your questions - further qualifying you as a standout broker).
We're not constrained by the limitations of those generic third-party tools. We create tools that build our clients' businesses. If our system doesn't support a specific feature, or if we determine there's a better way of performing any task, we'll build that feature into our product.
Conclusion
Coupled with our highly automated and integrated mailing list form, the landing page conditional redirects, our high-impact and fully-integrated landing pages (with split testing features), and our industry-leading Facebook and other advertising efforts, it starts to become clear why we're a standout solution. The first email and conditional experience in isolation without the support of our numerous points of automation and integration increases conversions by up to three times.
We say it over and over, but we'll say it again: every touch-point in a sales journey should be optimised for conversions. Failing to cleverly craft each step of your funnel process results in leakage - simple as that. We're genuinely disappointed by the absolute mediocre solutions provided to the finance industry by the marketing sharks selling worst-practice backed by nothing but hype (there's a reason they'll never show you their products).