Instagratify is an Instagram=based social media tool that distributes your Instagram posts, albums, and video content (in a variety of formats) to various social networks based on the hashtags in the Instagram post. The tool is just one part of our social media toolkit but it's the one feature used more often than any other, and it's the focus of this article.
Leading Lead Generation:
This article introduces part of our social media toolkit. If you're interested in our industry-leading lead generation packages you should read an article on our
broker website
, our
Yabber marketing suite
, and perhaps an introduction to a
conditional marketing funnel
. We deliver more leads for far less, and our fee is the lowest in the industry - the linked articles describe why
our product is more powerful than any competing product
.
We've seen social media services provided to the finance industry for up to a few hundred dollars a month when as few as 15 posts are provided - far more expensive than our entire fee for a fully managed Yabber marketing service (and in terms of social media we provide no limit on the number of posts shared or the number of packaged social libraries you choose to send). The reason we're able to provide such a competitive suite of social tools is because they're built and managed fully in-house - we don't use third-party tools. As with all our social tools the service is fully integrated, meaning that various social features are connected to each other, such as the facility to send your Instagram feed and YouTube videos to your website as articles.
Yabber Social Media Tools:
Yabber's broader
social media tools
will be introduced in another article when some of the more advanced features are made live to all users.
All Yabber's social tools are built specifically for the finance industry and serve to support your marketing funnel framework through an integrated social architecture.
While we provide one-click scheduling of general content, it'll always be custom and highly brand-driven content and videos that will illicit more engagement than generic guff. Videos to Facebook and LinkedIn (and even YouTube), for example - made super-simple by way of the service we're about to introduce - are a powerful and persuasive means of connecting your social channels to the conversion funnels necessary to generate leads off the back of organic or promoted campaigns. When coupled or repurposed into other content your content creates organic traction... and for those funnel participants that are already invested in a marketing journey the content serves to assign further value to your service and grease up the intermediate funnel.
Your Instagram media may be sent to various social networks as single images, multiple images, animated GIFs (based on an Instagram album), and video. A system in the latter stages of development will extract audio and sent the audio to OmnyStudio (expected to make its way into the Beta system in late January).
Social Media Libraries:
Want one-click libraries of social medic content? An article will be published shortly describing our
social media archive
that allows you to schedule libraries of content at the click of a button. Additionally, Yabber includes an opt-in subscription to a module that sends content in real-time (essentially a managed service without any fee applied).
The social media components are a core and necessary module within Yabber

and they're made available via our standard subscription, and in most cases it is provided as part of the broker website package.
Instagratify
Introduction
One of the many tools in the Platform suite is Instagratify

. Instagratify is simply a tool that facilitates the sharing of Instagram images and video to various other platforms based on a hashtag or hashtags used within your Instagram message body. Instagratify supports numerous features, such as automatically stacking posts on top of each other with a defined time interval, scheduling posts via a hashtag timestamp, stitching multiple Instagram images into an animated GIF and/or video, and sending long posts as images to Twitter. The multi-user platform supports sending to multiple accounts without any limitation, and the feature list is extensive. In short, the system was built to support quick and easy distribution to multiple social channels by using Instagram as a launchpad.
Yabber supports multiple Instagram accounts, and unlimited third-party social accounts.
Social Hashtags
A social hashtag is used to filter the content to various social networks. The hashtag itself is identified in a post and the Instagram media is shared to other networks based on the filtering rules assigned to the tag. It's normal for a broker to set up just a single hashtag rule for the majority of their content, such as #acmefinance and then assign most of their social accounts to that single tag. For social accounts such as LinkedIn where a different style of content is normally shared, and when more discretion is applied, you might choose an individual hashtag, such as just #linkedin or similar. Other hashtags will have their own distribution profile assigned.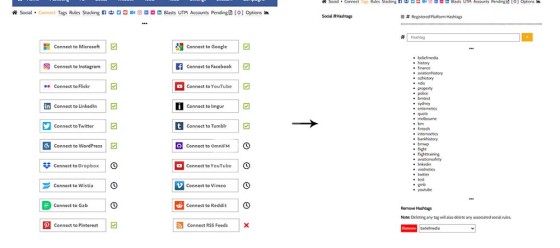 Pictured: Pictured on the left is the standard connect panel that authorises Yabber to post content to your various social media accounts. Shown on the right are registered hashtags - it's these tags that are assessed for various scheduling rules.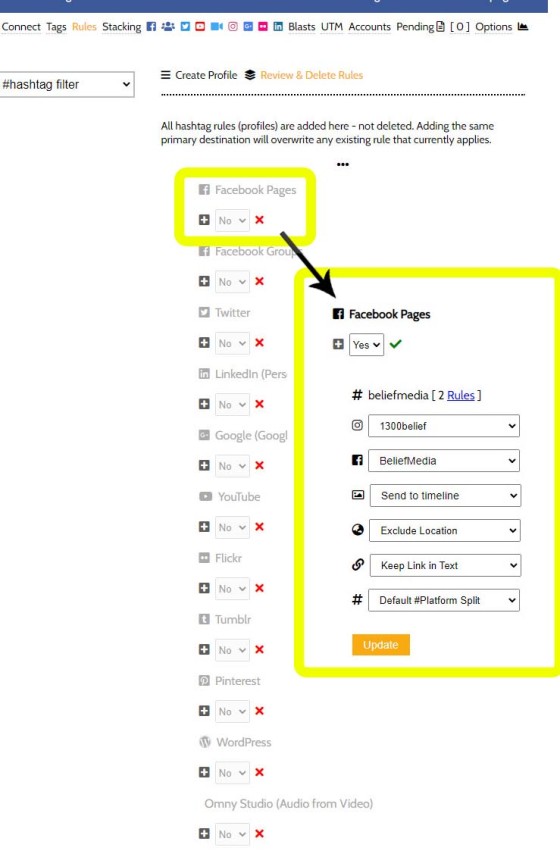 Pictured: One a hashtag is registered you simply select it then assign the various filtering rules that apply when that hashtag is present. Additional hashtags are used to appropriately format the image. The open panel shows the Instagram account associated with the hashtag, the destination social account, and any other filtering that might apply (such as inclusion in an album). Unlimited accounts apply for each hashtag (that's unlimited distribution to the same platform - so, the same media to multiple Facebook pages), and there's no limit on where media might be sent.
Various other hashtags are assigned by Yabber and control other features or formatting, such as the ability to send just text (without media) to a destination website, or to create an animated GIF from the library of Instagram post album images.
Social Filtering Rules
Filtering rules determine where your content will be sent. All major networks are supported such as Facebook, Twitter, LinkedIn (personal profiles at this stage with company features coming soon), Google My Business (for featured company posts and images on your GMB profile), YouTube, Flickr, Tumblr, and so on. More networks will be added when required.
Social Blasts:
A
social blast
is a franchise or aggregator-style tool that sends a Twitter or Facebook message to multiple networks. The advantage of this system is that various placeholders are used to replace company names, phone numbers, and other details to personalise the message sent.
Multiple accounts on each platform is supported.
Titles, Shortcodes, and Hashtag Tools
In some cases a title is required for the destination website, such as titles on LinkedIn or YouTube video, or post titles for those Instagram posts sent to your website. In cases where a title is required we use a placeholder as follows: [title: This is a title]. In almost all cases you won't want to send this shortcode to the destination platform, and in many cases you'll also want to exclude the post hashtags. For this reason everything after the patters of 'space-dot-dot-space' (written as .. ) will be removed when sent to the destination social network.
In some cases you might choose to send alternate text to LinkedIn, and this may be accomplished via the shortcode of [linkedin: Text in here]. In some cases, such as Twitter, the title is automatically applied with a a URL... there's a large number of options that apply, and they're far too extensive to list here.
Scheduling of Instagram posts is supported by a 12-figure timestamp, such as #202109261000 (YYYYMMDDHHMM). In many cases the application of the #stack hashtag is applied which will apply a defined time interval between each post (stack intervals are defined in Yabber).
Shor.tt Integration
When a URL is present in your Instagram text there's a presumption that the purpose of the post is to share the link - not the media. For this reason, and by default, the link is truncated to a shor.tt URL (for individual social tracking via our extensive analytics platform) and the post is sent to platforms such as Facebook, Google My Business, and LinkedIn as a URL share (rather than a media share). The truncation of the URL is always applied automatically.
Examples Video
For the first example we'll show how you'll send an Instagram video to just three networks; Facebook, Twitter, and LinkedIn. Video is the undisputed kind of content, and the ideal mechanism upon which to create engagement, and the short format of Instagram post-style video provides the perfect length for creating information-style presentations. Longer formats are available but they're relegated to another module. You may also send video to Google My Business profiles and YouTube.
Google My Business:
Google My Business is introduced in an article titled "
The Importance of Google My Business, and Yabber Integration
". Instagratify supports sending images and videos to your business profile, and articles to your features GM articles. Various hashtags are used to define the category of the media (if required), and a tag of
#keepalive
schedules your article (if a URL is also present) into a cycle of reposting to ensure content is always shown on your profile. The article on GMB will introduce the GMB features in more detail.
LinkedIn Video: Instagratify supports video (and other media content) to LinkedIn, but your Instagram video length may be limited to just one minute. While short, the format does provide for those short and meaningful snippets that are easily ingested by your audience. Other networks, such as Twitter, also have limits on the video length. We expect to support IGTV shortly which supports video of up to 60 minutes.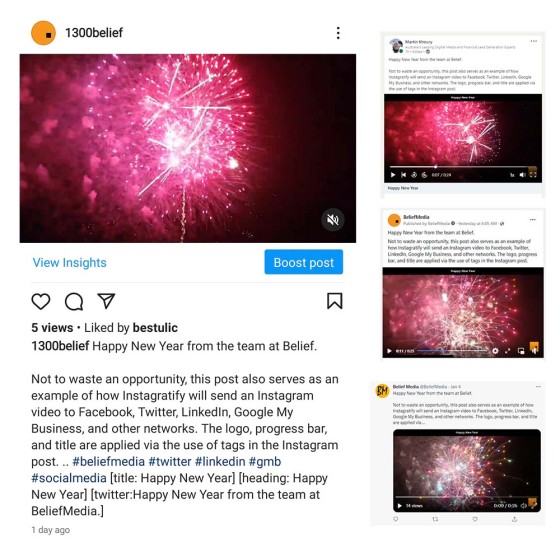 Pictured: The image shows a video to share to LinkedIn, Facebook, and Twitter (just a few of the supported networks). If the video length isn't supported the message is discarded and recorded with an error.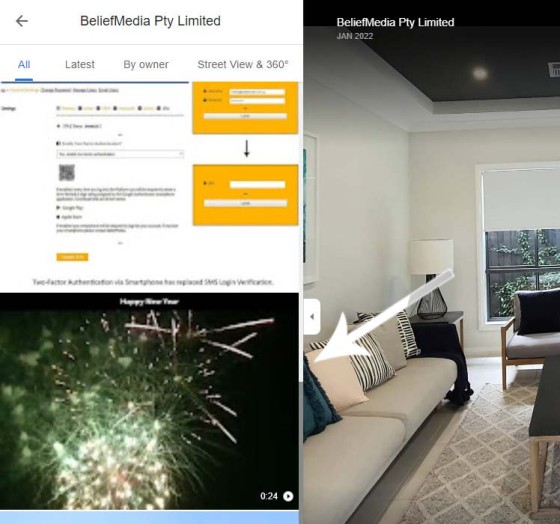 Pictured: A Video sent to Google My Business is simply assigned to the 'Images' archive. GMB supports video of up to 30 seconds.
Those of our clients that use the video component of Instagratify see more social success than those that don't, and many have attributed various parts of their growth directly to this feature.
Video Tools
Various features are rendered into the resulting video by way of globally applied default options, or by the use of hashtags. You may optionally apply a custom heading to your video (applied as text on top of a black bar) by way of default text, or by using the shortcode of [heading: This is a Video Title]. A watermark, once again, may be applied by default or by way of the #watermark hashtag. An optional progress bar at the footer of your video may also be applied.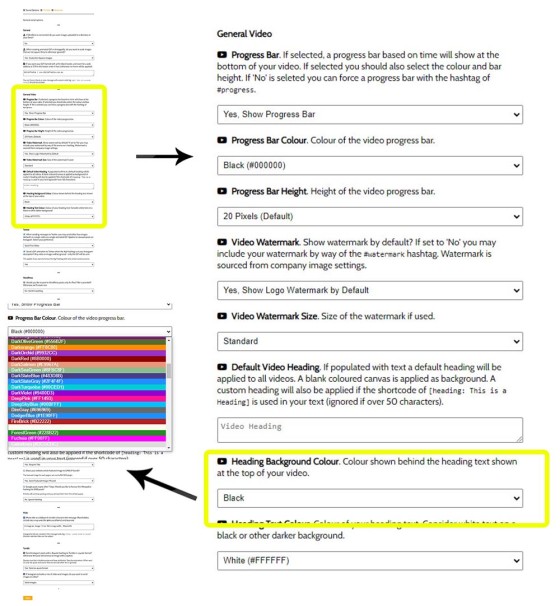 Pictured: A detailed video of the video options made available from within the social options table. Primary options include the video heading, watermark, and progress bar. The 'coloured' and open select menu shows the various colour options that may be applied to backgrounds and text. The watermark is automatically inherited from primary Yabber options.
The default playlist and category for YouTube videos is defined in your social options. After a little feedback we've decided to add the playlist as a filtering option, and this addition will be made available soon.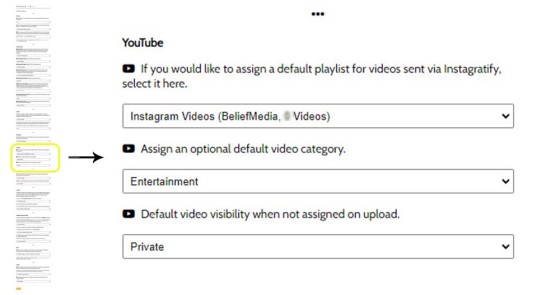 Pictured: YouTube options are defined in your social options panel. You select your preferred playlist for Instagram media (ideally segregated from your primary content because of its 'raw' nature), select your default category, and your upload privacy status.
The video features - and in particular the video titles applied to your content - are an area that will see significant development.
URL Shares
If a URL is present in your Instagram post the format of the destination social network is formatted to send the URL as the primary focus - not the Instagram media. In most cases we make an attempt to read your website to extract the title and featured image associated with your URL share, and those details are attached to the outgoing post.
Google My Business URL Shares:
Google My Business requires that each article or page featured in your profile be compliant with their
platform policies

. Not all articles should be sent, and third-party content is almost always prohibited.
Text Only Shares: In some cases you may want to only send a text update to various social networks. In such cases where the media is to be excluded you simply use the hashtag of #textonly.
The URL feature is useful since it turns Instagram into a platform that is suitable for sharing content other than the media the application is designed to support.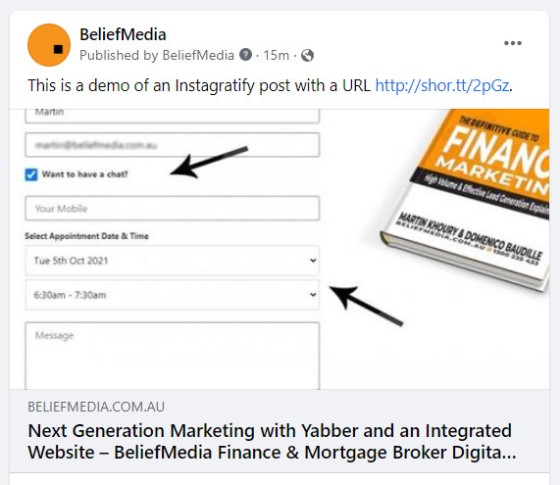 Pictured: An Instagratify URL Share on Facebook. An options page permits to you to choose your featured image as the image assigned to the post or your Instagram media (a set-and-forget tool). In the pictured example we're using the Instagram media. The title of the destination page is shown as the link title.
All URLs are truncated into a shor.tt URL for tracking.
Image and Album Shares
Instagram supports a single image, a single video, or a combination of video and images. It's here where your preferred formatting becomes 'problematic'. Facebook, for example, supports multiple images in a post, but Twitter will only support four images or just one short video (under 2 minutes and 20 seconds). We provide an options table so you're able to apply preferential treatment to one format over another (for example, you might choose to always send a video to Twitter when a video is present). When sending images to Twitter we simply use the first four images in your Instagram album.
Pictured: An album post on Instagram is handled differently by different networks. Pictured is the result of sharing the entire 10-image Instagram album to Facebook. In the case of Twitter the first four images are used. LinkedIn album (carousel) posts will soon be are also supported.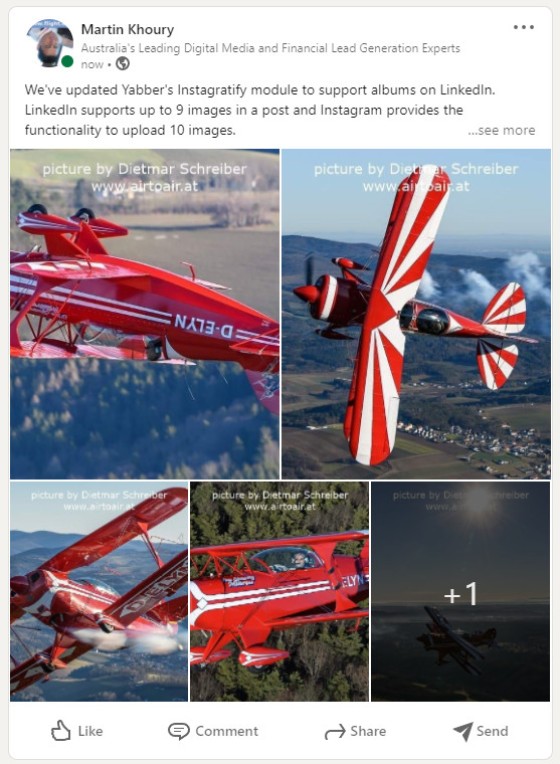 Pictured: Update, 7th January 2022. Instagram albums are now fully supported. LinkedIn permits up to 9 images in a block but Instagram allows up to 10 images to be uploaded - the last Instagram image will always be truncated if present.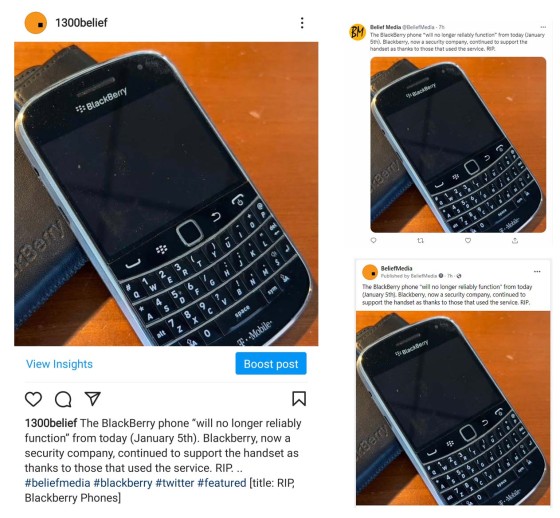 Pictured: Sending a single image to social is the most common engagement. Pictured is an Instagram image that was scheduled for a number of social networks. The message on Twitter and Facebook is shown (they look the same because all networks adopt the same user interface). Our #beliefmedia hashtags is one that sends to a few Facebook pages and some other default networks. We use the hashtag of #twitter to send to company Twitter accounts (in the same way we reserve the hashtag of #linkedin as the tag that directs media to that platform).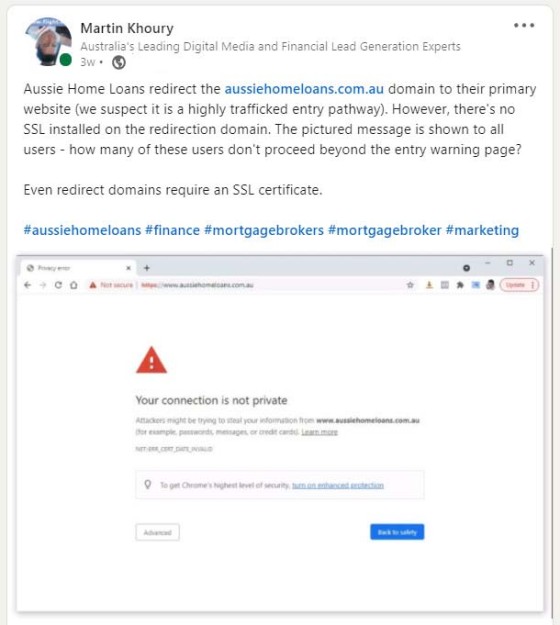 Pictured: Pictured is a standard image share to LinkedIn. In this case we've kept some of the hashtags.
Google My Business Company Logo:
A feature described in our
GMB article
describes how the logo representing your company may be changed with the hashtag of
#logo
(along with whatever hashtag is used to filter your images to Google My Business). The article also introduces the 'reserved' hashtags that assign a category to each image sent to your GMB image/video archive.
It's not uncommon for business to have multiple Instagram accounts, and we suggest creating one account that is designed to support content that isn't necessarily suitable for your primary account. The 'secondary' account is connected to our 'Satellite Social program in that you might choose to support multiple other social accounts that aren't necessarily related to your primary business (a Sydney broker enjoys a 250k Instagram following based on his music 'hobby', and his Facebook page is closer to a million followers - all the content delivered to these accounts is via Instagratify).
Text Only Shares
In some cases you might choose to send a text-only status. As mentioned earlier, the hashtag of #textonly forces a text status to be sent to various social networks.

Pictured: A text share sent to LinkedIn. The attached media in this case was ignored. A text-only message is equivalent of the old-school 'status update'.
This feature turns Instagram into a broadcast tool for basic text updates... although an image is often appropriate to catch the attention of users in a busy social timeline.
Creating Animated GIFs
Creating a slideshow of images is a fantastic feature that stitches your single instagram images into an animated GIF slideshow. Perfect for brokers, real-estate professionals, and just about everybody else, the format is perfect when a 'presentation-style' format is required. A custom frame is applied to animated GIFs with your preferred text.
In its most basic form the animated GIF is created by uploading an album of images to Instagram, then using the #gif hashtag in your post content. Simple. The result on Facebook and Twitter is as follows: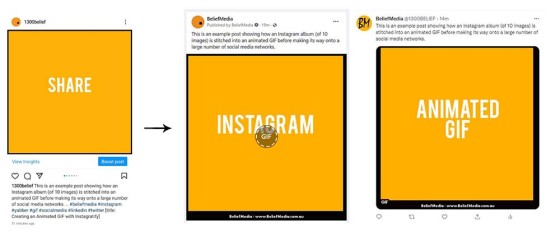 Pictured: Animated GIF sent to Facebook (center) and Twitter (right), with the original Instagram post containing 10 images on the left. Not all networks support GIFs, such as LinkedIn. Within days of this article we'll have a feature live that'll convert your GIF into a video suitable for virtually any platform. Note that a black bar is applied around the images and text is applied to the footer. The text is set by default in social options or applied via the use of custom hashtags (the former is a preferred set-and-forget option).
Custom hashtags can be used to alter the timing between each slide, the timing after the last slide, or even the timing of intermediate slides. However, these options are generally quite advanced and rarely used.
Website Shares
Sharing your Instagram media to your website into a siloed and dedicated archive is a feature that assigns the content value back to you. It serves to improve upon your SEO, further engages organic traffic, and keeps your website 'breathing'. While the content is sent to a standalone archive you may create a real WordPress post simply by adding the hashtag of #ispost.
Pictured: The Instagram archive maintains a record of all your Instagram content. The featured image applied is either the image itself or a default image applied by way of hashtag.
Website to Social:
An article titled "
Automate Your Website Articles to Social Media
" describes how website articles are automatically or manually sent to various social media services. The distribution of each article is defined by Instagratify rules.
The Instagram feature is described in an article titled "Automate Your Instagram Content to a Dedicated WordPress Archive". The archive is obviously built into our high-performing mortgage broker website by default.
Social Statistics
Belief is a very data-driven agency (without data you're operating blind, and you have no way of measuring or improving upon your efforts). At the time of writing we're updating a mechanism we use to measure the impact and effectiveness of various social campaigns (since every post on Instagram is now a 'social campaign'). We previous used the referring source to measure traffic but we're in the process of rebuilding the system to use deep integration with various UTM and other tags (the type of data more closely aligns with our deep understanding of website traffic).

Pictured: General social media statistics. The picture stats show the amount of content shared to social media - other pages show the impact and traffic returned from various social media campaigns.
Social media statistics are an important indicator used to identify content of focus, or point a spotlight on that material that resonates with your audience (these statistics are most often measured primarily from your website statistics, with new features to be introduced in the next major update). It stands to reason that you'll share what works with your audience, and the social statistics return a clear understanding of user behaviour.
Note that extremely comprehensive user engagement statistics are maintained for all Yabber modules, such as triggers and YouTube. The integrated nature of the stats feeds BeNet (our AI system) in order to provide changes to websites when alternate interest-based content is present on your website.
Future Features
Most of our brokers support their own real-estate interests or those of their partners, and we often seem them post various property-related videos and content to social media. We're in the process of developing a feature that isn't entirely dissimilar to our animated GIF feature in that takes all the Instagram images and creates a animated video before rendering various property features into the footer (bedrooms, features, bathrooms etc.).
At the time of writing TikTok has become the world's most trafficked website. While it's not typically a mainstream platform for most brokers, it is something that many brokers may be required to consider using in the future. Not unlike Instagratify we'll build a similar feature so that the content created on TikTok (where your audience probably won't find you) will be disseminated to those third-party networks where your audience spends most of your time.
TikTok Advertising: We've seen varying degrees of success using TikTok as an advertising platform. IN some cases the ROI exceeds that provided by Facebook or Google. Since 20% of your marketing budget should always be assigned to exploring new opportunities you might consider talking to us about how TikTok performs in the finance space.
Instagram is the perfect mechanism to share content since it engages brokers on that platform, but there are arguably easier ways of managing social. An article scheduled next month will introduce you to another tool that feeds off Instagratify's back-end to provide the most powerful social scheduling tool the industry has ever seen.
Conclusion
Instagratify was designed to support time-poor businesses in a way that facilitated all types of media and link shares while at the same time building a presence on Instagram itself. The video formats and GMB integration were all created to make your social life exceedingly simple... and Instagratify is extremely simple to use despite the array of options we've shared.
We don't build 'generic' tools - we create purpose services that are designed around the needs of the brokers that we support. However, while Instagratify is a powerful tool, it's just one of the tools made available in Yabber that'll facilitate an effortless social media presence. If you're interested in a demo please feel free to give us a call.
Ignore the competing messages in the marketplace suggesting that social or content creation is a waste of time - they're lying to you in order to assign services to simple form-based lead generation. A holistic marketing funnel applies pressure everywhere - not just in an email sequence... and it's our proprietary and leading technology and techniques that are partially responsible for our far better business outcomes. Our clients will always outperform those that gravitate towards business-debilitating paid lead or profit-share arrangements.
Instagratify will simplify your crafted social media posts, and enhance your web presence in seriously significant way.