For over 15-years we used a website plugin to generate landing pages and assign the appropriate split landing groups. The former plugin (now retired for nearly four years, and forming the basis of our free 'Funnels' plugin) was brilliant but it seriously limited our capacity to automatically create client landing pages and campaigns as they were required. The former plugin also failed to fully capitalise on the extensive conditional features made available via our AI Engine, BeNet - still the only marketing AI in the Australian finance industry. It wasn't long after we posted the article on the former system that we migrated all functionality into Yabber.
The revised Yabber system introduced an ever more powerful engine to create landing pages that facilitated a true nested funnel experience, and the pages themselves are created in seconds. The 'problem' with the former landing page module in Yabber was that we likely included far too many rendering options. While many page options were created as 'extras' we often found businesses introducing text or content blocks when those elements weren't necessarily required. A landing page is a naked experience by nature, and the number of landing page features we introduced tended to encourage the creation of a page that was leaning towards 'too busy'.
We've recently made modifications to Yabber's landing page module that permits the creation of even more powerful pages on your website in seconds. In essence we've created a single experience that handles all landing page types, and more easily integrates with our Solis module (Solis creates full nested campaigns at the click of a button). The former landing features are now made available under an 'Advanced' tab, and these pages are more closely aligned with our alternate drag-and-drop landing page options.
This article is intended to educate clients on the changes before a more detailed module is supported in BeLearn.
The Integrated Experience
At the risk of repeating myself for the hundredth time, your landing campaign pages must be integrated with your website and conditional funnel in order to optimise conversions. With all we know about marketing results we still see those that like to call themselves marketing companies steer businesses towards HighLevel, Click Funnels, and other third-party services. All of these services introduce a technical debt to your operation that seriously diminishes the value and power of your funnel. Even worse is when a marketing pretender - usually one of the charlatans that focuses on Facebook in isolation - introduces a third-party form or crazy 'quiz' to your website.
The feature most commonly ignored on most business websites is the lack of nested funnel integration into your own website (nested landing pages are those that are reference in the funnel). Apart from the fact that subscribed funnel traffic will make their way back onto your website, the most valuable source of 'free' traffic comes from organic search and other traffic. Every single page on your website is a potential organic entry point, therefore every single page on your website is a 'type' of landing page that is required to provide a conversion and defined funnel pathway. Every user interaction in our funnel or website feeds us with information on that individual that allows us to craft out a unique conditional experience.
Creating New Landing Pages
The former landing page system (now made available as an 'Advanced' module) provided WYSIWYG editors, multiple text locations, and various formatting options. After testing around 5000 conversions we determined that results returned via the new 'simplistic' design were on par with the fancy-pants option. The new system is quite naked in that it provides a field for the landing page title, sub-title, and text underneath the Simple Panel (subscription and lead magnet). The subscription form, lead magnet image, and video or other asset (if required) are all selected via a simple menu. Technical knowledge required is zero.
Pictured: The Yabber landing page creation panel and an example landing page. Note the advanced tab which returns all 'legacy' landing page creation tools. The example page we've created isn't an ideal example because we haven't removed the header or footer - this is expected default behaviour on client websites. We have also included only minimal text. The inset shows how to select between lead magnet based pages, video pages, or other pages, such as fact find or Venus reports.
Once the page is created you simply send the page to the destination website. From this point forward all automation will automatically be applied (as defined in your form), conditional redirects will apply if they were created, split testing will be resolved, and statistics will be rendered into a standalone module for a deep understanding of your campaign performance.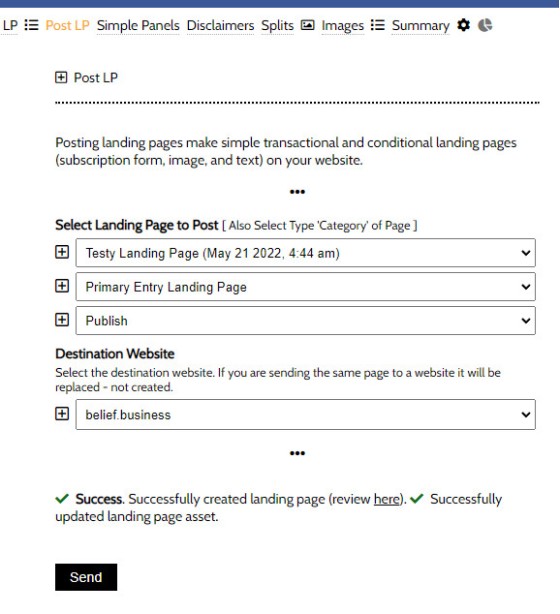 Pictured: Sending a landing page to any of your websites takes one second. You simply select the page, the status (usually published), and click 'Send'. The page is available immediately. Full form automation will immediately apply.
The new page was necessary to support some of features of the revised Solis module. We previously supported fully nested Facebook campaign creation in minutes... while Solis in combination with the new landing page method supports creation of the most powerful campaigns in the industry in seconds (what we support via a single click is what others will charge you $5000+ to build).
With the update we'll be altering all client websites over the coming weeks to support the change.
What About The Second Page?
The second page, or the page after the primary subscription that ingests a user into your funnel experience, is one of the most powerful pages in your initial subscription cycle, and one of the most significant pages in your entire funnel. The second page is a direct conditional response to the first page interaction so we're able to more effectively escalate that user into a conversion. In many cases, it is at this time that you might present a fact find report or similar into the mix (as part of your escalation of commitment methodology). The new landing page system supports fully-featured page-two (and deeper nested) conversion assets.
A Note To Clients
When we started building the new Solis toolkit (supporting the new landing format) we didn't expect to include as many features as are now available, so it's taken us longer to make the Solis module available to all users. We expected to roll our the feature last month but a few cases of Covid put an end to that schedule. The system is currently available to Alpha users with the standard Beta release scheduled this month.
If you're an existing website user we will make updates to your website's landing page module when required or on schedule (the changes cannot be made via our standard plugin).
Conclusion
Many have engaged in paid promotion via lead generation services. What we've implemented is a solution that is absolutely guaranteed to be more powerful than the mechanisms used by these charlatans, and it's a fully-owned integrated asset on your own website.
Powerful one-click landing pages and full campaigns are just one small part of Yabber, but they're an integral component of your paid and organic promotion. The solution we provide is the only integrated product in the Aussie finance market, and it's the only system that supports true nested marketing funnels. In company with our unique high-performing conversion methodologies we provide what is unquestionably the most powerful lead generation system in the industry for a fraction of the cost of paid leads. Best of all, it's an operation that doesn't require any skill, or even an understanding of the funnel process - it's just built for you.
Featured Image:
English, Scottish and Australian Bank Limited, George St West & City Rd (southeast corner), Sydney, c1913. Two-storey brick and slate building with arched doorways and entrance, adjacent to a barbers shop (left) which has the name Bill Cupitt on its awning. Premises have multiple chimneys and the name in classical letters on both facades. A young man leans against a cast iron tramwire pole (right) and (centre) an ornamental electric lamp is alongside a newly installed telegraph pole [
View Image
]