LoanOptions.AI are an asset finance company that leverages their technology by making it available to mortgage brokers. Asset finance filter through to LoanOptions, while home loan leads are fed back to brokers. We've had a couple of our own brokers partner with the company so we built a standalone WordPress plugin to quickly enable the feature.
We have our own comparison engine, and we'd argue that it's a better solution for our clients. Our mortgage-focused solution is smaller, faster, and we believe returns more accurate results... but the idea behind LoanOptions is that you're essentially partnering with an asset finance company, so it's a completely different style of feature than the tool we've built (ours will optionally send asset deals to any company - not just a single brokerage). Our AI-engine delivers results based on passing through a classifier engine and policy matrix that filters results based on lender policys, so our filtration mechanism is vastly different to those returned via LoanOptions.
If installing the necessary code to make LoanOptions work for us was problematic (and it was, we encountered numerous issues with the code), then brokers may possibly needlessly struggle.... so the WordPress plugin will hopefully mitigate the low level of complexity and make it simple for brokers to implement.
The Result
The LoanOptions workflow consists of three parts: the widget, the application page, and the upload page. The widget presents as shown below (styling was defined by LO to be consistent with client branding - custom styling is not available).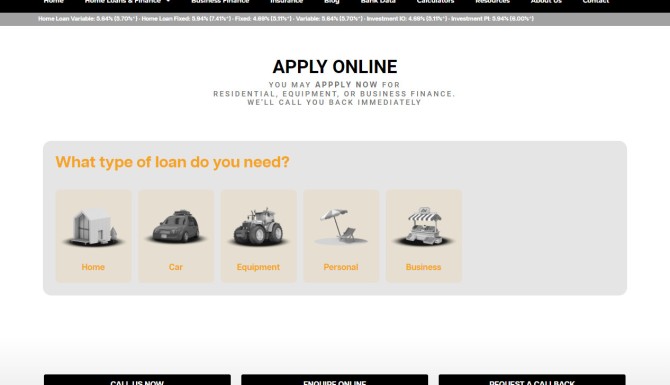 Pictured: The LoanOptions Apply Widget may be placed in any location on any page. Configuration is made by LoanOptions themselves so configuration is limited.
LoanOptions requires two additional pages be created

on the root URL with 'slugs' of application and upload-document. All that is required of a user once the plugin is installed is that these pages are created - no code is required to be copied into any page.
The application page returns as follows: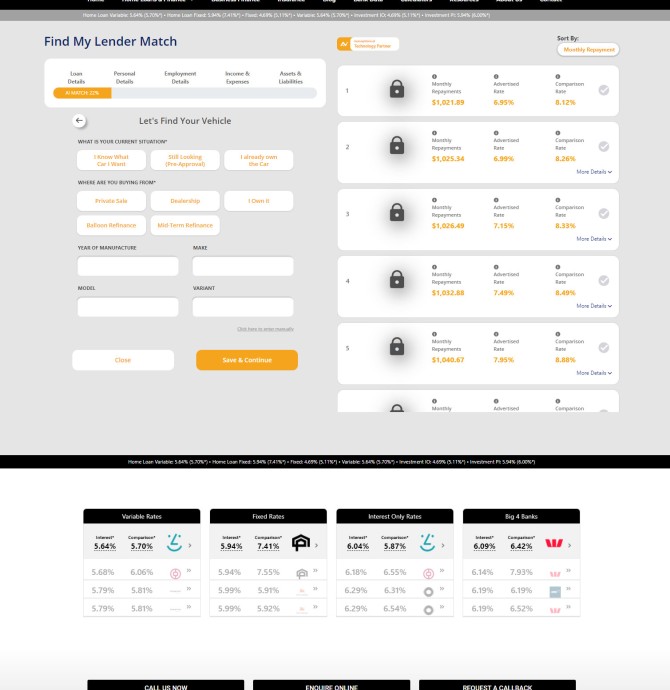 Pictured: The 'Application' page. The only user action required once the plugin is installed is the creation of the 'application' and 'upload-document' pages. We apply a rate ribbon and a block of rates under the application panel for reasons of aesthetics. The application panel renders directly below the header.
No code is required to be copied into the newly created pages - they should merely exist.
Plugin Installation and Usage
To install the plugin, upload to your website like any other. Once activated, and as previously mentioned, the 'application' and 'upload-document' pages should be created.
The plugin will create a 'BM LoanOptions' menu in your WordPress administration dashboard. Values should be populated with those provided to you by LO.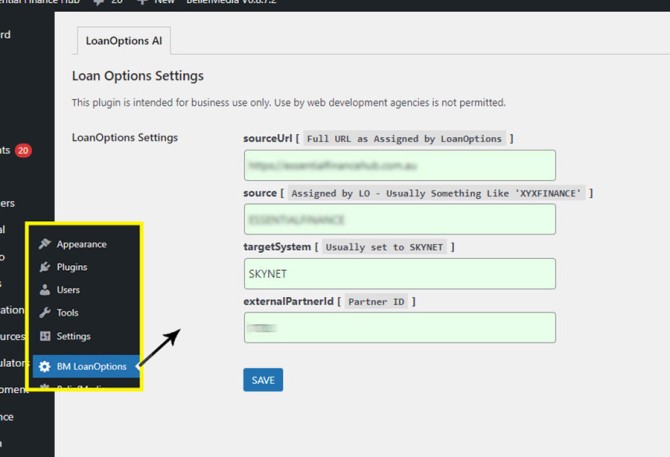 Pictured: The LoanOptions settings panel made available via the WP administration dashboard. The values should be entered as provided by LoanOptions. LoanOptions is an extremely minor Yabber module, so the LoanOptions settings in Yabber

are hidden away in the legacy 'Plugins' menu. The panel is an alternative to using the WordPress dashboard form.
The rest is automated. If using the generic plugin, use the shortcode of [bm_loanoptions_widget] wherever you would like the standard user-facing form to render, and if using the client plugin, you have the additional option of using an Elementor widget.

Pictured: The LoanOptions Elementor widget made available from within the beliefmedia-elementor plugin. Search for 'LoanOptions', drag the widget into any post or page, and the widget will be returned. If the LoanOptions plugin isn't installed, you should submit a request for us to do so on your behalf.
If using Yabber, we'll likely remove the WP Dashboard options as it isn't the preferred means of updating LO settings.
LoanOptions provides good results, but their methods probably need a rethink.
Plugin Availability
The plugin is available to BM clients only at this stage, and we expect to make it available via our Facebook Group

(It'll be made available to others if LO approve). Clients are required to install the plugin if the feature is required, although options may be updated via Yabber rather than the admin dashboard.
Related Reading and Options
The LoanQ option is integrated with SalesTrekker (and other CRM software) and assigns control of equipment finance to the broker. Usage of this system may allow more suitable automation to be applied if you're an existing SalesTrekker customer, so it's worthy of consideration.
As mentioned, we're considering releasing our AI-driven comparison API with an associated WordPress plugin at no or low cost simply because the industry requires is. Keep an eye out on our website for updates, and subscribe to one of our mailing lists to be one of the first to use it. It is highly unlikely we will incorporate equipment finance into our own product.
Conclusion
In creating this plugin we encountered a number of broker websites using the feature that were broken. We encountered a large number of issues that their support team couldn't resolve, so we've created the plugin as a fully-hosted feature... meaning that the code doesn't directly reference style and JavaScript files hosted externally (a large number of our errors, and those we observed on other websites, related to script policy violations). It should be noted that LO hadn't come across our errors and offered a screenshare in order to find a fix - their support is excellent and cannot be faulted.
In hosting the files locally, the plugin should simply install and work immediately without those errors that we identified as common. The downside of our plugin is that updates made to core code aren't immediately made available, so we've created a system that routinely polls for updates, and if one is found, it'll create a new plugin and make it available as an update in WordPress. Because of the need to check for updates, we may force the install of 'BeliefMedia Finance' which includes the code necessary to have updates delivered (quite frankly, the BMF plugin includes dozens of seriously funky tools, so you'd be crazy not to use it).
The results returned by the comparison engine are suitable but there's no evidence that AI plays any part (perhaps we're missing something). Even when we compared results against our standard comparison search we tend to return more accurate products, but we suspect this is just their team tweaking their search algorithms.
The feature is not a leadgen tool and generally shouldn't be used as such. There's too many roadblocks in result retrieval (with too many other 'open' options), and the experience isn't value driven. Instead, if used, we recommend that it is used mid-funnel, but it should still be used on the front page for those that are warm enough to engage with the tool.
LoanOptions have a really good team and we're sure the product will be developed to a standard where the engine (and default equipment referrals) will provide good value. Ensure you negotiate suitable referral fees for those equipment deals originating from your website.
LoanOptions are an excellent company that is well worth investigating.
Download
The download is usually made available in our Facebook Group

. Please note that the BeliefMedia Finance plugin may be required before this plugin will activate or function. Consult documentation. A change log is maintained on the BeliefMedia LoanOptions Plugin Page.
Featured Image:
The Bendigo Stock Exchange in Bendigo, Australia, traces its roots to the 1860s, when gold prospectors needed access to capital to build deep shafts under the city. Here, the Beehive building in Bendigo, which hosted the original mining exchange in the 19th century. [
View Image
]