I founded and built one of Australia's highest volume brokerages in Australia, our Brisbane director built the largest leasing company of its type in the Oceanic region, and our Victorian Director is one of the most respected Finance business managers in the country. We understand more than anybody that you absolutely cannot build a successful finance business without having the resources and technology to support your operation. Given our history with digital marketing and creating software spanning over 20 years, coupled with our expertise in the finance industry, we have a unique perspective shaped from having lived and worked in multiple worlds. The email experience is just one small part of a machine with hundreds of moving parts... but it is one of the more visible indicators of how and why our proprietary solutions are driving industry-leading results.
What we don't discuss in this article is our leading advertising, completed automated funnel, email, and integrated business experience. What it does show is why we're a standout in terms of the most basic usage of top-of-funnel integration and automation. The experience following the email subscription is one that is industry leading in every respect.
There is no question whatsoever that we're returning more genuine business leads and engagement, and driving business through cleverly integrated automation, than anybody else that claims to share our space in the market.
■ ■ ■
Until mid-2018 our email subscription tools heavily relied upon submitting details to our proprietary Platform where data would be managed as required. We've since revised our methodology and integrated a number of Platform features directly into our BeliefMedia plugin where each form can be curated to ensure it's in-sync with the funnel process.
Since our mailing list plugin and associated tools are in a constant state of development this article has to be considered out-of-date. Note also that email forms and contact forms are created in the same manner. Contact forms are essentially the same as email forms with the exception that the latter includes a 'feedback' field.
Note: Our event registration module is similar to form creation. Full details will be published here.
The email subscription form is more than collecting a simple name and email. The form is a conduit between a cold audience and your sales journey and/or email autoresponder program. For this reason - and knowing that your experience will be compared against that of other brokers - your experience must stand out and set you apart. On the flip side, the form should be seamlessly integrated with other applications you use to manage your business. The 'simple' experience is more than just a form. What we're showing you on this page isn't just the leading subscription experiences in the finance market, it's an email experience that compares favourably against any subscription form made available to businesses of any kind.
Our form creation essentially takes on three parts:
Creating the form.
Enabling necessary Integration.
Stylistic components and custom messages.
For the sake of making the article easy to read we'll break the text up into these three primary components (concluding with "Preparing the System" - used to introduce a few steps necessary before form creation takes place). Because many 'simple' options require a broader understanding we'll occasionally link to articles that provide additional context.
What is shown below is the most advanced and highest performing subscription form available in the market, and it's supported by our lifetime licence providing updates and upgrades.
Creating the Form
Selecting a Form
On selecting "Forms & Integration" from the BeliefMedia plugin you're presented with the "Email & Contact Forms" page. Selecting "Add New Form" presents a page full of form options.

Any form can be edited at any time. A small shortcode is returned when each form is created that'll render your customised form experience into a page.
The Form Name
The form name is important. There are times when we'll need it to be descriptive enough to know what form it is we're selecting (such as when creating landing pages).

When a new form is created we'll assign a random form that you should change.
The Email List
The second option is the email list. We have two options:
Hard-coding a specific list for all subscriptions.
Applying subscription routing rules (based on interest)

When routing is selected we'll subscribe the user to a list based on their selected interest option (say, 'First Home Buyers', 'Refinancing' etc.). The method of assigning routing rules is shown at the end of this article.
Submit Button Text
The submit button text is the text that is rendered onto your 'subscribe' button.

Form Fields
There are two areas for returning form fields: those that are visible when the form is returned to the screen, and those that are hidden in an expandable blind. The hidden blind is reserved for optional fields that aren't normally appropriate early on in the conversion cycle (such as phone number or a calendar booking).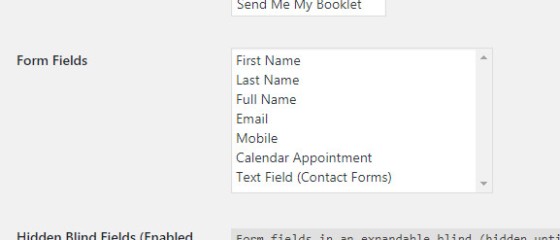 To select multiple fields, hold the CTRL key and select the appropriate fields. You'll normally simply select first name and email.
Hidden Blind Fields
The hidden blind fields are those that are shown by optionally clicking on a link or selecting a checkbox. They're normally reserved for conversions that aren't appropriate to show early on in a conversion funnel (such as a first page landing page).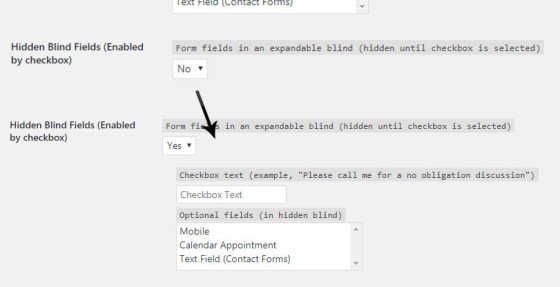 The checkbox text will show as linked text. When clicked the blind will expand to reveal the additional fields.
Mortgage Select Menu
When checked, the mortgage select menu shows a list of available subscription options (all these options are defined via the 'Routing Rules' tab and are their creation is described at the bottom of this article).

Hold CTRL on your keyboard and select those options you would like to make available in this particular form. The 'Default field' is that which is shown first in the list. If this option cannot be resolved we'll revert back to the text you provide in the provided textbox.
Calendar Form Style
The calendar form style comes in three flavours: two fields, one field, and full calendar (the latter we'll rarely recommend). The two fields option is most popular; it will populate the second field with available times based on the date selected on the left hand side.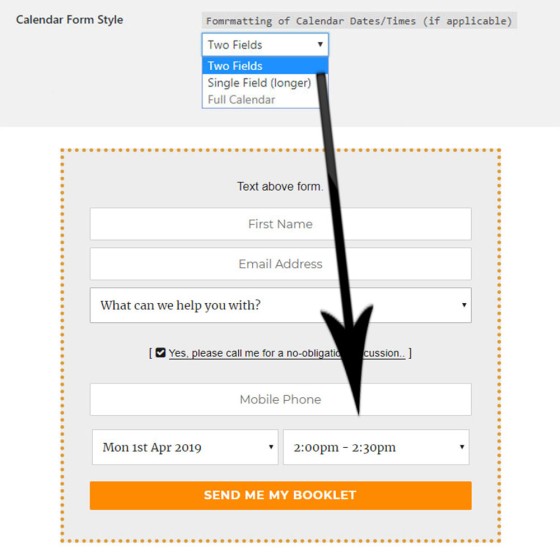 The single field (as shown below on a website 'Appointment Page') is best served by those that have a large amount of bookings and a smaller number of available slots.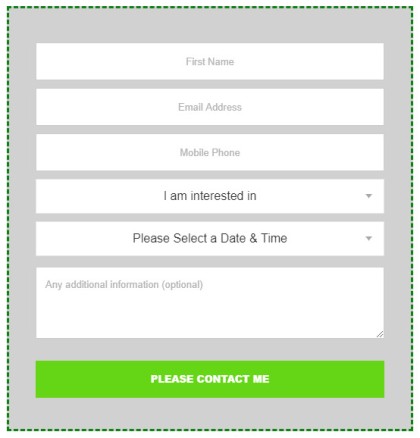 Form Width
In most cases you'll set the form to 100%. However, there are times when you will need to specify a width in pixels. By default the form will center.

Platform Integration
Introduction
There's a large number of options to integrate the form with external systems. However, not all have to be used on every form for every occasion. Select the level of automation that is most appropriate.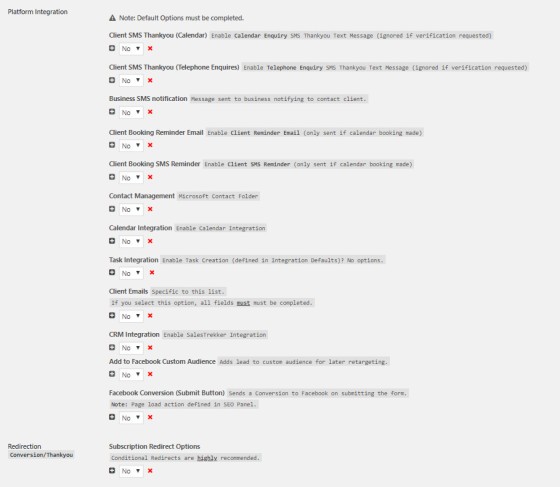 Each integration option is initially collapsed (in the "off" position). Opening up the field presents a number of options for each feature, all of which are discussed below.
Client SMS Thankyou (Calendar & Telephone)
The first two options provides an SMS thankyou message when a valid telephone number or calendar booking is provided by the 'lead'. Of course, the thankyou message for telephone bookings and calendar appointments are customisable via various placeholders. We resolve the telephone number on our end and don't send anything unless the number is validated as correct.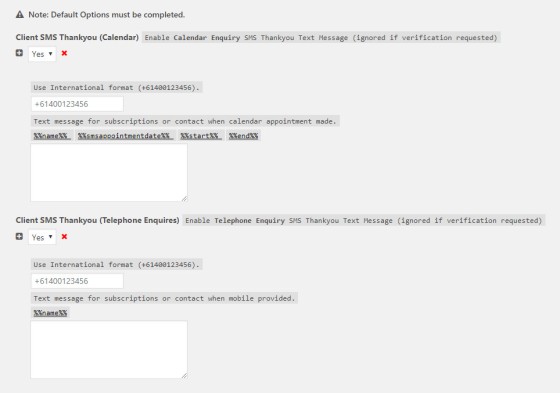 Upon delivery an email receipt will be sent to your primary Platform email address.
Business SMS Notification
When an incoming phone call request comes through, or when other defined interactions takes place, the business owner should contact that individual without delay. You can schedule an SMS message to yourself with any field they might provide.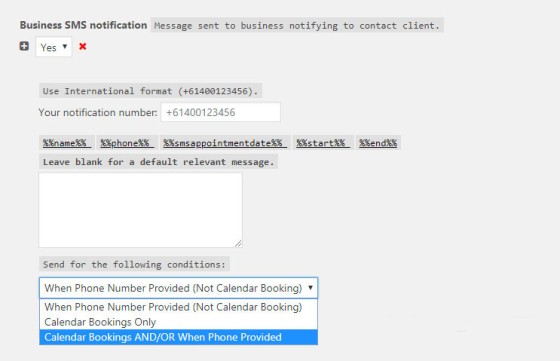 We recommend receiving notifications for occasions where only a phone number is provided or when the calendar option is set to "Earliest Convenience". This feature is supported by an email and Outlook task (as described below).
Client Booking Reminder Email
When a calendar booking is made we'll schedule a client email reminder at a defined interval before the appointment. Various options apply. We recommend saving the email to your 'Sent Items' for compliance purposes.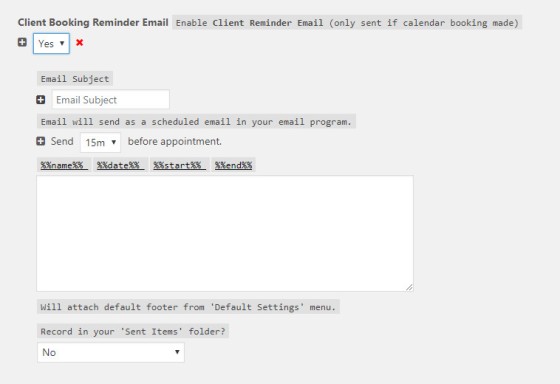 Client Booking SMS Reminder
When a calendar booking is made we'll schedule an SMS text message reminder before the appointment (at an interval you define). Various options apply. A delivery receipt will be sent via email when the SMS is delivered to the recipient.

Contact Management
We advocate sending contact bookings and phone inquires into appropriate Outlook/Office365 contact folders. You can specify a folder by form or apply 'filtering'. Filtering will send the contact to a folder based on their interest type ('First Home Buyer', 'Refinancing', 'Investment Finance', and so on). The method to apply filtering is described at the end of this article, and it's selected on the form level by saving the '+ Apply Filtering' option.

The lists of contacts becomes most relevant when sending group SMS messages (supplemented by our Platform's default SMS features).
Calendar Integration
Calendar integration will retrieve available booking slots and return them in the calendar form fields (as described above). When a user makes a booking it will be sent to Outlook immediately (usually less than a second delay). The Calendar Integration option defines various attributes of the integration (such as the calendar to use, response details, sensitivity, and business reminder).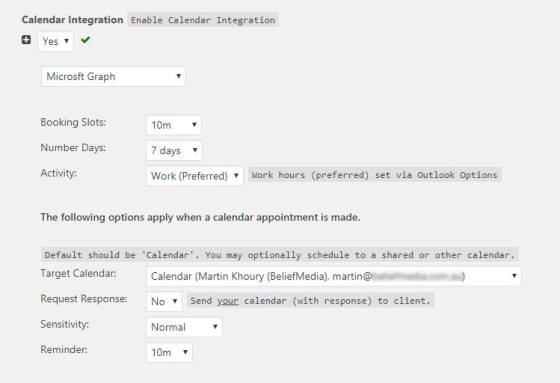 We are the only marketing company in the finance space to heavily integrate calendar options, and one of just a few in the country. The seamless integration greatly improves upon conversions.
Task Integration
Task integration is normally (but not always) reseved for notifying you of web contact and phone call requests (without a booking). However, there are a number of areas where a task might be created (sometimes as a notification, such as when a client uploads their outstanding documents - it's up to you). Tasks are often connected to other platforms, such as SalesTrekker, to provide a more immediate notification of important workflow changes.

No other downline options apply for tasks.
Client Emails
The purpose of client emails is beyond the scope of this introductory article. The "First Contact" - or the first email - has the potential to double funnel conversions in isolation of any other technique if used correctly. We have another article scheduled here that details the "First Email" in more detail.
The first email is sent on the basis of on-page interactions: email subscription, phone inquiry, or calendar booking.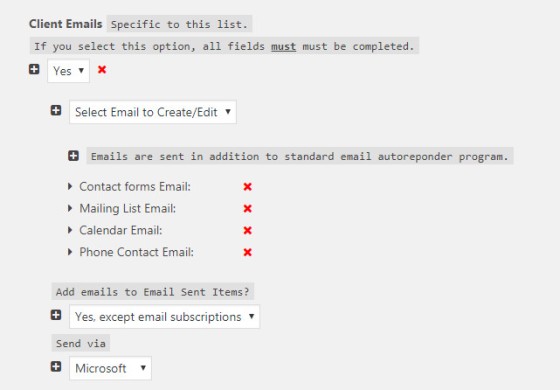 As an example, the following is the template for the first email sent to a client after a calendar booking: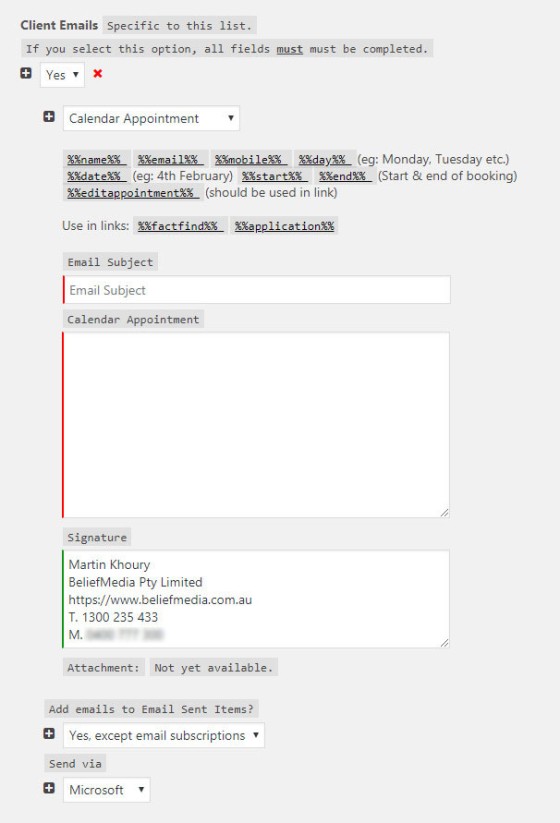 Various placeholders are placed for each email template. We recommend saving each email to 'Sent Items' except for email subscription responses.
After each initial email is sent, the email requirements are handed off to and managed by the email marketing platform.
Note: We're currently evaluating the feasibility of also scheduling the second email on the basis of the subscription type before email is handed off to the email marketing platform.
CRM Integration
CRM integration will perform certain functions, such as simply submitting a contact to a CRM platform, or adding the user as a deal (in the case of SalesTrekker this might trigger compliant responses to accompany the standard marketing campaign).
We generally don't mind our clients adding their clients as a contact but rarely advocate adding them as an opportunity unless the destination system provides some other function we require.

The primary CRM integration (including the aggregator) is defined via the 'Default Integration' menu.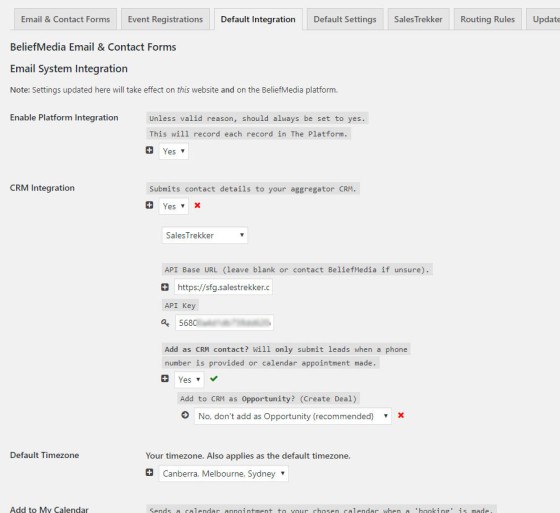 Not unlike email, contact, and other filtering, SalesTrekker contact - if sent to a lead-related workflow - are optionally filtered based on their subscription (pictured above). More details on CRM Integration (using SalesTrekker as the example) are published here.
Facebook Custom Audience
When selected, and when made available after jumping through a few of Facebook's hoops, you can assign each subscriber to an audience on their platform for later retargeting.

You Facebook Advertising Account ID must be defined on the BeliefMedia Primary API Key menu page.
Facebook Conversion (Submit Button)
The Facebook Conversion type as defined via this option is triggered when the submit button is clicked. This is different to the conversion type recorded on our SEO panel during standard page creation (normally ViewContent by default). This select menu includes custom actions.

Redirections
The redirection option is a big one and best explained by reference to this article
("Making The Second 'Thank You' Landing Page Great Again"). In short, it redirects a user to a second page based on interactions made on the first. For example, the typical landing page experience looks as follows:
Based on the type of interaction (usually a phone consultation, calendar booking, or email subscription) we map a pathway similar to the following:

In fact, any number of pathways might be created based on various types of user behaviour. It's this option that, depending upon the funnel type, and when inheriting the 'work' of others, will often triple conversions before we've even applied our other efforts.
The landing page is redirected upon interactions, and then further optimised by sending to a single page or to a split test group.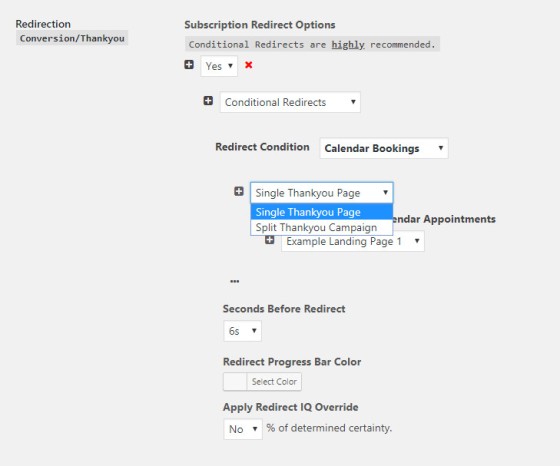 The method of grouping pages for use in a split test campaign (pictured below) is described here.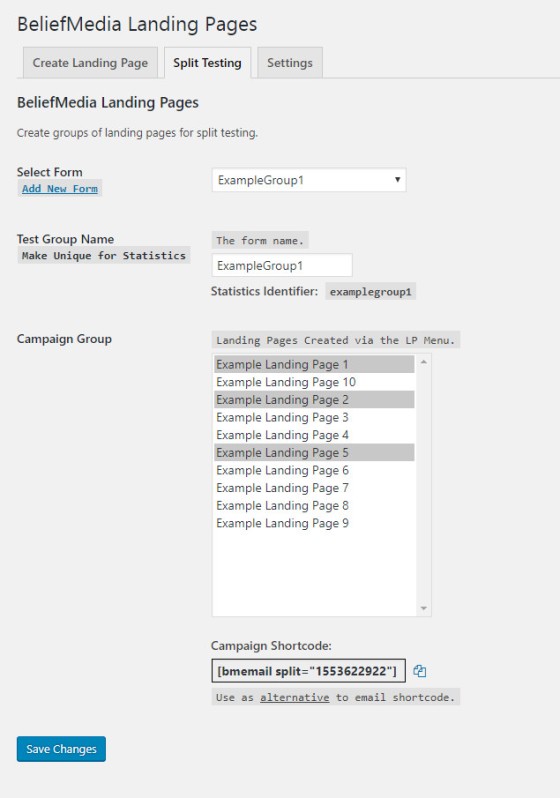 You may still take the pedestrian approach and redirect to a single landing page or custom URL. However, we almost always insist upon conditional redirects.
Broker Notifications
The broker notifications aren't actually created during the form creation process. Instead, you'll find the option under the 'Default Settings' tab. It's worth mentioning the feature because the notification is customised experience that is important - particularly if SMS notifications aren't used.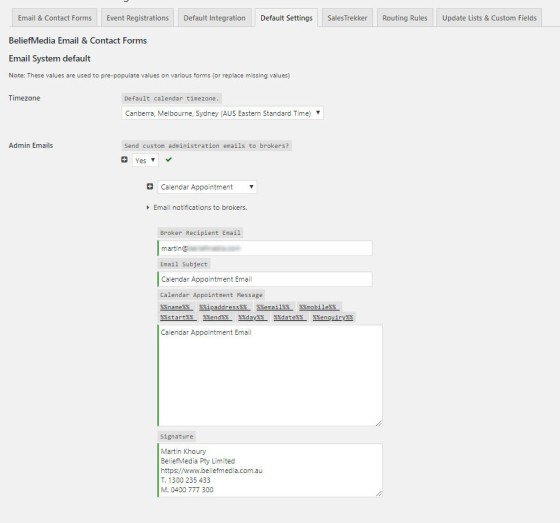 SMS Verification
We've intentionally left SMS verification last in this section because it represents the most pointless exercise pushed upon brokers by clueless 'marketers'. The reasons why we don't recommend the use of verification is touched upon here and here.
However, if you want to use the 'Verification' feature it's available to you. Your nominated SMS verification page is defined in 'Default Settings' with a number of other pages required by the system.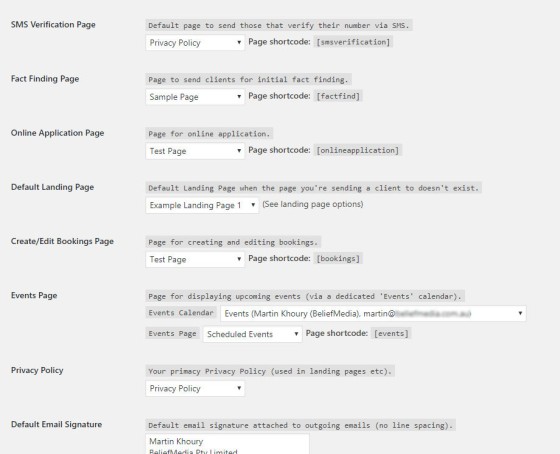 Styling the Form
Introduction
Every form can be styled in virtually any manner of your choosing. The following options apply for every form you create.
Custom Subscription Messages
The message shown upon a successful subscription (or a failed message) are customised on the form level. By default they'll inherit the text in the 'Default Settings' menu.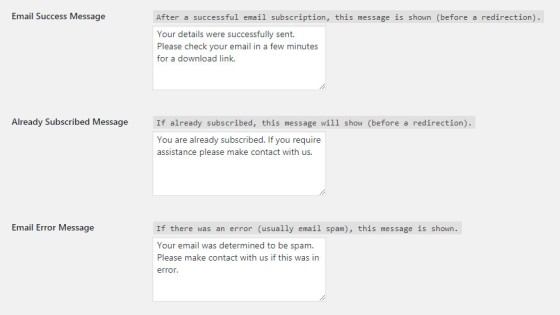 Resolve State & Country
Further segregation is determined by automatically resolving state and country. Where available we'll submit these details to Outlook contacts as a field.

Text Above & Below Form
For each form created you can choose to include text above or below the primary form elements - handy if you're including a border. One large WordPress editor will be shown for each option.

Both the rich WYSIWYG and the text editor are available.
Form Colours
The default font color, subscription border, button color and text color, and the background color can all be altered as required.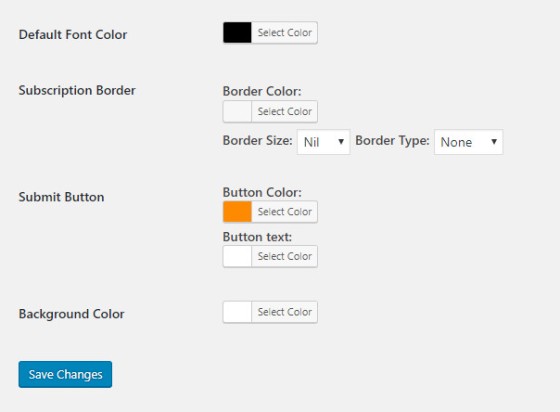 Preparing the System
1. API Key
On the primary BeliefMedia plugin entry page, titled "BeliefMedia Keys", ensure you have your self-hosted email system username, Base URL, and API Key populated with the correct data. You will also be required to populate the 'Platform API Key' and 'Platform API Secret' with the necessary BeliefMedia keys that communicate with our Platform. Your Telstra API Keys will need to be entered on the Platform end (not the plugin).

In reality, we do this for you.
2. Connect to Microsoft
Microsoft is our platform of choice and our systems seamlessly integrate with Office365/Exchange, calendars, OneDrive, tasks etc. in a number of ways. To connect with Microsoft you should use the access key provided on the entry 'BeliefMedia Keys' page. This token changes every one hour and is valid for two hours.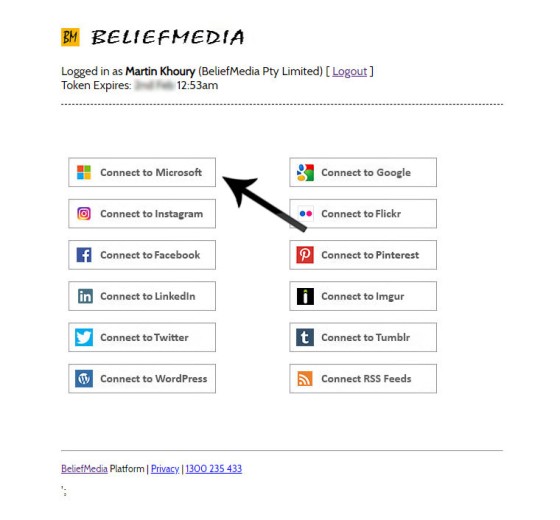 Once you select Microsoft you'll be required to a page where you will be promoted to log into your Microsoft account. Accept all the permissions (they're all required in order to enjoy full functionality) and you will redirected back to the control panel screen with a success message. You'll be required to perform this task at any time you change password. We manage the recycling of access tokens on our end but deliver them securely to your website so operations are performed in real time (without any syncing).
The same connect panel is used to connect your various social tools to our Platform so dozens of other functions might be performed.
3. Prepare Your Email Lists
We use a fully self-hosted email platform that is superior to almost all commercial solutions. Before we build forms we need to import these lists into our WordPress website (an action performed every time you add new lists). While not immediately necessary there's an expectation that if we'll be subscribing a user to a list there will be a high-performing Sonata sequence programmed as an autoresponder campaign (the Sonata model is the first sequence of emails in our Symphony model).

To update lists, select 'Update Lists & Custom Fields' and click 'Save'.
Pictured: On day two of our Program we provide our clients with our 100-page book on how to fully utilise the features of the email platform. This is supported by ongoing booklets demonstrating the effectiveness of various techniques. The first book includes a 1-page quick-start guide to sending your first marketing email.
4. Map Email (and Contact) Filtering
Via the 'Routing Rules' tab we'll have to create our product services type, and then map those options to a mailing list. For example, our products might include 'First Home Buyers', 'Refinancing', 'Upgrading My Home', and so on. Once these options are entered as a comma delimited string, click 'Save'. Once the options are saved the rest of the screen will be populated with mapping data. We'll select a mailing list that is associated with each of those product types.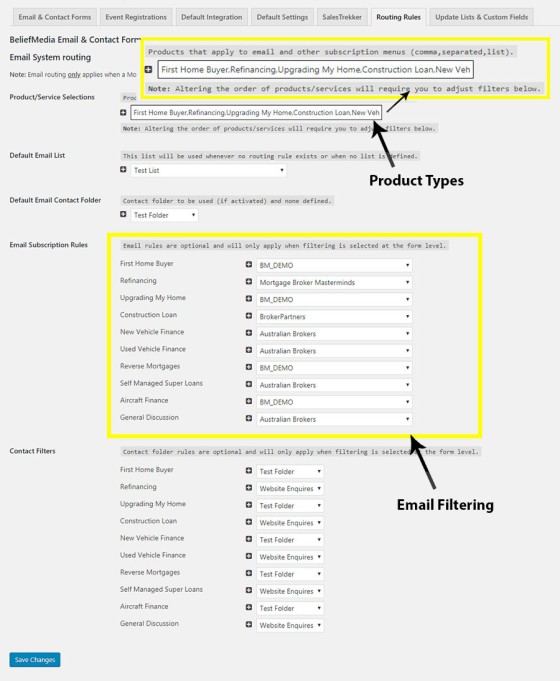 This page also presents options to filter contact data to Outlook. For various options, such as bookings and phone numbers, we'll want to include that contact into a segregated contact folder (handy for SMS and other types of segregated communication). It's sensible to mirror the Email List names and filter contacts into those groups as we did for email.
Ensure you select a default Email list and Contact folder for those occasions where nothing is defined or a location cannot be resolved.
Analytics
All our landing pages, email subscription interactions, and numerous other actions are recorded in a manner that gives us precise details of user behaviours (including custom statistics via the BeliefMedia pixel). This information is important at any time but it's particularly important when engaging in any split test endeavor. Additionally, we integrate all Facebook event types (and custom events) which are further supported by way of our proprietary SEO plugin.
Conclusion
This article described just our basic email subscription experience. The reality is that we apply industry-leading automation with everything we do - not just email.
There's a large number of features we haven't mentioned - mainly because they're set-and-forget options we'll defined on your behalf. In fact, all early forms are created for you so the article provides a background on what we're doing rather than what you're initially required to do yourself.
We do get a little frustrated when brokers are duped into paying a premium for inferior services that include works like 'LeadPages', 'ClickFunnels', 'MailChimp', 'Zapier', and others. Even worse is when we see brokers use programs that are made up of generic cut-and-paste email templates and landing page text; the fundamentally flawed experience just doesn't work. It's for this reason we've introduced what we call a 'Rescue Package' designed for those that blundered into a program that gave them enough confidence to pursue digital marketing, but they aren't happy with their sub-standard product or results.