A digital media strategy is one that is focused on your advertising and creative direction, content creation and delivery, social media strategy, workflow management, and most importantly of all, how your results are measured, and what agile methods you have in place to act upon the data returned to your organisation. In essence, your marketing plan and broader digital strategy is one that is focused on incremental improvements on your ROI and brand recognition. It's a big topic.
The digital strategy we see applied in the finance industry is one that rarely has any substance or direction. Certainly, throwing money at pay-per-lead services or, even worse, ridiculous profit-share arrangements with a marketing company, rarely returns significant results beyond an (expensive) lead since no clear and ROI-focused objective is applied, and no brand recognition is attained. In providing a fully-integrated and self-hosted digital experience we've been able to build Yabber

into a complete digital solution that applies appropriate pressure on your marketing strategy to meet the necessary requirements to achieve a powerful, sustained, profitable, and focused digital footprint.
Tactile Engagement:
Having a strategy simply means having a plan. Knowing the results of your content or marketing efforts enables you to employ tactile methods. The latter is only possible when sufficient data is returned to measure your results. We'll show you why
Yabber is the

only

platform in the industry to enable true tactile methods
.
Since the topic of a marketing and content strategy is quite large, this article will focus on the features of Yabber that provide an industry-leading experience, and how we support your content creation, social, and broader marketing efforts. Other articles will invariably address the specifics of your content plan.
First, and as we've said a thousand time before, your website is the epicentre of your marketing universe. All the other programs you have in place tend to orbit your website, with your marketing funnels predicated on providing access to information and services hosted on your centralised web resource.
Using lead-generation services, or even worse, gravitating towards High Level, Click Funnels, or any other third-party service to host pages that should be integrated directly into your website, is patently absurd (paying to host a landing page when you have the capacity to host the page yourself is just ludicrous). Over the years we've seen the average digital experience diluted into something that is virtually meaningless. The reality, or course, is that worst-practice has slowly evolved into common practice, and as we see more and more 'digital enthusiasts' complete a two-day "make money online" course (that'll eject them out the other end as a 'Facebook marketer') their presence and flawed messaging further perpetuates bottom-of-the-barrel solutions.
Yabber addresses this industry worst-practice by way of extremely powerful holistic digital support. Yabber does far more than just provide an industry-leading Facebook experience; the platform supports your effort with RBA campaigns, newsletters, article programs, email marketing, SMS marketing, white-label marketing material, automated SEO, funnel passage, social media management, and more. Of course, the conditional mortgage broker website we provide clients is extremely powerful by way of its tight-integration with each system we've just described.
Bottom line: Yabber provides you with a content program that'll support all your digital objectives. Digital marketing is more than just Facebook.
Content Marketing
Introduction
One of the most negligent messages shared to the broking industry is that your website is no longer necessary, or it's no longer necessary to apply effort in the area of content creation or relationship marketing. Make no mistake: this messaging appeals to the broad audience that doesn't appear to have time for either, so it's much easier to assign value to a mediocre and often non-compliant Facebook program. So, while we provide the leading Facebook experience in the industry we advocate a content strategy be applied when you have the time and resources... and when you don't have either you simply fall back onto the content made available within Yabber.
Funnel Effectiveness
When you apply a laser-like focus to various types of content that appeals to your audience you will generate more organic business, and your big-picture funnel becomes infinitely more effective. However, managing your efforts, and then measuring the impact it has on your bottom line is often difficult to manage. Because Yabber is an integrated model we don't ignore the important connection between social media and website analytics, or email campaigns and ongoing website funnel engagement... and all this information is easily measured and assessed by way of heavily integrated data and a back-end AI engine that not only measures results, but applies its findings in real-time to improve upon your funnel excursions.
It was important to address this commitment to integrated data because without it you have nothing... and you're certainly not able to improve upon something if you don't have a deep nested understanding of all your digital-driven interactions.
Data-Driven Tactical Content Creation
If you don't have a clear content program in place you're objectively limiting the success of your business. We know - categorically and without question - that those businesses that create on their website twice per day do, on average, three-times more volume than others. We know that if you engage with social media by way of a defined scheduled determined by Yabber your results are improved by a factor of 1.4. If you're engaging in a Facebook program you can essentially double the results simply by supporting your advertising with your own industry blog... and if you don't have a content program in place you absolutely won't see the same measure of SEO success enjoyed by those that create engaging original content.
We know content requires effort... but we also know that it works (we measure the performance of each broker on our system routinely and the results returned by way of content and engagement are definitive).
Search Engine Optimisation
Search engines will rewards expertise, authoritativeness, and a trust factor to those websites that demonstrate the mentioned core attributes by way of their on-site (and unique) content creation, and the omnipresence of their brand. Fail to feed a search engine with enough reason to recognise your efforts and you'll be relegated to obscurity for general search terms.
If you're creating content you'll invariably want search engines to index it to your liking. Yabber is the only system in the finance industry (and probably one of the only of its kind in any industry) that ingests your article, evaluates it for SEO markup, then automates your SEO markup back to your website for each and every page. To support your content matrix, articles submitted via Yabber will create a linking structure to other articles on your website (often referencing FAQ articles).
Video Content Marketing
Of all the types of content you might create, video marketing is well and truly the most effective (the linked article should be referenced for an understanding of how and why video returns more business). Thankfully, our Instagratify system makes creating and distributing that video to various social resources and your website an absolute breeze.
Integrated Video Features:
Yabber provides advanced features that'll identify trends in your website traffic and alter the banner and playlists on your
YouTube channel
(or
Facebook page
) to reflect consumer trends. As an advanced feature it also isn't the most popular. As a content feature, the same banners may be altered
based on events
. Content creation is more about what you create... it's also about how you're represented on the periphery.
Yabber supports YouTube and Wistia, with full management of each service available from within their respective module.
White Label Marketing Material
Content marketing includes your lead magnets, promotional material, buyer guides, checklists, and other material. To this end, Yabber includes a tool to brand white-label marketing material with your logo, company details, and other brand markings. The newly branded material is immediately available in your download manager and able to be assigned to your website or email campaigns.
Our white-label program is set to become a significant feature of Yabber. Our goal is to provide a suite of ongoing promotional material that exceeds that of any aggregator.
Website Management
We've introduced the value of your website, and the necessary part it plays in your broad content creation strategy. However, management of your website content is important for each specific user, and while on the periphery of what many regard as typical content features, Yabber has the capacity to alter your front page

assets - or completely swap out the front page for another - based on the resolved interest of a specific website visitor.
Yabber provides a very significant module that supports your website content program. The features are far too extensive to list individually, so you should refer to our article on Yabber integration or our 'standard' mortgage broker website for more information.
Content Creation Schedule
Yabber records a massive amount of data. Each link click, page view, email click, telephone call etc. is all recorded. This data is analysed to return a few different scores we use to measure your predicated success. It's not reasonable or even feasible to return all content-based graphs and tables (of which there are over several hundred), so we'll show you just two; the first two shows your blog creation schedule, and the last shows social media engagement. Pictured below is actual broker data that demonstrates what a 220-million operation looks like (the data is sourced from one of our Platinum clients).

Pictured: Content Creation Schedule. The tables show the number of drafts created, and the number of published posts. In an ideal world you would like to see a flat and consistent schedule. This particular schedule is a little erratic for various reasons - you'll note that the monthly schedule (the second graph) is reasonably consistent. Note the impact lack of social media engagement has on website views (via the third image). There is a clear and direct correlation between the number of posts you share to social media and the engagement on your website, with Facebook and LinkedIn both returning better engagement results than Twitter.

Pictured: WordPress Statistics. Website statistics are vital because they record the origin of your audience, the referring URL, identifying user information, geographic information, and so on. All other origin statistics (such as visitors via an email campaign or social media) are measured to assess the performance of those campaigns.

Pictured: Social Statistics are made up of a large number of tables. We include graphing for YouTube, Wistia, Instagram, Facebook, and other networks. Pictured are aggregate stats showing basic send stats (ideal for visually assessing the frequency of your shares).
A large number of data is returned to a user via a large number of graphs, and this data is all assessed by Yabber to return best send times, the number of posts that optimises engagement and traffic, and the direct success it has on conversions. Without this information your efforts make their way into a void, and you're operating on guesswork.
Your Posting Schedule
Introduction
How often you should post is very different for each user, and it varies greatly depending upon your audience. You will often hear that it is good practice to start with a schedule of "4-3-2-1", translating to 4 LinkedIn posts or engagements, 3 Twitter posts or replies, 2 Facebook posts, and 1 Instagram post, although it's a load of hogwash. You'll likely share far more on Twitter if that's your thing, and less on others if they're part of your general strategy. Some business owners love LinkedIn, and in their plight to become the next Tony Robbins they'll engage up to 20-times per day. The truth is that no generic rule will apply to your own audience, and in all cases quality will always perform better than quantity. After a few months of sharing content Yabber will return the ideal number of posts that generally has a correlation with conversions and engagement. Each platform has its own algorithm that rewards engaged content and essentially punishes that which goes unnoticed... and the engagement score is a function of your page likes versus the post interactions.
Cheap likes: You can easily 'buy' likes for a single cent in most developing countries, although it's something that you should avoid. Filling your page with likes when your content isn't rewarded by way of engagement will degrade your page authority and push it further into obscurity. Ignore the dopey social tutorials showing you how to garnish these cheap followers. Lots of cheap followers is a vanity score and doesn't help your business... in fact, it has the opposite effect.
Our Instagratify tool makes sharing to various social networks ridiculously easy, including sending social content to your website. Based on hashtag usage in Instagram posts we send your content to any number of nominated networks (including multiple accounts on the same social network).
A tool we've used for a couple of years, and have assigned to our Platinum clients exclusively, will soon be made available within the Yabber system by default. Our Outlook Scheduler turns a single dedicated Outlook calendar into a social scheduling tool.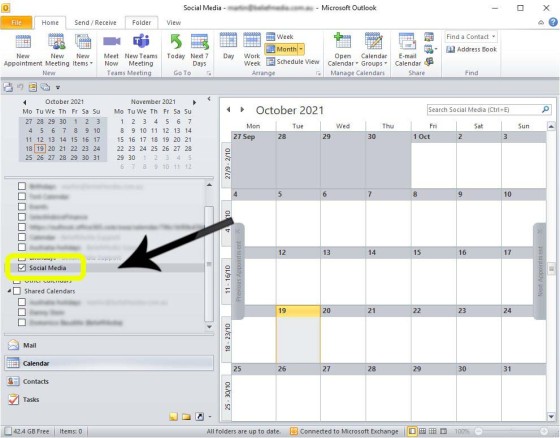 Pictured: Pictured is an empty 'Social Media' calendar (coming soon). Yabber retrieves material posted to your social media calendar and shares it to various social networks (including your website) based on the standard Instagratify hashtag usage. The calendar feature will be rolled out to clients within a few months (initially to those that subscribe to Yabber before December). We've found that desktop-based 'anything' performs better than tools that require you to log in, and our Outlook Social calendar mitigates the burden of jumping through a few hoops and gives you and your team a quick means of scheduling content. The Outlook-based social media calendar is presented in a manner that is familiar, and in a way that keeps you to a schedule.
We know posting to social is difficult, so in addition to the Instagratify tool used to share original content, we also provide libraries of content that may be sent to social networks at the click of a button. We also send you regular material to share yourself on Instagram (and therefore Instagratify), and this includes material for RBA Tuesdays, Government programs, and important news. We also provide a basic 'managed' program that shares infrequent news stories (although it's not suitable if you have your own active schedule).
Website Automation Log
Yabber automates the posting of content to your website on your behalf, such as articles, Instagram posts, and YouTube (video) content. We return a log of all the automated website content so you're aware of the changes we're making. Other changes - such as in-post content, header content, or footer banners, if automated - are logged within the appropriate module.
Website Change Summary: Since in-post content and banners are a relatively new managed modules the statistical data is currently missing. However, we'll be adding an aggregated summary of changes made to your site soon. Despite the lack of graphing, the content shared to your site via any means is still evaluated to establish how that content performed, and what impact it had on your traffic and conversions.
All managed content programs, such as RBA programs and SMS messages, are all directly measured against your conversions.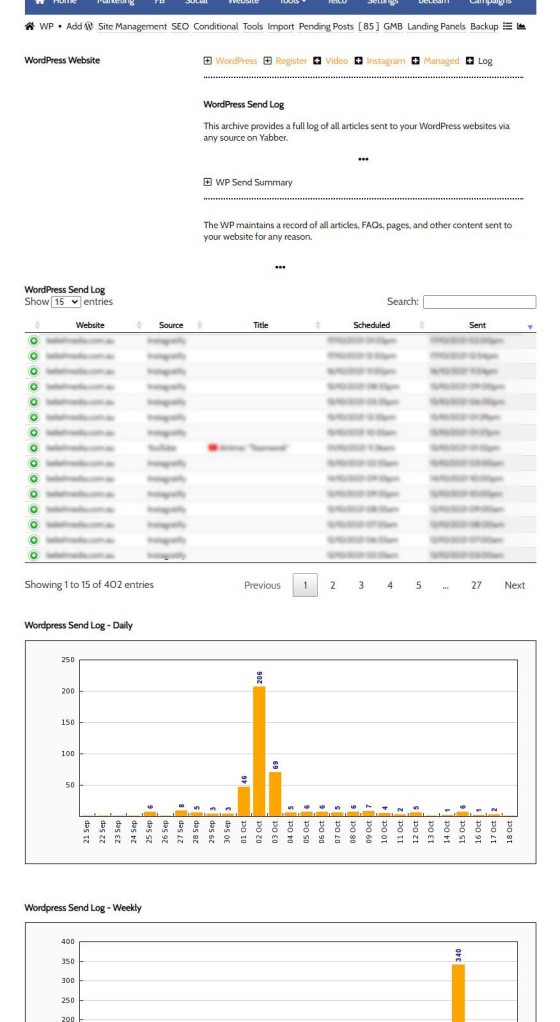 Pictured: The website automation log includes records of Instagram and Video posts automated to your website, any FAQ or other page, and those submitted via our article distribution program.
Managed Email Marketing
While the RBA email and/or SMS may be automated, we've recently introduced a program where important industry changes are introduced to your lists when deemed necessary. Activating this program requires confidence in our content creation because email is sent without notification. Of course, the easiest way of creating engagement is creating your own regular emails that reflect your brand, culture, and personality.
For those businesses that have struggled with time and digital management, this program has returned brilliant results.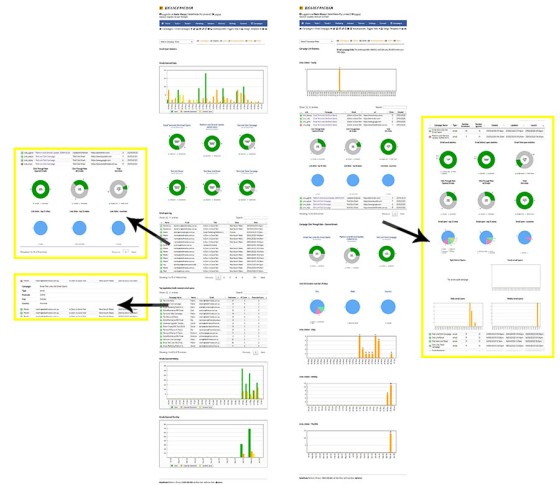 Pictured: As with all your marketing outreach, the success of your email campaigns is measured so the effectiveness of campaigns is known. Unlike traditional email campaign programs, and since Yabber provides the only integrated industry experience, your email marketing is fully integrated with your website experience (it's the aggregate statistics that matter most).
Conclusion
Digital marketing is an interconnected framework that requires large amounts of time to manage, and this is the single reason that small business owners tend to gravitate towards lower-performing 'lead-based' solutions exclusively and ignore necessary tactical content programs. We understand this, and it's why we've created Yabber as a truly integrated solution that manages all your marketing efforts in a way that would otherwise cost thousands, and we've priced it in such a way that makes it accessible to any business of any size.
While many flock to general 'lead generation' services for their Facebook marketing, the programs aren't supported by way of the content and website support necessary to garnishes the necessary expertise and authoritativeness. Yabber injects life into your operation and clearly establishes you as the broker of choice, while providing a Facebook program that is unmatched in terms of its effectiveness and conversions.
It should be noted that we provide a mortgage broker website to clients because no other system ever made available to the industry comes close to providing the necessary tools to achieve any real digital success, and nothing in the market is designed to support the content strategy necessary to convert clients. Your website, your Facebook marketing, social media, and your general marketing are all intrinsically connected, and Yabber aggregates this information and generates the consumer-facing funnel persuasion necessary to build your business.
Featured Image:
George Street looking south from near the corner of King Street Sydney, 1890. A sign for Thompson & Giles (Denison House) is at left and the Australian Joint Stock Bank (369-373 George Street), later the Bank of Commerce and Bank of NSW (with statues, now demolished) at centre. The English, Scottish & Australian Chartered Bank (367 George Street) is at right. Source: Sydney City Archives. [
View Image
]