If you're familiar with our marketing methodology, or you've listened to our podcast, you'll appreciate that we highly advocate building a true marketing funnel experience into your business (rather than the far lower-performing and transactional sales funnel). A true marketing funnel is one that our system is uniquely positioned to facilitate because of the extraordinary level of integration between all Yabber

systems - each module is interconnected meaning that data can be freely exchanged between various systems (email, web, downloads, telecommunications, etc.). This connectivity facilitates the basis upon which educated and informed user or machine-based actions can take place. Apart from the BeNet system (an internal system that course-corrects user experiences in real time, or inject data in your website for the purpose of conditional content for a particular user), we can force actions globally across the system by way of triggers.
This article introduces the extensive trigger system that may optionally be used from within Yabber. While some of the features are a little 'high-level', once your marketing matures it's nice to know that you're able to build your marketing experience into one that is years ahead of what your competition might be using. In a world where the client is always qualifying us (we never qualify them), providing an industry-leading customer journey is imperative, and Yabber is the only product in the Australian finance and property market that provides a truly integrated platform which permits the creation of a highly curated customer experiences.
What is a Marketing Trigger?
A trigger is an action that takes place somewhere as a result of an user action taking somewhere else. Many might be familiar with the lower-level triggers that take place in email marketing software; the clicking of an email link, for example, might subscribe a user to a different list (a pedestrian but highly effective feature). Another email trigger might be the sending of another email on the basis of clicking on a link, or even opening an email. What we'll discuss in this article takes this kind of methodology and advances it into a space normally reserved for companies with deep pockets and endless budgets... but it's all provided by default in a product that is priced lower than just about everything on the market.
What you may not be familiar with, and maybe didn't know was even possible (and described in more detail here) is the ability to action SMS messages or emails, or action other types of triggers, on the basis of a user simply visiting a specific webpage (after a defined time period), or by clicking on an internal website link. This level of integration into your website - and integration into your marketing funnel experience - is imperative because your website represents the epicentre of your marketing universe, and your website will attract users back into your funnel experience or keep the journey burning; a well-crafted funnel will utilise these and other interactions to either course-correct the user journey, or escalate them deeper into the marketing (education) journey.
Video Introduction
The following video was recorded as part of a marketing funnel sequence and we talk about, funnily enough, the Marketing Funnel and Funnel features. We introduce a number of the concepts discussed in this article.
Triggers are an essential, vital, and high-converting component of a true immersive marketing funnel experience.
What We Know About You (So Far)
We talk all the time about the importance of an integrated and full-stack experience, and why our methods returns far more business than the fractionalised systems floating around the market. So, what does integration actually mean? First, if you haven't engaged with our resources in any way you won't see anything in the link we're about to provide, and if you have engaged but you're now on a different device we may not return much data. However, if you've floated around a bit, maybe called us, or downloaded something, the link will start to take shape and show you what we've learned about you.
Click here to see what we know about you thus far.
We record every single action you take, your geography, your personal details (if you have provided them or downloaded something), every page view, Wistia video views, and every click (via any marketing resource). In fact, there's nothing we won't keep in order to shape a particular experience on this website. Yabber obviously creates amazing real-time and highly detailed website statistics, but we also assess every action you take (so any click, page view, or anything) and evaluate that condition to see if we should course-correct your journey or create a trigger. Keep in mind that triggers are created from any marketing asset - not just your website... although you may not have been aware that a website facilitates triggers because so few people in the industry have the capacity to wrap their heads around the technology.
Our understanding of your interactions (on this website, in email, downloads from anywhere, or offline contact via phone calls) all feeds Yabber

with the necessary information to first evaluate your behavior and possibly serve conditional content or a trigger, but it also feeds Yabber's Inference API (AI engine) with the necessary data to make personal or herd-based trending course corrections.
There's dozens of reasons

our marketing systems return more business to you than anybody else... and triggers play just one small part

.
Yabber Triggers
Our primary trigger systems are as follows:
Email marketing triggers
Download manager triggers
Website and link triggers
Venus report triggers
Telecommunication triggers
Wistia video (and podcast) triggers
If we break down the triggers we arrive at the following (read our section called "There's No End to Triggers" detailing the types of triggers that aren't discussed here).
Email marketing triggers
Email Link Triggers
URL (Wildcard) Triggers
Autoresponder Link Triggers
Email Download Triggers
Email and Autoresponder Open Triggers
Nested Triggers
Website Triggers
Website Page View Triggers (simply viewing website pages of a certain type)
Website Link Click Triggers (clicking on Internal website links)
Website Download Triggers
Telco Triggers
Call to Specific Number Triggers
Voicemail Created Triggers
Call Recording Triggers
Inbound Call Triggers
Specific Caller ID Triggers (User based)
Unanswered Call Triggers
Unanswered Call (Queue) Triggers
Unanswered Call (Group) Triggers
Rule (Group) Triggers
Venus Report
Internal PDF Link Click Triggers
Microsoft Planner Triggers
Kanban stage/workflow (or Plan/Bucket) Triggers
System generated triggers to alter tasks based on interactions
Lead to Prospect generation
System Triggers
Numerous system triggers apply so the following list is just an example of how the Platform responds to data delivery.
YouTube Banner and Facebook Banner automation (triggered on determined interest)
New testimonial (Google/Facebook triggers).
SEO triggers
Conditional Content (Conditional Content is triggered based on known traffic or funnel participant behaviour).
The triggers themselves are system transactions that are identified, and they respond by way of an action, and the actions are detailed below.
System Trigger Automation Actions
The Platform works with the integrated systems so the following list of features are essentially controlled via plug-and-play automated behaviours.
Email Messages (supports attachments via the integrated download manager)
SMS, Voicedrop, and MMS messaging
Email subscriptions, autoresponder subscriptions, and removals
Microsoft Teams (notably sending tasks to Planner, and managing the task workflow)
Full integrated calendar integration
Creating Microsoft Contacts (Outlook)
Creating Outlook Tasks
CRM Support (notably SalesTrekker)
Facebook Custom Audiences
Website Conditional Panels
Sending administration emails
Actioning Telco functionality
Remember, your website becomes a chameleon that responds to user behaviour, and these actions are also managed via our internal system (website) triggers.
You won't find a more comprehensive list of available system triggers in the marketplace. And these triggers aren't just for online activity – they're an essential means of managing your client workflow.
How Our Email Trigger System is Different
Introduction
When George Lucas made Star Wars the technology to support his vision didn't exist yet. Instead, he set up ILM, employed some talented people, and did nothing other than explain his creative vision. The rest was left up to his team to create the technology necessary to support his imagination. The same could be said for James Cameron's Terminator 2; the morphing and liquefied T-1000 terminator as played by Robert Patrick was a cinematic technology that didn't exist until ILM realised Cameron's vision. The point is this: our need and imagination drives the technology. Sadly, we often tend to stick with what we 'know' works despite better systems making themselves available (and there's a word for this: "boring").
When new technologies are developed to support an idea, ideal or ideology we often fall into a trap of developing something that is too complex, or too far removed from expectation that it becomes difficult to use. Take, for example, Google Wave. The Wave Protocol

was introduced in 2008 by Google in response to one single question: "What would email look like if it were invented today?" Two years after it was introduced Google shut down the Platform (they migrated some of the features into Shared Spaces, GSuite, and Google+ - the latter also a failure for similar reasons – but the core technology was essentially lost). The problem: they were ahead of their time. People weren't ready for email to be reinvented when in the real world many consumers were still struggling with changing email font sizes or simply creating an attachment. Wave was a truly revolutionary product but it was too difficult for the average user to wrap their head around the features, and it was too forward-thinking for business to adapt or see value in the tech (in fact, we tried implementing Wave as a collaboration tool for Virgin Australia and Santos Ltd – clients at the time – yet neither ended up adopting the features).
Reinvesting Autoresponder Triggers
First, it should be stated that we were careful when we created Yabber that we didn't over-complicate anything. Instead, we simplified what was existing ideology (albeit, we've added our own high-converting flair – conditional redirects on forms, for example). We tried not to 'reinvent' too much but instead simply added options or automated features when we deemed them essential.
Armed with a weaponised curiosity and need to improve upon every touchpoint with funnel participants, a few years ago we evaluated the millions of email campaigns that our clients had sent over the years, and we evaluated engagement levels in autoresponder emails (often hailed as the 'one thing' necessary to convert). What we identified was nothing short of staggering – mind-blowing, in fact.
The linear and 'unresponsive' nature of autoresponder campaigns has always bothered us. Despite building a high-performing 'Sonata Sequence' method around the early follow-up communication (a broader part of our email 'Symphony Sequence') the autoresponder campaign really is a linear, pre-populated, and defined set of emails. Sure, you can alter the subscription or autoresponder at any time during an email sequence but we're still subscribing a user to what we deemed the most appropriate linear follow-up program.
What we established from evaluating millions of emails is that the engagement through to a phone call was 267% higher off nested triggered emails rather than the actual autoresponder program. Why? Because trigger emails are sent on the basis of a known interest (by way of a link click)… and this interest-based conditional course-correcting (an ideology that underpins all of Belief's marketing technology).
Consider this real-life and rather comprehensive example from a 500-million-dollar brokerage company we support.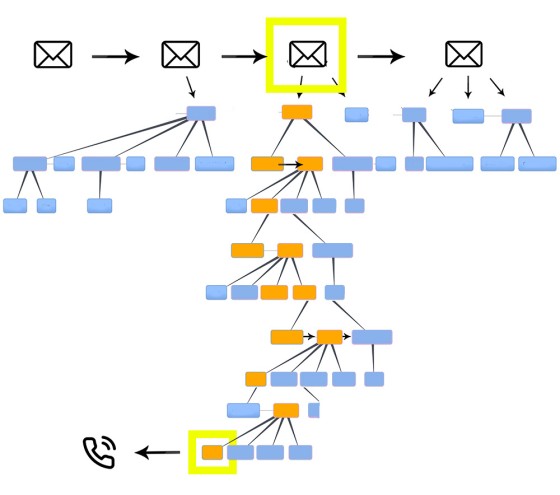 Pictured: A Nested Trigger Sequence. In essence we're creating an entirely relevant 'deep' journey driven almost exclusively by engagement and interest type. The lateral period is measured against the depth (via 'Classifier emails) that assists with our machine learning systems. The engagement and depth contributes towards our BMI (BeliefMedia Index). Don't worry about it if much if it seems complex - Yabber makes it easy... and in many cases automates the process.
The orange blocks represents the actual email (and trigger) path taken to a phone call. We had mildly acceptable engagement in the lateral and linear axis by way of our scheduled email campaign, but the third email activated a commitment by way of a triggered email sequence that resulted in a phone call. In a follow up conversation with the client he expressed in no uncertain terms that the email relevance and demonstrated expertise was the reason he switched broker. The sequence took place over just a few days before the following email was sent (that is, the next in the programmed sequence). So, again, it's the breakaway 'chatbot-style' of nested communication that drives commitment – the standard autoresponder engagement is often enough but we're playing with a degree of guesswork, and relevance won't always be communicated. The idea here is simple: if a borrower is looking for a broker and they've subscribed to a few lists (as they almost always will) it's the broker that does a better job in a digital sense that'll win the customer... and in this case the Nested Sequence was clearly what delivered this business. Two webpage triggers were also sent as part of this campaign (represented by the horizontal black arrows).
Early anecdotal evidence suggested that the depth of trigger engagement was a direct indicator of commitment (rather than simple engagement with each autoresponder email). Data we've collected since we first introduced our revised technology supports our early predictions and it's one of the many reasons our email campaigns convert around three times more business than anybody else.
Will you have the time to assign into building a sequence as shown above? Probably not. But you will have the tools to do so when your marketing matures and you have the internal resources necessary to assign to advanced marketing tasks.
What makes our system vastly different from any other is our ability to measure and track the effectiveness of threaded Nested Sequences. We track the position of the autoresponder email in the sequence, and the depth of the trigger email, as well as open and meta click data associated with those emails. With time as a third dimension we're able to do three big things: improve upon the nest, use triggers to action human action, and use triggers to apply definitive course correction.
An email autoresponder program should be measured by way of a number of metrics, but the engagement and commitment can easily be measured in our system by user 'engagement' in the autoresponder campaign, and the depth to which they dive into triggered emails (commitment). While a number of emails programs allow you to apply triggers in trigger emails, we've reinvented the system so that a score is generated by way of commitment to triggered email threads. This enables us to apply a true escalation of commitment to autoresponder email programs that has never been available before.
Of course, each link carries an 'interest type'. This means that if the destination URL is on your website we record and track that interest, apply defined conditional logic, and run other interest-based triggers to escalate and engage an audience.
In summary, while an autoresponder sequence is a defined and linear source of email communications, the 'Nested Trigger' system acts more like a chat-bot in that each email sent as part of a 'Nested Thread' acts to further escalate a user's commitment and only responds to their direct and declared interest. Based on the depth of their engagement we're able to apply definitive triggers in other areas to nurture those participants into making contact with us.
Nested Sequences aren't nearly as complicated as they might seem. In fact, it's decidedly simple.
We've used this system for a few years now and we've seen amazing results, and Yabber now introduces the feature to all our users.
Introducing this concept wasn't without reservation – we didn't want a Wave-type situation to apply. In reality, though, the system can and should only be used if there's a need – the reality of the Platform means that you can use triggers in emails as you always have done, or if you feel like you can assign the necessary time to build a 'Nested Sequence' you may do so (just because you're driving a Ferrari doesn't mean you have to drive fast). As with all marketing, the more time you assign, and the more expertise you develop, the more likely you'll be to engage with higher-level and higher-converting features.
Introducing Nested Triggers wasn't nearly as risky as Google Wave, but it was a risky move nonetheless. This is why we've ensured that any user can use the trigger system as they always have done, or they might simply choose to use a 'standard' campaign initially.
Our marketing ideology is different to most – we know this. It's why we get vastly better results... and it's why we've developed our own Platform that realises our high-performing marketing philosophy. If you're using the same marketing experience as everybody else (and everybody else really is using a carbon-copy experience… often with carbon-copy ads!) you'll get the same mediocre results.
Nested Triggers are a Standalone System
The Nested Trigger system is a standalone system closely connected to email, and trigger emails may be applied to both one-off Campaign emails or autoresponder sequences (the latter email type is where we tend to see most of the advantages).
When we developed Yabber for the broker environment we wanted a standalone system that would handle top-tier triggers associated with emails but we also wanted to include the functionality necessary to build extremely high-converting chatbot-style nested sequences. In the end, we decided that there was really no way we could exclude the system when it multiplies conversions as well as it does. In a world where we look for incremental and fractional improvements in ROI, inclusion of this system was a no-brainer. That all said, there were times where we considered watering down the functionality to make it 'easier'.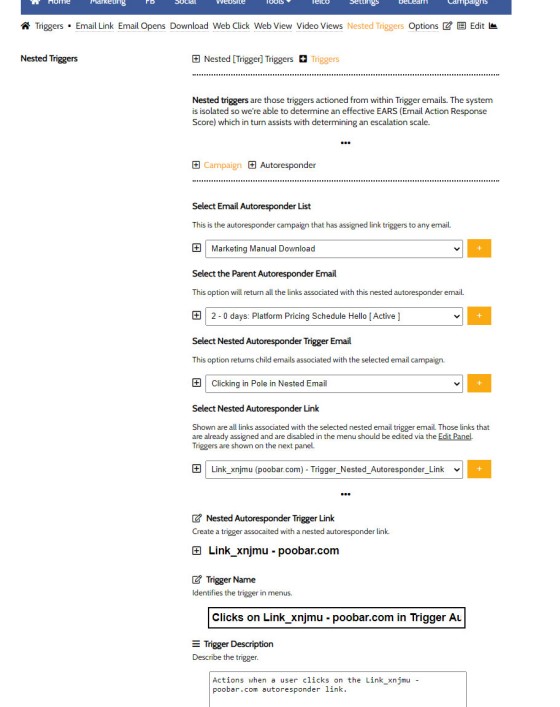 Pictured: The stages necessary to create a Nested Trigger Sequence. Select your top-tier campaign, select the autoresponder, select the nested email, and attach a trigger to an internal link. The creation of any trigger is in a simple step-by-step manner. Tracking metrics are automatically applies.
Note that any trigger may be applied in a nested sequence. We tend to focus on email but all available triggers are presented as options, such as SMS, task creation, business notifications, Facebook audience creation (a big deal), and – maybe most important of all, and somewhat overlooked until now – website conditional panels.
Triggers Actions are Extensive
Email Triggers
Shown below is a screenshot of a standard trigger panel. For most email and website-based triggers you're simply presented with a couple of clicks to identify the trigger source before you define the trigger action.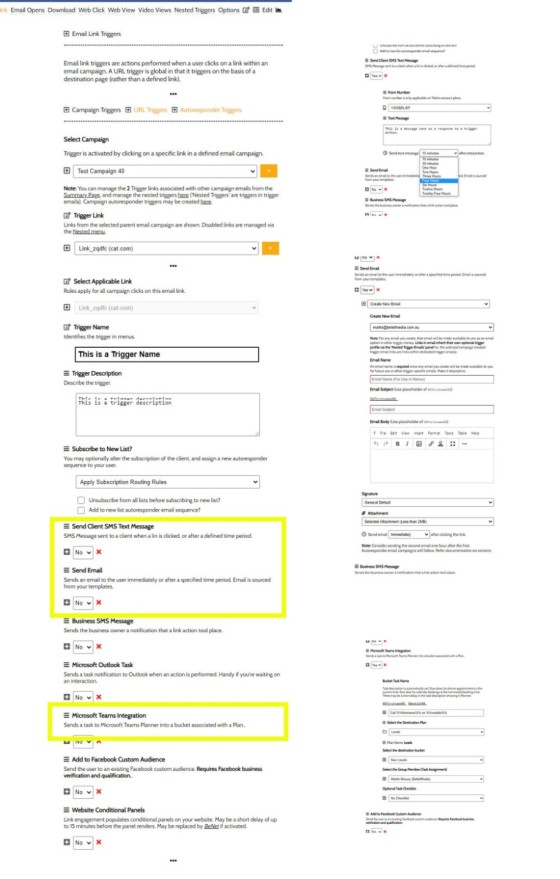 Pictured: Trigger panel showing basic options. The cutaways on the right show the trigger options for SMS text messaging, email, and Microsoft Planner task creation. The system is one that is fully integrated, so all links and options are simply chosen via select menus. No copying and pasting required.
Telco Triggers
Again, and at chronic risk of repeating ourselves yet again, the integrated nature of our Jabber telco suite into Yabber makes creation of telecommunication-based triggers a breeze.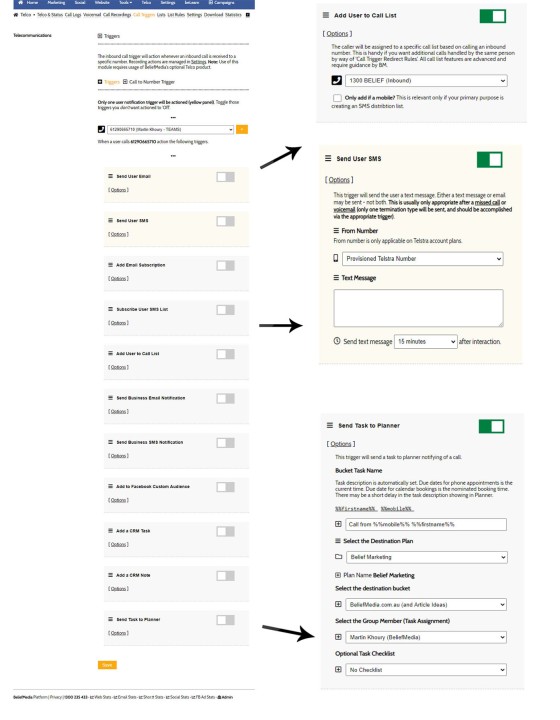 Pictured: Creating telco triggers. Shown on the right hand side are options for adding a user to a call list, sending the caller an SMS (handy when in a queue, after they've left a voicemail, or when a call is missed), and the trigger to send a task to Microsoft Planner. CRM options apply to telco triggers.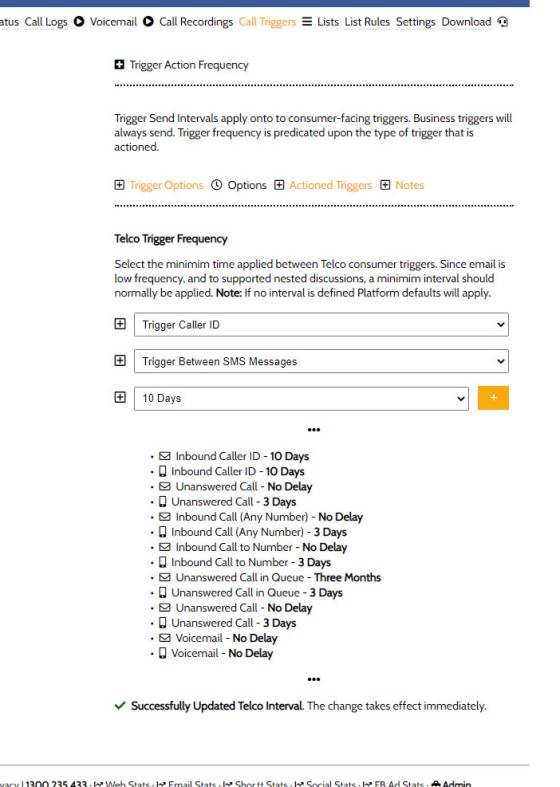 Pictured: The frequency upon which Telco-based triggers are sent is based on values defined in the Options panel (sample values shown in the screenshot). The triggers provide a uniquely powerful telecommunications experience for your business.
Telecommunications is one of the most overlooked components of any business marketing plan, and the manner in which we've implemented telco triggers (alongside a dozen other Telecommunication features) is truly unique. Built with compliance as a top priority, call recordings, voicemails, and optional transcripts are all created (and sent to selected CRM systems, or synced to OneDrive) to create a profile audit trail for each customer for which you engage.
Read the article on Telecommunication Systems for more information on how it empowers your business, improves upon your marketing, and how it facilitates next-level Best Interest Duty obligations.
Venus Triggers
Venus triggers are attached to the custom consumer report generated after answering a series of questions in a website form. Venus represents one of the most definitive sources of customer information and interest type so we use this information for the purpose of crafting an appropriate email experience, but also in creating a meaningful and relevant website experience (when they submit the form it's telling your website what they're interested in!).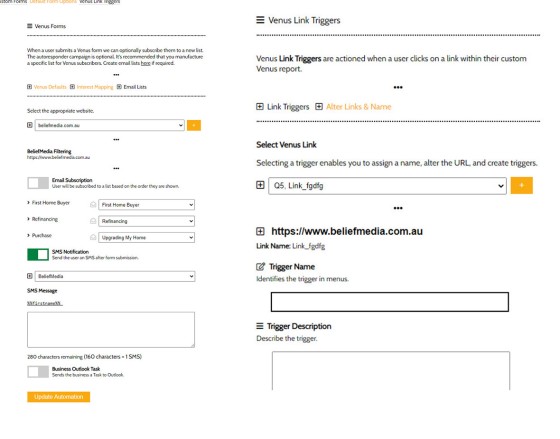 Pictured: The frequency upon which Telco-based triggers are sent is based on values defined in the Options panel (sample values shown in the screenshot). The triggers provide a uniquely powerful telecommunications experience for your business.
The options to craft a website experience on the basis of the questions asked in the Venus form are detailed here.
Microsoft Planner Triggers
We've introduced Microsoft Planner as a Kanban task management tool throughout this guide as a means of managing your business and prospect workflow. We use Microsoft 365 as a standard for email and calendar features, so the Planner

feature made available as a standard tool within that subscription was the perfect Kanban solution (as an alternative to commercial tools, or even SalesTrekker; the number of brokers that use SalesTrekker in addition to their aggregator CRM is staggering).
Triggers within MS Planner are not available by default so we've built that functionality into our own system. However, unlike the one-way boards most often (and are almost exclusively) made available to brokers, our Microsoft Planner solution is two-way in that we have the capacity to automatically move a task (or 'user module') from one stage to another based on web or other actions. It's expected that once you have developed a prospect, or a prospect has escalated to an Opportunity, you'll then migrate them into your CRM (you don't want your 'sterile' CRM full of distracting non-client workflows).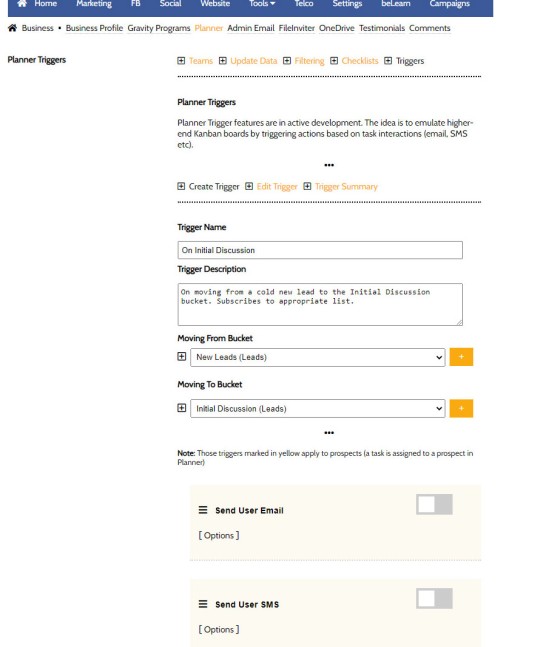 Pictured: All standard options apply for moving tasks from one bucket (stage) to another, such as email (admin and custom), SMS messaging, altering email subscriptions, adding to SMS distribution lists, sending business SMS, adding to Facebook custom audiences, creating a CRM task or note, or creating a new task.
With or without Belief providing any kind of marketing support, MS Planner is an excellent tool that might find its place in your business (we've seen brokers use MS Planner with our EDGE post-settlement suite, for example, with massive success, and it's a brilliant way to manage non-client activities, including our modules such as Saturn).
The one primary difference between the email triggers made available in the Planner system is that administration emails may be sent (as created in the administration email library).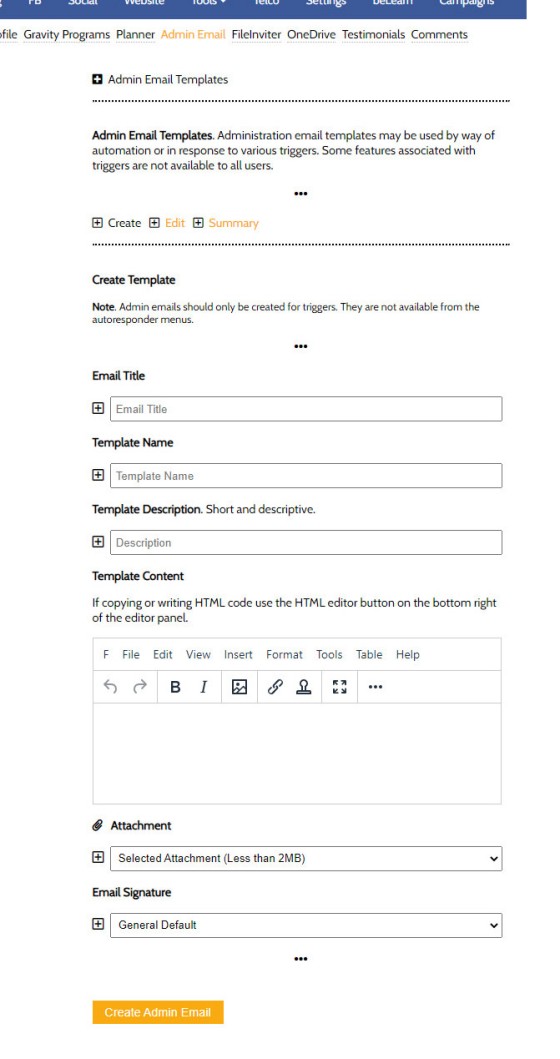 Pictured: Creating an administration email template. Admin templates are different to standard campaign or autoresponder templates in that they are designed to assist with the sales process. In the case of brokers, they are triggered to assist with tasks that are required, loan application steps that are completed, and provide links to new resources. As with all our systems, the integration makes adding an appropriate email footer or attachment to the email a simple process.
We fully expect to integrate our FileInvite module (should we choose to release it), and compliance-related material into the flow so full early applications can be made without broker effort. In early testing, as each online requirement is met, the new triggers are automatically assigned, the task is automatically moved, and the broker sits back and simply enjoys the visual picture of how prospects are engaged. One of the holdups in releasing our comparison website is this feature: we want a truly automated back-end to support a fully-automated system. Of course, no automation is a replacement for human interaction, but it does fully streamline the workflow and prospect timeline.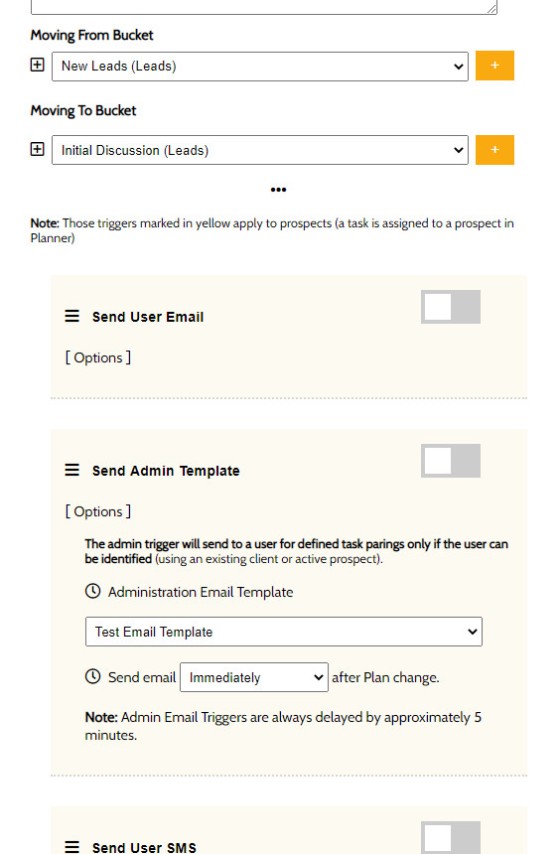 Pictured: Assigning an administration trigger in the Planner module (the creation of the template email was shown on the previous page). Standard emails may also be defined (without a template).
We introduced the concepts of SOPs here, and they lend themselves to strict compliance with a Kanban board that emulates the systematic order of business interactions with a client.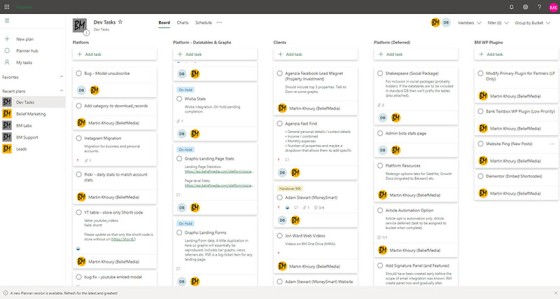 Pictured: Microsoft Planner. We didn't want to invent the wheel so we've built upon Planner to provide various trigger features. It is fully integrated with Microsoft 365 (you already have access to it).
Download Triggers
Download Triggers are actioned when a user downloads a specific object via email, your website, or any other location where a user can be identified.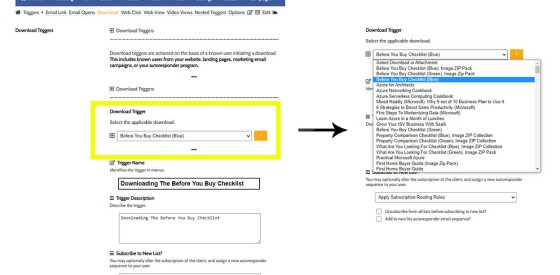 Pictured: Selecting the download object associated with a group of triggers (all the standard triggers apply). Because of the integrated nature of our system you simply select any of the available downloads made available via your Download Manager – this includes documents you upload yourself and those that are branded via the white-label tool.
Download Triggers are one of those triggers that tends to perform brilliantly with an SMS notification. The download itself is a signal of clear intent so a follow-up text letting them know that they can call at any time for more information tends to routinely convert in double-digits.
Video Triggers
Video Triggers are sent on the basis of how much of a specific Wistia video was watched. If a user visits a page with a registered video and doesn't watch it at all we can email them a link for later, and if they watch only 25% we might so the same. If a user engages to 75% or over we might escalate our own digital efforts and follow up with a text message or task ourselves with a phone call (the former might be in relation to the latter).
Video triggers are different to triggers activated on the basis of a 'turnstile' feature (that is, a name and email supplied within the video container for more information). In this case, the user is subscribed to a list and standard automation and triggers apply based on a linked standard website form.
Website Triggers
Many email providers now provide triggers associated with just viewing a webpage – something we've done for over 20 years. What we've done, however, which is somewhat next-level in terms of consumer availability, is that we associate triggers associated with specific links within a post or page. So, you might have a number of key links within your website that represent a need for escalation, so you might schedule specific triggers on the basis of that click action.

Pictured: Creating weblink triggers is easy. First, select your applicable website (remembering that the Platform is a multi-website system). Second, select the target page, and third, select the applicable link. You may then assign any of the standard user and business triggers.
Web link triggers (and Webview) triggers are two where we encourage caution. Our marketing systems are quite advanced and might be a little confronting for those that are cautious about their browsing habits and 'privacy'. For this reason we include details on how information is tracked within your website privacy policy.
Telco Email & Admin Email Triggers
When you create an email within a Telco trigger – created as a standalone email or by referring a user-defined admin template - the links in that email also become a means upon which to escalate a user experience by way of telco email triggers (no interaction should ever be void of an associated optional action).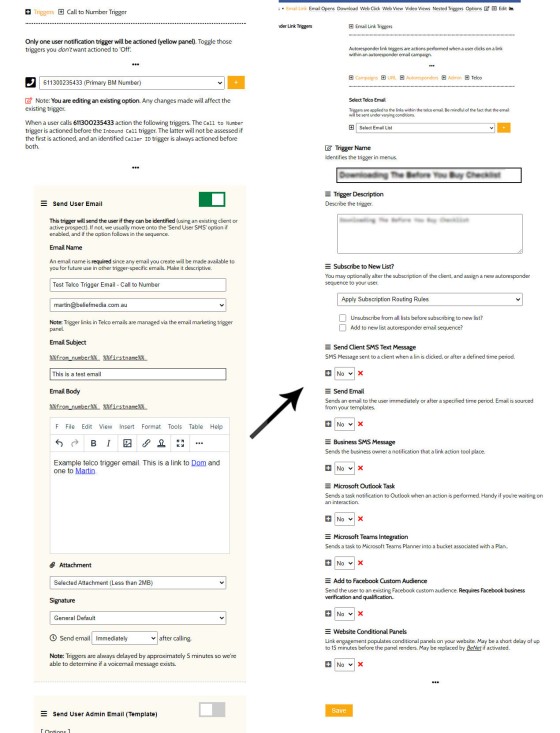 Pictured: Shown is a Telco triggered by calling our primary phone number of 1300 235 433. Any link created in a Telco or Admin Template email is made available as a trigger link as with any other campaign email. This creates an early escalation cycle based on already escalated actions.
Crafting a Website Experience Based on Triggers
An optional action within your trigger panel (alongside task notifications, SMS messaging, email, and others), is a feature to alter your website appearance based on a specific trigger action.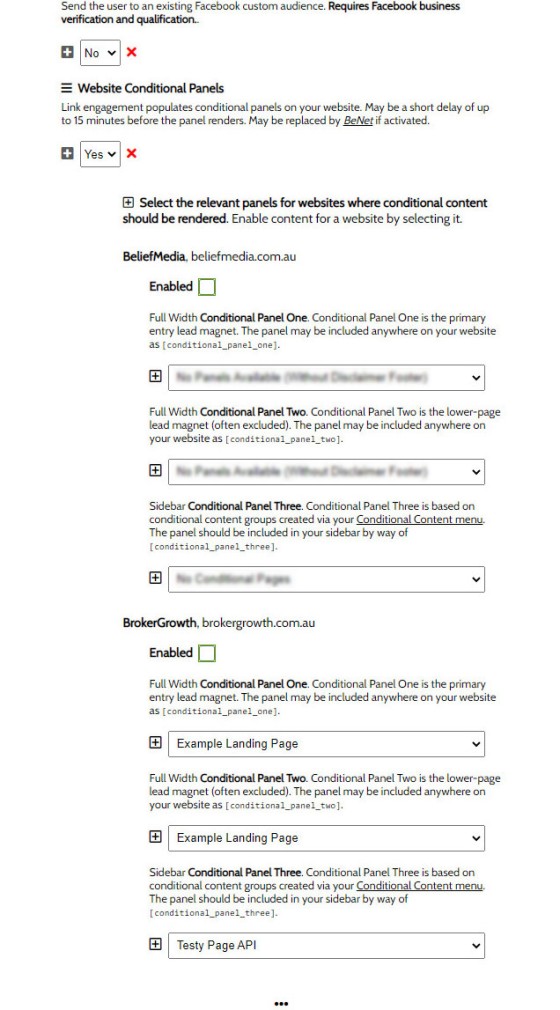 Pictured: A Trigger option to alter your website appearance based on the type of link clicked. This may be applies to any user-actioned trigger (such as email link click, website link click, and so on).
We replace 'panel' content on your website with that which you have defined. The process ensures that you're almost delivering the most relevant information to your users, and that which is most likely to captivate interest, created engagement, and convert.
The trigger-actioned conditional content supplements the already-powerful predictive and escalating features that are native to the website we provide you. As discussed earlier, the conditional experience is also predicated upon standard browsing habits and interactions with other marketing assets.
There's No End to Triggers
Keep in mind that we've built far more triggers than are listed but they're usually released when there's a need to do so. For example, if a user (previously identified) comes from Facebook or LinkedIn to our website we can action a social media trigger, or if a user comes from a Facebook advert a second time when they've previously downloaded an object we can action other triggers. There's really no end to the kind of course-correcting actions we can take with a user but there's a clear limit to the amount of effort that any business is prepared to invest into self-managed marketing funnels. We've come to a compromise and we've initially included only the most necessary trigger features.
Triggers Is Not Automation
Triggers should not be confused with broad automation features. Automation is a set schedule that applies based on a user action, or AI-based interruption, while triggers are the course-correcting actions we take after a user declares 'something' by way of their own interaction (triggers apply pressure to a user already in a marketing journey while automation is generally oriented towards an expectation that a user is looking for something). Triggers also shouldn't be confused with conditional content, although conditional content can be forced by way of a trigger (more on this confusing concept here).
Other triggers we provide (based more on automated AI intervention) perform next-generation functions such as changing your YouTube or Facebook banner and/or profile image on the basis of identified trends on your website, or via link-click trends in your email marketing. When published you'll find information on this amazing feature here (the general and seasonal automation of social banners is introduced here).
Conclusion
As you can tell, our triggers system is extensive yet exceedingly simple to use, and far more comprehensive than you'll find anywhere else (if you're wondering why you've never heard of many of the mentioned triggers it's because they don't exist outside an integrated system – something only we provide). There's no copying and pasting, nor is there any guesswork associated with how triggers are managed.
Make no mistake: a comprehensive, non-intrusive, and carefully executed trigger profile will drive far more business. When you're competing with other brokers in the market it'll be the one business that delivers relevance, remains top-of-mind, and demonstrates a sound business system that'll win over a client- "To the victor belong the spoils".
When we inherit clients from other agencies the trigger system is usually non-existent... and if it does exist it usually (and almost always) isn't acceptable or thorough enough to actually provide marketing funnel course-corrections, or deliver top-of-mind messaging to clients. With or without us supporting your marketing endeavours, you should seek to have what we refer to as a full-stack trigger system in place (doing so can double your conversions overnight even without modifying the Funnel content). It's essential. Certainly, if you see your competition using Kartra, Click Funnels, Lead Pages, or other similar systems you know that your out-of-the-box experience is at least three times more effective.
As always, just because advanced triggers are available doesn't mean you have to use them.... but when they're required you'll have them on tap.