BeliefMedia has various proprietary technologies in place to help you maintain and build upon the relationships with your clients. One of the 50 or so systems we designed specifically for post settlement care is called Edge. Edge is designed to mitigate the risks associated with your clients drifting into the arms of another broker or, even worse, succumbing to the charms of a bank trying to undermine your client relationship. As discussed in our previous article on the importance of referral strategies (and in our Magic Lantern introduction), Mortgage professionals are in the service and education business... and that service doesn't end when a home loan has been facilitated. It's generally this lack of customer care that banks often use as a means to nullify any "non-compete" agreement that may apply. There's a post-settlement service that you're expected to provide your client, and Edge was built to support this ongoing relationship by way of a schedule of contact events during a mortgage timeline. In providing quality care you're essentially establishing your client as an introducer (or referrer) and grooming them as an advocate for your business.
Note: This system is partially retired (and will likely be made available at no cost to broker email subscribers). We now integrate the EDGE solution in a customised manner with your CRM software. An example is provided by way of our integration with SalesTrekker.
The purpose of Edge is simple: provide an email and SMS text message after settlement, before first payment, before second payment, and after six weeks (or three months, depending upon the client's payment schedule). The final campaign email and text are sent with a link that directs your client to an optional landing page where you may provide a value based incentive, feedback form, or referral form. A sequence of custom reminders is created with each user campaign to ensure appropriate post-settlement follow-up is made for the term of your client's mortgage timeline.
After a campaign is created, an iCal file will be sent to you for all those contact points as defined in your campaign (a campaign is made by assigning a contact to a sequence, reminder sequence, and optional value-based incentive) and it's expected that a phone call will accompany any automation the system provides. Additionally, all sequenced contact times and reminders are added to your platform calendar (and optionally synced with your Google calendar).
Don't be fooled into thinking this post sales care won't have an effect - it absolutely does. If you're serious about providing customer care, you would like to refinance your client when the need presents itself, and you would like to develop highly profitable downline tribes built almost entirely on the back of referral based business, the EDGE system is an essential component of your mortgage broker business. Of course, Edge is supported by other automated campaigns to ensure that any service expectation is exceeded.
This article looks at the basics of Edge and how it's used. While it may seem a little confusing, we assure you the system is entirely intuitive to use. The Edge module is integrated into our Magic Lantern program. While we've had a similar system operating for nearly five years, EDGE completely replaces our "First 30 Days" program and former referral software.
Edge Entry Page
To locate the updated EDGE platform, navigate your way to the "Referrals" icon on your new self-hosted and fully branded social platform.
It's from the Edge entry page that you'll follow the menu items to create a relationship offer (if desired), a referrer sequence, reminders, and your campaigns.
When you've created a series of default reminders, offers, and sequences, the entire process or creating a user campaign takes no longer than a few seconds.
Create an Offer
A relationship offer is an optional value-based incentive that provides your lead with anything in exchange for something - normally introductions, a testimonial, or feedback. We've seen brokers reward their clients with movie tickets, charity donations, plantlife, and coupons. You name it and we've likely seen brokers share it. The value should be personal to the individual you're dealing with (if they have kids, for example, a $50 voucher to a local toy store might make sense). Keep in mind that the value-based incentive is optional.
You'll note that there's a textarea for 'Page Content'. Text entered here becomes the first block of text on your feedback landing page (various placeholders are available for customisation). The actual landing page on your website is generated dynamically via our BeliefMedia website plugin.
Under 'Landing Page Options' is a select menu with your chosen content that should be associated with this specific offer, and the numeric dropdown menu shows how many referral forms will be shown on your landing page.
If you choose to direct your client to a landing page at the termination of the email/SMS campaign, the landing page (as discussed at the bottom of the page) can be curated to your liking by including custom content (maybe a webinar), or you may choose to include a feedback form (that doubles as an area for testimonials) and/or a referral form. We've determined that having an online portal for a client to refer individuals - rather than providing them via an email or over the telephone - is up to five times more likely to illicit a conversion. The optional landing page options are shown below.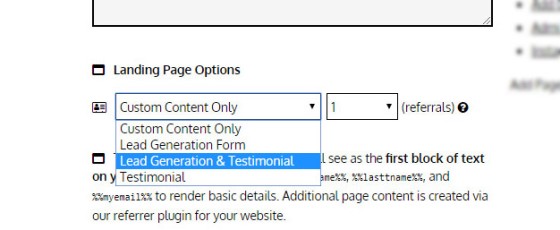 The Sequence
The referrer sequence consists of five tabs, each used for a specific point of early contact. The tabs provide an option for the email signature associated with your campaign sequence, the settlement email and SMS, and the first and second payment email/SMS. Each tab has an option for the number of days that each message or messages should be sent. As an example, the first payment email will remind your client to have the required funds in their account, reminds your client to ensure their offset accounts were set up correctly, and it reminds them that you'll be calling to ensure they're suitably prepared to start with their payment schedule. The SMS message is a little shorter, and it should normally advise your client that you'll be calling them.
Every time the system sends an email we'll send you a notification email that it's sent. The SMS and email are always sent at 10am on your nominated day.
Any number of sequences can be created based on the product type of payment schedule.
Creating Reminders
The reminders are for your benefit. After the first few payments (and the optional value-based incentive), contact will still need to be made for the duration of your client's mortgage. If your client is going to forget who you are, or if they choose to later seek comfort in the arms of another, it's going to be in that block of time during your last contact and around 18 months to 2 years. The schedule of contact is designed to keep you in the life and minds of your client by way of regular phone calls to ensure their mortgage is behaving as it should. Towards the end of a clawback period, or at a point where refinancing provides savings, you may then start to prepare your client for refinancing. Ongoing communication also has the effect of creating a passionate advocate and introducer.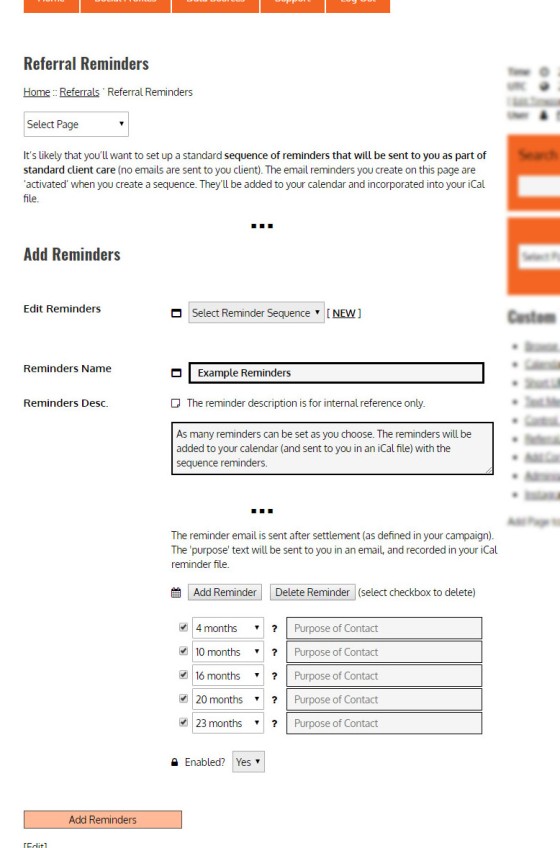 Upon the creation of a campaign (as detailed below) a calendar file will be sent to you with all programmed contact points. All contact is added to your platform calendar and optionally syncs to your Google calendar.
Creating a Campaign
A campaign involves simply assigning a user to an (optional) incentive or landing page, sequence, and reminder program. To do so, select "Referrer Campaign" from the main Edge menu. It's upon creation of the campaign that we'll send you your iCal file.
When the last communication in the sequence is sent (normally before the third payment), the landing page invitation is entirely optional (it can be just another message or just left blank).
The Landing Page
If the intention of the last communication in your sequence is to send a user to a landing page, you may (as described above) provide virtually any content. The page below is just a crude example with a feedback form, referral options, and a client email option (as described below). The page can be styled in any manner that floats your boat. The page is built based upon a single shortcode on a single page (and it's a default component of the BeliefMedia client plugin).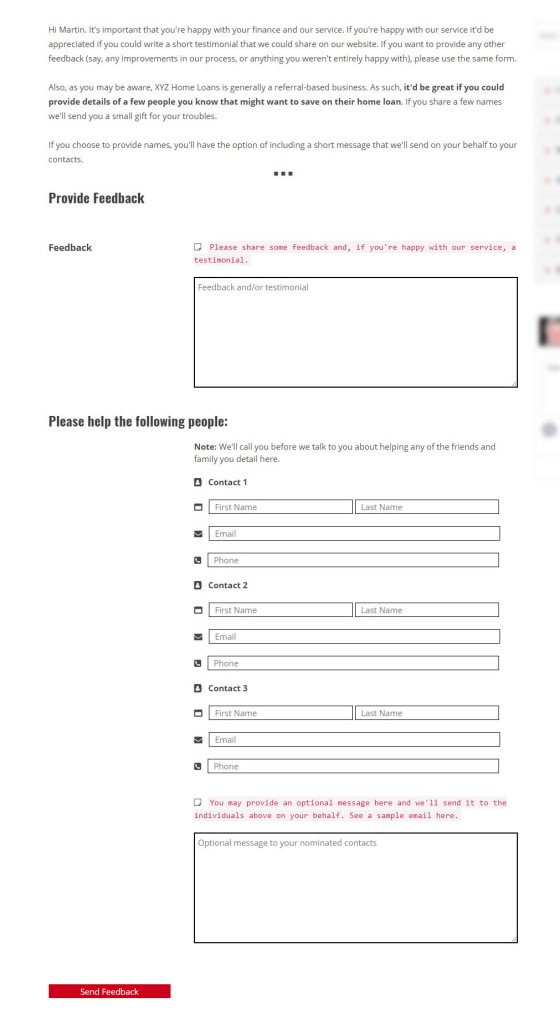 We track who has visited the landing page and what action that might have taken. Statistics are available via a link on the entry menu page.
Landing Page Options
Your landing page URL should be defined from within your platform entry page. The landing page contains the Edge shortcode that renders the necessary information as defined by your offer (incentive) details.
If you choose to return referral options in your landing page, you may optionally provide a facility for your client to send their introductions an email. The area above (under the area you have defined your landing page) includes an area for a title and the first part of the email body. Your landing page includes a textbox where your user may include a custom message for inclusion in the outgoing email.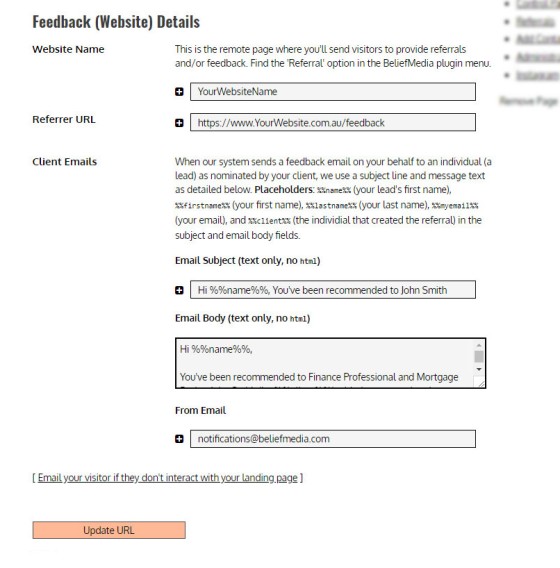 Should a user visit their landing page but fail to convert in any way, you may optionally send an email after an hour that provides further incentive for them to volunteer information. If you have included a referral form in their campaign, you might deescalate your expectations and suggest a testimonial or feedback instead (the introductions can wait).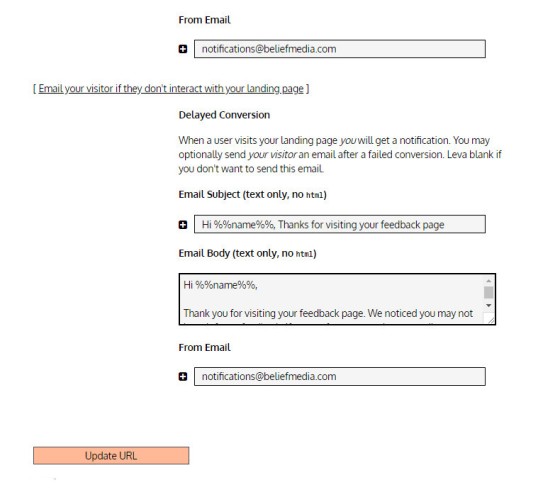 Video Introduction
Despite the apparent complexity of the system as described in the video, the system really is easy to use.
Other Features
There are numerous features we provide to brokers and this article serves as only a very brief introduction to EDGE and the benefits derived from its use.
Clients have lifetime access to the system via their platform key and client plugin.
A user may be located by browsing your platform contacts. A link will direct you to the Edge campaign page with partially populated data. There's also a link to the campaign page after creating a contact.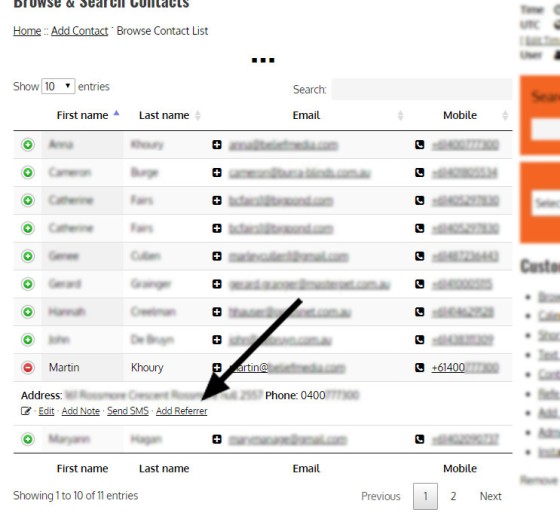 All clients should always be added to a segmented SMS text messaging list when adding them to your system so essential contact might be made when required.
We also recommend a user be added to a specific product email list so information specifically relevant to their loan be communicated when necessary.