Brokers are attracted to us because we provide a solid, entirely future-proof, and scalable digital foundation to their business that returns more conversions. It doesn't matter if your efforts are directed at Facebook marketing, SEO, or social, our totally integrated tools are designed to work in company to provide a better experience than can be found elsewhere - simple as that. We provide a leading website experience, digital management via our purpose-built and proprietary Yabber marketing system, and we provide relationship tools to support digital endeavours. Coupled with the leading support available anywhere it's little wonder our clients consistently outperform their competition.
It's the managed components of our program that have always proved 'problematic' in terms of compliance and functionality. A recent conference with some ASIC advisers provided further guidance surrounding the obligation of brokers to be fully appraised of the social content shared to their website... and they insisted that any media be made available before being published. While the former has always been available in Yabber (with full compliance-based archives), and the latter is serviced via simply posting articles as 'drafts', we wanted a better and easier-to-manage system that would simply make any alternative solution entirely obsolete, and we needed to provide a solution that was ridiculously easy to use.
One of the systems that is now made available to all Yabber subscribers is an Outlook calendar-based social media scheduling tool ("Vista") that sends social media posts and other content to an array of social platforms. To be clear, Vista does not simply permit the planning of social media in your assigned Outlook calendar (which is often the case), but it facilitates the full live scheduling of all image, video, and text social content. We believe Vista is the easiest-to-use and most powerful social media scheduling tool available anywhere - not just to the finance industry.
The next evolution in our managed social media programs (the content posted to social media by us on your behalf) is the integration of the managed features directly with the Vista module. This means that as we schedule social media content to any of your accounts the media will be shared to a dedicated 'Social Media' Outlook calendar for editing, deletion, or rescheduling. If left untouched the post will simply post as planned; if modified those changes will be applied. The managed Vista module makes social even more compliant, and it provides you with the immediate oversight that every business requires in order to maintain control over their brand,
The Cost
The Vista module and the managed social media modules are a core component of Yabber. We've seen social media services charge up to $600 for as few as 15 posts to just a few social platforms... while we allow unlimited company accounts (so, multiple accounts on the same platform) and we support all major services, such as Facebook, LinkedIn (company and personal), Instagram, Google My Business, Twitter, your website, and more. We don't apply any ridiculous arbitrary limit on the number of posts we provide you (in fact, with our social libraries you're able to schedule as much content as you want, as often as you want it), nor do we apply limits on the number of your own destination social accounts.
The Vista module, and the managed social components, are supported by a number of our other social tools, such as Instagratify and social libraries.
Social components are included in a Yabber subscription (or website package), but the managed social functionality is available for just $169 + GST per month.
Social Automation
To enable the social automation you simply navigate your way to the managed social module, select the topic type that might interest your audiences, and then assign various social accounts. When we post applicable content a calendar entry is sent to your Outlook calendar that you may optionally modify in any way that floats your boat. As long as the 'Location' tag is intact the distribution schedule is preserved... although you may choose to take ownership of the post and use alternate scheduling (essentially turning it into a standard user-Vista post).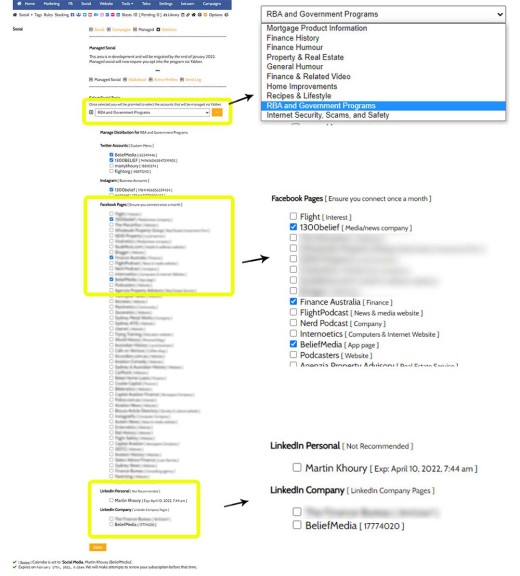 Pictured: Pictured is the standard managed social panel. For each topic type you simply select the social media accounts where you would like the media or information sent. We do not apply a limit on the number of accounts, nor do we apply a limit on the number of your company accounts for each platform that you may select within the same network. Once selected you are are immediately opted into the applicable program.
Note that Instagram only permits a single image to be sent via automation, and the Instagram account must be a business account linked to a Facebook page. For those cases where we schedule multiple images an option exists to send the first image found, or ignore the message completely (the media will still be in your calendar entry so you can do whatever you want with it).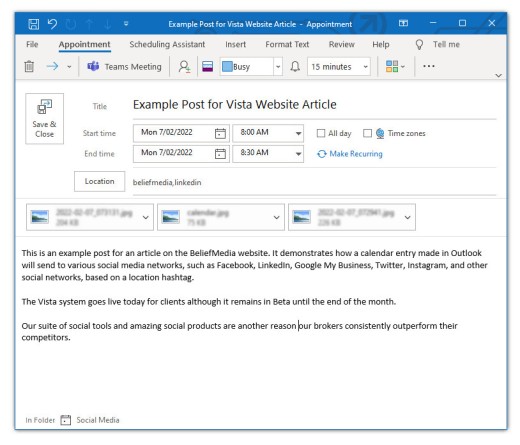 Pictured: The social media posts we send to social media are scheduled to your dedicated Outlook calendar. The 'Location' field includes hashtags that describe the distribution. The location field can be modified to a standard Instagratify tag (a tag that defines a number of social accounts - super easy to use). Tags used by the managed module are descriptive in nature, such as 'bmrbagovernment'. You may modify, delete, or reschedule our managed post as required.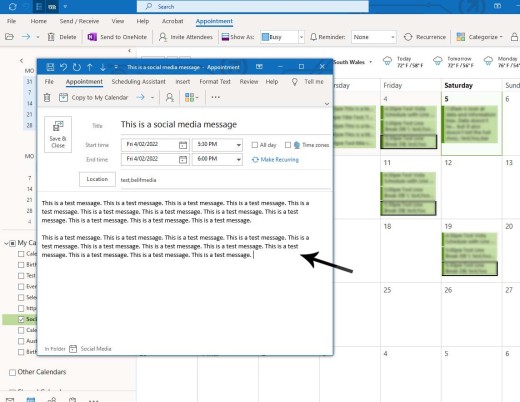 Pictured: A dedicated social media calendar with an example calendar entry. The resulting post will schedule to a range of social media services as defined by you. As with all social media options you have the option of sending your social content to a dedicated social media archive on your website (the content is formatted into a social article).
Note that Vista supports images and video.
Integrated Statistics and Social Campaign Management
As details in an article on UTM and Campaign management, any link sent to a group of social networks is grouped as part of a social campaign that measures the effectiveness of your social efforts. All tracking data is automatically applied to any URL, and that tracking data is ingested by your website and made available via our extremely detailed statistics.
As part of our integrated funnel, if a known user arrives on your website via a social link and you have previously engaged with them in some way, that use is identified. This enables more advanced functionality such as social triggers (coming soon to the standard Yabber system). Unless you're able to definitively determine the impact of social media on your funnel, website, and conversions, you're essentially throwing your efforts into a void - you must be able to measure all digital interactions.
The entire Yabber system is data-driven in every respect, and this obviously extends to social media management.
Posting Frequency
We may post as often as a couple of times a day, but we'll always share at least one piece of content every 48 hours. The frequency is almost always determined by the topics you select for your social distribution (if all you select is 'RBA and Government News' your feed will be seriously limited).
Branding is applied for certain types of media, and consistent with the facility to measure engagement, any URL we share to your website (for those websites supplied by us) the URL carries identifying UTM tags so you're fully appraised of the success of any campaign.
Google My Business has a strict policy on the type of content shared to your business profile so we leave this up to you, although we provide a facility to share to GMB via Instagratify or directly via Yabber.
More Powerful, More Effective, and More Affordable
We build all our social tools completely in-house to cater specifically for the finance industry, so we're able to respond to feature requests and bugs very quickly (sometimes over the phone). We don't use generic tools, and we don't provide a one-size-fits-all solution - all your social commentary is determined by you for your own operation.
If you can find a more tailored facility for brokers, or one that is more affordable, we'd like to hear about it. You certainly won't find any service that is easier to use or more compliant.
Conclusion
If your business outsources social media, the system used to support your presence must be scalable, compliant, and reliable... and we built Vista entirely in-house to support these business necessities in a manner that we've not seen replicated elsewhere. Simply put, there is simply no easier manner in which to have your social media managed than have it send to a dedicated Outlook calendar for your optional review, and there's certainly no easier means of managing your own shares than doing so directly from within the same Outlook resource.
Aggregation groups or franchises should consider talking to us about fully branded and fully tracked social media management.