In previous articles we've introduced the extensive YouTube and Wistia integration made available from within Yabber

, and in another series of articles we've highlighted the need for video content creation as part of a broader content strategy. In this article we'll build on the functionality we've already introduced and detail how (and why) Yabber may optionally send your video content to a dedicated post archive on your website.
We often encourage business owners to engage with one of our powerful programs (such as creating a video on Instagram) but we don't want to have to introduce a second or even a third step, such as uploading the video to YouTube, various pages and/or groups, or your website. Businesses want simplicity, so asking them to record a video on any platform is hard enough... and asking something else of them is impossible. It's for this reason we introduced a module about 10-years ago that would send your YouTube and other videos to your website in order to garnish the necessary SEO and organic traction. Once traffic is attracted to these pages there's various facilities on each page that supports your broader and ongoing funnel conversions.
Sending videos to a dedicated video archive on your website garnishes more page views, presents further conversion opportunities (since every page is a type of landing page), and creates fresh website content. The distribution of your video content is absolutely necessary to create a broad reach and brand omnipresence; the notion that we'd upload something to YouTube or another hosting service and then let that platform take advantage of our content without doing something with it ourselves is somewhat crazy.
Note:
When a video is sent to Instagram, YouTube or another platform, we don't send it to
just
your website. Our social automation tools will send it to other defined locations, such as Facebook pages and/or groups, Twitter, LinkedIn (for certain users), and if the originating source wasn't YouTube we can send it there as well. Yabber's social systems are introduced in an article titled "
What Does Belief's Social Media Marketing Module Look Like?
".
In essence, you have the capacity to 'mirror' your YouTube video channel on your own website, and take back a little ownership over the content you have created.
Video Funnel Pages:
Keep in mind that
video pages are intermediate funnel pages
. You should never send a user to an off-site resource when you have the capacity to host the videos yourself. In attracting funnel traffic to intermediate video pages we start to understand the
user interest
allowing us to craft a more relevant
browsing experience
. Remember,
every page on your website
is a type of
landing page
- including video pages. We can build in
video triggers
, page
triggers
, link triggers, and assign link-based or page based
interest types
in order to develop an understanding of the client. When a user lands on any page we're compelled to learn as much about them as we can, and do everything we can in order to improve upon their journey.
The process of sending your YouTube videos to your website can be automated but in most cases it's a manual exercise; the latter methods allows you to polish your content a little before it is created into a video post.
The Result
The result of what we're introducing in this article is pictured below.
Video Post
The video post is built entirely by Yabber but you do have the option of editing the post as you would any website article once it's sent to your website.

Pictured: The video post. The post includes the video, video statistics, your description, a optional link back to the video source, and in the case of YouTube, an optional subscribe button. As with all single posts we include a subscription form on every page. The default subscription form assigned to video posts is defined in Yabber but can be altered on a post-by-post level.
If you have created a YouTube chapter index (as shown in the pictured example) that data will automatically be shown under the video description. The chapter index allows a user to skip to the most relevant part of a video by clicking a time link.
When editing a video description you may include HTML or shortcodes, with the link shortcodes providing an interest-based linking structure and relevant navigation to your page (meaning that the video post is part of your website and not some disconnected asset).
Video Archive
The video archive returns video posts in the same way that your blog returns your paginated articles.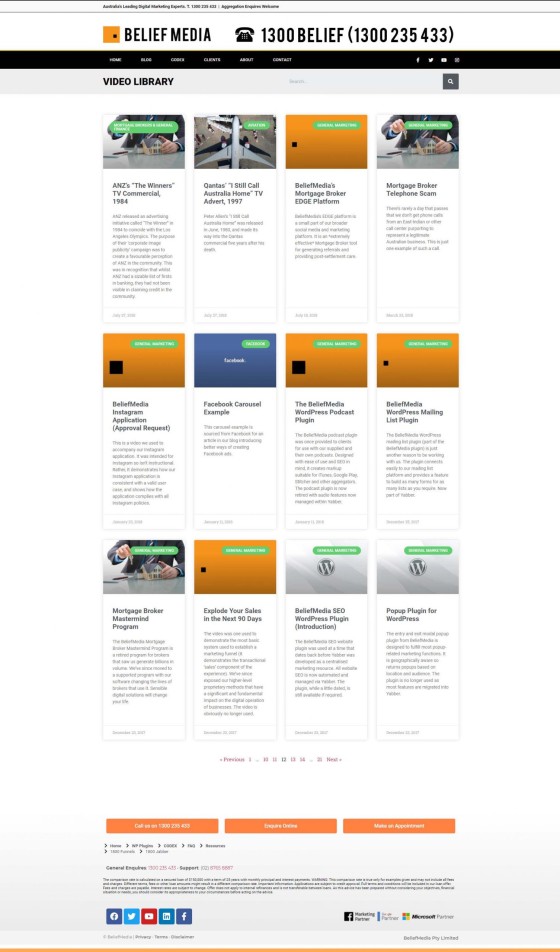 Pictured: The video archive page. The archive page is presented in a grid-style manner not unlike your standard posts. As with all archive pages it's expected you'll include an 'everywhere' Simple Panel by simply assigning a form to that location. We've created a post type as BM Video, and it's managed in much the same way you manage your blog articles, except for the fact that the archive is intended for only your video content. This segregation enables us to create a video reference library, but it also permits a deeper integration with other aspects of your website. Our own video archive has added over 300 pages giving our website additional reach and organic exposure. Additionally, video posts can be referenced in the marketing funnel (or early website funnel) in order to develop our lead.
As an afterthought we've considered including a link to the video modal with each video post in the archive, but we've delayed this just a short time. We'll default to the opinion of brokers that use our systems and ask them specifically for required modifications.
Manually Sending Videos to Your Website
To manually send a video to you website you simply navigate to the 'Video' panel within the 'Website' module. You first select the destination website (remembering that Yabber is a multi-website system), select the video, populate the various options, and schedule.
The 'Options' tab presents a number of set-and-forget default options that should apply, such as whether a statistical panel is shown (views, likes etc.), whether a link should be included back to the original video, and if a 'subscribe button' should be rendered with YouTube videos. The options panel also includes an SEO option that determines if the canonical URL used in your SEO page markup should reference the video page or the video hosting service (we recommend the former).

Pictured: Manual sending options. When sending a post to your website all the elements of the post are automatically applied and the result is a nicely formatted post. Note that all post options are automatically populated based on the video title and description, allowing you to have a starting point when editing your text. Various website specific options apply, such as the title, text, featured background image, and categories.
We recommend applying a minute of so of care when creating a video post by altering the text a little, applying a few important internal links, and providing appropriate context.
Automatically Sending Videos to Your Website
When you connect Google to Yabber we start archiving your videos immediately, and the same function applies with Wistia videos (albeit a little faster than YouTube thanks to their hooking system). As each new video is identified, and if automation is enabled, that video is simply scheduled to the defined website.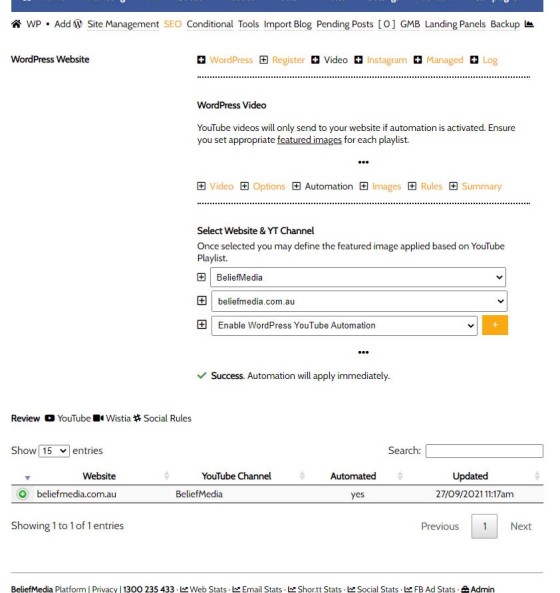 Pictured: The automation panel. Automation can be applied to any number of destination websites (the previous version only permitted automation to a single website, so this is a significant change).
We assign videos with a featured image and website category based on the playlist, and those options are pictured below.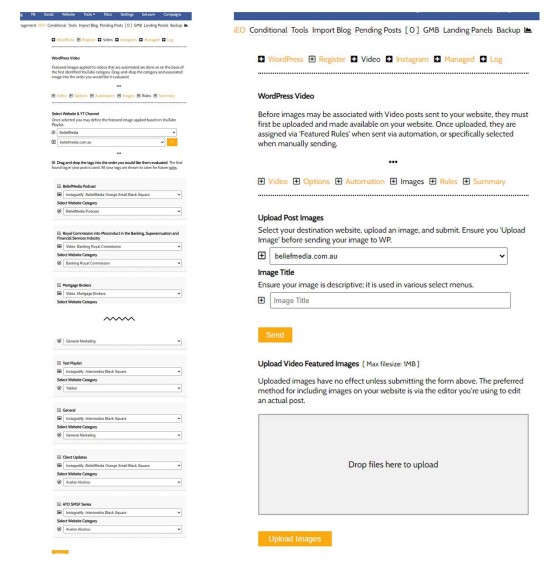 Pictured: When automatically sending videos to any website we're required to know what background image to apply, and what category it should be assigned. These set-and-forget features enable you to maintain a little more control over how your automation is managed. The left image show the image and category assigned to each video playlist, and the right image shows how featured images are managed in Yabber (you must upload them to your website before they can be assigned).
Website Post Management Version 2.0
We've had automated YouTube features for years but it's only recently that we've implemented changes that makes the module more robust. A broker came to us with several hundred of his own articles and we didn't have the user-based capacity for him to upload and schedule those articles himself. What followed was a complete rewrite of the system that drives our article delivery... so the same system is now used for videos, instagram posts, our own article distribution system, landing pages, and all other website content we deliver on your behalf.
New Article Features:
It was the article delivery system that received the most significant overhaul. In the previous version we'd link internally within the article knowing other articles that were submitted before it (thus creating an
internal linking structure
based on submitted articles, and a method you'll only find in Yabber), but we were often unable to do so with actual website pages. However, with the introduction of our newer website system that is littered with
FAQs
(also submitted by us to your website when required) we're now able to provide a far more robust internal
linking structure
which gives 'generic' articles the necessary life to add
conditional funnel
value and
website pathway options
.
A new log table and basic statistics panel is now shown in Yabber that shows all articles of any type sent to your website from any source.
Pictured: The WordPress send log. The log includes a record of any standard article type sent to your website, such as video articles, Instagram posts, FAQ articles, standard blog articles, and other post types. The landing pages sent to your website are managed via a standalone system. The pictured example shows various YouTube videos that were sent to this website.
The table includes various links for editing and reviewing website content.
Conclusion
We support YouTube (and Wistia) in a number of ways, and the website automation described in this article is just one of many features, and it is itself a small component of the broader Yabber system.
Digital marketing should be all-encompassing and automated in a way that reduces the burden from businesses that aren't applying the necessary care to their digital assets on the 'periphery'.
Featured Image:
Commonwealth Bank on the corner of Commercial Street West and Gray Street, Mount Gambier, 1905. The building still stands proudly with only minor external modifications. The most notable change is the covered balcony is now open. [
View Image
]