A short time ago we introduced the Smartnumber API that builds upon our existing (and pending) Smartnumber activities. One of the primary features that comes from using the API is that we build a daily booklet of all available dictionary word Smartnumbers. We exclude patterned numbers and anything from the generic pool; rather, it's just those numbers that have significant dictionary word value.
A branded phone name is up to sixteen times more likely to be remembered in the minds of a consumer, but it's their effectiveness in coupled marketing campaigns where the branded number showcases its value. Smartnumbers are said to convert TV advertising by 5.5 times, radio 14 times, and print media by 6 times. Roy Morgan research has determined that overall the use of a Smart Number will decrease the cost per lead, on average, by 66%. As a digital agency first and foremost, we've invested a great deal into determining how persuasive the simple number might be in digital advertising. Despite the competing messages of bots, on-page chat windows, email programs, landing pages and other similar on-page features, simply marketing your Smartnumber alongside another or integrated with another campaign is still converting more than twice that of programs with a generic number (often up to three times more than advertising that terminates in a mobile number).
Conversion Rate Optimisation is not and was not ever a term exclusive to online activities. While digital marketing is where we see conversions that far exceed results from those that consider themselves our competition, we also place an emphasis on offline opportunities. All touch-points in a funnel should be optimised for best practice conversions.
All of our digital programs include an education component that includes at least one booklet sent each day (usually more) introducing various digital or marketing concepts (all the practices we introduce are followed up with a discussion on implementation). It's on day four of our program where we introduce the Smartnumber and advocate for its use. In the high-trust area of finance in particular - where brokers and financial advisers often use and promote a mobile number - where end-of-funnel conversions are almost always double when a Smartnumber is used. Contact isn't always made via the 1300 or 1800 service, but simply having it adds to our Magic Lantern

model of trust.
Searching for a Smartnumber
Introduction
Searching for a Smartnumber is almost always problematic. Most businesses looking for a 'premium' Smartnumber will search via AMCA's TheNumberingSystem

website by repeatedly polling number after number until they find something suitable. The number they'll land on isn't necessarily the best number available; rather, frustration simply lends itself to settling. Our API seeks to navigate this awkward experience by providing various search facilities that makes finding a number easier.
The Smartnumber Booklet
We've found that many consumers in the market for a Smartnumber are simply in need of a downloadable booklet listing all available dictionary word Smartnumbers... and it's something that the Smartnumber ecosystem has been missing (until now).
Every night we retrieve the most up-to-date AMCA data, process the data and compare every single number against a known dictionary library. We assess the syllable count of words (another factor affecting memorability), determine pricing, and source other relevant data. After we've updated our own database we manufacture a PDF booklet with all dictionary word Smartnumbers listed in alphabetical order, with chapters for 6, 7, 8, 9 and 10 character words.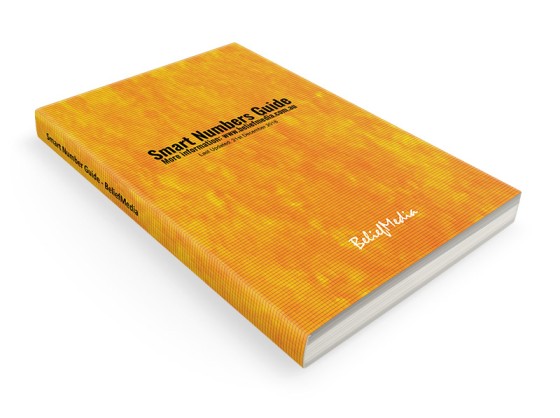 We return all dictionary words in the booklet simply so the reader is aware of what words we've compared against. When we build a more comprehensive dictionary that includes 'urban' language, slang, any neologism (or made-up words), portmanteau words, and blended words, this may not be as necessary.
Each page in the booklets includes Smartnumber details as it relates to each dictionary word. For each dictionary word we show the details of the 1300 and 1800 number, and we indicate availability by highlighting phone numbers in either green (for available 1300 numbers) or orange (for available 1800 numbers).
Dictionary words are listed by length as chapters.
Creation and Validity
Creating a formatted PDF booklet with a couple of thousand pages didn't come without challenges. To manage memory use (in producing the booklet) and to simply make the process a little more efficient we've slowed down creation to a pace that wouldn't compromise other server activity. For this reason, by the time the revised booklet becomes available it's close to 12-hours old. However, we've found that the small number of registrations hasn't compromised the validity of the document in any serious way.
Availability
All clients have immediate access to the booklet from a link available via their WordPress Dashboard. Any other individual wanting access should make contact with us or simply download it from our website when it's made available from time-to-time (it's expected that we'll make it permanently available from late February).
The continued availability of what might be considered 'premium' dictionary words is surprising. If you're interested in learning more, make contact with us and we'll walk you through the entire Smartnumber process from the selection of an appropriate number through to having your phone connected. In some cases you can be assigned a number and have the line connected in a matter of minutes.