What I'm about to describe is the most difficult and drawn-out customer service experience of my life. Over the course of nearly 6-months I spent over 203 hours on the phone, and liaised with over 204 Telstra customer service representatives in order to action a virtual redirections on telephone numbers I'd had reserved with Telstra for well over 25 years.
Belief made the decision last year to change our our primary office landline number to the same number we used with Australian Web Exposure back in the late 1990's. Back in the day we used 02 8765 8886 as a primary inbound number, and 02 8765 8887 was reserved for our facsimile service. Now connected, the former number now inherits the same path as our 1300 235 433 number, and the latter is used for 24-hour support services. There were periods in the last 20 years where those numbers were activated for shorter periods of time but usage was very short-lived, and always associated with a fixed-address connection.
Back in November (after spending well over 150-hours on the phone with their support services) I lodged a complaint with Telstra and I've since followed up on that complaint over 25 times. Nobody from Telstra has made contact with me or acknowledged our grievances in any way. Our compensation claim is clear: we spent around $5000 to have the number reserved over the years (something that probably cost Telstra less than a few dollars), and we reserved the number with the expectation that it'd be made available to us when the reactivation was required. I wouldn't have held the numbers, nor would I have bothered activating them, had I known I'd spent 203 hours of my life trying to resolve the issue.
For many people, the time I've spent talking to Telstra is around 25 standard work days, or just over 5-weeks of full time work spent on the phone. In other words, and for the average office worker, this represents over 20% of every single work day between my first and last call that was devoted to Telstra. The cost Telstra's incompetence has had on me personally, my business, and my time is immeasurable.
At the 3-hour mark I jokingly said to my business partner that I wouldn't be surprised if I hit 5-hours to resolve the issue. Imagine that, I thought - 5 hours! It's at this time I started to create detailed logs of each call thinking it might be a good case study for poor customer service.
Little did I know.
The problem started when I tried to have two telephone ported over to another provider. They were rejected numerous times on the basis of a 'complex port' despite the fact they're standard CAT A numbers.
The first 20-hours of so of my discussion with Telstra (and, initially, via a pointless web chat feature) was spent back-and-forth with their staff continually telling me the numbers were in fact ready for port (of course all applications were subsequently rejected). I eventually spoke to one individual that explained the numbers were held in a legacy system by the name of START that few employees had access to, and fewer understood how to use. So, not releasing the numbers (initially) when the porting request was submitted was simply a result of technical incompetence rather than any other factor, and every rejected application meant I inherited the penalty fees associated with each transfer application.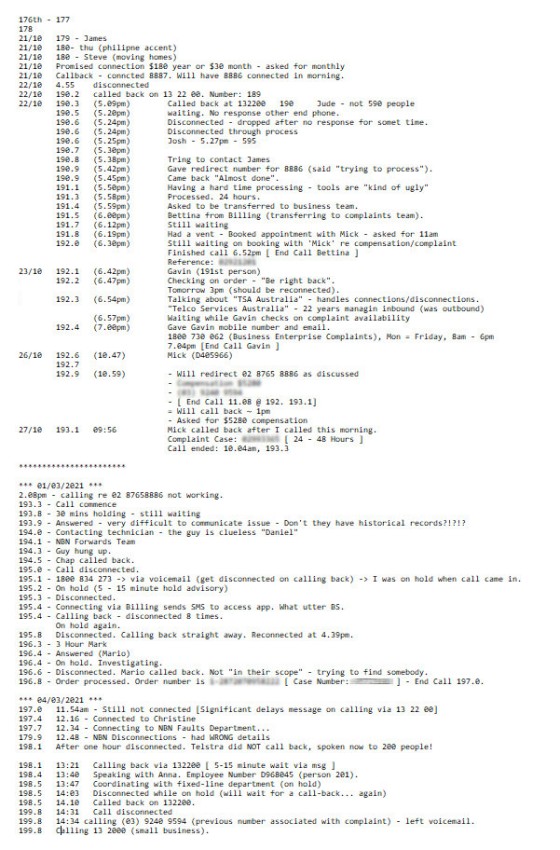 Pictured: Example logs created between the 179 and 199-hour mark. This article is written mid-hold with Telstra as the time we've spent dealing with them has hit the 200.6 hour mark. Update: The issue was resolved at the 203-hour mark.
It should be noted that around the 40-hours mark we opted for a Telstra-based number redirection rather than a port simply because we exhausted our patience trying to actually port them, and each rejected port application imposed a penalty fee. The redirection was simply a means of having the numbers activated so a port would later be approved.
Each call was spent explaining myself over-and-over again with each Telstra customer service representative seemingly starting their investigations from a point of utter ignorance, with the hundreds of notes in their system seemingly ignored. Each customer representative would spend time investigating, putting me on hold, and then promising the case was resolved. In the 15 cases where I was told "we'll call you tomorrow to confirm the numbers were processed", none of the customer service representatives actually called back.
The direct cost to me for simply having these numbers reserved - that is, what I've paid to Telstra - over 23 years amounts to over $5000. For that kind of payment to reserve numbers - which has probably cost Telstra less than a few dollars over the years - is utterly unacceptable. For that money, I'd expect that when the numbers were actually required they'd be released via a single phone call, and I'd certainly expect a pedestrian service such as a redirection actioned within minutes.
This ongoing experience has contributed towards Belief's decision to provide a VOIP-based service as an alternative to using poor big-Telco providers. We're a tech company after all, and our digital marketing system provides a feature to integrate telecommunications data into your marketing programs, so we figured we'd provide a more usable service with exceptional customer service via our own managed product. When we formally launch Jabber you'll find details here. Thank you Telstra for the inspiration; without exposing your broken and incompetent customer service we might have actually continued using your services.
The issue was eventually resolved by a very capable Brisbane-based billing manager by the name of Amanda (Employee number D235820) and a colleague by the name of Jess that shared her office - they were exceptional from the moment I made contact with them. If you ever encounter an issue that cannot be resolved I'd recommend you ask for them specifically.
Telstra was built on the back of our parents and grandparents; the fact that any company would send its support offshore at the expense of Australian-based jobs is absurd (and this is the same rule we apply with processing and support staff in the finance industry). Telstra are in the process of migrating their call centers to Australia but it'll be a long time before they're forgiven for their unpatriotic disregard for local jobs. The cheap and nasty offshore support has introduced a willingness for many to engage with scam callers... so it's companies like Telstra that have introduced a cultural acceptance that permits various types of offshore fraud to take place.
At no time while I was dealing with an offshore center - which equated to around 150 hours - did any representative provide any sort of understanding of my problem. And at no time did any offshore customer service staff return my call, or even call me back after one of the hundreds of disconnections.
If you encounter any issues yourself I'd be happy to talk to you and discuss the various systems Telstra has in place that might be causing you grief.