Given that website and business content is ridiculously important, and since very few brokers assign the necessary time to improve upon their digital footprint, we decided to improve upon Yabber's content modules with a program we're calling Contentus. The Contentus module is a parent module that'll support our existing suite of tools that'll allow you to create, modify, and copy website content quickly and easily.
The first of around a dozen modules we're releasing over the next couple of months is called "Blocks". Blocks are just content blocks on your website that return content as defined in Yabber. The Blocks are rendered on your website by way of an Elementor widgets or via the use of shortcode. Blocks negates the need to log into your website to update any text (although Yabber already provides facilities to update virtually everything), they remove the need to mess around with design, and it instead provides a single container of text or media that, when updated, makes the change on your website wherever that Block is referenced.
The blocks we'll introduce in this article are as follows:
Basic Content Block - a single block of content.
Category Block - a random block from within an assigned category.
Group Block - a random block from within an assigned group.
Interest Block - a random block relating to a specific interest type (or borrowing objective).
Resolved Block - a Conditional block that resolves based on our understanding of the website visitor's borrowing objective (some overlap with the 'Conditional Blocks' module).
What does a content block look like? You're reading a Block now. This paragraph was written in Yabber but shows on your website as standard text. It may be updated at any time in Yabber and any changes made will apply globally on your website. Standard formatting may be applied to text, shortcodes may be used (such as links or any other shortcode your website supports), and it returns as ordinary old content.
While blocks weren't specifically designed to be used in article content it's a perfectly acceptable application (we'll come to their primary purpose in a moment).
The earlier paragraph was created in Yabber as follows:

Pictured: Pictured is a basic content Block. To create a block you select your website, write up some content, and save (the information is saved to your website, and all changes to the block are applied immediately). A 'Primary Category' is selected, and 'Associated Interests' are selected (both of these options will be discussed shortly). The 'Scrollable Block' is introduced in another article.
Blocks are ideal for content, such as video (again, a topic we'll touch on shortly). This paragraph, once again, was written in a block and includes a YouTube video.
The block used to return the video and small snippet of video text is shown below.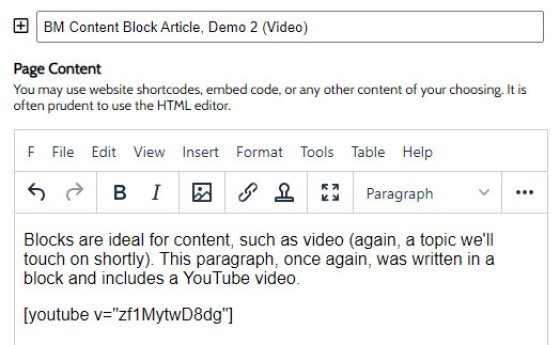 Pictured: Pictured is a content block with a video. The usage of video in content blocks, and how they might improve upon the video strategy applied to blog posts and FAQ pages is introduced shortly.
Category Blocks and Group Blocks
When you create a block on Yabber it is saved to a hidden 'Blocks' archive on your website, and the primary category of the content is assigned as if you were creating a standard post. A Category Block will return a random page from within that category. While we always measure and test the effectiveness of each page to measure its pathway effectiveness, and to resolve the PSR (Page Subscription Ratio), Blocks allow you to measure how different content might impact upon those metrics (essentially allowing you to split-test the effectiveness of page content within a single page). In other cases it might simply allow you to show rotating content in the event of repeat visitation.
Groups of pages share no commonality - they're simply an array of pages grouped together. The content returned is usually random (advanced usage applies but it'll hurt your brain if we introduce the more complex features).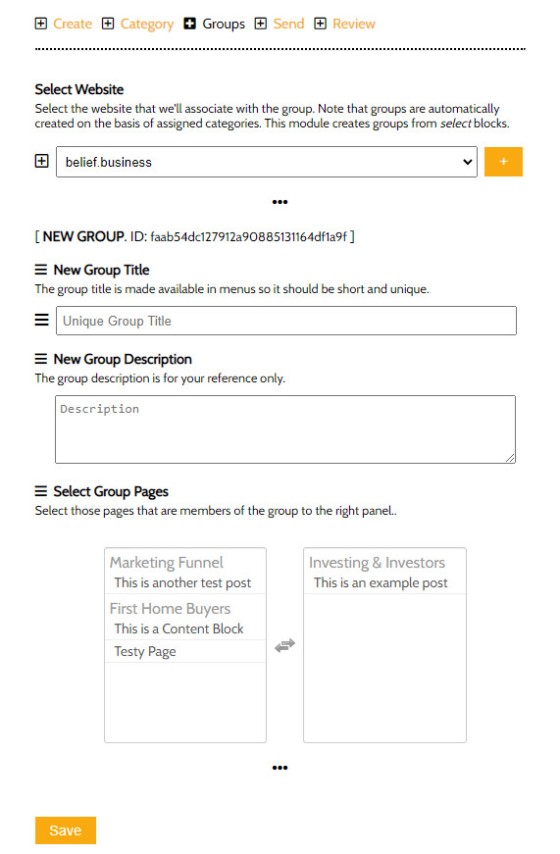 Pictured: Pictured is a content block group (limited pages are shown as it references a demo website). Pages are listed by category but selected in any manner of your choosing. The group of pages can then be referenced on your website to return rotating or random content.
Interest Blocks
When you create a Block you assign 'Interests' in addition to the primary category. These 'Interests' are sourced from our proprietary Conditional Module and are applied to the post as sent to your website as 'Tags', so they're essentially sub-categories that links content on a more granular level. In the same way we might return a random page from a Category Block or Group Block, you may also return a random Block from a collection of 'Interest' pages.
Resolved Interest Blocks
Resolved interest blocks are different to 'Interest Blocks' in that we show content based on the resolved borrowing objective or interest of a specific website user, so the Interest isn't defined - it's resolved. If an Interest cannot be resolved we show a default Block or nothing.
There's clear overlap between the Interest block and the Conditional Blocks, and we introduce the latter in article titled "Show Conditional Content on Your Website Based on Resolved Borrowing Objective or State". Resolved Interest Blocks are just another way of showing relevant user-specific content when it's required.
Blind Blocks and Scrollable Blocks
Two blocks we've scheduled in two standalone articles are the 'Blind Blocks' and 'Scrollable Blocks'. They both return block content in different ways in order to make the information you render on page more dynamic and engaging. The latter block also includes a checkbox redirect that'll redirect the user to another page if a checkbox is selected.
Given that website and business content is ridiculously important, and since very few brokers assign the necessary time to improve upon their digital footprint, we decided to improve upon Yabber's content modules with a program we're calling . The Contentus module is a parent module that'll support our existing suite of tools that'll allow you .. [ ]
Scrollable is a content tool we've introduced as part of our '' module, and downline to Yabber's parent . Scrollable simply allows you to include blocks of content in a scrollable window for those cases where you choose to contain large amounts of text in a smaller contained area. An option to render a checkbox .. [ Learn More ]
In a previous article we introduced Yabber's ' module, and how the system is used as part of your simplified content creation strategy. If you're unfamiliar with the Block concept, and in brief, they're simply a block of content that is created on Yabber and then referenced anywhere on your website. Changes made to the .. [ Learn More ]
For reference, the 'Related Series' shown above is part of the Contentus module and is introduced in an article titled "Revised Related Posts, Downloads, and Videos Module".
Elementor Integration
Despite blocks providing an enhanced content experience in actual posts, the purpose of the Block was to introduce easier-to-edit content panels in various places on your website, and the Elementor integration makes this ridiculously easy to implement yourself.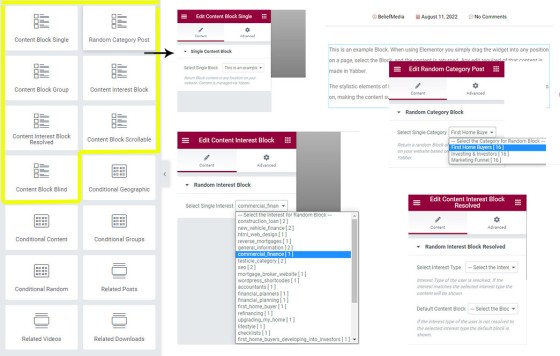 Pictured: Elementor Blocks are dragged and dropped into any position on your website. Content is then updated from Yabber when required. This negates the need to log into your website and navigate what is often a complex design in order to effect immediate content changes. The various Content Widgets made available in Elementor are now listed under their own standalone menu.
The shortcode option is normally most suitable for inline articles.
Considerations
One of the features of Yabber, and facilitated via Yabber, is a mechanism to return content before a post when a user arrives on a specific page via an email, autoresponder email, or other campaign. The issue we faced was the ability to completely customise the experience beyond the 'basics', and given the impact it has upon the PSR we're obligated to improve upon the feature. We cannot push the update immediately that resolves this issue because of the impact it'll have on existing programs, but we will push it, and this is a pending change that clients should be expecting. A similar system called 'InPost' is used to render video or other content above articles, and this module will also be progressively migrated to the new system.
What happens when you manage your marketing yourself and no longer require Yabber? All our integrated systems are designed to scale, and they're all designed with longevity in mind. All content returned to your website will continue to work without a Yabber subscription as we create the content on your website. In fact, the 'Unmanaged' plugin makes the hidden archive visible meaning that you can continue to create Blocks as required.
Errors: Note to Clients. We've picked up on a couple of minor errors in the course of writing this article. The system is in Beta although we expect virtually oll known issues to be resolved by the end of the week. Please report any bugs, and let us know if you'd like any specific features.
Clients should note that some of the tables and graphs in the current Blocks module are in development but should be finalised within days.
Conclusion
Our clients will always see better results than the pedestrian 'solutions' floating around the market, but that doesn't mean that we don't stop improving upon the results that might be returned via our systems. Ignore the charlatans that'll diminish the value of a content or social program - they're usually trying to assign value to their mediocre FB programs.
As mentioned, Blocks are part of the broader Contentus module designed to simplify all aspects of content creation. In the article introducing the primary Contentus creation panels we reinforce the importance of a unique content creation program, and provide working examples of those businesses that see triple-digit organic leads to their operation every single month. We're hoping the new suite of tools provides the motivation to embark on a program that will invariably deliver organic success.
We know - categorically and supported by mountains of evidence we collect every day - that most businesses don't have a clear content creation program in place, and we know that doing so will introduce truck-loads of organic business to your operation, so we're 'hoping' that it's the perceived complexity that is the root cause, and Contentus is designed to mitigate this barrier.
Those that focus on paid article programs (including our own article system), or those that are engaging in paid promotion such as Facebook or Google, aren't exempt from a content obligation - content is a literal fuel that feeds your promoted funnel with the dynamic presence necessary to engage an audience. You don't need good content in place for your website to serve a basic purpose, but it'll drastically improve upon your ROI.
Blocks will fundamentally change the way you approach the creation of content on your website.
Featured Image:
Coloured postcard showing the southbound view along George Street from near the corner of King Street, Sydney, 1901. The Australian Joint Stock Bank (369-373 George St), later the Bank of Commerce and Bank of NSW (with statues, now demolished) is to the right. The Royal Exchange Hotel (396-400 George St) and signage for Lasker & Lasker tailors (404 George St) is at left. Sign for Baker & Rouse (375 George St) and Queen Victoria Markets (QVB) at centre. A policeman is shown on point duty to the bottom of the image. Recent Google Screenshot
here

. Image sourced from City of Sydney Archives. [
View Image
]