Some time back we introduced a relatively obscure module on your website to support learning material and courses. Introduced as a module that was "useless until proven otherwise", it wasn't linked in any serious way because the delivered product didn't include any tutorials or courses. The idea was that the resource might be developed by brokers in their own time in order to support organic and promoted funnels. The problem? Despite our expectations, very few brokers built course material of any kind. Those that did have a content creation program in place obviously saw success, with some promoting their work with extraordinary results. However, most brokers haven't touched the module, and a vast majority of our clients wouldn't know where or how to start. We get it - you're busy and don't have time... so the comments are simply observations in light of an operational reality - they're not intended as criticism in any way. In fact, this reality Is the reason we've committed to building courses as one-click website inclusions.
This article describes the revised format of the education module, and it provides an understanding of what you might expect over coming months. The primary reason for introducing the updates now is because the module supports content other than education material, and the first of these resources is introduced in an article detailing the RBA Policy Archive.
Mortgage Broker Website Framework: The Education module is a very small part of the finance website framework. A more comprehensive introduction to the conversion architecture is introduced in an article titled "Mortgage Broker Website Framework".
Education Module
Brokers are arguably in the education business first and foremost. While it is true that your entire website and broader funnel excursions should lean towards education, this doesn't mean that we shouldn't have purpose-built 'courses' that'll provide more immersive and focused step-by-step guidance on various topics. Expertise and authoritativeness are two core Lantern attributes that contribute towards the trust necessary for a conversion, and courses go a long way in serving this outcome. Remember, a funnel of any kind is orientated around capturing the continued attention of your customer, and one of the necessary components for attention is relevance, and a short relevant course shaped around a specific type of borrowing will objectively improve your results, particularly when none of your competition are making the effort.
Each education page is generally made up of a single page with an accordion panel that links to each page in that series. The pages associated with the course are created as child pages of the primary page, and each page associated with a course are assigned to a unique education category. It's a simple concept... but it works well and is very easy to use.
The education material we manufacture will be sent to your website with the click of a button.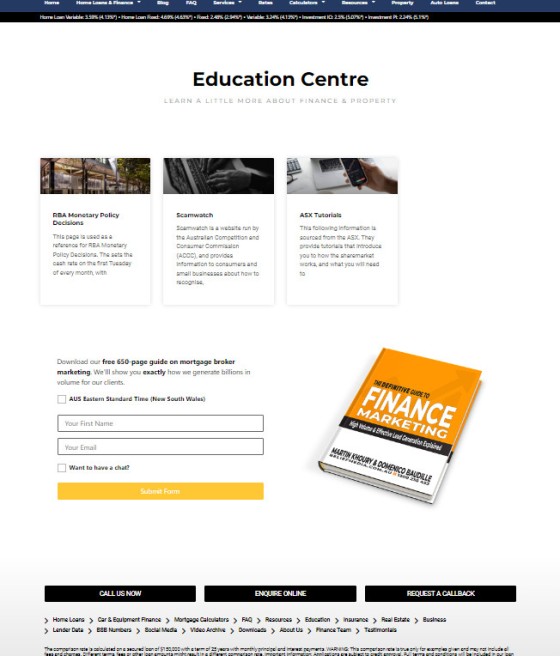 Pictured: The Education archive is currently quite naked. The page shows the parent page, which might be a course or simply an information archive.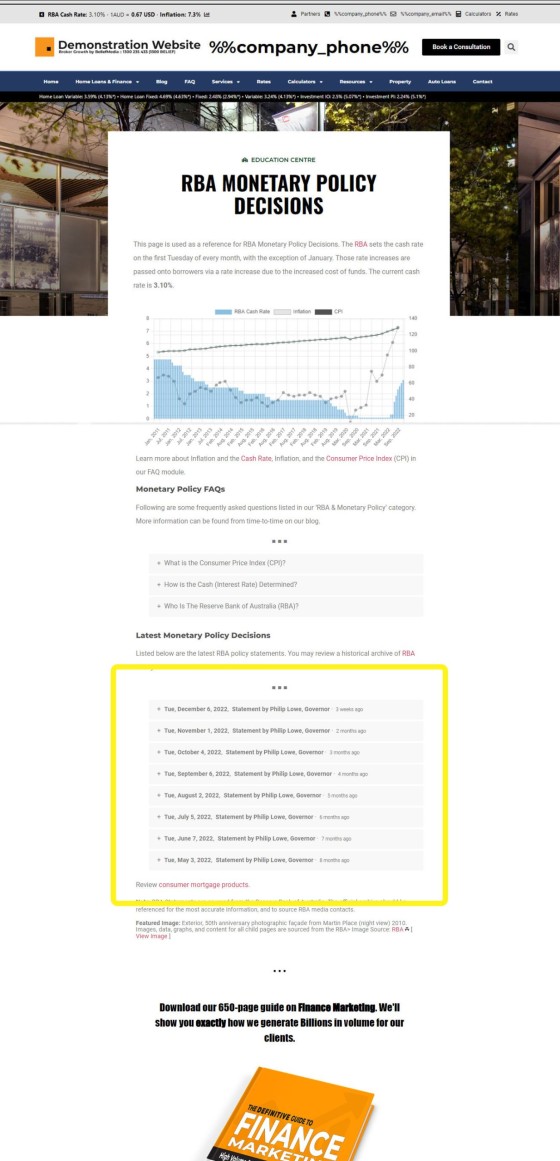 Pictured: The RBA module was created as an information module (not a course). The parent page (in the archive above) links to another single page that provides entry to the child material. The child material will usually be course content, or as shown in the pictured example, RBA Monetary Policy statements. Where the information is suitable as a standalone resource, the creation of a content archive might be appropriate (this was the case with the RBA statements).
The 'Education' module, as the name implies, is more than just courses - it's about broad, relevant information (and the RBA statements fit this category). Many of the 'courses' we package will be general information resources, such as Scamwatch articles and ASX tutorials (both of which are currently listed in Yabber and ready to send). In all cases, sending the information to your website subscribes you to ongoing updates for that specific module.
Sending Courses to Your Website
If your account is enabled for course content, you will find the 'Education' option in the 'Managed' module. To send a compiled course to your website you simply select your website and applicable course, and send. You will be presented with the option to assign a parent page, but in most cases, this won't be necessary (Yabber will create it for you). The parent module will then be listed in the 'Education' archive.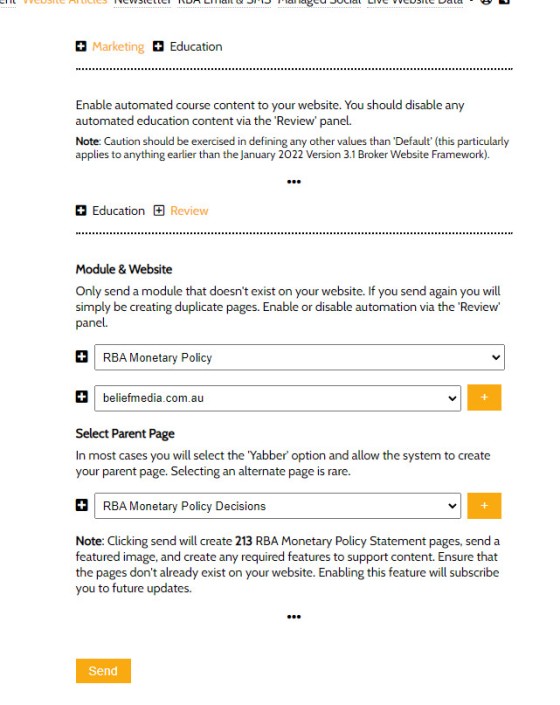 Pictured: If enabled for your account, you will find 'Education' in the 'Managed' module. Shown is the option to send all monetary police statements to your website. Once sent, all future statements will be sent unless you deactivate the subscription. The featured image and other supporting features are sent as each page is updated.
It's worth noting that each page is scheduled a few minutes apart, so packages that include a large number of pages may take a short time to process. The Education module is only made available in Yabber if we verify that you're using the most up-to-date software. All websites delivered after this article is published will usually be shipped with the subscriptions activated by default.
Information Archives
In the case of some content we expect to make available, there may be a requirement to create an archive page, with the archive page showing a paginated resource of all pages. We've used the RBA Monetary Policy statements as an example because it's simply a good resource to share with your clients (and not because it shares similarity with course content in any way), but it also qualifies for an archive page.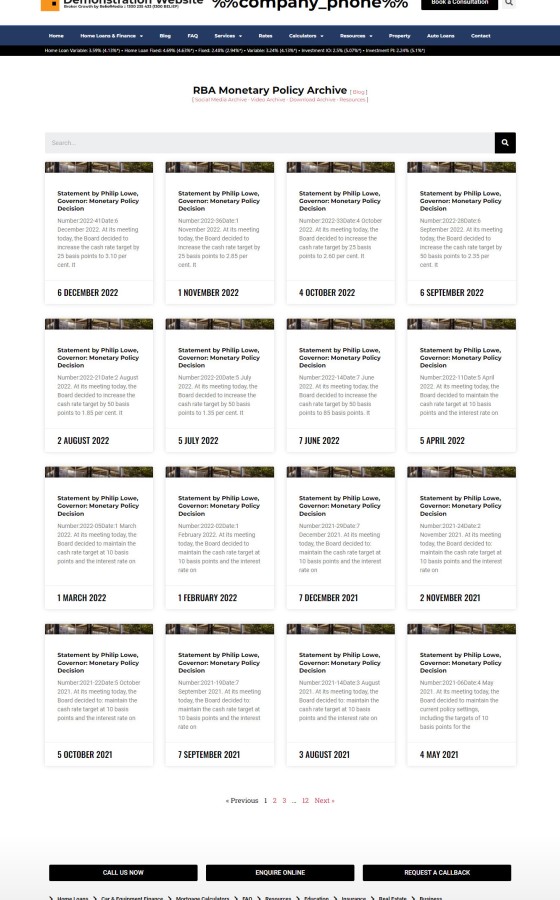 Pictured: The RBA Monetary Policy Archive. The archive shows paginated statements in a format not entirely dissimilar to your blog. The Education module is designed for courses and general information, and it's the latter category that'll normally call for a dedicated browsable resource.
At the time of writing we're looking at other data sources, and many of them will justify their own archive. Generally speaking, we'll create the archive in the 'Resources' module.
Conclusion
Your website has to mean something, and it needs to be packed with the information and resources that many of your potential clients are seeking. While it's true that our clients have utilised education, webinars, and courses for as long as we've served the finance community, the content was generally limited to those that had the internal expertise necessary to build the content, and to others that had the budget to invest in something that didn't necessarily return immediate results.
The content we create for you may obviously be used as part of paid promotion, but the expectation is that most of the content will be freely available (albeit it'll usually be designed to nudge a user into a more formal conversion-based funnel).
Course content will be shaped by those that use the system, and we'll be reaching out to brokers for guidance on what content they would like to be sharing.
Contentus: A short time ago we developed a facility in Yabber called Contentus that makes the creation of courses and FAQs a breeze. Designed to support the Education and FAQ modules, Contentus is simply a tool that allows you drag and drop various objects in Yabber to create a page (an object is simply a page 'component', such as text, video, FAQs, related posts, graphs, or blocks). We dumped an early version of Contentus on a few brokers that had already demonstrated their commitment to content creation, and they saw ridiculously good results. So, it's on the back of these demonstrated results that solidified our commitment to creating courses ourselves (the style, manner, and format of each course is very much an unknown). Contentus isn't available yet to general Yabber subscribers, and it's expected we'll make the module live once we create more course content.
Types of Education Content: We'll create webinar and general videos, and we'll add the videos to our Video Factory so you'll be able to add your logo and perform other functions without editing software. While a little old-school, we expect to provide transcripts so you may record your own voiceovers when required. Other than video, we'll include child pages, FAQs, and introduce inline calculators. As a proof of concept (simply to understand what the experience might look like if assigned to a FHB course) we created some simple videos to demonstrate LVR/LMI, and a longer webinar-style video on debt reduction. Neither is suitable for release but it did prove that the tools we built to support Yabber's one-click facility were crazy easy to use.
Franchise/Aggregator Options: An option is made available for aggregators, franchises, or larger businesses, to manufacture content for their own broker network. These 'courses' are listed alongside those made available in Yabber.
Featured Image:
Commonwealth Bank, corner of Hunter and Newcomen Streets, Newcastle, 1914. Architects: Kent & Massie, designed in a classical revival style. The building was formerly the Commercial Banking Company of Sydney - the tallest in the city at the time it was built. Situated on the corner of Newcomen Street, the property was vacated by Commonwealth Bank in 2014, just months after the bank celebrated 100 years in Newcastle's East End. The building made its way back onto the market this year (2022), just four years after it sold for $7.06 million (pictured
here

on Google Maps in 2022). [
View Image
]