If you provide a dynamic website experience filled with relevant information, resources, education, and guidance, you will inevitably draw far more traffic into your organic and promoted marketing funnels, and ultimately more active clients into your Opportunity pipeline. When you have a digital program of any kind (even if it's just a website) this experience needs to set your business apart from the competition and qualify you as the broker of choice. It's not rocket science: if your digital hand-holding is more compelling and edutainment focused that those that are competing on the same playing field, you will attract more clients into your experience.
As we've stated hundreds of times before, you absolutely need an optimised website experience to attract and convert organic traffic, but one could argue that you might even need your website to perform with more authority if you're engaging in any style of paid promotion. There's massive spillage associated with any paid campaign if you're not providing an integrated experience on your back-end (the email sequence that follows up on a client is never enough)... and if your landing pages are hosted on a third-party service, such as HighLevel or LeadPages, we have bigger business-debilitating issues in play.
Note: If your marketing representation hasn't optimised your website, or dares to host your landing pages on external services, this constitutes professional fraud by our standards.
This article introduces one of the live bank product facilites made available on our standard mortgage broker website. The live and always up-to-date bank data engages your website visitors, assures the return of website traffic, and elevates the authority of your website resource for clients and search engines. Providing information on lender products made available to you via your panel clearly demonstrates you your authoritativeness and industry expertise, and this article introduces one of the live banking features we integrate with our standard mortgage broker website. We use live and always up-to-date bank data everywhere because it creates engagement and provides the information your clients are actually researching.
In the past we've had some brokers express a measure of reluctance when it comes to including live bank data on their website because they felt as though the information undermined their authority, or perhaps created a pathway directly to the banks. While this may be true in very limited or isolated cases, the advantages of this dynamic data absolutely outweighs the perceived disadvantages (millions of monthly page views supports this definitive statement).
There's very clear reason our broker clients go from a trickle of website inquires every year to triple-digit organic leads every single month. We have a very clear understanding of how to build organic traffic, and as such we generally advocate that a website experience should be optimised before considering paid promotion (and we say this despite providing the highest-return Facebook and Google experience in the industry).
The Bank Product Archive
Your accredited banks are defined in Yabber

. Each of these banks is returned to an archive page as active image links, and each of these image links returns a page with the primary products provided by banks.
Unlike the mortgage broker website comparison search engine (currently in the latter stages of development), the archive page doesn't discriminate against certain products. The archive groups products by its parent, so each product page returns the applicable criteria required to qualify for various rates, such as equity, LVR, and so on. In this way we're only returning a small number of products. In contrast, the comparison search engine searches each product based on borrower attributes and filters each grouped product individually (in this way the rates returned apply to each sub-product type).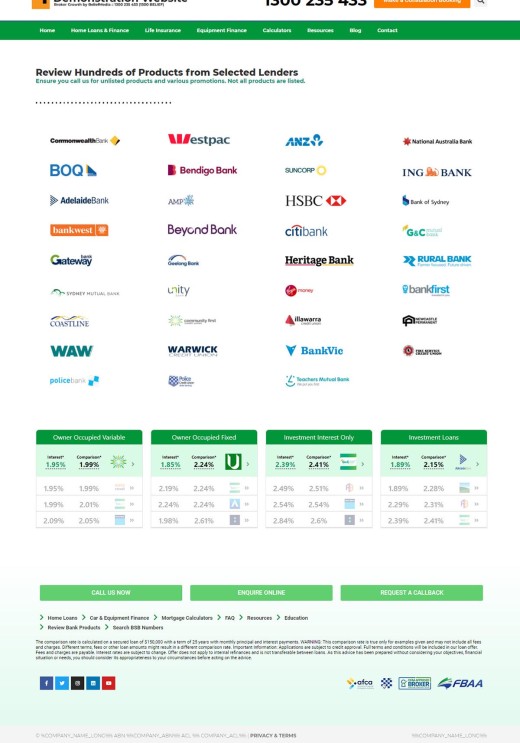 Pictured: The bank product archive. The index shows all banks for which you're accredited defined in Yabber. The bottom panel includes general product widgets showcasing a range of products.
Selecting any bank will return a page populated with top-level product information. We will always display the lowest interest and comparison rate for a particular product type.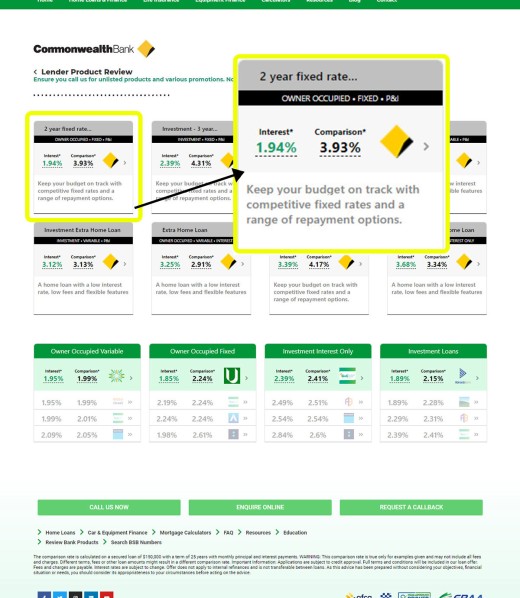 Pictured: The bank product archive. Shown are CommBank products. Note that there are limited options. Under each of these products is an array of sub products, all with their own borrowing criteria, rates, and conditions. Each product panel links to a page with extensive product information. The highlighted product shows the basic data returned, with the thin black panel generally indicating the type of loan product. A tooltip applies to the title, interest rate, and comparison rate.
The product page is extensive and shows all applicable rates based on borrower attributes, circumstances, and borrowing requirements.

Pictured: The bank product page. The clear focus of this page is the call-to-action and lead magnet - we want a client to contact us. For every product type a bank offers (and there may be hundreds of variations), a new page is created. There are a large number of changes we'll introduce to this page so the styling should be considered an early version.
Bank Data is Essential
There was a time when it was cost prohibitive to provide extensive bank-related data, and as such the service was generally only provided to Platinum clients. The live and always up-to-date bank product features described on this page are now a default inclusion in our mortgage broker website.
We have years of data to support our very clear and definitive claim that this information-rich style of website attracts and converts far more clients than any other... and despite providing the leading Facebook program in the industry (where brokers normally flock for lead generation), we're confident that any business that assigns appropriate resources into their organic website, social media, and relationship programs, won't ever need to advertise (you'll end up advertising because you want to grow... and not because you need the business).
Live bank and product data is like throwing gasoline into a fire.
Conclusion
What does our website cost? At the time of writing we're having a special that basically provides you with the full mortgage broker website suite at no cost with an inexpensive Yabber subscription... although it will increase sometime soon. We believe that our website - based on the brokers we inherit from flawed digital representation - is possibly 100X more powerful and useful in terms of the value it provides clients. We've seen basic 10-page 'templated' websites sold for over $3000, and some for $400 per months... and in virtually all cases they provide nothing close to the scope of features that our service provides.
Our marketing service is one that supports holistic digital management, and this just happens to include the industry's most powerful website. Our full feature set is extensive and includes over 120 marketing modules.
Featured Image:
Bank of Australasia, 1890. The Bank of Australasia was an Australian bank in operation from 1835 to 1951. It merged with the Union Bank of Australia to form the Australia and New Zealand Bank on 1st October 1951. Norman Forsyth, insurance salesman, is second from the right. the Forsyth family continue to provide insurance through South Australian-based
Straight Through Insurance
. [
View Image
]