Our method of creating internal links modals, tooltips, images, and other resources is very unique. The most recent addition to the link shortcode - a single shortcode we use to return a vast array of functional links - is conditional tooltips, and this article will introduce what they are, how they work, and how they'll actually contribute towards your understanding of your website traffic. If you're a client that has used the tooltip code in the past, the functionality we're about to introduce requires a rethink of your methodology.
First, what is a tooltip? A tooltip is simply a simple bubble that appears above text when a user hovers over a particular term, such as this 'link'. Our clients have used the [tooltip] shortcode for years to display the dynamic RBA cash rate (for example, 4.35%), on our integrated and trackable text download links, on credit guide links in a website disclaimer, on exchange rate data (for example, US$66.92), and we apply the tooltips to bank data, and just about everywhere else. They're used a lot.
Note:
We talk a lot about conditional features,
conditional content
, and 'escalation of commitment', and if you're unfamiliar with what they are the references might seem a little confusing. We have an article published that provides a broad overview of our
conditional ideology
, and it articulates why conditional features are essential in your digital campaigns. In short, conditional content is a means of understanding our client, and then returning content to a page that they're interested in, or altering the marketing material that they're exposed to in their
interest
-based
marketing funnel
.
Highest Performing Website in the Finance Industry:
The
mortgage broker website framework
we provide clients is the
only
website in the industry designed specifically for the finance industry. It includes over 500 features, including automated SEO, social archives, one-click Facebook experiences, and more. Limited features are introduced in an article that introduces the
basic website framework
, although there's triple-digit articles in our blog that outline the advantage our conversion architecture provides your business.
Tooltip Shortcodes Can Be Confusing:
The plethora of tooltip options can be confusing, so we've recently added a feature that makes all shortcodes easily accessible from the WP content editor, and we've rationalised the use of the
[link]
shortcode, effectively making a
single
shortcode responsible for returning different types of content. The revised use of the
[link]
shortcode is introduced in an article titled "
Reviewing The Revised Link Shortcode
", and the linked post touches on the style of tooltip that is the focus of this article. So, don't worry, adding the necessary tooltips is piece of cake,
First, tooltips are important. They add a dynamic element to your page, add engagement, provide a means of showing 'secondary' text or glossary definitions, and they're an effective way at expanding upon a word or phrase when a modal or in-post 'note' isn't warranted.
It's the tooltip engagement part that is important. Do we want to know when a user actively clicks on a high-value tooltip? In other words, if there's something to be learned from a user or their borrowing objective based on a their interaction with tooltip text, should we know about it? The answer of course, is that of course we do. Any user activity that contributes towards a better understanding of that user must be recorded. In this way we're able to deliver a highly crafted website experience via conditional content... and on the flip side, we're able to definitively determine website traffic and consumer trends, thus we're able to make highly informed decisions around our digital strategy. As we'll come to describe, and not totally unlike our conditional modals, we can even apply triggers to simple tooltip usage - an advantage that comes from a truly unified marketing funnel experience.
Belief's Proprietary Tooltip Module
Introduction
In a previous article we introduced the tooltip shortcode as follows: [tooltip text="This is a Tooltip"]your-term-in-here[/tooltip] (resulting in your-term-in-here). It's a perfectly acceptable means of creating the tooltip, but we've since created an option that allows you to create the tooltip from within the link shortcode. For example, the same tooltip may be created as [link text="This is a Tooltip"]your-term-in-here[/link] with the same results as above.
However, what we've just described isn't enough.
After introducing tooltips some time back we encountered a few issues in the light of operational use. Businesses often found the need to change the tooltip text, or alter a single tooltip block in multiple locations, which usually meant that each occurrence of the tooltip had to be altered individually - a time-wasting exercise. Our solution to this problem was solved via a feature in Yabber where a 'global' tooltip text may be created just once then reference around your site as required. With the change came the functionality that allowed us to measure, track, and react to various on-page interactions... something we always should have done for our standard subscribers.
The older style tooltip will always be available for those cases where tooltip use shouldn't be measured.
The New Tooltip
We don't provide the highest performing digital programs in the finance industry by accident. We work relentlessly with our clients to garnish as much information on our digital campaigns as possible, and this includes the very basic tooltip, or at least those tooltips that you choose to track (you won't necessarily track all of them), or those that may need to be edited globally in the future.
An example. Consider our commitment to PCR data , a term you're probably unfamiliar with because we had to 'invent' to describe the unique way in which we apply conversions assets on every page (hover over the "commitment to PCR data" text and we'll call the terminology response). Not unlike our standard glossary terms, you may optionally 'codify' the tooltip by including the 'codify' attribute in your shortcode. For example, the following tooltip will explain the meaning of our CPM term (perhaps better suited to the standard glossary).
So, why the very short delay when showing data?
Every interaction on your website means something, and it tells us something about the user or their borrowing objective, and any data that assists us in building a digital profile or better understanding absolutely cannot be ignored. With this ideology underpinning even the simplest of website actions, we record that the modal was read, evaluate the interaction for a trigger (discussed shortly), feed the data to BeNet, and try and apply conditional content or a funnel-based course correction (an essential funnel feature if you're engaged with Facebook Advertising, or any kind of SEO/organic endeavours).
Creating Tooltip Glossary Terms
First, we acknowledge that the difference between glossary terms and tooltips can be confusing. In essence, glossary tooltips are automatically applied to selected glossary text every single time your page loads, while tooltips are manually created by you in Yabber and then applied selectively to text.
The tooltip terms are created as follows: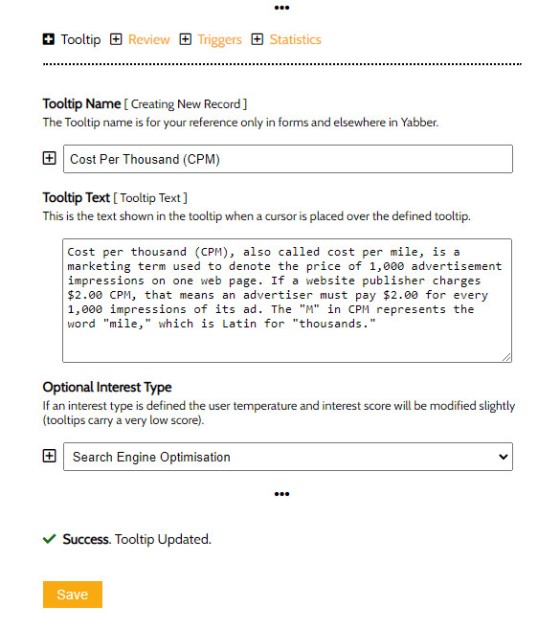 Pictured: Creating a tooltip 'glossary' term in Yabber. Unlike the standard glossary automatically applied to text, the tooltip text can return changing information, and it may be applied to any text of your choosing. The tooltip title is largely irrelevant and used to identify strings of text in various tables.
Note the 'Interest' option under the tooltip text. The optional interest type helps us resolve the objective of the website visitor and feeds BeNet with some information to guide its decision making.
The terms are edited or reviewed via a 'Review' panel. The table displays basic data, including how many times the tooltip was viewed (more detailed statistics are available in the Statistics panel).

Pictured: Reviewing tooltip terms. In the pictured example we're only showing the few tooltips made available on this page, although you may create as many as you like. The number of times each tooltip was tendered is shown for general information purposes.
Including Data on Your Website
Shortcodes can be complicated - we know that. In a scheduled article we introduce the super-simple manner in which all shortcode and content of any type is included on your page without having to remember anything... and there's no way you'll remember how to include all the content your website will deliver. In simple terms, the tooltip is returned via the shortcode of [link glossary="87b75eadd9d918e3e776129efbbec364"]your-text[/link], where the long string of characters in just a reference to your text. It's extremely easy to use.
Interaction Statistics
We're a very data-driven company. This doesn't mean that we focus on data exclusively, nor does it mean that the data compromises our various creative endeavours - what it means is that we understand our audience, we're able to automatically detect and then course-correct a user based on resolved borrowing objectives, and we're able to measure our marketing results at the granular level. This all means that we're able to work on those areas that perform better than others in order to return a greasier nested funnel and more conversions.
The revised tooltip and modal system provides yet another means of extracting activity data from an individual user. Each time a user hovers over a tooltip or clicks on a modal link we record that interaction and feed our classifier engine with more information on a user.
At the time of writing we're a few days away from showing interaction statistics, and this is the single issue that has held back our most recent plugin update.
Tooltip Triggers
Triggers can be a scary thing for a client, so we'd encourage discretion. Not unlike standard link triggers and web view triggers (just two of over 50 triggers available from within Yabber), we attach triggers to tooltip views (we do so on links, so why not tooltips?). The reality is that we learn very little about a user on the basis of a tooltip view... but we do learn something, and that's the point. For certain types of tooltips you may justify a trigger, and the basic trigger options are shown below.

Pictured: Example tooltip triggers. First, select your website and tooltip, then the page for which the trigger will applpy, and then apply the triggers.
Tooltip triggers can apply to all occurrences of the tooltip, or just the tooltip on a particular page. Triggers are limited to a client SMS, email, or email change. BeNet ingests all the data and this is returned to you via the conditional module.
Considerations
General considerations, and information for clients is as follows:
We're expecting to push this feature into Version 0.8.3.11 of the BM Yabber plugin on Sunday 7th August.
Mention of conditional content has been made in this article. If you're interested in how and why our broader digital experience is fundamentally different from the pedestrian solutions made available to the industry, we have an article titled "Progressive Disclosure, Relevant Disclosure, Choice Architecture, and Your Conditional Marketing Funnel" that introduces conditional methodology in brief (with another that examines the purpose of an "Interest Type"). Another article introduces conditional content in a little more details, and we've scheduled an article to review the hundred of so conditional touch-points. Dozens of other articles introduce various parts of the conditional marketing tools that underpins your high conversion rate.
Conclusion
Why does a company that specialises in the highest performing lead generation apply effort into the website experience? We hear this a lot. The answer is that your website is the centre of your marketing efforts, and all potential leads bounce off the experience in one way or another, and in order to set yourself apart you have to be bigger and better experience than your competitors, and you must provide a crafted funnel journey. Further, you need a website that is structured to support organic traffic via SEO and other means, and our experience is the only funnel-centric product in the industry that serves this primary conversion-focused objective.
If you're paying for leads, you're experiencing something that introduces technical debt and mediocrity to your operation. Call us and we'll show you how we can multiply your results by up to 50X when compared against the leadgen crowd (we're still the most competitively priced product in the market despite providing far more value).
Featured Image:
The Commonwealth Bank, 681 George St., 1958, shown behind the tram turning North into George Street. The M. Myer & Son store (744 George St) at left, and the Ultimo Power Station is seen in distance. The building is now occupied by the Bank of China. The current Bank of China premises with a similar perspective, sourced from Google Maps, can be viewed
here
. [
View Image
]