Mainstream support for Windows 8 ended on January 9, 2018, and extended support will continue until January 10, 2023. Windows 7 support, however, was retired entirely on on January 14, 2020, making it far more vulnerable to security exploits. When Windows 10 was introduced on the 29th July 2015 Microsoft provided a free upgrade to existing Windows users although that offer seemingly expired on July 30, 2016. Fast forward to today and we're looking down the barrel of yet another upgrade into Windows 11 (released August 29, 2020).
I was one of those peanuts that upgraded and then uninstalled W10 just as quickly. I don't like upgrading at the best of times because of the conflicts that invariably cost me hours of troubleshooting, and my former upgrade presented an array of conflicts I just didn't want to deal with. I reverted back to Windows 8.1 within hours of the initial Windows 10 installation where I've enjoyed a relatively pain-free PC life ever since.
Enter Adobe's Creative Cloud.
I installed Adobe Creative Cloud about 18-months ago (after using The Master Collection for as long as I can remember). The problem: Adobe only provides significant product support to Windows 10 users. Additionally, having the reminiscence of the Master Collection on my PC introduced issues into their licencing system that prevented access to the software more often that it enabled it (make no mistake, the 'cloud' part of the Adobe system is used almost exclusively for licencing and introduces a layer of complexity into the software suite that simply enables them to cash in on the month-to-month subscription model).
Enter Windows 10.
Microsoft sells Windows 10 for anywhere between $225.00 and 525.00 on their Australian website (depending upon the version, and still far more than our US brethren are paying) although it appears that the free download previously offered still works. That is, most users still have access to the Windows 10 operating system upgrade for free, with the upgrade resulting in a fully licenced version of Windows 10.
We suspect that Microsoft is fully aware of the feature and has left the tool available as a result of their obligation in the fine print somewhere... although we really don't know. Because the download isn't formally sanctioned or promoted by Microsoft we can only assume that if the continued availability was in error they're in a position to disable or forcibly roll back the software at any time, although in doing so they'll do irreparable brand damage that just isn't worth it. At the time of writing the upgrade is an option that simply works (for the majority of people, anyhow).
Instructions
1. Navigate your way to Windows 10 Upgrade Page

and click on the 'Download tool now' button.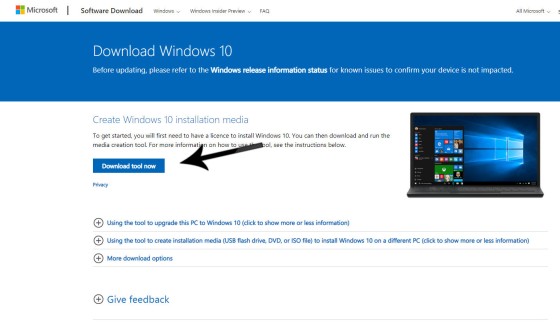 2. Run the software and follow the prompts to download the software. At least 8 gigabytes of space is required for the installation.