The testimonial module is the most versatile in the finance (or any other) industry. We suggest you use it and take full advantage of the system. The Testimonial module will perform the following functions:
Automatically pull reviews, testimonials, and recommendations from a growing list of services.
The system will publish each review to all of your websites based on filtering rules.
Each testimonial on each website will be associated with its own featured image.
Enable you to selectively publish testimonials to your website and/or websites.
You may create lists of testimonials (these are groups that may be assigned to various website locations).
Lists or testimonials may be published to various locations on your website.
All testimonials are published to images for use on social media. The images are sent to your 'Vista' social media calendar.
Full platform and aggregated statistics is maintained.
A number of stylistic options may be applied.
Webhooks to send newly arrived testimonials to other platforms.
The module includes a full-featured Elementor drag-and-drop widget that fully integrates with Yabber.
The large number of options tends to imply complexity, although the opposite is true. Default values are applied in almost all cases, and the process of assigning testimonial blocks takes no more than a minute.
The result on your website is a full SEO-hungry archive of testimonial posts, with each testimonial published as a post within the 'Testimonial' archive.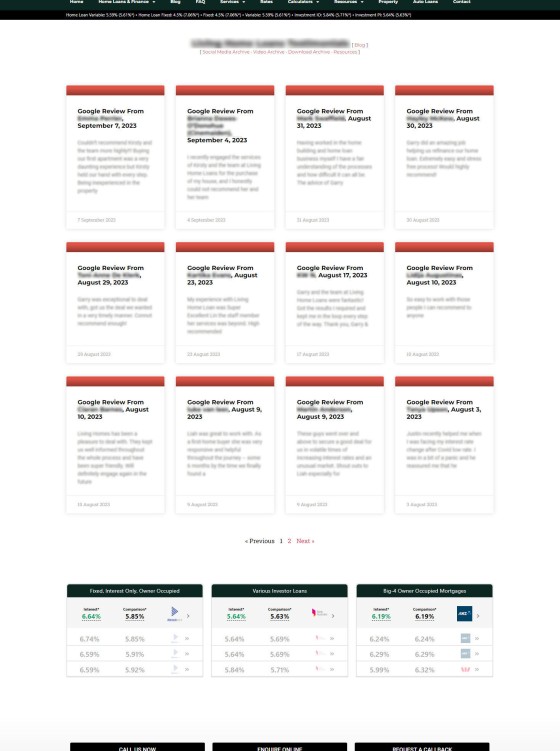 Pictured: The result of the full testimonial archive. Those testimonials published to your website are selected by you in Yabber - we obviously don't show all results.
The result of a single testimonial is as follows: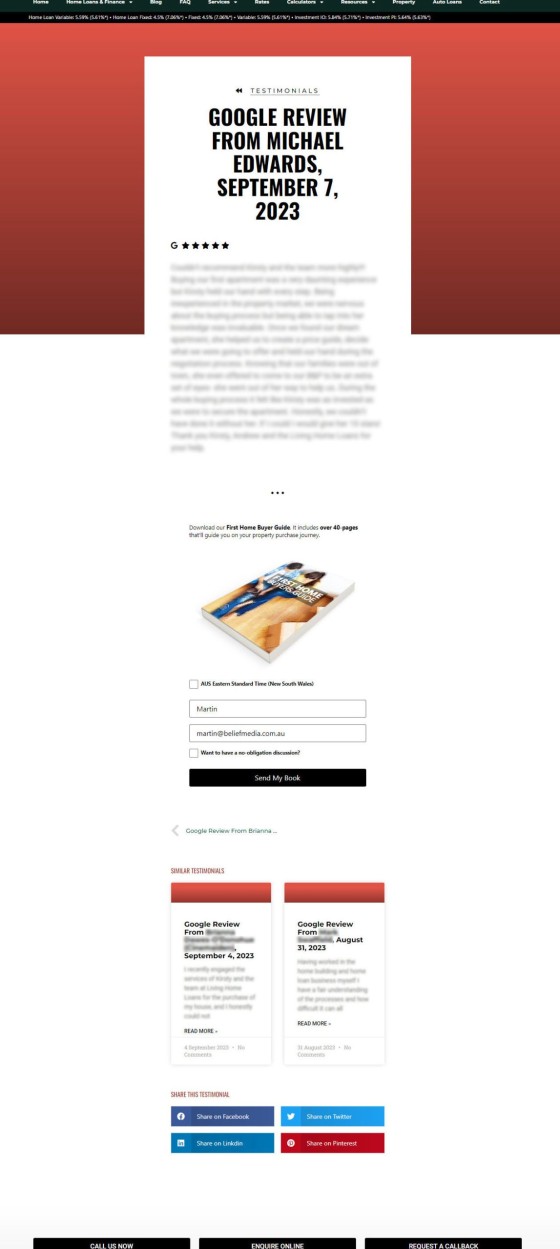 Pictured: The result of a full single testimonial (each of the testimonials shown in the archive will have its own page). An optional video may be assigned in Yabber.
The result of a slider on your website may present as follows:
Pictured: The testimonial slider is shown in multiple locations, usually showing different testimonials. The image shown is usually that of the platform where the testimonial originated.
The Testimonial Module is made up of a number of FAQs.
Connect to Google and Facebook
To start, you should initially connect to Google and Facebook. Note that Google Verification is required before your testimonials will be made available.
Next Steps
The following steps should be taken to define the set-and-forget system.
For testimonial images to be sent to your Vista Social Media Calendar, the calendar must be connected. If you're no longer using Yabber, or if you enjoy playing with the design of your website, you may review the Elementor block.
Upgrading from Older Website Frameworks
If you are required to update your website framework to support the Testimonials module, instructions may be found in an FAQ titled "How to Add the Updated Testimonial Modules to a Website for Older Frameworks". This is not required for managed clients.
■ ■ ■
Related Testimonial FAQs
Related FAQs and features relating to the Testimonial Module.
Related Front Page FAQs
The testimonial is shown on the front page, so related front page FAQs and shown as a reference.