In an FAQ titled How to Update the 'Every Page' Compliance Footer and Disclaimer we described how to add or alter the General Disclaimer at the bottom of every page. This area includes your general disclaimer, Licencing details, ACL or Credit Rep attributes, or anything else your parent ACL holder deems necessary. That same article showed how to include an always up-to-date, fully trackable, and trigger-ready Credit Guide link as part of that footer. In this article we'll look at how to render the same Credit Guide link anywhere.
The Credit Guide is referenced in a number of places for a number of reasons, and the number of your competitors that have an out-of-date or broken link to their guide is rather alarming. Your Credit Guide was uploaded to the standard File Manager and the specific document was defined when you sent your General Disclaimer to your website. The actions just described are required before you may render a Credit Guide link.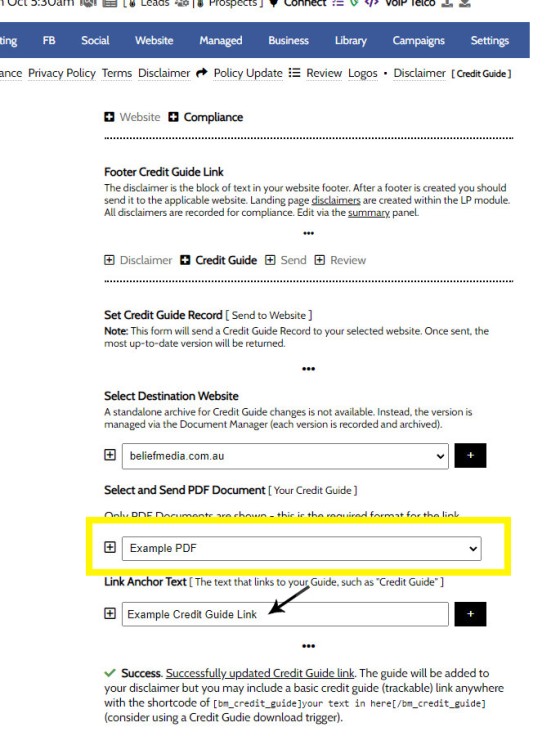 Pictured: A panel in the Compliance module allows you to define your Credit Guide so it may be attached to your every-page general disclaimer in the footer. This action is required before the Credit Guide link may be used. Once sent, however, it is always up-to-date.
The link formatting itself is simple: [bm_credit_guide]Download Credit Guide[/bm_credit_guide]. The 'Download Credit Guide' is obviously replaced with anything you like. The result: Download Credit Guide. Note that when you mouse over the Guide the returned tooltip shows the last update time.
When a user downloads the guide it is fully tracked to the user level, and detailed statistics are maintained. If we don't identify the user until 'later', their past interactions are associated with their identify. Various Download Triggers may now be optionally applied as if it were any other document served to your website.
■ ■ ■
Related Linking FAQs
Related Linking FAQs. Includes 'Series' blocks.
Related Compliance FAQs
Related FAQs and features relating to mortgage broker compliance. Compliance is a broad topic that tends to touch most modules, so only primary compliance modules are shown.