Most of Belief's WordPress plugins are made available to clients only within Yabber

. Those plugins listed in our archive are generally available for free or with the use of an API Key (as detailed below, the assignment of a free API Key is automated when registering the 'BeliefMedia Core' plugin).
Several hundred website plugins may be migrated across as we move to our new format. In doing so, plugins will no longer be listed on the legacy Codex.
■ ■ ■
Installing a WordPress Plugin
Step 1. Click "Add New" from your WordPress administration dashboard.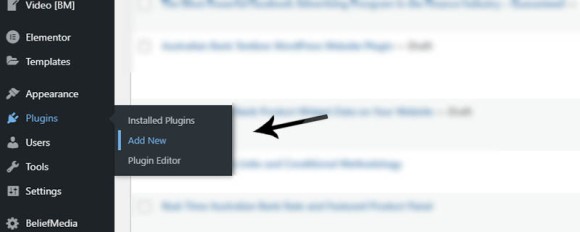 Step 2. Click "Upload Plugin" from your WordPress administration dashboard.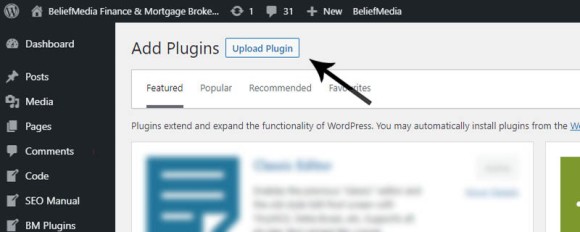 Step 3. Choose the zip file you downloaded from Belief's website and click "Install Now". Wait a short time while it uploads.

Step 4. Activate the plugin. You may have to navigate back to your plugins menu if the option isn't made available to you.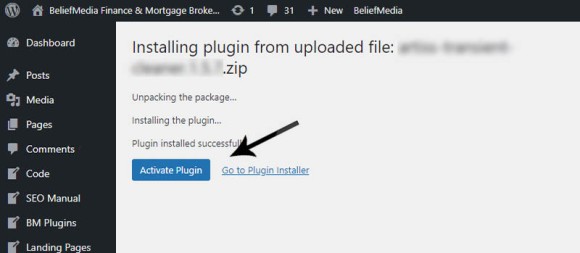 Plugin Updates
When a new version of a plugin is released you'll see an update link from within your WordPress plugin dashboard. This will update the plugin from Belief's own plugin repository.

Continued updates is predicated on having the 'BeliefMedia Core' plugin installed.
API Key Registration
Most of our finance-related website plugins requires an API key and this is automated via activation of the BeliefMedia Core plugin. If you do not wish to register please do not install this or any other of our complimentary plugins. Our privacy, terms, and protection statement should be consulted if you have any questions.