Website front page primary CTA text is defined in the 'Front Page' module within Yabber. Select the 'CTA' option, select your website, and define the text you wish to show on your website. Any submitted changes are immediately applied on your website.
Related Website Article: "Managing Front Page Website Content Within Yabber".
First, a look at the primary text blocks on the front page. Ignore the aesthetics - it's a demonstration website with styling you'd never see on a production website.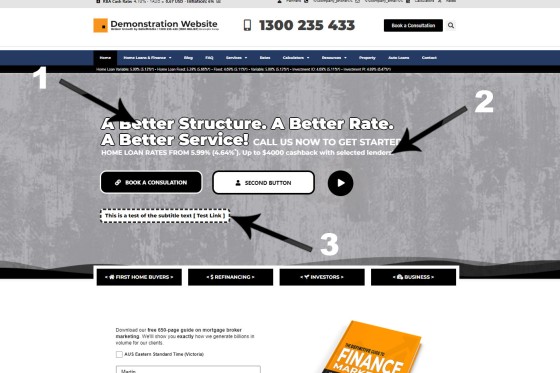 Pictured: A crude example of the primary call-to-action text blocks on the website entry page. Yhe lower block in particular (also known as the 'Subtitle'), is rarely used, and if it is used, it is usually styles in a more appropriate manner.
Pictured are three blocks of text:
1. Primary Title (two parts). The primary text defaults to 'A Better Structure. A Better Rate. A Better Service!'. The second part of the primary title normally defaults to 'CALL US NOW TO GET STARTED!'.
2. Second Line Block. The second line of text is an optional single sentence applied under your larger call-to-action. A smaller font size is used - usually around 18 pixels, and it will normally include rate placeholders.

3. Subtitle. The subtitle text is applied differently in various website framework versions. The advanced options apply only to Version 4 and above. The subtitle may be styled with an array of options.
From within Yabber, and after selecting your target website, the following panel will be shown:

Pictured: From within Yabber, and after selecting your target website, the pictured panel will be shown. A largo number of stylistic, text, and placeholder options apply.
Despite the number of options (making it look far more complex than it actually is), default options will usually apply.
Any changes are submitted to your website and become effective immediately.
Conditional Options
You may create different titles for different interest types, so as borrowing objective is resolved, different messages will show to those siloed groups.
Conditional filters are an advanced option.
Rate Placeholders
Virtually all text of all types is evaluated for the 'Lowest Rate of Type' placeholder, and tehse placeholders are available from the 'Placeholder' menu (they're listed for convenience but you'll also find them in the 'Lender Data' module.
■ ■ ■
Related Front Page FAQs
Related FAQs and features relating to your website front page.
Related Website FAQs
Related website FAQs and features.