There are two primary buttons made available in the top-fold primary CTA panel. These two buttons are styled to your liking and link to one or more of your Yabber assets. We recommend using both buttons.
The Result
The result of the two front page buttons - n our case styled in black and white - present as follows:
Pictured: Two primary CYA Buttons. In most cases, at least one button will be styled to be consistent with your own branding. A black and white button tends to attract attention.
You may optionally exclude buttons entirely, but we recommend you use them.
Creating Buttons
Creating buttons is made via the 'Front Page' module within the 'Website' module. Buttons are listed as 'B1' and 'B2' (left and right, respectively). The button creation panel presents as follows:

Pictured: Buttons are listed as 'B1' and 'B2' (left and right, respectively). A large number of stylistics options apply.
Button Targets
Yabber is a fully integrated system, so to link the button to any resource requires that you simply select it from a select menu. This is very useful in supporting your agile workflows. As you need to update a link, you simply change it.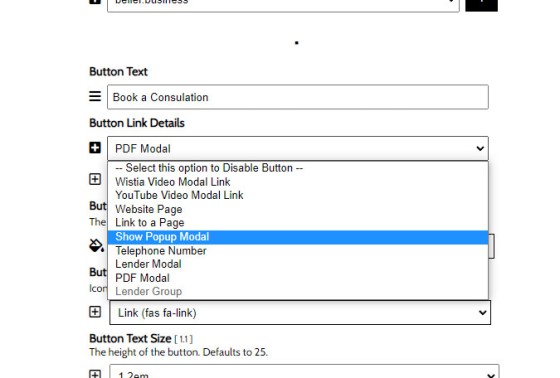 Pictured: Buttons link to a large number of Yabber resources - you'll never have to copy and paste any code or text like a caveman.
The button module integrates with a large number of other systems, meaning that you simply select where you want to link the button, and what resource you would like to return.
See the FAQ on the front page 'Video Button'.
Conditional Options
You may create different buttons for different interest types, so as borrowing objective is resolved, different buttons and targets will show to those siloed groups.
Conditional filters are an advanced option.
■ ■ ■
Related Front Page FAQs
Related FAQs and features relating to your website front page.
Related Website FAQs
Related website FAQs and features.