Your primary and other website phone numbers are all included on your website with dynamic shortcode. Any phone number registered in Yabber will be available on your website in any location, and it may be updated at any time. This includes the phone number in your primary website header.
Numbers are updated globally, meaning that single change in Yabber impacts all occurrences of a number on your website.
Registering a Phone Number
Registering a phone number in Yabber makes it available on your website and in Yabber forms and menus. It must first be created in Yabber via the telephone icon () within the Website 'Front Page' module (it's in the front page module, but the numbers may be referenced anywhere).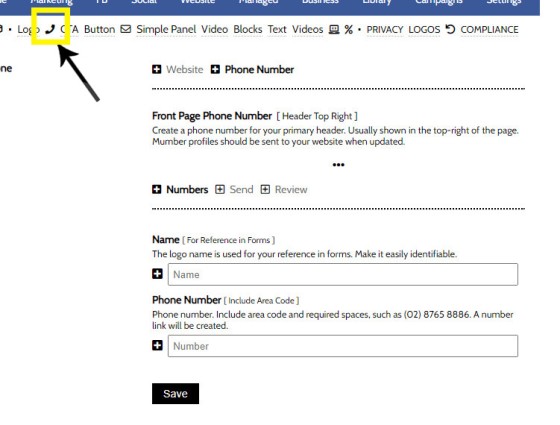 You may register as many phone numbers as required.
Updating Website Records
Yabber is a multi-website system, so you'll have to update website records once new numbers are created. Select the 'Send' panel, select your website, and send. The number selected as 'Primary' will be used in the header as your primary phone number.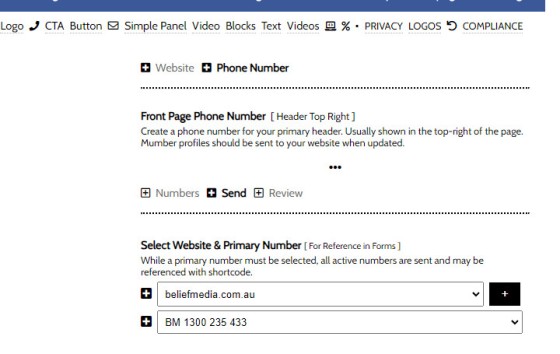 Once sent, any changes made to any number will be reflected on your website.
Review Tables
You may review all your created numbers via the 'Review' panel. Select the 'Edit' icon to update any existing number.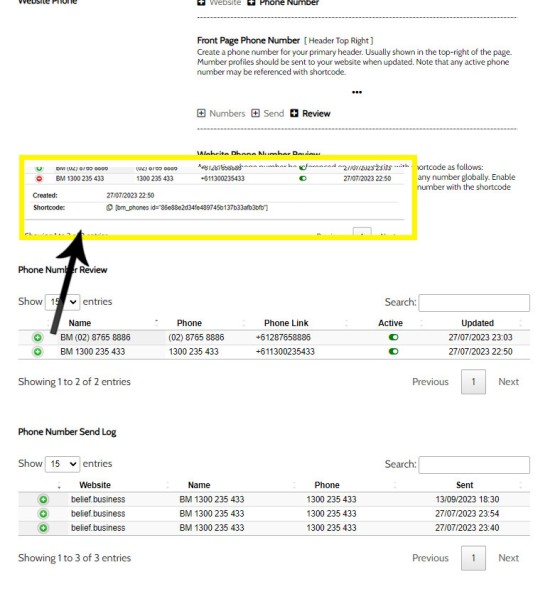 Open the table panel to retrieve the shortcode necessary to render phone numbers on your website.
Phone Number Shortcode
In the table above, the highlighted inset shows the expanded panel that reveals the shortcode necessary to return the phone number to your post or page (shown below).

In this case, the shortcode of [bm_phone id="86e88e2d34fe489745b137b33afb3bfb" text="yes"] returns 1300 235 433 - not that it's a fully formatted telephone text link. By default, and without the text="yes" attribute, the result is as follows:
If you want to get fancy, the shortcode accepts various attributes to alter style, and these are listed below.
Shortcode Attributes
Shortcode attributes are reserved for advanced users. Attributes passed to the shortcode will alter the returned phone number link. Available attributes are as follows:
id
By default, the value is 'default', and the number referenced will return the primary numbers submitted to your website. Without including an ID in our shortcode, such as
[bm_phone text="yes"]
, the number reutrned is
1300 235 433
.
text
Text is set to 'yes' if we wish to include a string of standard text.
font_family
By default, the font used is 'Montserrat. Alter as required (assuming the font is supported).
font_weight
When a non-text number is returned, the font weight defaults to 900 (dark).
font_size
When a non-text number is returned, the font size defaults to 44ox.
color
the colour of the font. Defaults to #3F3F3F.
color_link
Generally a reserved attribute. Relates to the colour of the link. Defaults to #3F3F3F.
Shortcode usage is generally reserved for advanced users.
Header Phone Number
As mentioned, the phone number in your website header defaults to the primary phone numbers sent when updating website data.
■ ■ ■
Related Front Page FAQs
Related FAQs and features relating to your website front page.
Related Website FAQs
Related website FAQs and features.