If you are asked to assign access to your Facebook Ad account, you should complete the following steps. Note that managed clients do not need to update as described - all advertising management is hosted locally (and created) in Yabber.
Note that Facebook changes its workflow often. What is pictured may not match the screen you're shown.
You are required to create an Ads Manager account and supply relevant payment methods.
■ ■ ■
1. Business.Facebok
Navigate your way to business.facebook.com

. We're assuming that you have already created an ad account (we likely did this with you).
2. Select 'All Tools'
Select the 'All Tools' option from the left menu.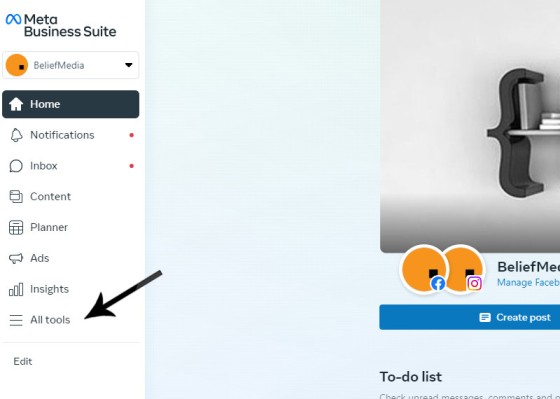 3. Select 'Settings' under the 'Manage' Title
Select 'Settings' under the 'Manage' heading.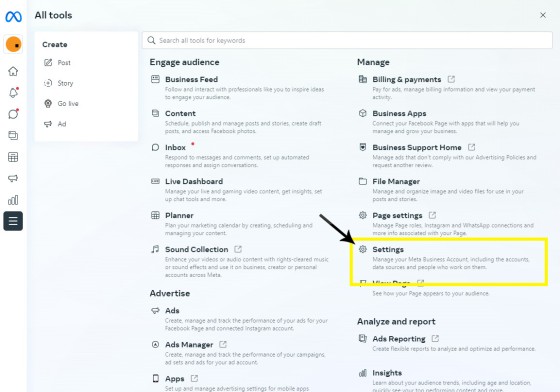 4. Select 'Partners'
Select the 'Partners' option as pictured.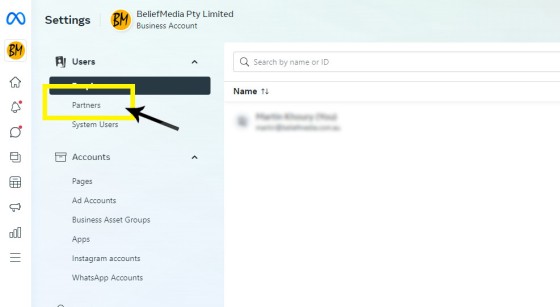 5. Click 'Add' under 'Partner to share assets with'
This screen will be presented differently for different users, but the primary action type should exist on the page. the option will say something similar to 'Partner to share assets with'. Yuu will be sharing page and ad account assets.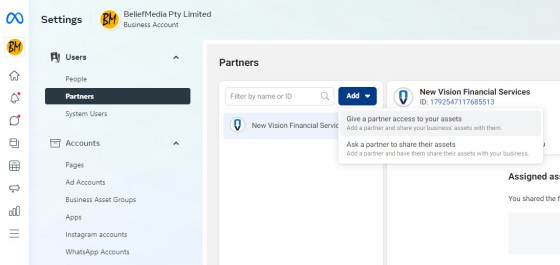 6. Share to BeliefMedia Business ID
Ass the BeliefMedia Business ID as supplied to you.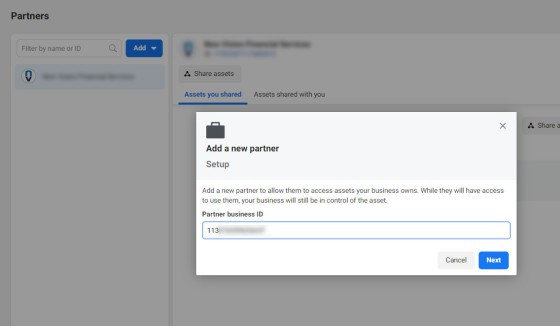 7. Assign Page Permissions
First, you will be required to share page permissions. Most of this is managed in Yabber, but in order to access your pages directly, and to have the page available to us when we manage your ads, you should initially assign all permissions (all permissions you assign will and can be revoked later).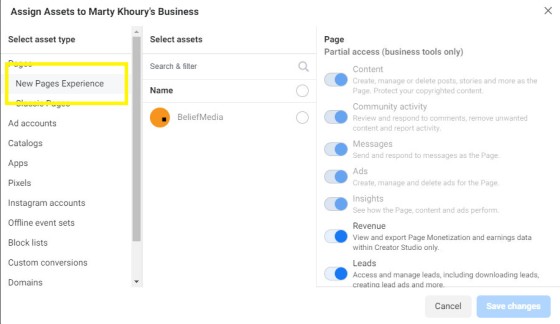 8. Assign Ad Accounts Permissions
You will be required to share ad account permissions. This is required so we can create and manage ads on your behalf. Again, most of this is available in Yabber, but the permissions are required when we access your account directly. Select 'BeliefMedia' and Assign all permissions (all permissions you assign will and can be revoked later).
Alternate Method
In some cases we may ask you complete the following:
Navigate to adsmanager.facebook

. Click on 'Add People'.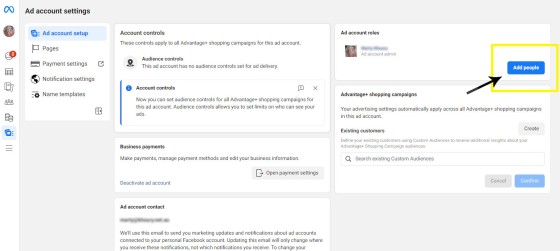 This requires that we're 'friends' on Facebook. You may add us as 'Administrators'.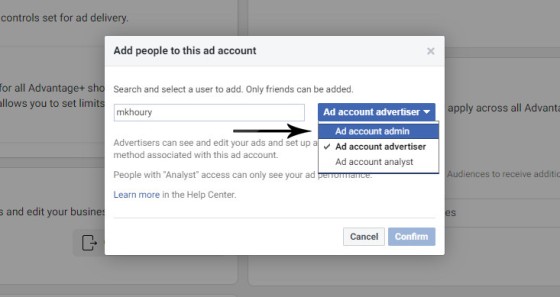 We will be assigned the appropriate role. This method is less preferred than the above, but it is occasionally required.
More information: Facebook

.
Next Steps
We will be notified that you have assigned assets to our Business ID. If campaigns are required to be created, and if all assets were correctly assigned, we now the capacity to build these for you.
Related FAQs
Related FAQs and features.
Related Website Articles
Related website articles.