The Vista Social Media Calendar is an essential component of a number of social and managed programs. The calndar is a function of integration with Microsoft systems, and it enables a level of control and integration that will empower your business in ways that'll make your competitors fuzzy little heads explode.
Important: Creating a calendar requires that your business Microsoft Azure application is created. The application creating is part of early onboarding, and the Social Media calendar is an early action taken before assigning your business to automated content programs.
Creating the Social Calendar
Creating your Vista calendar is often easier in the web-based version of Outlook. Log into Outlook

using the primary MS365 email you have registered to Yabber. Open up the calendar panels and locate the 'Add Calendar' option.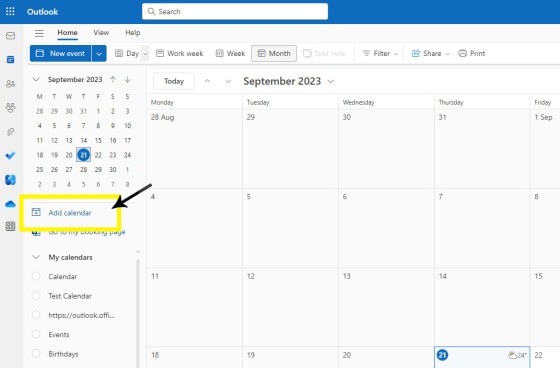 Pictured: The option to 'Add Calendar' in Outlook. If you're accessing the page on an Apple computer, the screen may present a little differently.
Click 'Add Calendar'.
A modal options panel will be returned. Select the menu option called 'Add Blank Calendar'.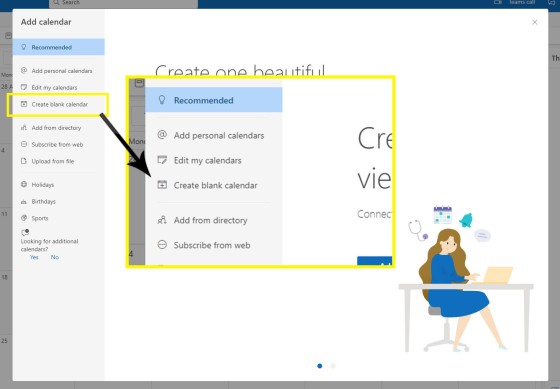 Pictured: A modal options panel will be returned. Select the menu option called 'Add Blank Calendar'.
Create a calendar called "Social Media" under the 'My Calendar' option (default). It must be two works, and the first letter of each work must be upper-case.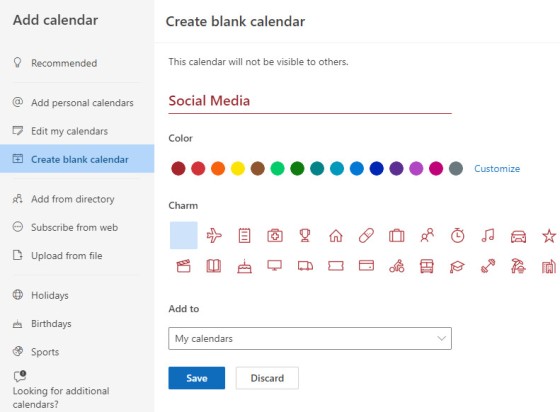 Pictured: The Vista Social Media calendar. You may optionally select a colour and icon. The calendar must be called 'Social Media' (exactly as shown).
Click 'Save'. Close the window.
Registering Vista in Yabber
The calendar is now created but Yabber does not yet know it exists. We must now reconnect to Yabber in order to update our calendar options.

Pictured: Connect to your Microsoft application. This will update all Microsoft connectivity and assets, including calendars.
We should now connect the Social Media calendar to Yabber. The easiest way of locating Vista is via the 'V' icon in the header, although you may also access via the Social Media panel. The entry page to Vista will show connectivity.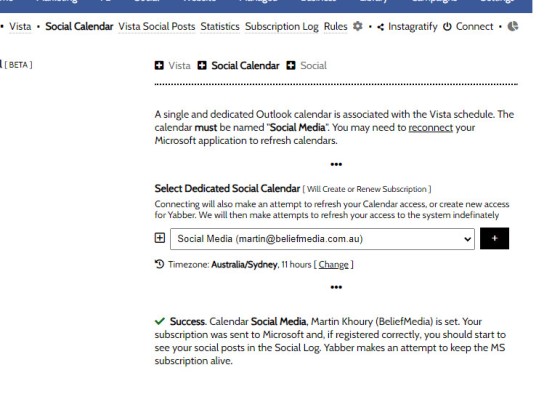 Pictured: If the created 'Social Media' calendar was successfully created and found, it will show by default in the Select menu. Click the black button to register the calendar to Yabber.
If the calendar was successfully registered, a message will be returned indicating as such. The calendar will now be used for managed social and articles, and it may be used to post content to social media.
Additional Vista FAQs should be referenced for an understanding of how the calendar is used.
■ ■ ■
Related Vista FAQs
Related FAQs and features relating to Vista.
Related Social Media FAQs
Yabber's Social Media modules are very extensive. Some of the social features, systems, and modules, are shown below.